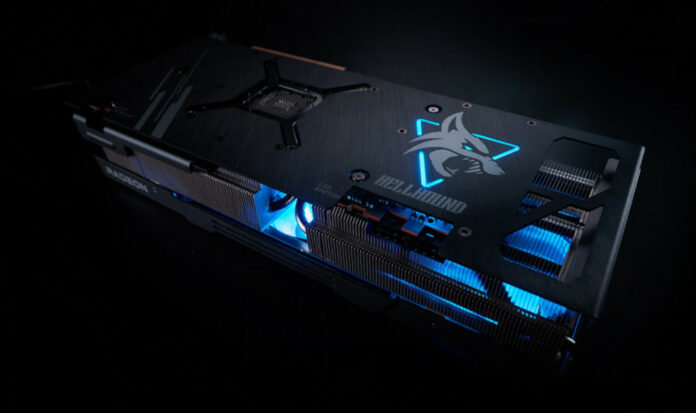 PowerColor has shared a glimpse at what its next Radeon Hellhound graphics card will look like, with three LED-lit fans, a nice back plate, and dual BIOS switch.
Sharing a bit of resemblance with its older siblings from the Radeon 6000 series, this next-generation card looks a bit thicker taking at least 2.5 slots if not three and includes once more its signature blue LEDs found on the fans plus the triangle surrounding the Hellhound logo on the card's back.
The card is cooled by three fans, probably one 90mm plus two 100mm if the brand keeps the same style as the RX 6000 series, with lighting defused into transparent fan blades, again like previous Hellhound models. The fans will likely use a double ball bearing with a 0db mode for complete silence when the card is below, say, 60°C.
Don't like the lighting or looking for a stealthy build? No problem, the card has a physical switch that turns off all lighting on the card without needing any software, alongside what looks like a BIOS selector near the video port side.
Although we can't be sure from only one viewing angle, the cooling system seems to have four or five heat pipes.
Finally, power is delivered through two eight-pin connectors capable of providing up to 150W each for a total of 375W when including PCIe. In other words, plenty for AMD's announced power consumption of 355W for the top-of-the-line RX 7900 XTX. All that remains to be seen is if this Hellhound is an RX 7900 XT or an RX 7900 XTX.
As a reminder, AMD's Radeon 7900 series cards are set to launch on December 13, starting with the 7900 XTX and 7900 XT. The former takes the top spot offering 96 CUs at 2.3GHz clock, 24GB of GDDR6 running on a 384-bit bus, and 355W of total board power at $999 MSRP, while the latter features 84 CUs at 2GHz, 20GB of GDDR6 running on a 320-bit bus, and 300W total board power for $899 MSRP.