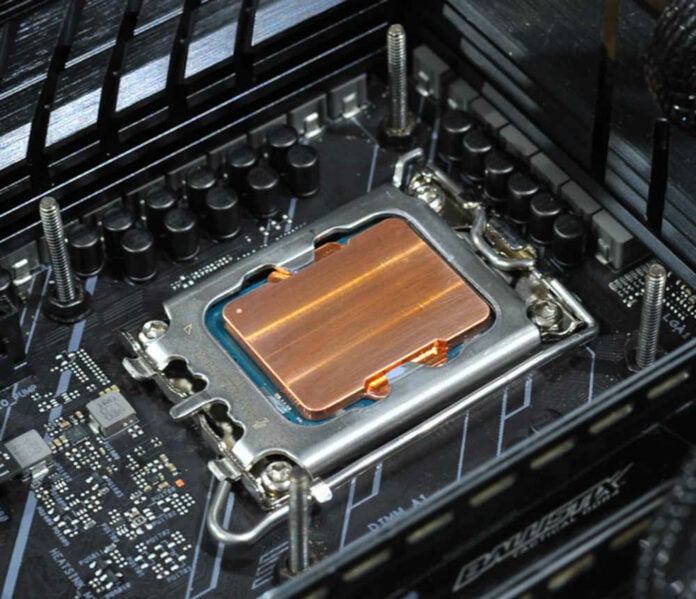 RockItCool, a company specialising in delidding equipment, has showcased impressive temperature gains using its copper IHS. The purpose of its latest product is to replace the standard IHS with a copper IHS, ostensibly for better thermal transfer.
Recently we observed increasing reports about Intel's 12th Gen CPUs bending beneath uneven socket pressure, resulting in little or no contact in the centre portion of the processor's heatspreader. One of the proposed solutions was to add washers beneath the socket to elevate some of that stress. A problem with this approach is that it may cause the CPU to have less contact with the pins located in the motherboard socket – there are plenty of them, after all – causing instability or, more likely, no POST at all.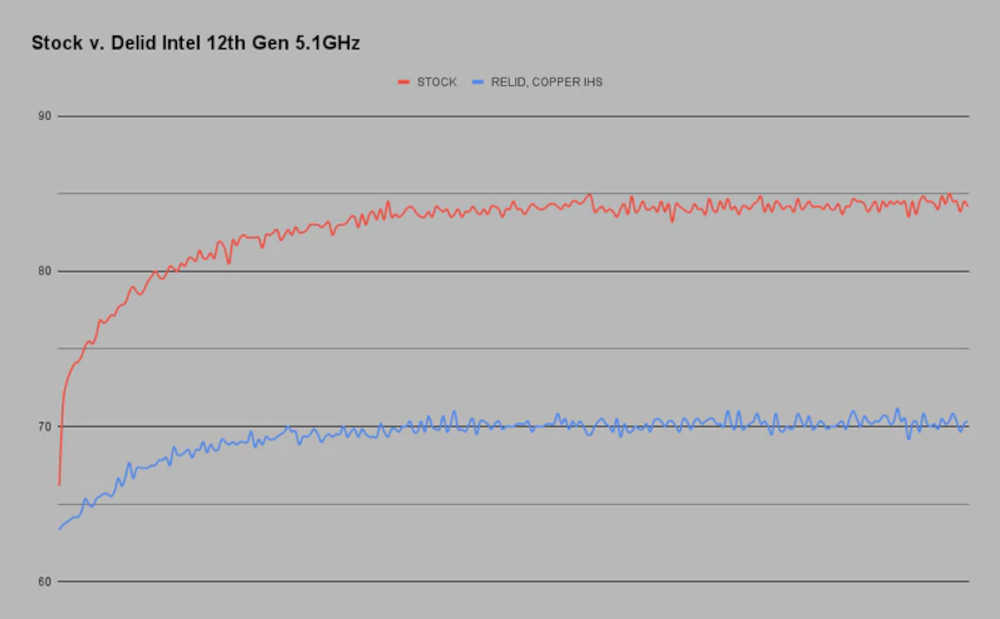 Here's where RockItCool says it can come to the rescue with a copper IHS. Thanks to 9.5 per cent more surface area it should spread pressure more evenly. Adding to that is copper's enhanced thermal conductivity, which will surely help with heat transfer, while the use of liquid metal boosts these benefits even further, the company says. No need to remind anyone that using liquid metal has its own risks, so one may think twice before doing this.
Understanding exactly how it works is laid bare by an instruction video, below.
While this mod is not for typical users, it is welcome for those chasing overclocking scores.
Below is the full list of the benefits brought by this IHS, according to RockItCool:
CNC machined to tight tolerances
Uses same relid guide as the stock HIS
Surface area increased by 9.5% over stock
Smooth and flat surfaces for maximum contact with CPU and cooling solutions.
Fits 12th Gen CPUs only. Tested on 12900, 12600 & 12400
NOTE: The Copper IHS is 100% compatible with the EK & Bitspower Monoblock
Guide on how to easily remove solder from the CPU
Marked to show liquid metal application area to eliminate guessing
RockItCool's Copper IHS Kit for Intel's 12th Gen CPUs is priced at $32.99. Add to that a $59.99 for the delidding device if you don't have one already.