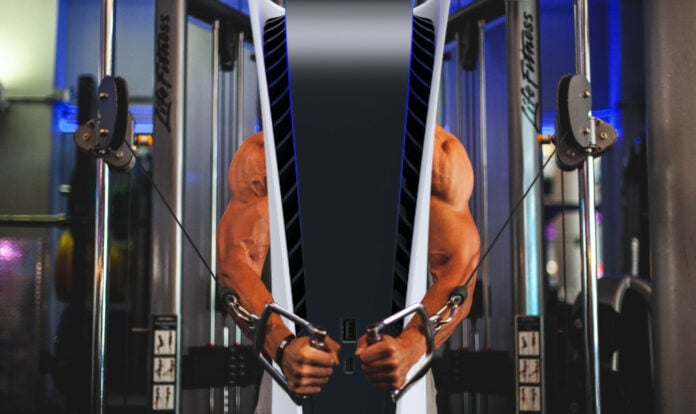 Latest rumours point to a 2024 PlayStation 5 Pro console release that boasts a revamped GPU and higher memory capacity.
According to @Zuby_Tech, Sony's PS5 Pro will feature eight Zen 4 cores (16 threads) clocked up to 4.2GHz, alongside 72 RDNA 3 compute units clocked up to 2.5GHz, and 20GB of GDDR6X unified memory running on a 320-bit bus, resulting in 780GB/s bandwidth. Storage is also upgraded to a 1.65TB PCIe Gen 4 SSD delivering 5.5GB/s. In other words, more than double the raw GPU power at 23 teraflops, plus a larger and faster memory pool.
For reference, the PS5 non-Pro carries eight slower Zen 2 cores alongside 36 RDNA 2 compute units delivering 10.28 teraflops, sharing 16GB of GDDR6 running on a 256-bit bus and totalling 448GB/s bandwidth. Also note that a previous rumour claimed that PS5 Pro will use a 60-CUs GPU, which is equivalent to the rumoured RX 7800 XT.
Game devs are said to start receiving development kits of PS5 Pro consoles this November 2023, with retail availability scheduled for November 2024.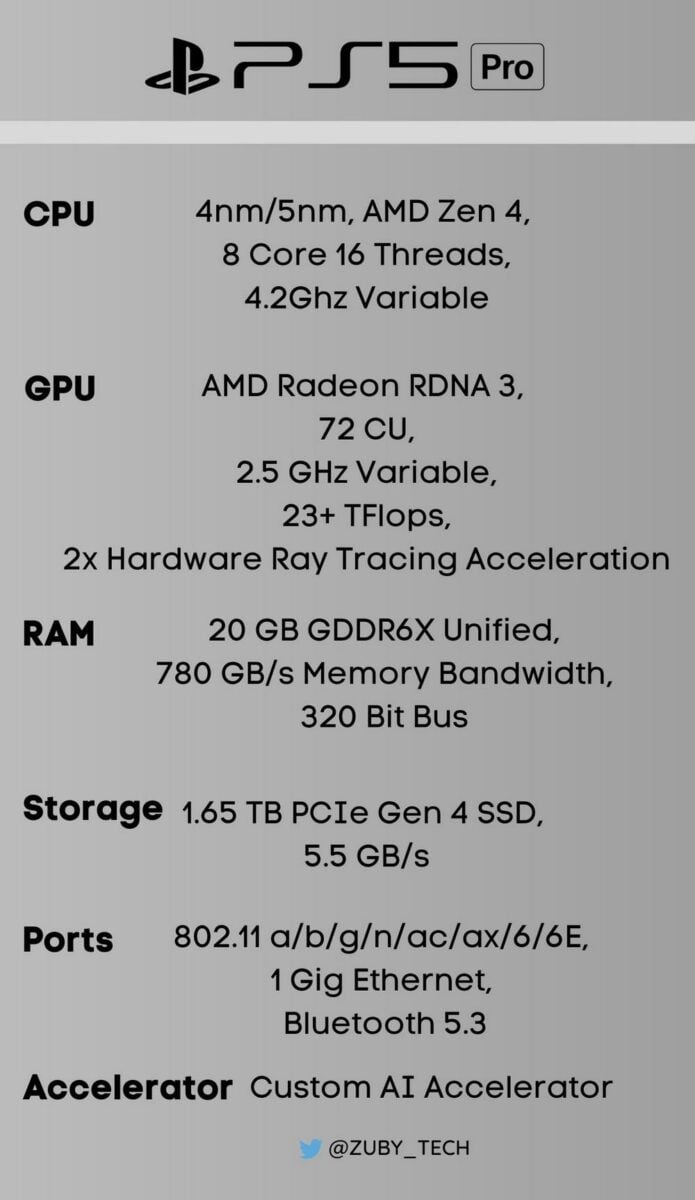 @Zuby_Tech adds that pricing could be around the $599/£549 mark, which would be quite interesting, if correct, since current PS5 non-Pro consoles are sold at £479.99. £70 for more than double the GPU performance sounds too good to be true, though we would gladly be wrong on this one.
That said, Sony did a similar thing with the PlayStation 4 refresh, giving the updated Pro models more than double the GPU horsepower, jumping from 1.84 teraflops to 4.2 teraflops. Though back then, memory capacity didn't change from its original 8GB GDDR5. The PS4 Pro was available at launch for £349, so a £90 markup over the non-Pro, meaning £117 if we account for inflation.
In any case, £70 extra or not, PS5 Pro or PS6, all of this doesn't matter that much if new games keep their recent slow-release cadence.