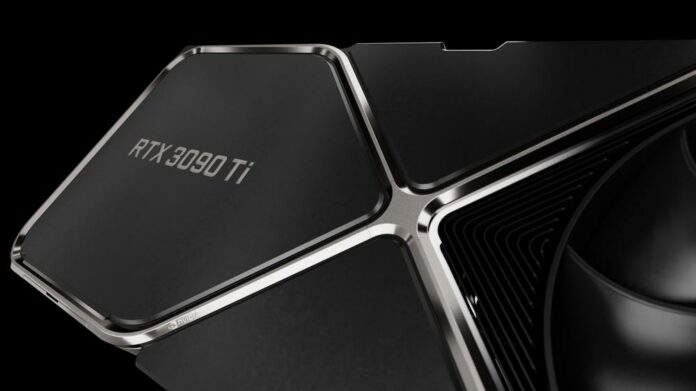 Word on the grapevine intimates Nvidia's upcoming mid-range AD104 GPU (Lovelace) could be as fast as the GPU giant's current top-of-the-line chip, GA102 (Ampere).
Responding to @XpeaGPU tweet, serial leaker @kopite7kimi has indicated that AD104 and GA102 GPUs should be on par with one another, also adding that AMD's forthcoming Navi 33 (RDNA 3) is weaker than Nvidia's GA102.
If we follow current Nvidia GPU segmentation, GA104 GPUs represents a mid-range part featured in RTX 3070 graphics cards, while GA102 takes the high-end crown inside RTX 3090 Ti. Should that classification continue, next-gen AD104 is most likely being deployed as RTX 4070.
Assuming Nvidia chooses to employ the full AD104 die for RTX 4070, this mid-range card could be as fast as the expensive and power-hungry RTX 3090 Ti. A tantalising prospect, though of course should rumours should be taken with a pinch of salt.
For context, the RTX 3090 Ti has 10,752 CUDA cores running at a frequency of 1,560MHz base and 1,860MHz boost with a 450W TGP. RTX 4070 is rumoured to have 7,168 CUDA cores running at 2,520MHz boost with more than 2,750MHz in-game at a 300W TGP, which is closer to that of a reference RTX 3090 (350W). Some say it can even cross the 3,000Mhz barrier. In theory, the combination of improved IPC and higher frequencies makes the rumours somewhat plausible.
Despite the improved performance per watt brought by TSMC's N5 node, the card it's replacing (RTX 3070) has a lower 220W TGP. Again if true, you will have a choice to either get a new ATX 3.0 PSU with a PCIe 5.0 power connector, such as MSI's MEG Ai1300P and Ai1000P, or use a bulky 8-pin to PCIe 5.0 cable adapter.
If performance is indeed as impressive as the rumour mill would have us believe, RTX 4070 could still be limited by a 10GB GDDR6 memory pool, compared to the RTX 3090 Ti's 24GB of faster GDDR6X. Memory bus is also smaller at 160-bit vs. 384-bit, although the lack of bandwidth may be offset by AD104's larger 48MB cache.
Plenty of speculation, but what about all-important price? Will we get a 3090 Ti equivalent at a much lower fee? Only time will tell, but here's hoping.