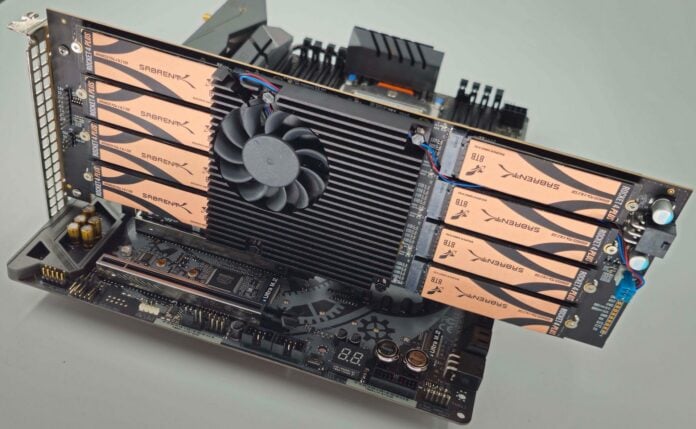 Sabrent has crammed a whopping 128TB of M.2 SSD storage into its Apex X16 Destroyer add-on card. It's fair to say it gives way more space than it takes up. It's no slouch, either, boasting pretty good SSD bandwidth on a single PCIe slot.
How many M.2 SSDs do you think you can cram on a PCIe expansion card? If your answer is 16 than you are not alone. Sabrent just did that with its Apex X16 Destroyer board which packs no less than 16 PCIe 4.0 M.2 slots. Eight are located on the front flanking the cooling system with the other half on the rear.
Filled with the brand's Rocket 4 Plus 8TB SSDs for a total of 128TB, this contraption should deliver enough speed to saturate the PCIe interface. Each drive can reach up to 7,100MB/s read and 6,000MB/s write, meaning even a PCIe Gen 4 x16 isn't fast enough. Moreover, thanks to its single-slot design, you can technically install as many of these as you can.
It is unclear however if Sabrent's solution is based on Apex Storage X16 Gen 4 card. If so, we can expect up to 30.5GB/s read and 26.5GB/s write, plus 36.8M IOPS read and 18.6M IOPS write. Not to forget full UEFI/Secure Boot support plus compatibility with MLC, TLC, QLC and Intel Optane SSDs.
All these drives will need power to run. To avoid pushing all this current through the PCIe slot, the Apex X16 Destroyer also include a 6-pin power connector.
As you can guess from the exorbitant price for this much storage, this solution is clearly meant for professionals and content creators needing high amounts of super-fast storage. But assuming gamers choose to get one regardless, the Apex X16 ticks all the boxes. Namely very high speeds reaching the PCIe Gen 4 x16 maximum usable bandwidth, and enough storage to stop caring about game and update sizes.
Impressive. Now imagine what you can do with the Apex Storage X21, with its 21 M.2 slots for a total storage of 168TB when populated using 8TB SSDs. Same goes for its 30.5GB/s read and 26.5GB/s write rated speeds.
Sabrent didn't share further information about this product, meaning we don't have any pricing or availability dates.