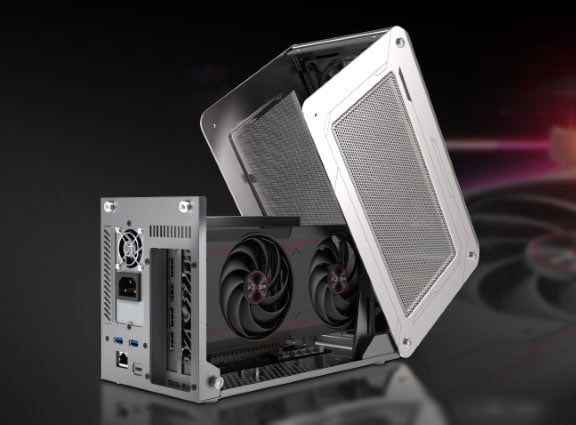 Sapphire has updated its GearBox eGPU solution. Back in 2019, Sapphire launched the GearBox Thunderbolt 3 Graphics Enclosure, which came with an optional Radeon RX 580 Nitro+ graphics card. Now it is back, with the Sapphire GearBox 500 Thunderbolt 3 eGFX solution with a Radeon 6000 series graphics card pre-install option, plus an improved slim, light, and portable chassis.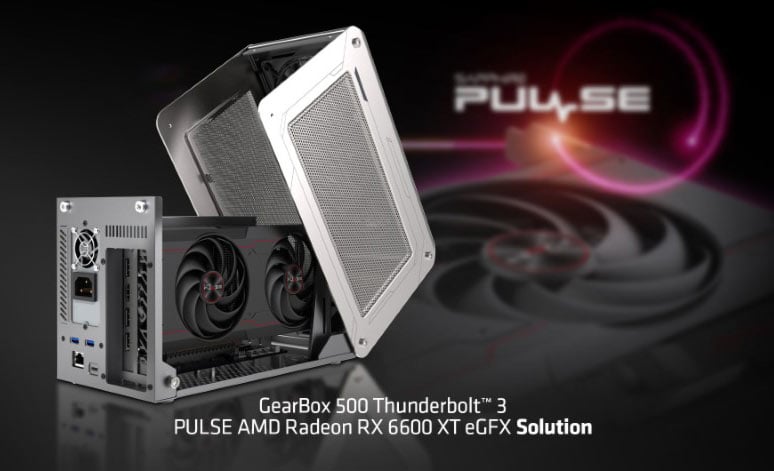 The Mac- and Windows-compatible Thunderbolt 3-attached box is aimed at users that don't have the GPU grunt on board for "bandwidth intensive applications such as professional software and the latest 1080p games." If it is married to a portable system, or you will cart it around to various dens of work or play, then users will appreciate the light weight and slim form factor. In an email to Club386, Sapphire highlighted the improved chassis design which provides better airflow than ever.
Should you go for the pre-installed GPU option?
Sapphire's GearBox 500 eGPU comes with an optional Pulse RX 6600 XT 8GB graphics card pre-installed. The RX 6600 XT is designed to provide "the ultimate 1080p gaming experience," in AMD's words.
However, you are in no way limited to using an AMD/RDNA2 graphics card. The device offers a max add-in-card compatibility of 266mm (L) x 125mm (H) (dual-slot) dimensions. Another limit you should be aware of is the maximum GPU TDP of 350W (supported by a built-in 500W PSU). That is an improvement on the predecessor's max GPU TDP of 300W. Users are free to fit any modern AMD or Nvidia GPU within these power/volume limitations.

With the graphics card market as it is, it might be more economical to get one of these eGPUs with the bundled Radeon RX 6600 XT than try and source your own add-in-card. Please consider this carefully if you see these eGPUs up for sale. Unfortunately, Sapphire hadn't shared pricing and availability info at the time of writing.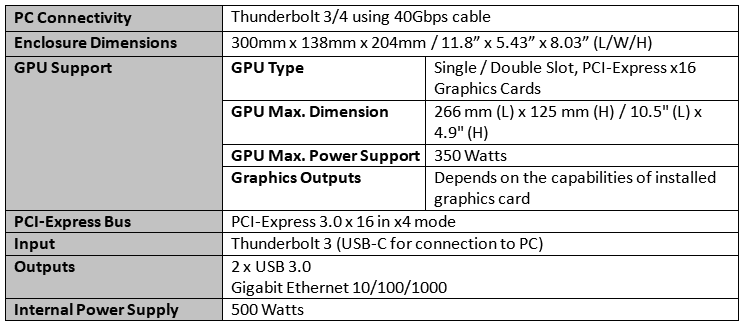 It is a useful dock, too
As well as powering up your graphics, the GearBox 500 provides useful docking functionality. After connecting up to your computer with the Thunderbolt 3 port you will be able to take advantage of the following outputs; 2x USB 3.0, USB-C with 60W power delivery, and Gigabit Ethernet 10/100/1000.