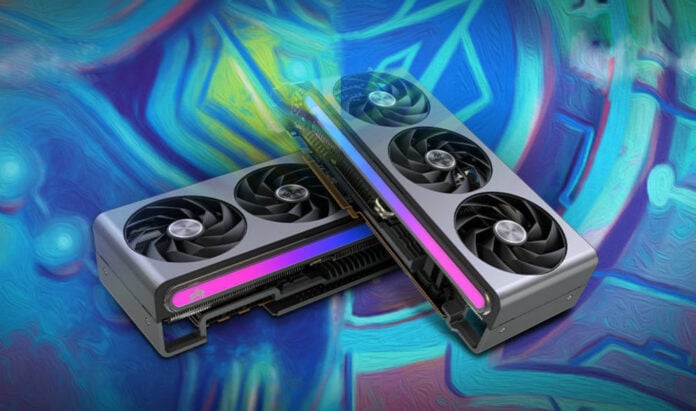 Sapphire is back with vapour chamber cooling solutions for AMD's latest RDNA 3 GPUs. Of interest to enthusiasts who appreciate a well-built card, the Nitro+ RX 7900 XTX boasts a healthy out-the-box overclock, 20 power phases and a sleek exterior.
Starting outside, the card looks simple (in a positive sense) made of a grey body measuring 320mm (L) x 135.75mm (W) x 71.6mm (H) with two long LED strips running across the top and bottom portions. The card has a metal backplate helping with rigidity and heat transfer, in addition an anti-sag bracket that secures nearby expansion slots, providing further rigidity to this chunky cooler. And chunky it is, with the card spilling beyond the customary three slots.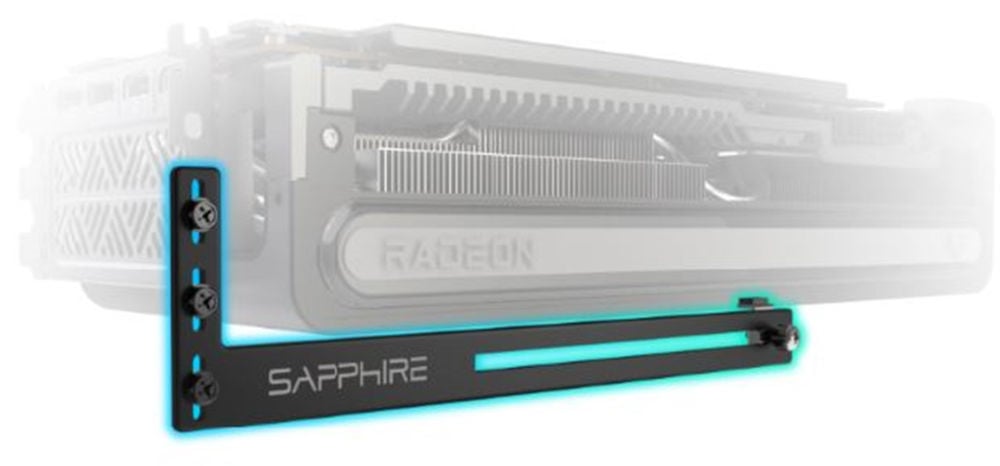 Sapphire allows up to 420W of total board power using the primary BIOS setting, thus helping the GPU to reach a 2,510MHz game clock and 2,680MHz boost clock while providing 18 per cent more power for manual overclocking. Whether the GPU can go further or not will depend on your silicon quality, and your willingness to tinker with a premium purchase.
For the less adventurous among us, the second BIOS setting is more sedate at 2,270MHz game clock and 2,500MHz boost clock. Choose the third BIOS setting (yes there are three) and you will be able to use Sapphire's TriXX software to toggle between the aforementioned BIOS modes without needing to venture inside your chassis. Neat.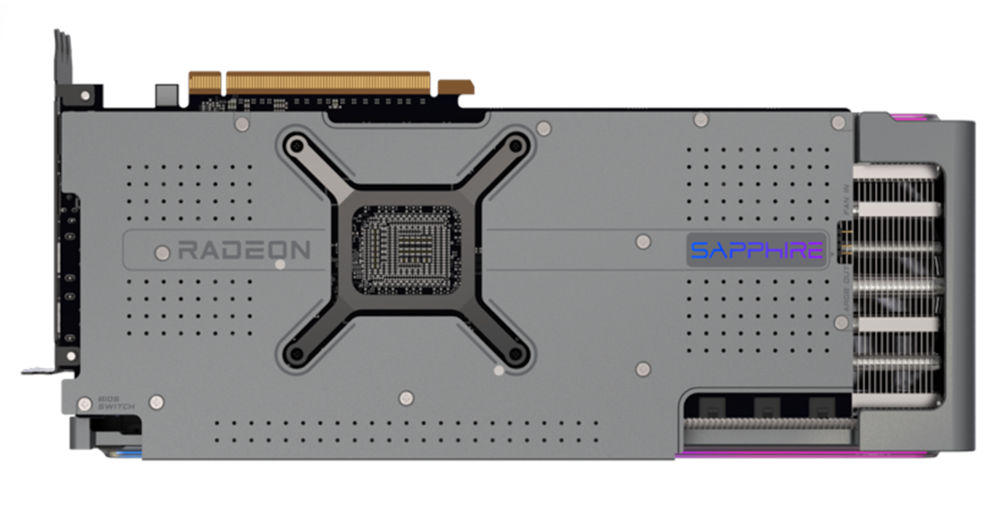 To feed that hungry GPU, the Nitro+ boasts three 8-pin connectors delivering power to 20 phases capable of pushing 1080A of current, representing a 28 per cent increase over reference. All of this on top of a 14-layer PCB made of 2Oz copper.
More power means more heat and to tackle this problem Sapphire opted for its Vapor-X cooling technology using a vapour chamber contacting both the GPU and GDDR6 memory modules, alongside seven heat pipes. The heat sink is then cooled by three dual ball bearing fans featuring 'Angular Velocity Blades.' A large die-caste frame is also present for VRM cooling, and we expect Nitro+ to deliver some of the lowest temps among air-cooled 7900 XTX cards.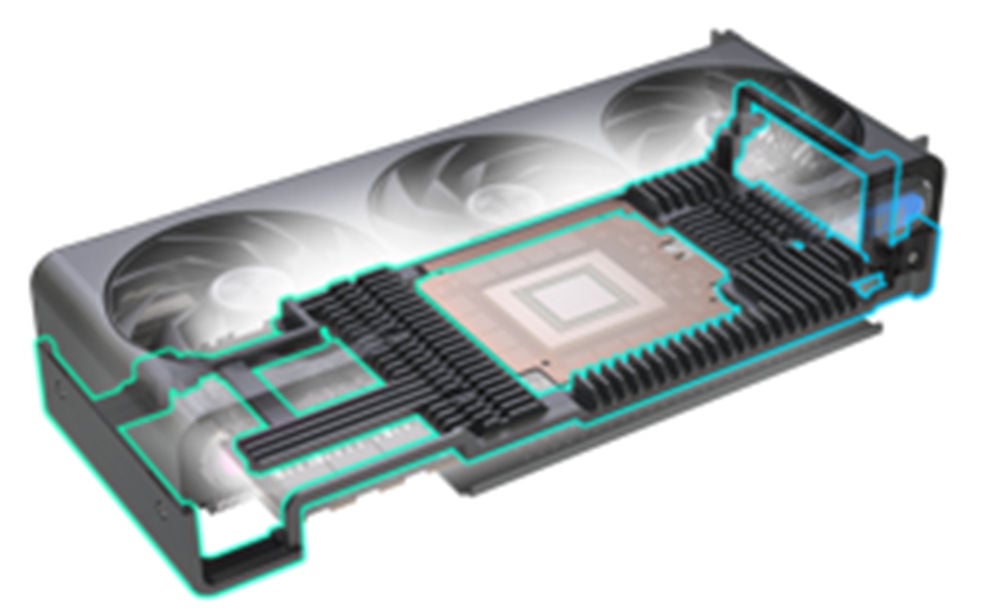 As with most Sapphire boards, the fans are easy to swap thanks to a single screw, allowing for fast maintenance and cleaning. How this isn't standard for all cards remains a mystery; it's much easier for the user to replace a broken fan and less annoying for the manufacturer to send a replacement part instead of shipping back and forth a heavy product. Call me crazy but this is my favourite part of Sapphire graphics cards.
In terms of real-world performance, Sapphire reckons the Nitro+ is about five per cent quicker than MBA cards while keeping GPU temperature to 65°C with a mere of 28dBA of noise. We'll be putting those claims to the test ourselves in the very near future.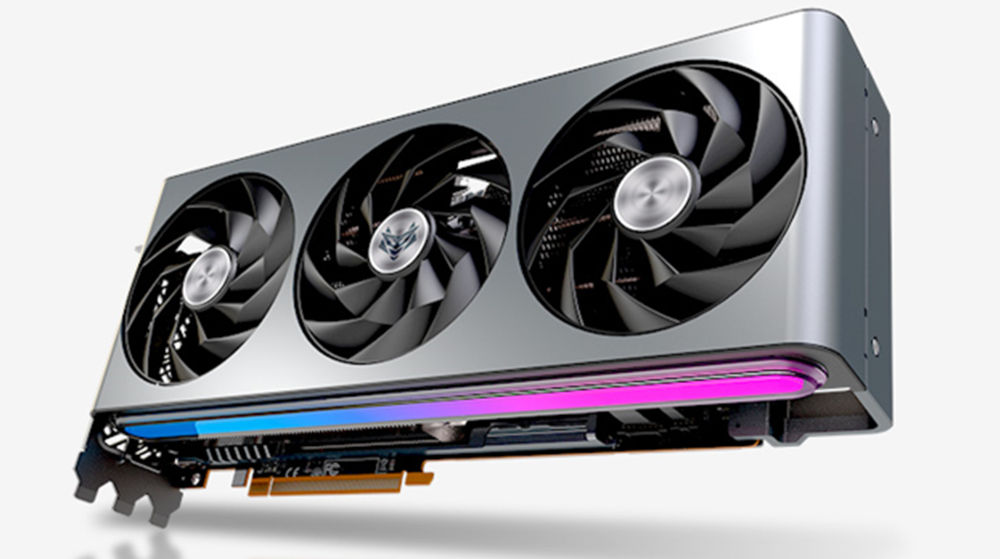 I/O-wise, the Nitro+ trades USB Type-C for a second HDMI 2.1a, bringing the ports total to two DisplayPort 2.1 plus two HDMI 2.1a. While this choice is more adequate for gaming monitors that generally lack USB-C, it's a shame to see many partners shunning Type-C functionality entirely, since the port provides not only a display output but also charging, data transfer and VR headset compatibility.
One unique feature of the Nitro+ is the possibility to connect a chassis PWM fan directly to the card in order to be synced with the GPU cooling system. Yes, you could do this manually using software, but it's a nice perk for those who are not tech-savvy. There is also an RGB header to help synchronise lighting with other components.
As long as the card authorises enough power through that four-pin header, you should be able to install one of Lian Li's Uni Fan SL Infinity 120mm RGB fan packs and use a single cable to power them all. This way the entire chassis intake can be managed by the GPU, which could be ideal in a gaming rig where the graphics card serves as the primary heat source.
Only one question remains; how much of a premium will the best partner cards attract? We won't have to wait long to find out.