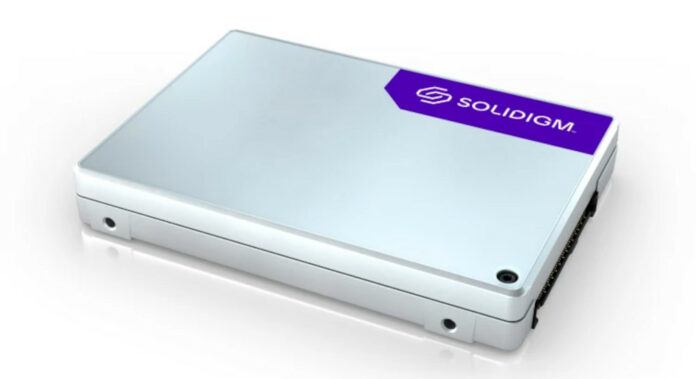 Solidigm has announced the D7-P5810 datacentre SSD boasting outstanding durability alongside PCIe 4.0-level performance in a U.2 15mm format.
The D7-P5810 will be available in two capacities: 800GB and 1.6TB, both carrying 144-layer 3D NAND and Intel's EAX 34144 LNBX controller, connected via a PCIe 4.0 x4 bus. However, unlike other professional and especially consumer-grade drives which nowadays use TLC or even QLC NAND, Solidigm's SSD houses SLC chips. This allows the D7-P5810 to boast massive durability ratings, which are only meaningful for datacentre workloads.
To be more specific, Solidigm announces 50 DWPD (Drive Writes Per Day) alongside 73,000 TBW (Terabytes Written) of durability, dwarfing consumer-level TLC products like Netac's NV7000-t and Crucial's T700. We are talking about 100x higher endurance. Impressive.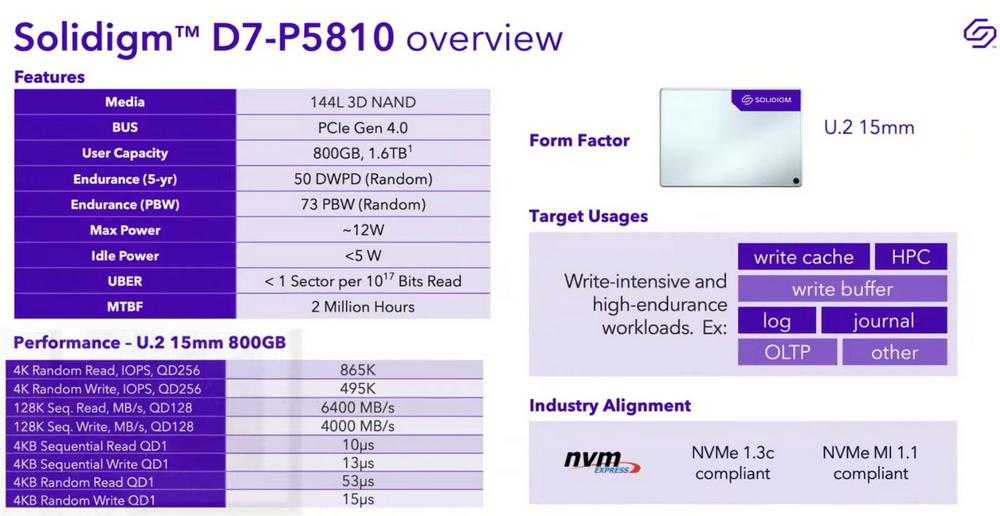 Another benefit to SLC (single bit per cell) is high speeds no matter the load duration. In this regard, Solidigm claims up to 6,400MB/s sequential read and 4,000MB/s sequential write, with 865,000 random read and 495,000 random write IOPS at 4K QD256. But that's not all, the D7-P5810 also boasts 10μs/13μs of latency for sequential read/write, while consuming 12W when active and 5W at idle.
Obviously, these drives aren't planned to be used as standalone solutions, but rather as a storage accelerator in front of highly dense QLC-based SSDs. The target workloads are for metadata/logging to accelerate system performance, as a write buffer for caching to remove bottlenecks, and for tiering to allow faster initial commits before moving data to slower or cold storage.
"By introducing the D7-P5810, Solidigm has now further expanded its industry-leading endurance swim lane coverage. We are pleased to offer a new ultra-fast datacentre SSD with compelling specifications to serve customers' very high write-intensive needs," said Greg Matson, VP of Strategic Planning and Marketing at Solidigm.
Backed by a five-year warranty, the D7-P5810 is available now in 800GB U.2 15mm form factor, with a 1.6TB version scheduled for the first half of 2024. While pricing is still unknown, we expect a hefty cost for this tier of products.