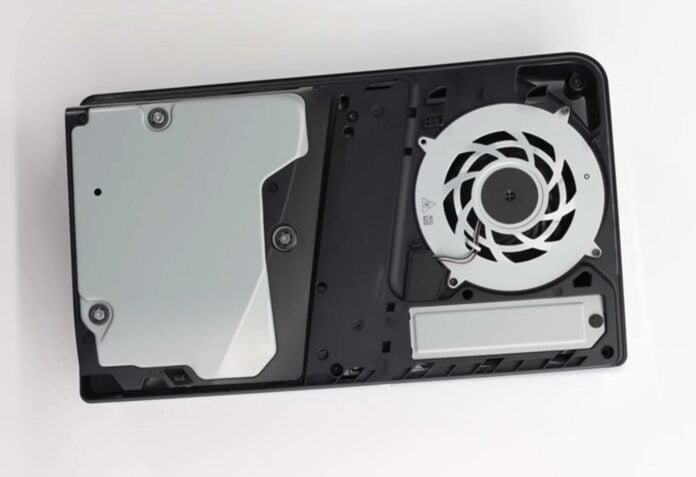 The PlayStation 5 Slim has been stripped down to its bare bones, showing a new cooler design. It's notably smaller than previous iterations of Sony's PS5 console, yet still capable of handling the heat output of its SOC plus memory.
Dave from Dave2D on YouTube has got his hands on a PS5 Slim, putting it through some tests before opening it up to check out what's new inside. The new design still uses a heap of screws to secure the cooler to the motherboard, though everything's pretty easy to get to. It also weighs a little less. The digital version clocks in at 2.6kg, compared to the previous chonk's 3.4kg. The disc model trims down to 3.2kg over its former 3.9kg heft.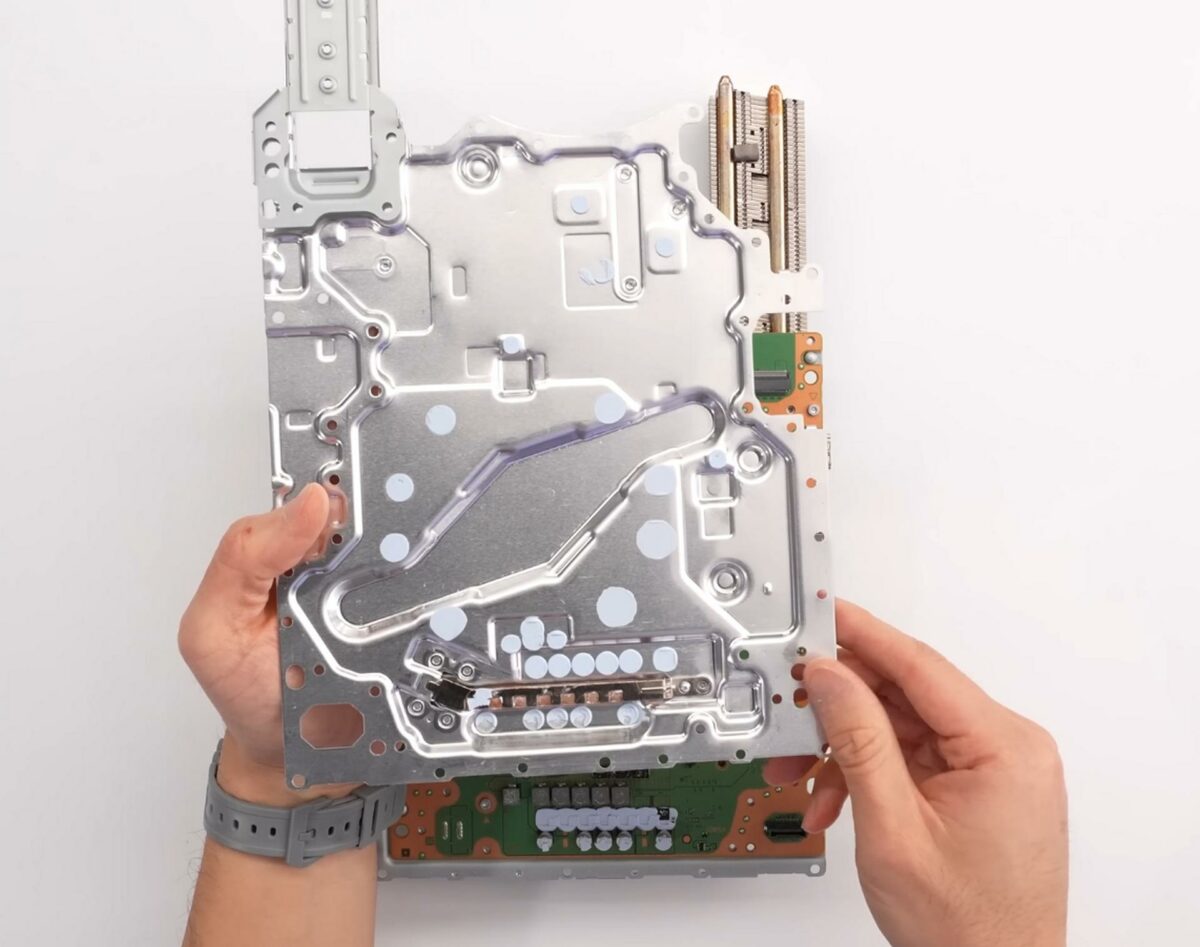 The new version features a two-segment side panel with a glossy white top, and matte finish on the bottom. Removing the upper-right one unveils the cooling fan and the M.2 SSD compartment, which supports up to an 8TB Gen 4 SSD. The bottom-right section is where you will find the disc reader on the physical model – otherwise, it'll be empty.
Props to Sony for going with a toolless design for the disc reader. This makes the choice much simpler, as you can upgrade later. Also, note that the rear I/O layout has changed a bit. It's not an issue for most users; it's just something to remember if you are used to plugging USB devices without looking.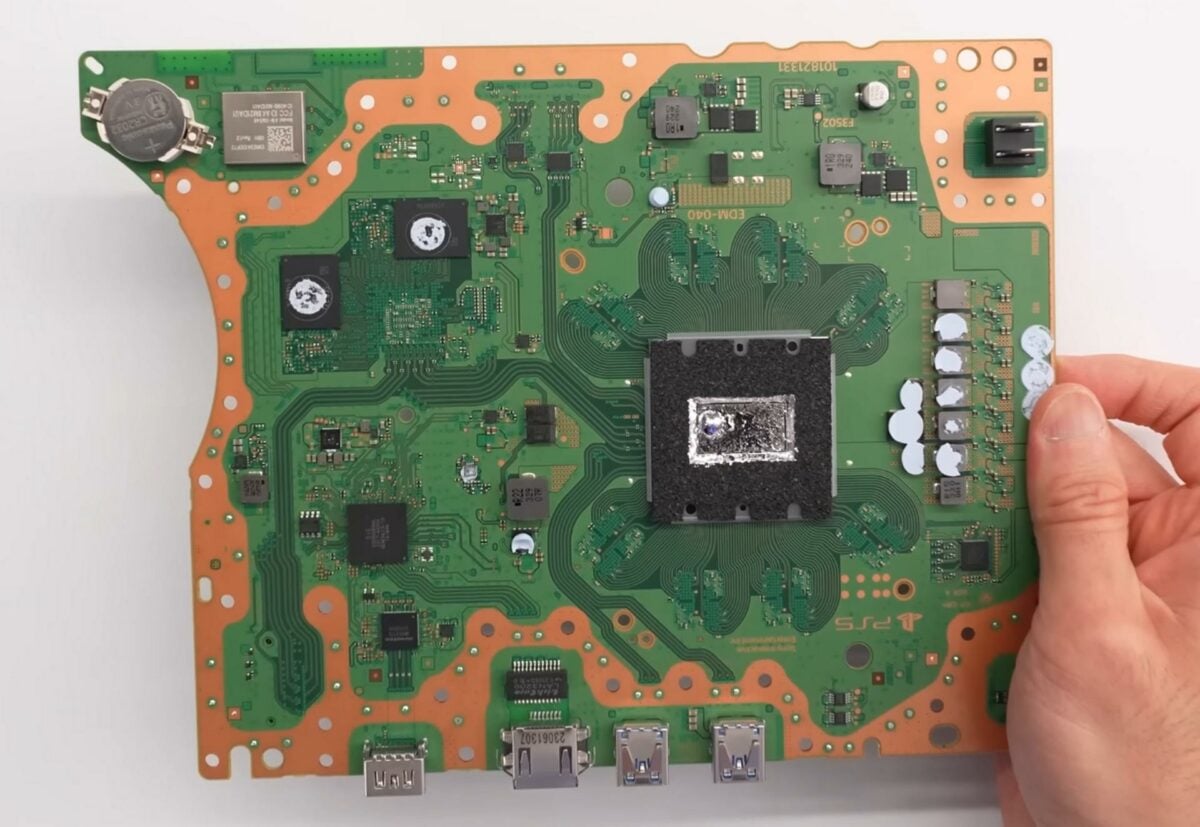 After eight hours of stress testing, the PS5 Slim exhaust was between 62°C and 64°C with the fan producing 43dB of noise, against 60°C to 63°C at 44dB for the original PS5. The fan has 19 blades made by Foxconn.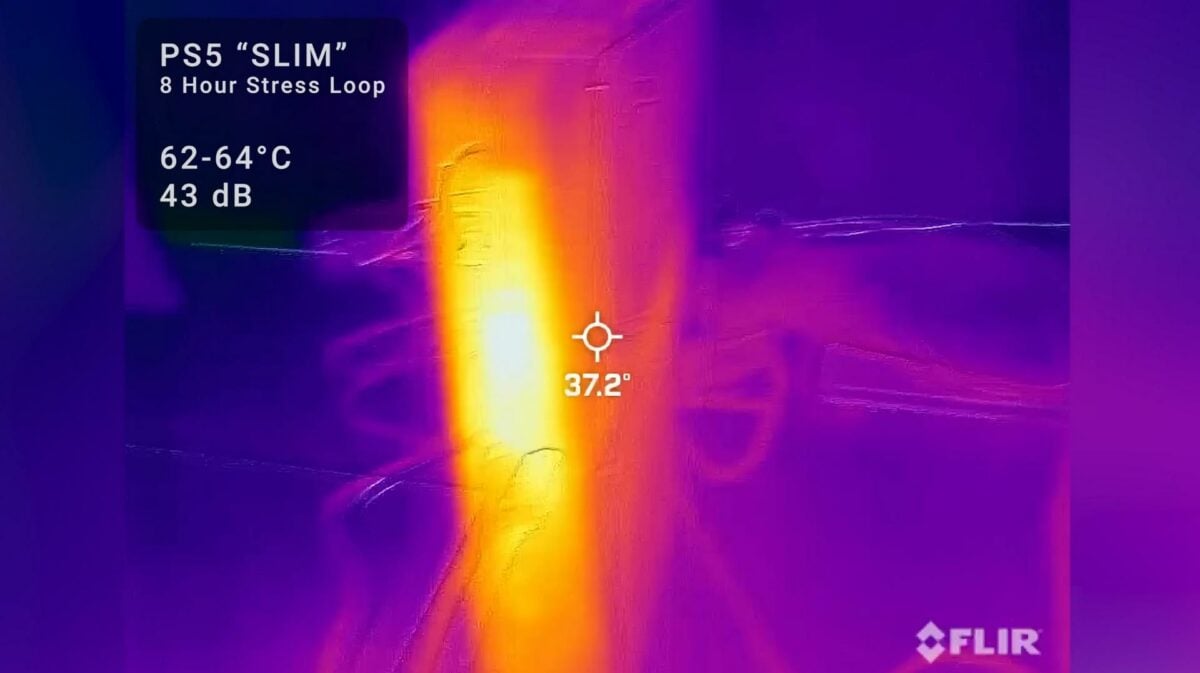 Three fin stacks connected to six heatpipes handle things as they get toasty. Two stacks are directly connected to the SOC via five heatpipes. The third is on the other side of the board, cooling the VRMs using a single heatpipe. The motherboard is also sandwiched between two large metal sheets that help further dissipate heat from the remaining components, such as memory and SSD controller.
Compared to the non-slim PS5s seen in Austin Evans' teardown, the new cooling system is clearly smaller, all while being capable of handling a similar heat output of the SOC.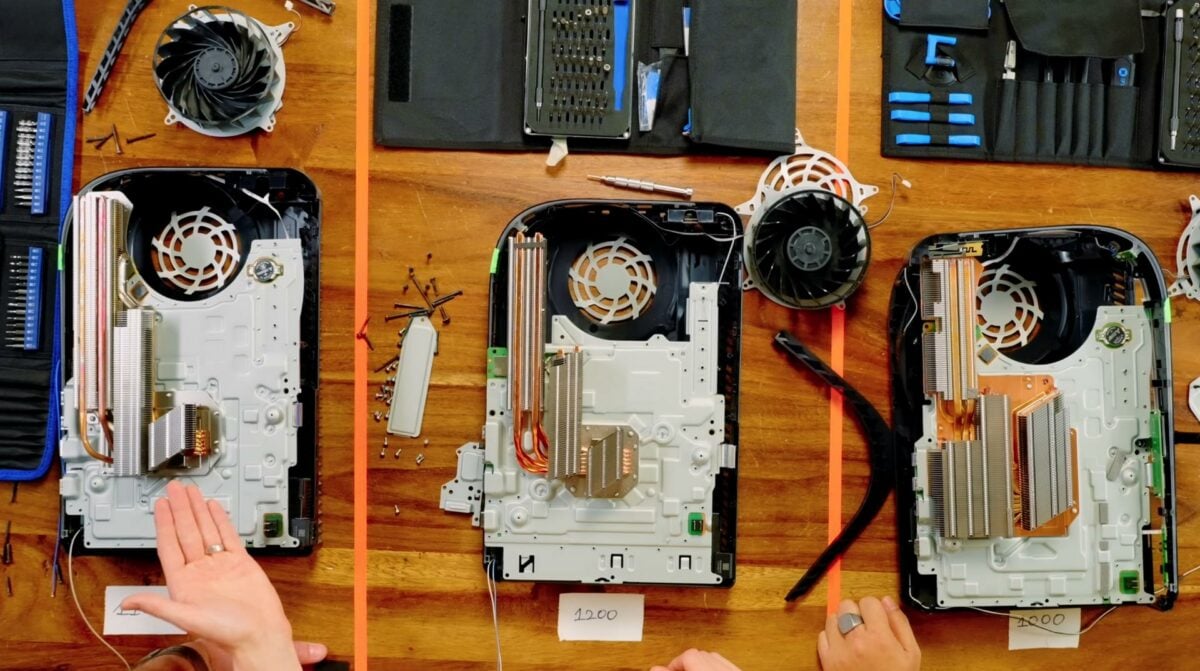 Regarding power consumption, both consoles are very close, with the Slim taking 208W in Death Stranding, 183W in Astro's, and 171W in Spider-Man 2, instead of 203W, 181W, and 178W respectively on the original. This means that the slim PS5 probably uses the same 6nm silicon found on recently produced PS5s – the first models released were on a 7nm process.
For the end user, things should still be the same between all models, if not for the reduced footprint. If you were expecting a lower power consumption, no luck. However, about 200W is still okay for such a performance anyway.