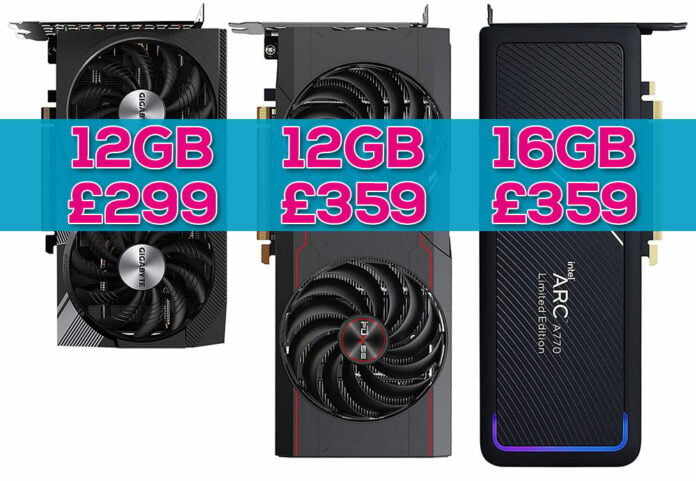 Sapphire RX 6700 XT 12GB
---
"AMD Radeon RX 6700 XT graphics card has 40 compute units, 12GB of GDDR6 memory, & a game frequency of 2,424Mhz, with powerhouse 1440p resolution gaming."
We earn a commission if you make a purchase, at no additional cost to you.
How much VRAM is enough? That's the question stoking fierce discussion in enthusiast circles, with many now turning a cold shoulder to graphics cards outfitted with 8GB or less. The debate rages, yet wouldn't you know it, the biggest names in PC graphics are fanning the flames this week by introducing brand-new cards sporting an 8GB configuration.
PC aficionados naturally crave the latest tech, yet if you're adamant 8GB of VRAM just isn't going to cut it for the games of today and tomorrow, an excess of stock in the channel means plenty of existing cards offer more memory for less money.
Our pick of the bunch is the Sapphire Radeon RX 6700 XT Pulse, a 12GB card whose price has dropped to £359. A 15 per cent cut is not to be scoffed at, and for what it's worth, note that AMD officially markets RX 6700 XT as a 1440p solution, as opposed to bog-standard full-HD.
Gigabyte RTX 3060 12GB
---
"The GeForce RTX 3060 Ti and RTX 3060 let you take on the latest games using the power of Ampere – Nvidia's 2nd generation RTX architecture."
We earn a commission if you make a purchase, at no additional cost to you.
There are similarly attractive deals on the Green side of the fence, too. Right now, Gigabyte's GeForce RTX 3060 WindForce, also sporting 12GB of memory, is a relative bargain at £299. That's the cheapest we've ever seen, and with a score of nearly 10k in 3DMark Time Spy, take our word for word, RTX 3060 remains a solid buy at current prices.
We'd be remiss not to mention Team Blue, too. That's Intel, in case you were wondering, who despite having struggled to make inroads in the desktop graphics market, has championed affordable cards with its Arc A Series.
Case in point, Arc A770 with a relatively massive 16GB VRAM configuration has been spotted at retail for under £360. UK stock, sadly, is hard to come by, and Intel still hasn't solved its idle power consumption woes, yet it remains a card worth knowing about it.
Intel Arc A770 16GB
---
"All built to enable premium gaming, creating, and streaming experiences. Intel Arc A-Series is our exciting new product line for consumer high-performance desktop graphics."
We earn a commission if you make a purchase, at no additional cost to you.
The VRAM discussion is only getting started, but with existing cards offering greater memory at lower cost, upcoming 8GB launches are already facing fierce competition.