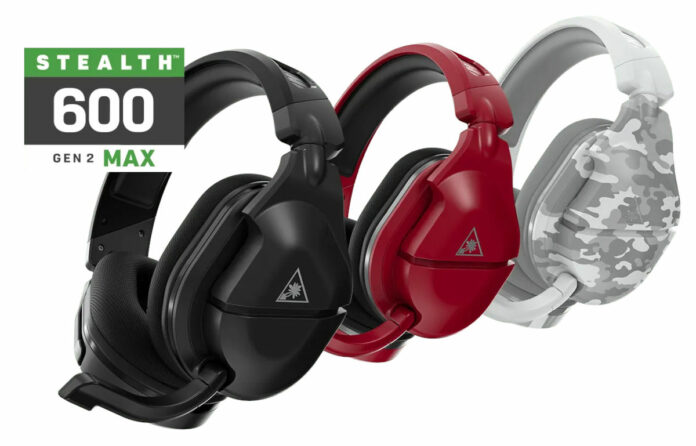 Turtle Beach, well-known for console peripherals and accessories, has unveiled updated versions of its popular Stealth 600 Series headsets. The Stealth 600 Gen 2 MAX comes in black, midnight red, or arctic camo and will set you back £129.99, while the Stealth 600 Gen 2 USB arrives in black or white priced at £89.99.
Dubbed Stealth 600 Gen 2 Max and Stealth 600 Gen 2 USB, the duo shares plenty in common with predecessors but offers cross-platform compatibility with the latest games consoles. Supported platforms for the MAX include Xbox One, Xbox Series X|S, PS4, PS5, Nintendo Switch and PC.
Chief among the performance claims is great battery life, with Turtle Beach suggesting Stealth 600 Gen 2 Max will keep going for 48 hours – a significant uplift from the 12-to-14 hours typically offered by competing wireless headsets. With this kind of capacity, if you are a light user, you could go for a week or more before needing to recharge. Talking about charging, it is nice to see Turtle Beach using USB-C as standard.
Going a step down on price, we find the Stealth 600 Gen 2 USB, also charging via USB-C but delivering less battery life than its bigger brother, at 24 hours max. Compatibility for this one is limited to Xbox One plus Xbox Series X|S.
Both models are over-ear (closed) designs, with 50mm neodymium drivers. An omnidirectional mic covers your chatting needs, while the 'superhuman hearing' setting claims to give you an advantage by tweaking sound profiles to amplify footsteps, engine sound, etc.
Pre-orders for both models have already started in the UK and Europe, while availability is scheduled for early April.