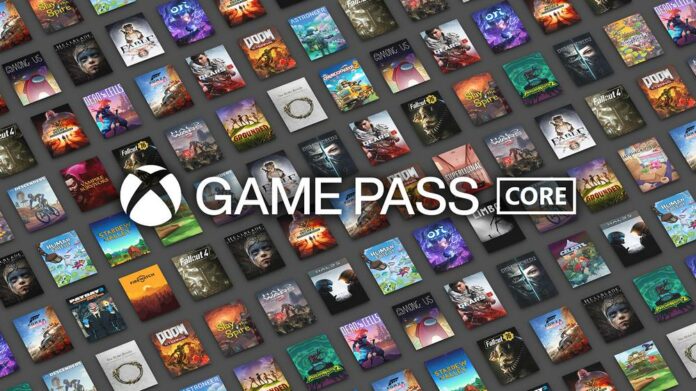 Xbox has announced the Xbox Game Pass Core monthly subscription replacing Xbox Live Gold and featuring a new, larger game list refreshing many times per year.
Today is the day where Xbox Live Gold evolves to Xbox Game Pass Core. For those unfamiliar with the matter, Xbox Live Gold is a monthly membership for Xbox consoles required to access online gaming – though some F2P titles don't need it. For £6.99 / $9.99 / €6.99 per month, users were able to join their friends in multiplayer games, claiming four titles to keep forever each month from Games with Gold – recently lowered to only two, whilst having the opportunity to buy games at discounted prices. The new Xbox Game Pass Core is replacing Live Gold without changing pricing or benefits, however Games with Gold is superseded by a catalogue of 36 titles.
Unlike Games with Gold, the new catalogue follows Game Pass rules, i.e., you only get access to these games as long as you are an active member of Game Pass Core. Xbox plans to update the Game Pass Core library two to three times a year.
No action is required from existing Live Gold members, as all subscriptions will be adjusted automatically to the new Game Pass Core. Obviously, this is a console-only service, since PC owners don't need to pay for online multiplayer.
The full list of initial games goes as follows:
Among Us
Astroneer
Celeste
Dead Cells
Descenders
Dishonored 2
DOOM Eternal Standard Edition
Fable Anniversary
Fallout 4
Fallout 76
Firewatch
Forza Horizon 4 Standard Edition
Gang Beasts
Gears 5 Game of the Year Edition
Golf with your Friends
Grounded
Halo 5: Guardians
Halo Wars 2
Hellblade: Senua's Sacrifice
Human Fall Flat
INSIDE
LIMBO
Ori & the Will of the Wisps
Overcooked! 2
Payday 2: Crimewave Edition
Powerwash Simulator
Psychonauts 2
Slay the Spire
Spiritfarer: Farewell Edition
Stardew Valley
State of Decay 2: Juggernaut Edition
Superliminal
The Elder Scrolls Online
Teenage Mutant Ninja Turtles: Shredder's Revenge
Unpacking
Vampire Survivors
We recommend Dishonored 2 if you are looking for a stealth game, DOOM Eternal to smash and shoot everything that moves, Halo Wars 2 for a bit of real-time strategy on consoles, State of Decay 2 if you feel like surviving a zombie apocalypse, and Gang Beasts or Overcooked! 2 for some co-op with friends and family. Note that this library may vary over time and by country.
Feelings about this change are mixed. On the one hand, the new formula offers more games to play as long as the subscription is active, but on the other, we won't get free games each month that we can keep forever. Also, while most Games with Gold titles can be played for free, the choice was kind of limited to four games per month, of which one or maybe none may be interesting. On the contrary, having a larger choice of 25 games is nice, but you are locked into a monthly subscription if you want to keep playing. A double-edged sword.
Personally, I think Game Pass Core is better, since let's face it, if you like a game, you play it, finish it, and move to the next one, and if the game is good enough to warrant a second run, owning a physical or digital copy may be a better way to support the developer.
Lastly, this could mean the end of Xbox Live Gold to Game Pass / Game Pass Ultimate conversions.