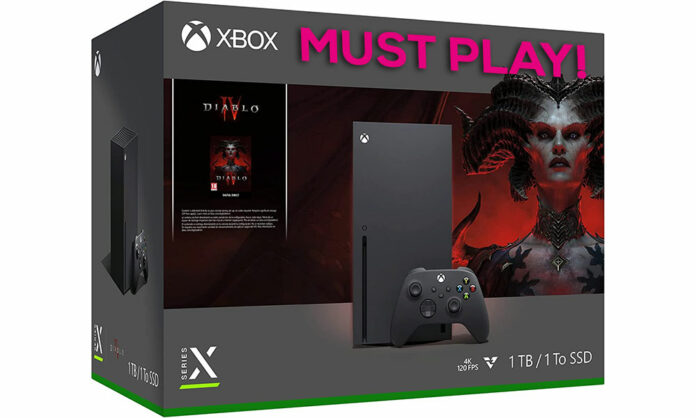 Xbox Series X Diablo IV Bundle
---
"Fight for the fate of Sanctuary with the fastest, most powerful Xbox ever. Forge your path through corrupt lands with 12 teraflops of raw graphic processing power."
We earn a commission if you make a purchase, at no additional cost to you.
Can't wait to slay demons and claim legendary loot? We don't blame you, as Diablo IV is easily one of our most anticipated titles of 2023.
The beta has served only to heighten expectations, and if you're planning on upgrading your gaming setup for the occasion, Microsoft is hoping to entice users with a promotional Xbox Series X bundle.
Priced at £469, the promo pack includes the flagship console and a game code for Diablo IV. The offer is eligible for the same freebies when pre-ordering the game – including Light-Bearer Mount, Caparison of Faith Mount Armor and Diablo III Inarius Wings & Inarius Murloc Pet – but the key here is the discounted price. Xbox Series X is rarely seen below the £449 mark, meaning Blizzard's action RPG is setting you back only £20.
Worth knowing about, though it's a shame Microsoft hasn't given the bundle an entire makeover. While last year's Halo Infinite promo pack included a skinned console and controller, the Diablo IV system only comes in traditional black. The good news is that stock shortages are now a distant memory; those who pre-order are certain to receive their console and game code well in advance of Diablo IV's June 6 release date. Not long to go now, fellow demon slayers.