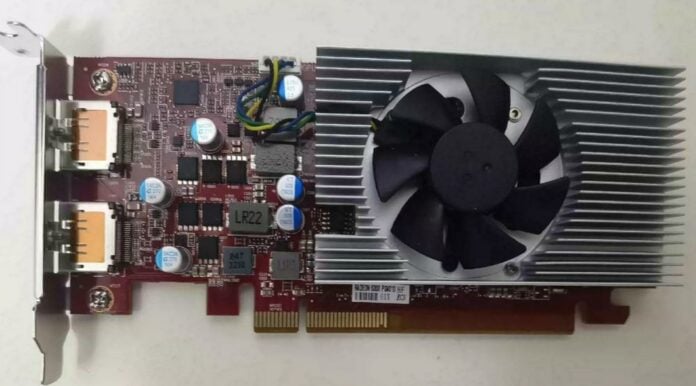 An 'unannounced' AMD Radeon RX 6300 graphics card has been spotted on the Chinese second-hand market featuring 2GB of GDDR6 and a tiny cooler/fan.
Selling for ¥399 RMB (£47.75), this half-height, single-slot card carries a 6nm Navi 24 GPU clocked at 1,512MHz base, if we believe Dell's data sheet (found below). The card comes with 2GB of 16Gbps GDDR6 running on a 32-bit bus, which translates into 64GB/s of bandwidth, making it the understandably slowest of all desktop Radeon 6000 Series. For comparison, the closest card, RX 6400, has a core base clock of 2,039MHz coupled to 4GB of 14Gbps GDDR6 memory on a 64-bit bus, resulting in 112GB/s bandwidth.
Granted, it's not the best graphics card. Still, what the RX 6300 lacks in performance, it gains in limited power consumption, with the card only using 32W, compared with 53W for the RX 6400. This means RX 6300 is completely powered via the PCIe slot. Talking of which, this little one is only wired for PCIe 4.0 x4, though that's no bad thing as interface bandwidth is a moot point. But as low as its performance may be, this GPU should be capable enough to drive browsers or decode media files. Why not even some very light/retro gaming. Hey, Chess is fun, too, for those into it.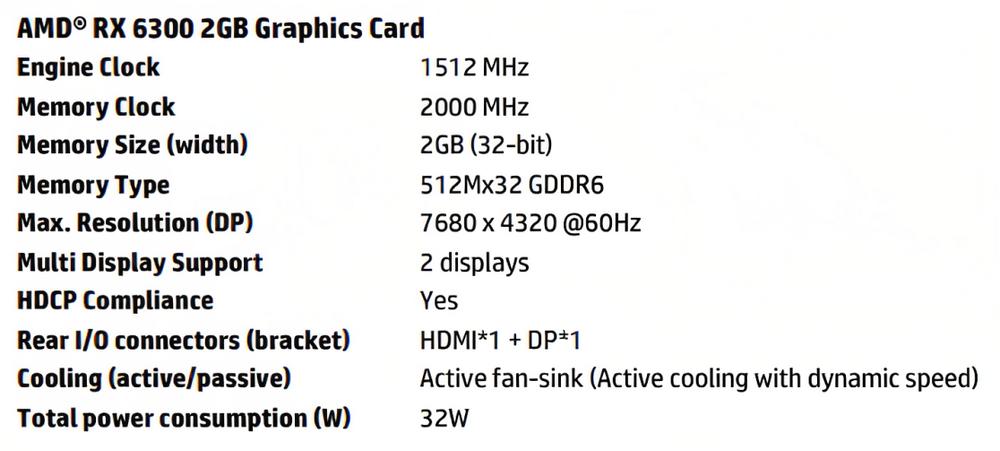 While this tier of cards won't even register in gamers' minds because of their very low performance, for literally hundreds of thousands, if not millions, these basic cards can transform an old dead or scrap-destined machine into a working one that's useful for small tasks like text editing or emails/communication. Moreover, many countries would gladly take these kinds of basic PCs and repurpose them for education.
Yes, for £47 you may find old cards that are faster, but chances are these are based on old, power-hungry architectures, and if you have a school or business with hundreds of PCs, that quickly adds up. Not to mention that for large operations, buying second-hand cards one by one isn't feasible.
There's always a market for a product that's cheap enough, as is patently the case here. No word on whether RX 6300 will reach western retail shores anytime soon. Perhaps it will remain an OEM-only product for big builders such as Dell.