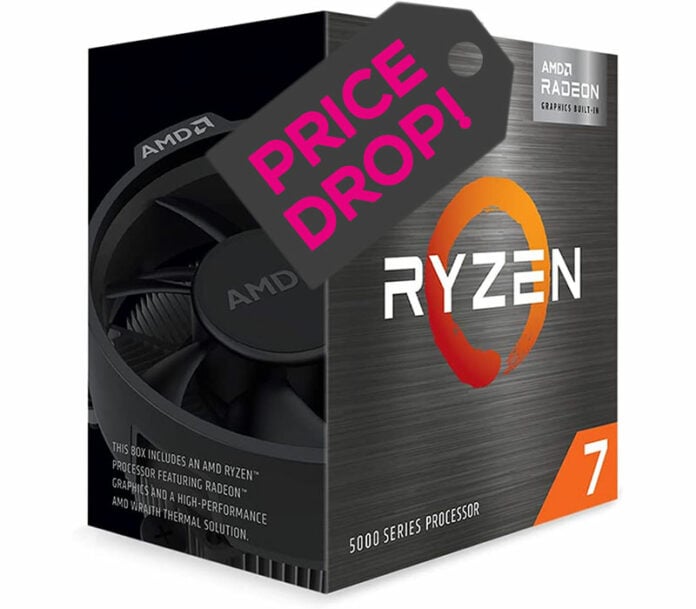 AMD Ryzen 7 5700G
---
"The AMD Ryzen 7 5700G processor has eight CPU cores, a base clock speed of 3.8GHz and eight GPU cores."
We earn a commission if you make a purchase, at no additional cost to you.
It's far too easy to get carried away when speccing a new build. Recent high-end launches have provided ample temptation, yet the savvy PC enthusiast will be keeping a close eye on previous-gen parts that still pack a punch.
Good news for folk who missed out on Ryzen 5000 Series deals back in the summer is that AMD's Zen 3 CPUs have plummeted to lowest-ever prices this past week, offering genuine attraction for anyone not lured by the latest and greatest.
For anyone wishing to extend the longevity of their AM4 platform, the Ryzen 7 5700G represents a stellar choice. Now available for under £200, the eight-core, 16-thread chip can boost up to 4.6GHz and is unlocked for overclocking. Onboard Radeon graphics offer entry-level gaming credentials, a 65W TDP looks increasingly attractive in this era of rocketing electricity costs, and there's a perfectly adequate Wraith Stealth cooler included in the box.
Favour something a little meatier? Ryzen 7 5800X has also dropped to an all-time low – it remains a cracking CPU at under £240 – and if eight cores just won't cut it in late 2022, the 12-core Ryzen 9 5900X is once again available for less than £350.