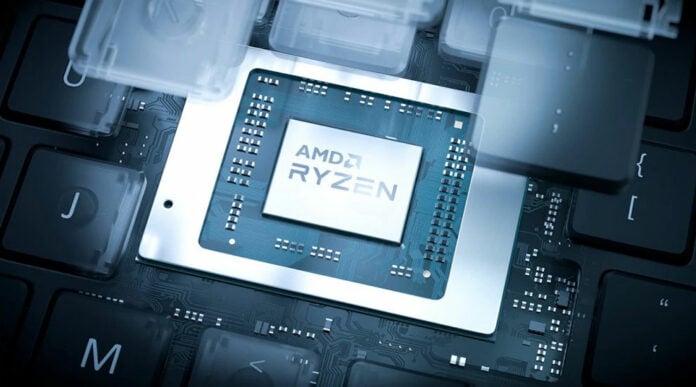 Much of AMD's product focus for early 2022 is in obtaining a larger share of the laptop processor market. We know this because Ryzen 6000 Series mobile took centre stage during January's CES keynote.
Codenamed Rembrandt, the new range builds on the predecessor by moving CPU cores from Zen 3 to Zen 3+, integrated graphics from RX Vega to cutting-edge RDNA 2, and adds a number of platform-level features and efficiencies on top. All good, wholesome stuff.
AMD continues to separate processors based on power requirements. U-series are destined for thin-and-light laptops requiring chips with 15-28W TDPs, while H-series, flexing Rembrandt's full strength, elevates power to 35-54W.
The first indication of H-series performance comes by way of a Geekbench 5 submission. Run inside an Asus ROG Zephyrus G14 laptop, a Ryzen 9 6900HS scores 1,571 marks for single-core and 9,751 marks for multi-core performance.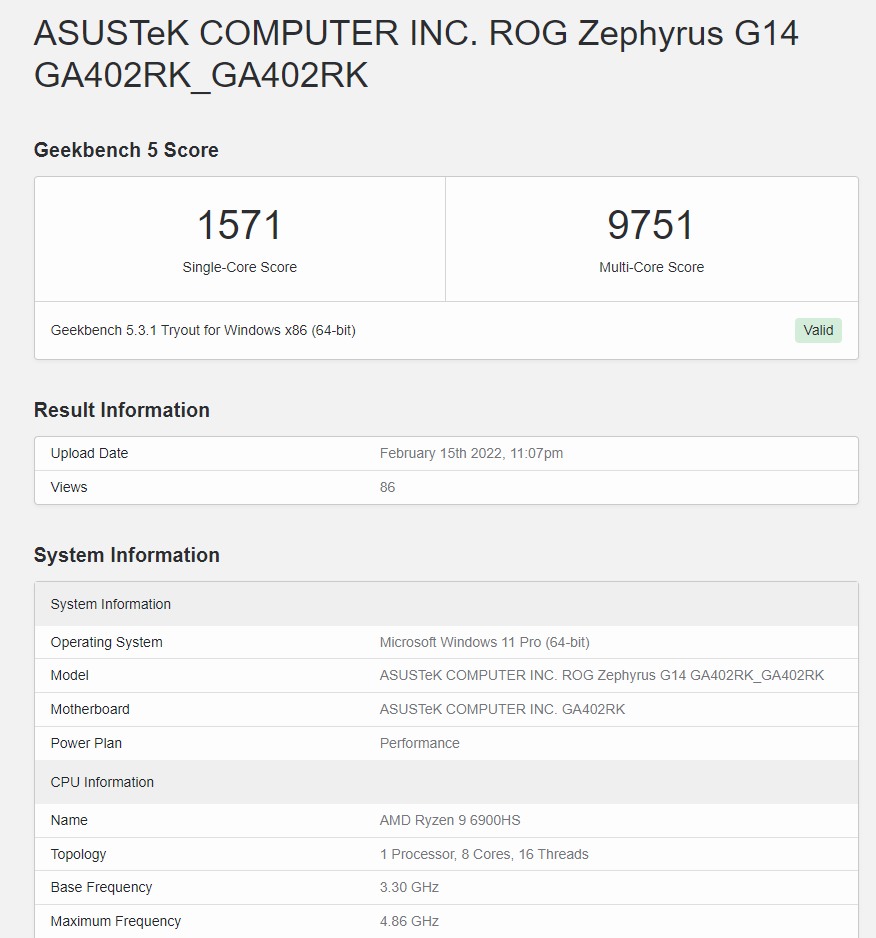 Analysis
Ryzen 9 6900HS is a 35W 8C16T Zen 3+ processor capable of 3.3GHz base and 4.9GHz boost, while the Asus Zephyrus G14 laptop, coming in at 1.70kg and 19.9mm thick, is considered a thin-and-light even though it carries a discrete GPU. Home to last year's Ryzen 9 5900HS processor, the easy change of processor is totally expected.
Putting the CPU score into context, albeit from one benchmark, aforementioned Ryzen 9 5900 HS typically scores 7,000-8,000 marks in this test. Looking at it through a broader desktop lens, performance is somewhere in the region of an Intel Core i9-10900K, which usually pulls over 200W when running full chat. Impressive for a 35W package that also includes integrated graphics.
Though very decent in its own right, Intel's much higher-power 14C20T Core i9-12900HK – the best mobile chip from Team Blue's Alder Lake portfolio – scores around 14,000 in the same test.
Back on track, it's a shame there are no GPU benchmarks for all-new RDNA 2 graphics; they promise a much larger uplift from the previous generation and make most sense in laptops that don't have space and thermal capabilities for housing a discrete graphics card.