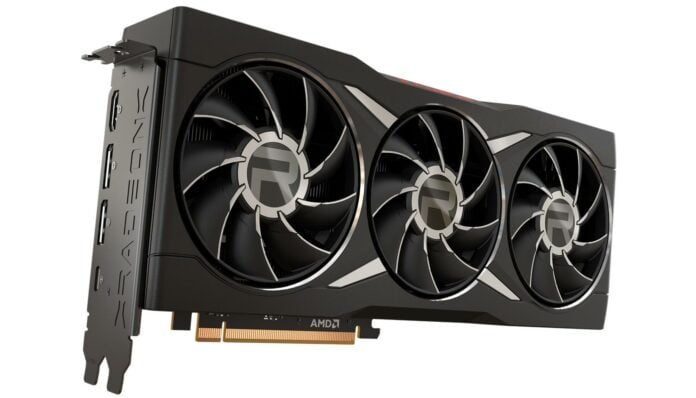 The seemingly unthinkable has happened; new graphics cards have arrived on the market at the correct price and with stock readily available.
---
"Featuring the breakthrough AMD RDNA 2 architecture, engineered to deliver the ultimate 4K gaming experience."
We earn a commission if you make a purchase, at no additional cost to you.
We're talking specifically about AMD's new chief Radeon, the RX 6950 XT, which launched yesterday alongside a $1,099 MSRP. Performance isn't in doubt – it's the fastest Radeon we've ever tested – but pardon us for having had our doubts over pricing. Following a lengthy period of GPU shortages and hugely inflated prices, we naturally assumed RX 6950 XT would be hard to find anywhere close to the advertised fee. In this instance, we're glad to have been proven wrong.
Browsing the typical retail channels reveals that AMD's latest range-topper is not only available to add to basket, but partner cards have also landed with Amazon at or close to the $1,099 mark.
There's similarly good news for UK buyers, too. PowerColor's Radeon RX 6950 XT is at the time of writing available from Ebuyer at a cost of £1,079, and though stock of the award-winning Sapphire Nitro+ Pure Gaming OC is a little harder to come by, Overclockers has the Club386 Recommended model up for pre-order at £1,099.
It has been such a torrid time for PC gamers seeking good-value upgrades that you can forgive our excitement. RX 6950 XT is itself based on 16-month old tech, and the latest cards are being sold merely at MSRP rather than a further discount, but having been starved of availability for so long, enthusiasts ought to be breathing a sigh of relief.
Keen pricing extends throughout the RX 6×50-Series range and you'll want to stay tuned as Club386 reviews of the RX 6750 XT and RX 6650 XT are coming soon.