Apple has unveiled its latest MacBook Pro laptops featuring cutting-edge M2 Pro and M2 Max chips, alongside up to 96GB of memory and 8TB of storage.
Available in 14in and 16in sizes, Apple's MacBook Pro laptops are not reinventing the wheel, keeping the exact same design found on current-gen machines but updating the hardware inside. In other words, we have displays boasting a 3456×2234-pixel panel on the 16in model and a 3024×1964 on the 14in.
Both deliver 1,000,000:1 contrast ratio and 1,000nits sustained brightness using 10,000 mini-LEDs. I/O comprises three Type-C Thunderbolt 4 ports, a headphone jack, an SDXC card reader, Wi-Fi 6E, Bluetooth, and an upgraded HDMI supporting 8K 60Hz or 4K 240Hz.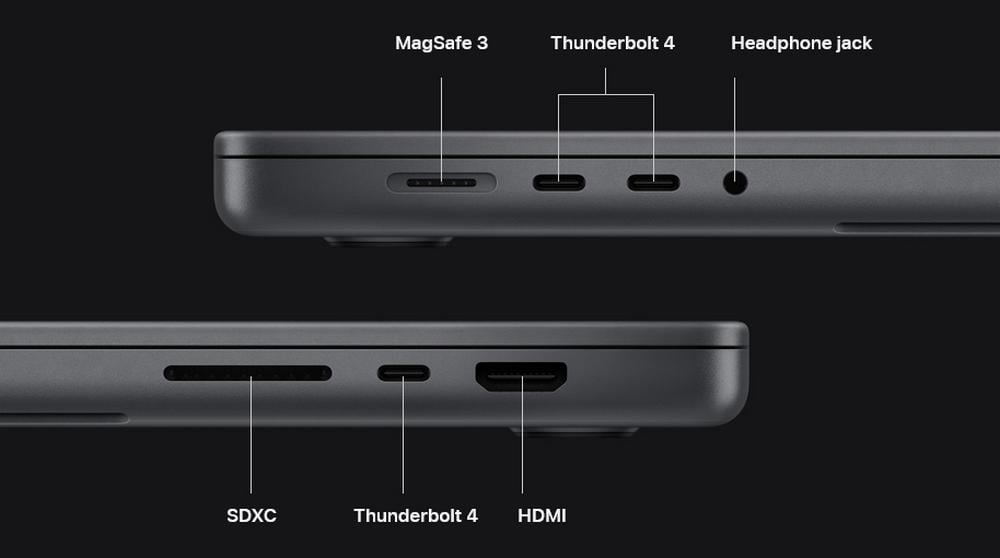 Battery life has been upgraded, too, now reaching 22 hours of video playback on the 16in model – "the longest battery life ever in a Mac," according to Apple. The 14in sits at 18 hours due to its smaller size.
Further bragging about the power of its new machines, the brand has states "With up to 96 GB of unified memory in the M2 Max model, creators can work on scenes so large that PC laptops can't even run them."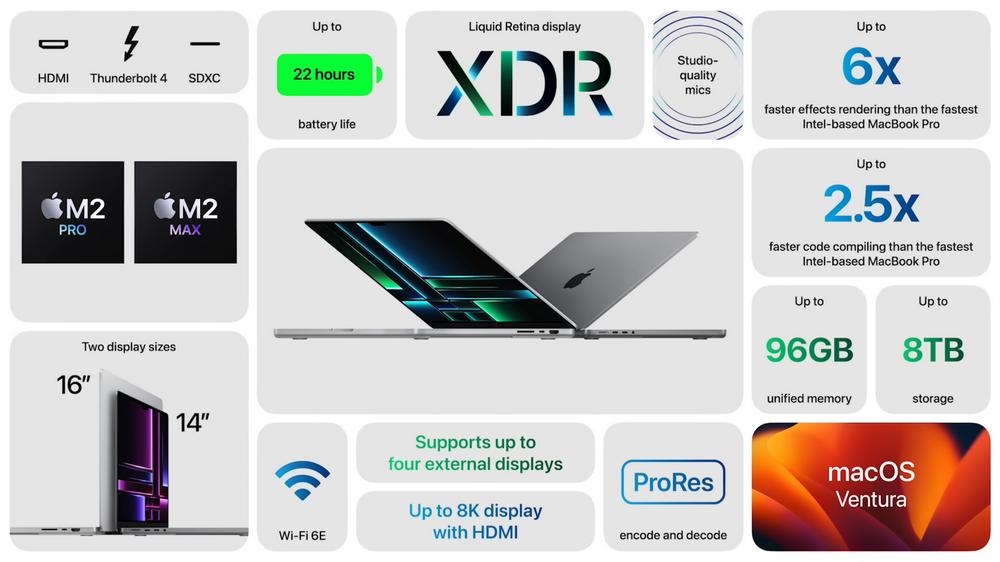 Using more precise terms, Apple claims 9.4x and 7x performance uplifts in Final Cut Pro video transcoding on an M2 Max and M2 Pro compared to a 2.4GHz 8‑core Intel i9 with 8GB Radeon Pro 5600M plus 64GB of RAM. Using the same setup, the brand also advertises 1.9x and 1.8x performance increases in motion graphics, 5.4x in Pixelmator Pro image upscaling, and 2.5x in Xcode code compiling. Impressive numbers.
As for pricing, the base 16in model starts at £2,699, housing in-house-designed 12 CPU cores, 19 GPU cores, 16GB of LPDDR5, plus 512GB SSD. The 14in, on the other hand, is a bit cheaper at £2,149, powered by 10 CPU cores, 16 GPU cores, 16GB of LPDDR5, plus 512GB SSD.
Evolution rather than revolution.