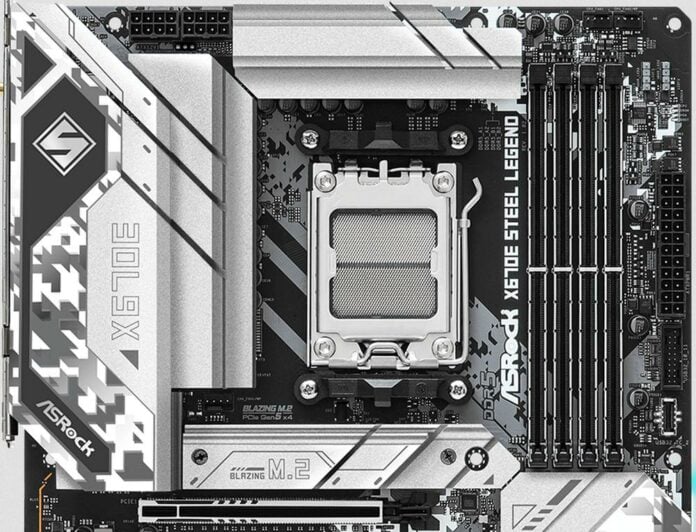 ASRock X670E motherboards are being listed on a French online store starting at €333.38 and going all the way to €692.67.
Spotted by @momomo_us on Twitter, pc21.fr has added five ASRock X670E boards featuring AMD's upcoming top-of-the-line X670E chipset – setting them at somewhat reasonable costs, unlike what we recently saw with MSI X670E offerings. A relief for many who were expecting insane prices for a half-decent board.
Starting at €333.38 (including taxes) you got the X670E PG Lightning, which is a 14+2+1-phase design with four DDR5 DIMMs supporting up to 6600MT/s (OC) modules, PCIe 5.0 for graphics cards, and 2.5GbE. Good to see faster Ethernet on entry-level models.
Moving a step up, we find the X670E Pro RS at €372.60 packing a similar 14+2+1-power design with again four DDR5 DIMMs capable of handling up to 6600MT/s (OC) RAM, PCIe 5.0 for graphics cards, plus 2.5GbE and Wi-Fi 6E this time. Next on the list is the X670E Steel Legend at €411.84 offering 16+2+1-phases with once more similar RAM, PCIe 5.0, 2.5GbE and Wi-Fi 6E support, but adding a second Realtek 1GbE port.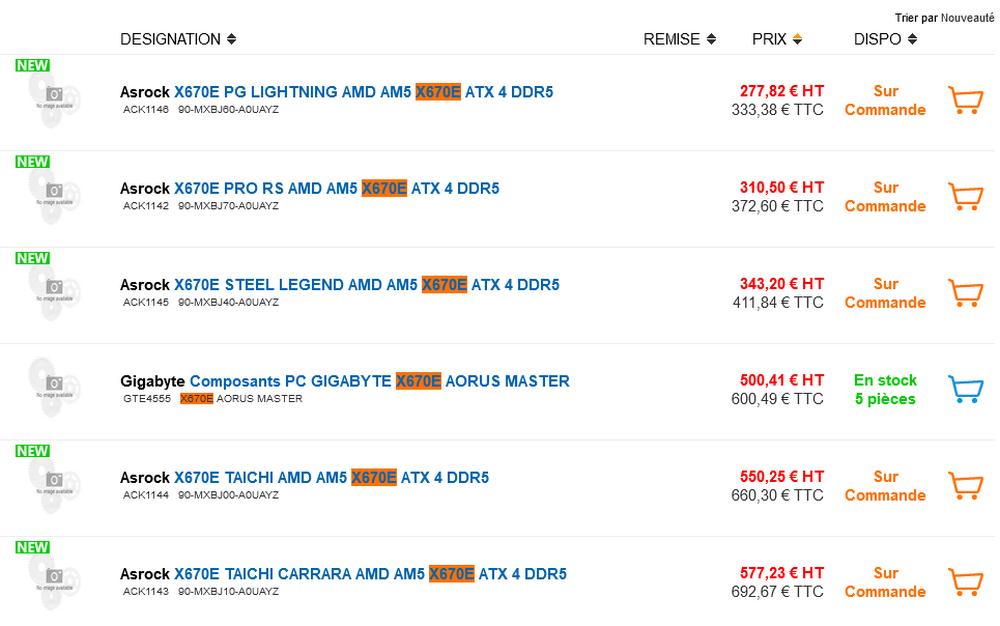 pc21.fr is also listing some high-tier ASRock motherboards such as the X670E Taichi for €660.30 and X670E Taichi Carrara for €692.67, alongside a Gigabyte X670E Aorus Master for €600.49. These top-tier ASRock boards share pretty much the same board design and features which include a 24+2+1-phase power design, four DDR5 DIMMs up to 6600MT/s, two PCIe 5.0 x16 slots, two USB 4.0 ports, Killer 2.5G LAN and Killer Wi-Fi 6E. Note that the X670E Taichi Carrara seems to have four extra USB 4.0 for front panels.
With all this said, if you are looking for something else from ASRock, you may find it in our B670E boards roundup. But if these prices are still high for your liking, just wait for ASRock's B650 and B650E models to release. We can't wait to see if vendors will deliver on AMD's announcement about B650 boards at $125.