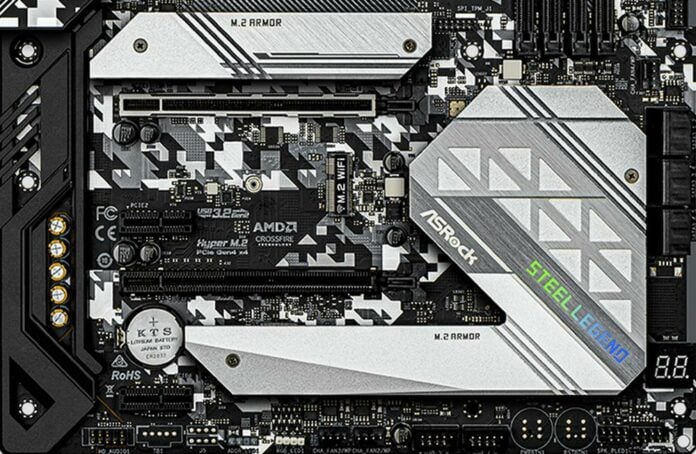 A list of Asus and ASRock mid-range motherboards featuring B650 and B650E chipsets for upcoming Ryzen 7000 Series processors has been discovered recently.
While checking the latest AGESA firmware updates, Reous, a member of HardwareLuxx forums, discovered a list of undisclosed Asus B650 and B650E motherboards. In it we find models from the Prime, TUF Gaming, and ROG Strix series. Of the bunch, only one is based on a B650E chipset from AMD; the rest are all (normal) B650. As a reminder, E (Extreme) variants are the only ones offering a PCIe 5.0 interface for graphics cards and M.2 SSDs simultaneously. The rest will make do with PCIe 4.0 x16 for graphics but still have a fast PCIe 5.0 M.2 slot.

While all models have at least two M.2 slots, with some going up to four, we see they include only four SATA ports, down from six or eight on current B550-based boards. Does this signal the beginning of the end for SATA? It's possible, of course, since M.2 is getting more adoption with each new generation offering more slots, thanks to much higher speeds, small size, and cable-free design.
Keep an eye on the ROG variants as they should get Asus's Dynamic OC Switcher, while bringing back some features from the high-end like USB 4 and 2.5GbE. Finally, note that there are no small-form-factor models on this list.
Asus's lineup isn't the only one that's been leaked, ASRock's has been too. There are 12 models, four of which are E (Extreme) variants, one is specially made for NZXT, and one that we already written about called LiveMixer. ASRock's offering is more balanced, including five models based on a B650E chipset and seven based on B650.
ASRock's list ranges from well-known Pro and Phantom Gaming models all the way to new arrivals such as LiveMixer and PG Lightning. Moreover, for now, unlike Asus, ASRock does indeed have an ITX board in its B650 arsenal.
B650 motherboards should launch in October, a bit after Ryzen 7000 debut on September 27. AMD has also announced that AM5 motherboards will be available for as low as $125.