Jump to: Features | Performance | Conclusion
AMD's path to the Ryzen 7000 Series AM5 platform has not been without issue. The DDR5-only setup was initially plagued by expensive memory and long boot times, while rival Intel stuck the proverbial boot in with cut-priced solutions for 12th and 13th Gen processors and accompanying chipsets. Now, however, AMD's finest consumer solution is in fine fettle, offering numerous CPUs and motherboards to suit most budgets.
Speaking to which, ASRock's built a formidable AM5 motherboard lineup headlined by X670E Taichi – you know, the one laden with gold livery and interesting cogs – yet most DIY builders don't need this over-the-top firepower and £500 street price. A more sensible choice is a board built around capable B650E, and ASRock delivers exactly that with the £260 / $279 B650E Taichi Lite.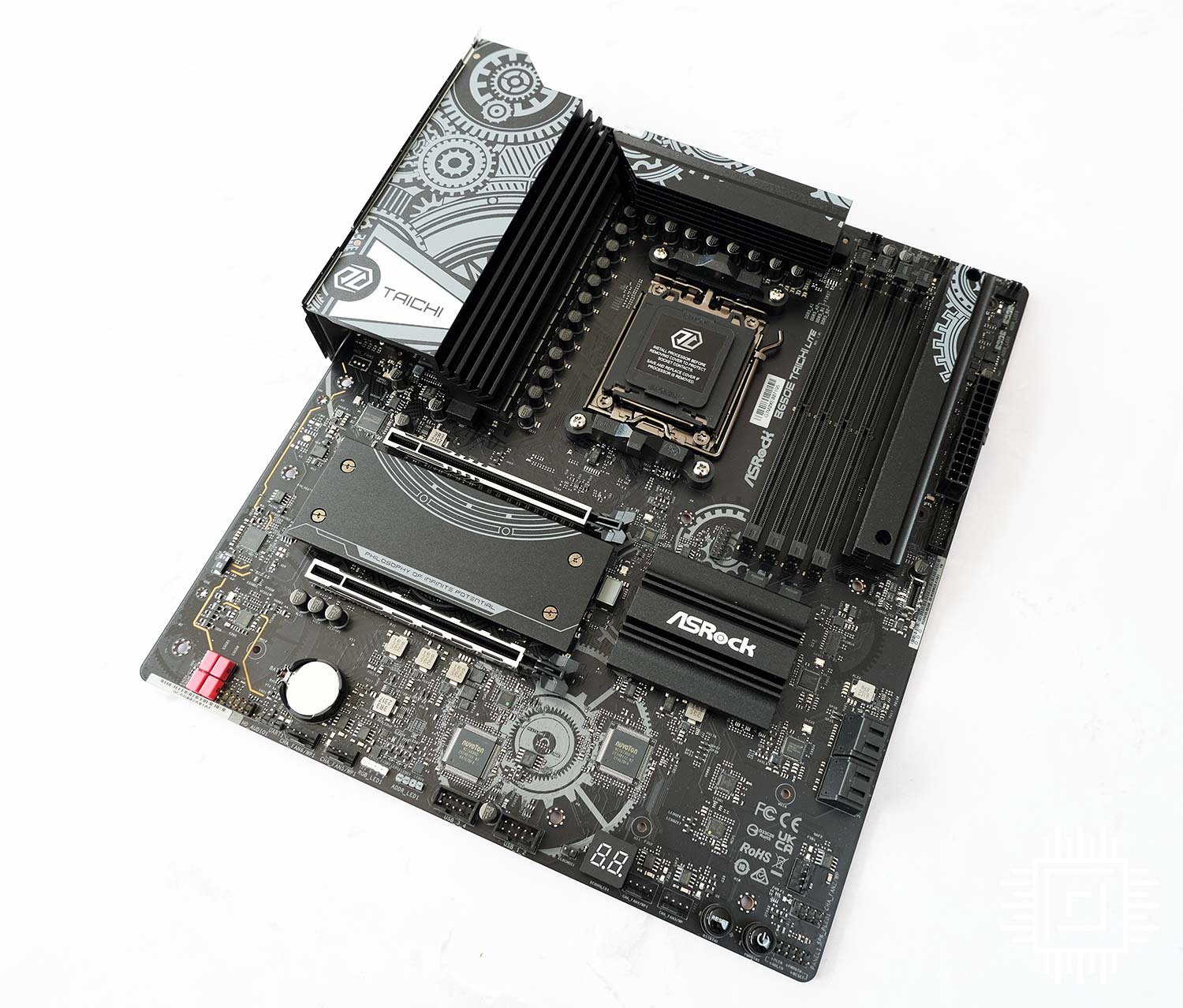 The company decides wider remains better and uses an increasingly popular E-ATX form factor – meaning the board is 267mm wide – and this extra real estate is put to good use by housing a tall, thin M.2 heatsink between DIMM slots and main power port. Big Boss Taichi does exactly the same, as well, and it's here where a PCIe 5.0 x4 M.2 slot runs directly from the CPU. Even if you don't have such a drive – and most don't – we'd recommend installing the boot SSD here as the covering heatsink is chunkier than the one sandwiched between dual PCIe x16.
A Real Taichi
Clearly equipped with Taichi design DNA, numerous grey cogs look cool in person. Unlike premium Taichis, these don't move and, instead, are purely decorative. In fact, B650E Taichi Lite is shorn of any bling other than six RGB LEDs contained on the bottom-left rear side. Less is more.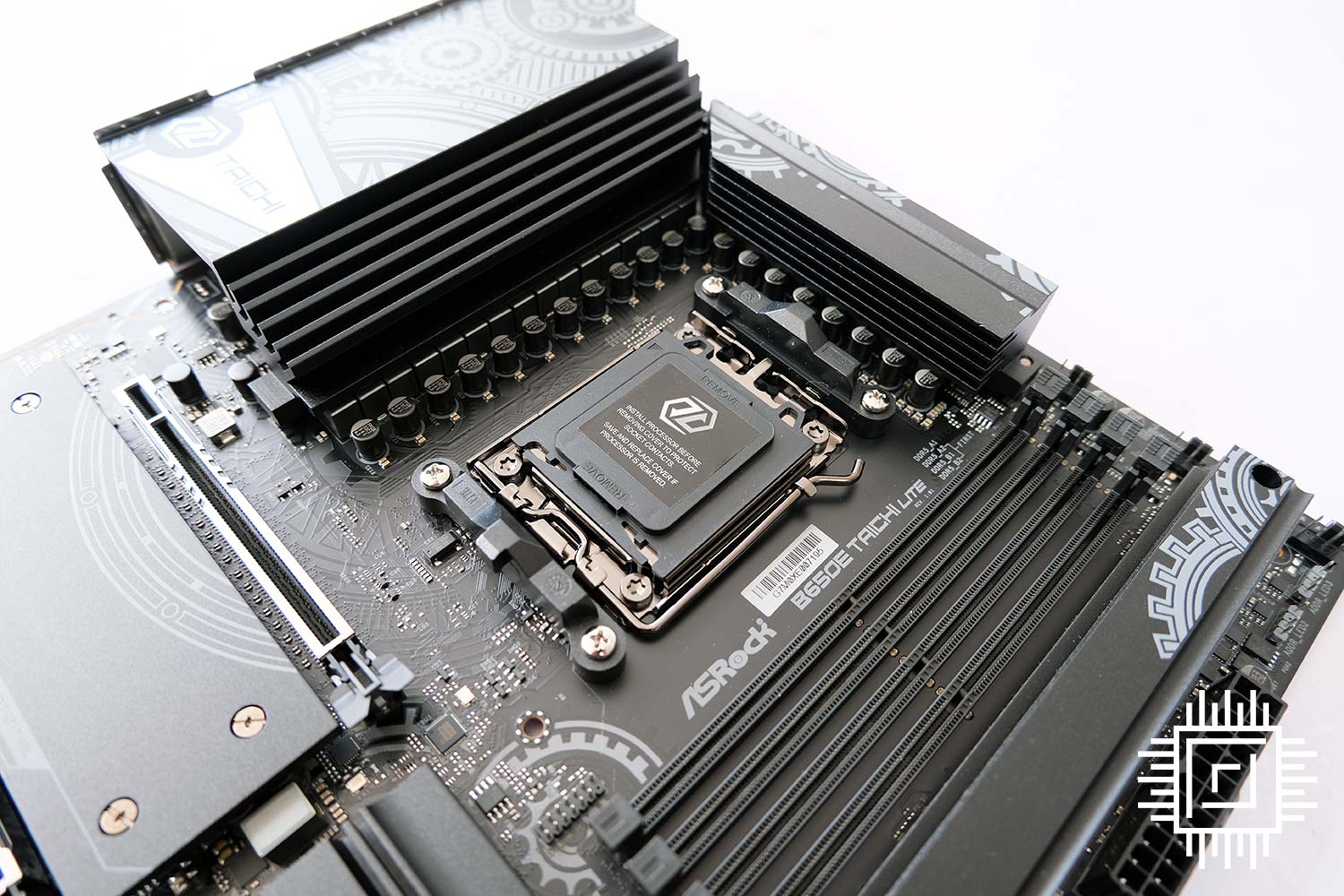 Parking the light show enables ASRock to focus on what's important. B650E Taichi Lite uses the same robust 24+2+1-phase, 105A power setup as best-of-breed Taichi whilst carrying marginally thinner heatsinks. Understanding this point leads us to the inevitable conclusion that it ought to be nearly as good at overclocking as a board costing nearly twice as much.
It's natural to lose a little functionality between AMD X670E and B650E chipsets, so if it matters, the lower PCIe x16 runs off the chipset rather than the CPU and at Gen 4.0 instead of 5.0. Given the dearth of multi-GPU setups today, that's no major hardship for the vast majority of users.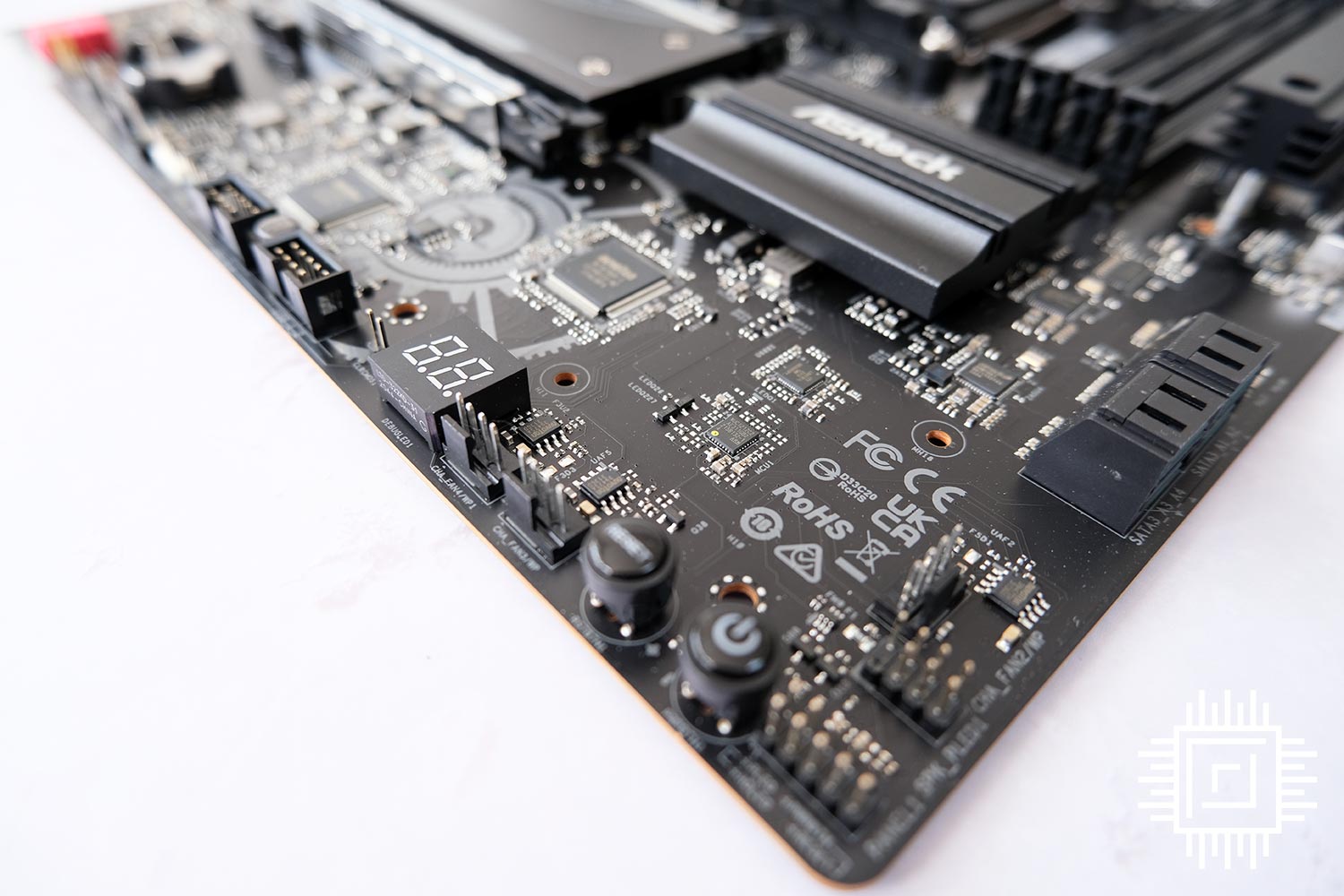 Keeping the enthusiast tone set by Taichi alive and kicking, I appreciate the onboard buttons, debug LED, eight fan headers and plenty of scope for additional RGB. Cuts have to be made somewhere to achieve the aggressive street price, so there's neither a metal rear heatsink nor active cooling within the top-mounted 'sinks, which are present on regular Taichi.
The nature of B650E means most boards lose one M.2 compared to X670E, and Taichi Lite duly carries three – the aforementioned CPU-run PCIe 5.0 and two PCIe 4.0 emanating from the chipset, hidden under a larger cooler. Appreciating how cheap high-capacity M.2 drives are right now, having only three slots is not a problem.

Show your support for impartial Club386 reviews
Club386 takes great pride in providing in-depth, high-quality reviews built on honest analysis and sage buying advice. As an independent publication, free from shareholder or commercial influence, we are committed to maintaining the standards our readers expect.
To help support our work, please consider making a donation via our Patreon channel.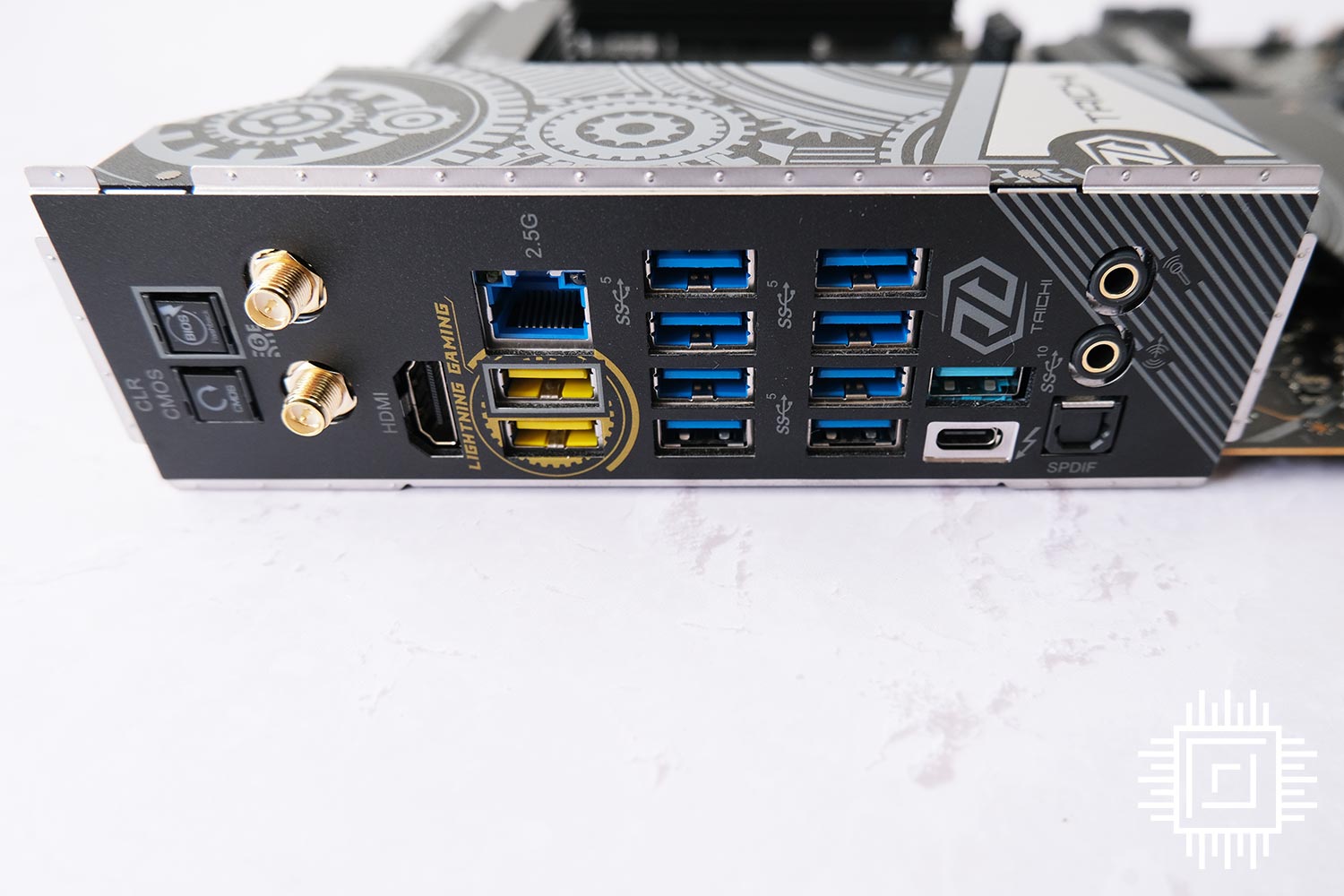 I/O is impressive enough, too. A single USB 4.0 (40Gbps) is augmented by a trio of 10Gbps ports, a further eight 5Gbps, and you can run any Ryzen 7000 Series without a graphics card by using the HDMI port. Rounding it out, Killer provides 2.5G Ethernet and WiFi 6E / Bluetooth 5.3.
Here's the skinny. You lose little useful functionality by trading aspirations down from full-blown Taichi to the Lite version. Sensibly introducing this series some time after X670E / Z790 Taichi and Carrara have had their fill, I'd steer value-conscious punters in this direction.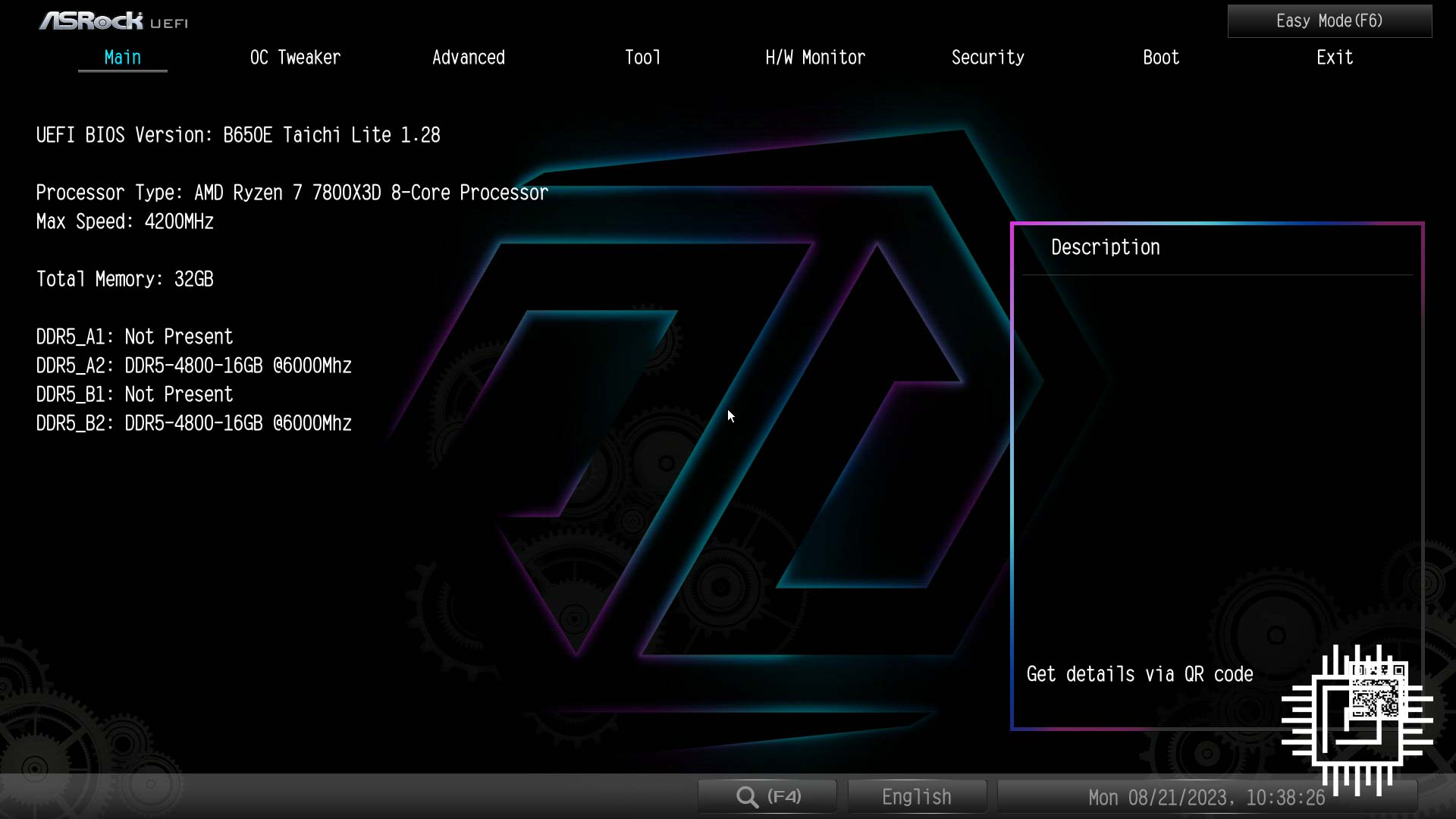 ASRock's firmware is presented in FHD and provides snappy transitions between screens. Everything obvious is carried within, and getting the system up to snuff is as easy as installing the correct EXPO timing – takes but two clicks – and keeping everything else on auto.
Firmware updates are amongst the easiest of any motherboard manufacturer, too, as the 'Tool' submenu searches USB-connected drives for the latest iteration.
Do understand the first time you install and configure memory, B650E Taichi Lite goes through a so-called training phase that lasts around 90 seconds. This happens only once, with the debug LED stuck on code 15, but after that, booting is normal.
Performance
Benchmarking B650 Taichi Lite against its bigger brother, X670E Taichi, is instructive in evaluating whether there are manifest differences when using a gaming-centric AMD Ryzen 7 7800X3D and GeForce RTX 4090 tied to DDR5-6000 memory.
| Benchmark | ASRock B650E Taichi Lite | ASRock X670E Taichi |
| --- | --- | --- |
| AIDA Read (MB/s) | 59,137 | 58,994 |
| AIDA Write (MB/s) | 79,169 | 79,320 |
| AIDA Copy (MB/s) | 58,714 | 58,502 |
| AIDA Latency (ns, lower is better) | 76.6 | 76.3 |
| Cinebench 1T (score) | 1,789 | 1,801 |
| Cinebench MT (score) | 18,062 | 18,090 |
| y-cruncher (time, lower is better) | 77.003 | 76.815 |
| PCMark 10 (score) | 8,281 | 8,170 |
| 3DMark TS (score) | 29,238 | 29,304 |
| PCIe 5.0 SSD (MB/s) | 12,394 / 11,836 | 12,350 / 11,884 |
| Endwalker FHD (FPS) | 293 / 101 | 293 / 102 |
| Far Cry 6 FHD (FPS) | 169 / 126 | 168 / 125 |
| AC Valhalla (FPS) | 233 / 180 | 235 / 178 |
| TC: Rainbow 6 (FPS) | 477 / 328 | 478 / 331 |
| VRM temperature (°C) | 52 | 48 |
| Power idle / gaming (watts) | 71 / 513 | 73 / 520 |
Configured exactly the same way, it's no surprise to see near-identical results. Being fair, X670E is a tad faster in most benchmarks, but certainly not quicker enough for it to be noticed during everyday use.
Sage advice says those seeking the fastest gaming PC right now would do well to look at a 7800X3D / RTX 4090 combination. It truly flies.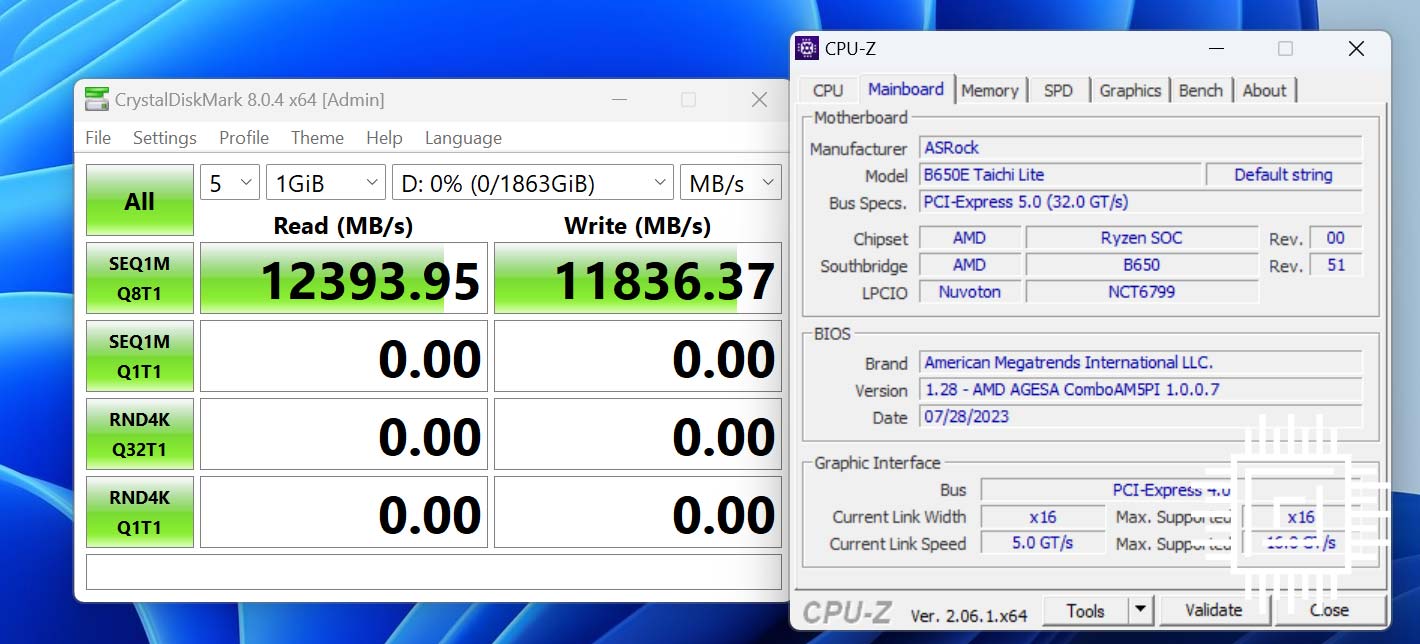 B650E has super-fast PCIe 5.0 SSDs covered, literally, with the solitary slot on the upper-left portion of the board. Got to love that 12.4GB/s bandwidth.
Conclusion
AMD's AM5 platform has come of age thanks to DDR5 prices dropping in concert with superb deals on Ryzen 7000 Series processors. Yet the high fee for a fully-stacked X670E motherboard continues to prove a hindrance to widespread adoption.
ASRock's decision to pull over most of the important features into a B650E Taichi Lite pays handsome dividends. PCIe 5.0 for both primary graphics and M.2 is great, while the power-delivery system is the best we've seen on B650E. The rest of the equipment roster is premium enough to belong on a high-quality X670E motherboard, and we fully expect this board to support next-gen Ryzens that also use the AM5 ecosystem.
Sure, you miss an extra M.2 slot and PCIe 5.0 for secondary graphics, but those are small-beer advantages not used by most, and we continue to be impressed by the decisions ASRock is making in the motherboard market.
By opting for a cheaper chipset that remains great on connectivity, ASRock's found the opportunity to add more sensible features than an equivalently-priced X670E. That's a trade-off I'm willing to make every day of the week.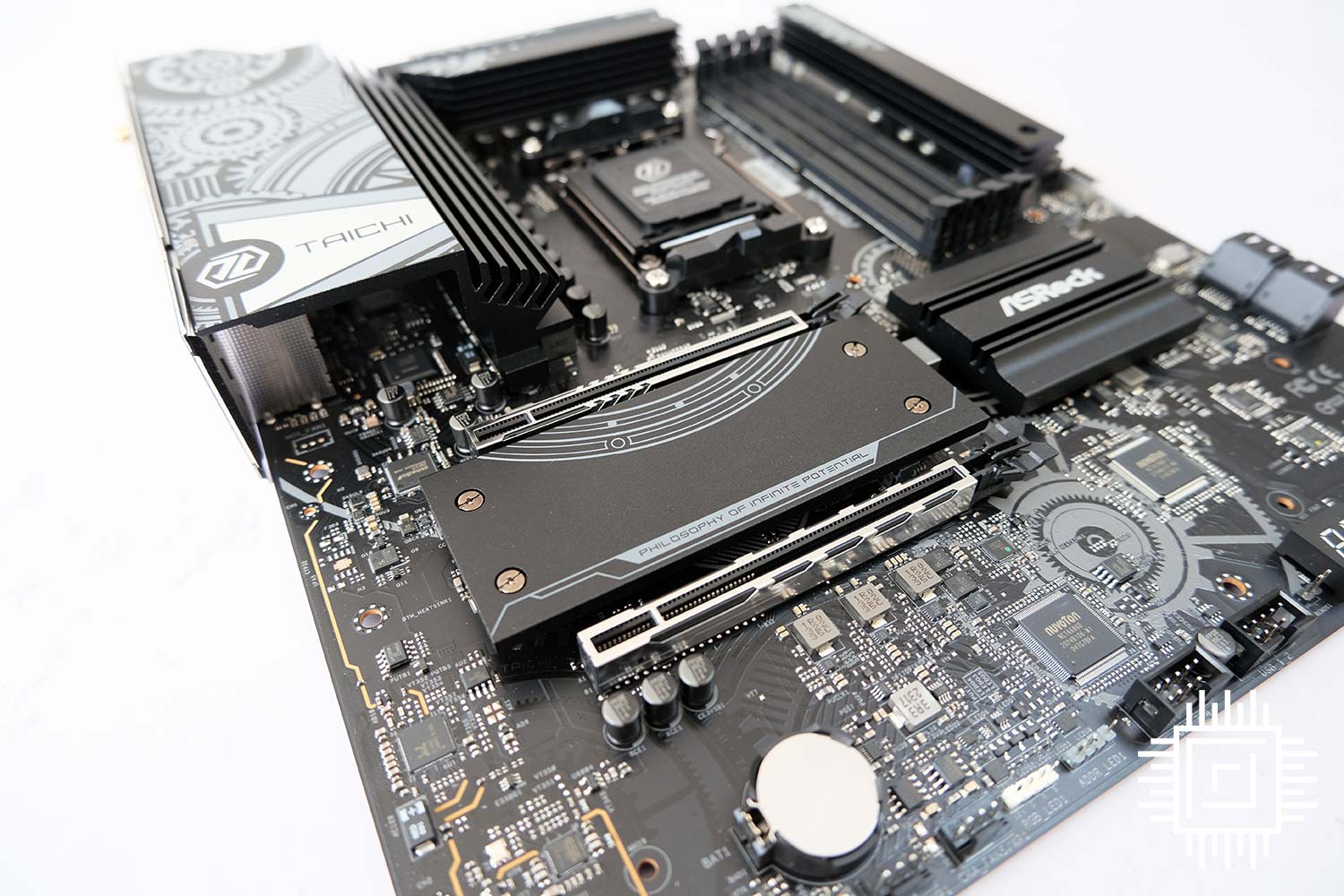 ASRock B650E Taichi Lite
Verdict: A high-spec B650E motherboard that's great for today and tomorrow.
---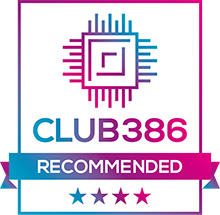 Pros
Solid features
Superb power delivery
Speedy performance
Tidy aesthetic
Attractive price
---
Club386 may earn an affiliate commission when you purchase products through links on our site. This helps keep our content free for all.
Rest assured, our buying advice will forever remain impartial and unbiased.