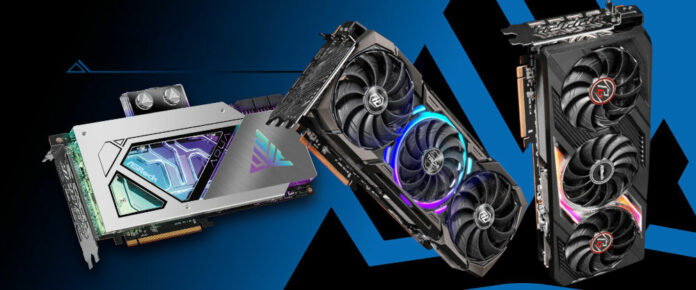 ASRock is ready to unleash RDNA 3 chiplets power with its Aqua, Taichi, Phantom Gaming, and even reference RX 7900 Series graphics cards.
Aqua
Starting from the top we find the Radeon RX 7900 XTX Aqua 24GB OC, a single-slot, liquid-cooled card measuring 275mm X 157mm X 22mm and featuring AMD's current best RDNA 3 GPU powered by a large 22-phase design. The latter gets power via three 8-pin power connectors theoretically capable of delivering 450W. While this much power may be overkill on air-cooled cards, Aqua has the advantage of liquid cooling which generally is better, meaning GPU may boost even further. Out of the box, the card clocks up to 2,680MHz boost and 2,510MHz game frequencies, representing up to 180MHz higher clocks than reference.
The cooling of all major components is entirely handled by a wide water block covering the full length of the card. See, it's possible to have single-slot cards, you just need a water block. But jokes aside, this will surely be the way to go for those looking for a near-silent build. Interestingly, ASRock didn't use a single-slot I/O shield, for some reason, instead opting for a dual one. Probably has something to do with GPU sag – water blocks are not light.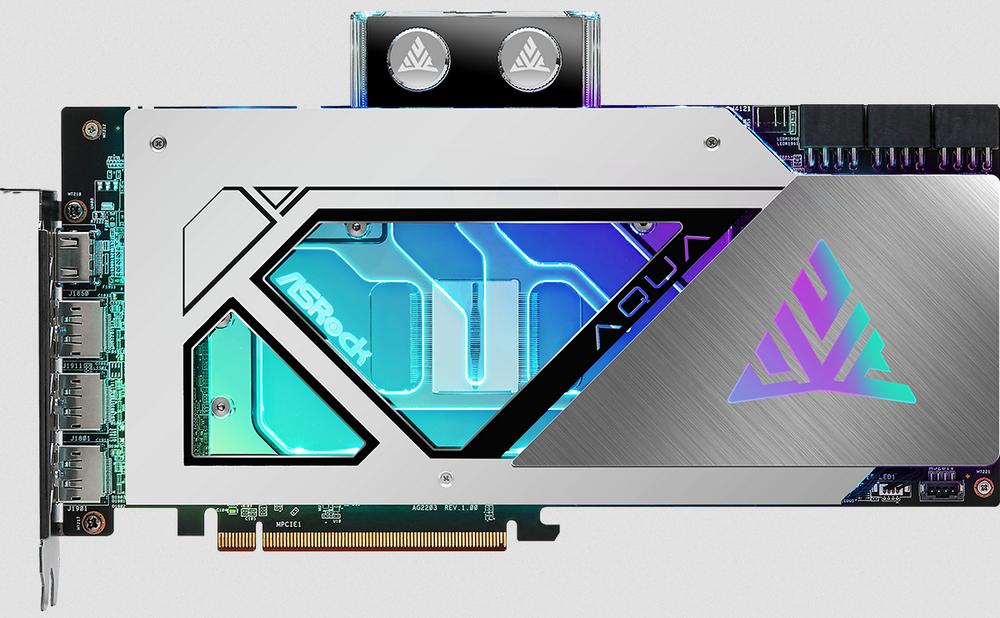 Style-wise, you get some RGB lighting inside the block alongside an illuminated logo near the 8-pin headers, with the usual transparent glass to see coolant flow. The base plate is made of copper and features 0.3mm microchannels for enhanced water flow and improved heat dissipation, according to ASRock. The LEDs can be turned off using the switch on the card. On the back, we find an Acrylic plate with a bunch of Aqua imprints.
For video outputs, meanwhile, the card has three DisplayPort 2.1 plus one HDMI 2.1. Neither USB-C, like AMD's reference models, nor dual BIOS which would have been very useful on a card like this.

Taichi
Moving a step down, we find Radeon RX 7900 XTX Taichi 24GB OC and Radeon RX 7900 XT Taichi 20GB OC. Both are air-cooled cards featuring three 110mm 'Striped Ring' fans, with the card measuring 345mm x 140mm x 61mm or three slots. Unlike the Aqua's 1,450g weight, these bad boys hover around 1,900g. But do not worry, the card also includes a reinforced metal frame to help carry this extra lard. Still uneasy about it, there is also a bundled stand that should eliminate any sagging concerns.
To power the card ASRock went with 22 phases – probably similar to those of the Aqua – in turn taking power from three 8-pin connectors. The 7900 XTX Taichi is also clocked like the Aqua at 2,680MHz boost and 2,510MHz game frequencies. But unlike the Aqua, this time around there is a dual BIOS. Moreover, at low loads, all fans remain silent (0dB), helped by those eight heatpipes that transfer heat efficiently from the GPU to the heatsink.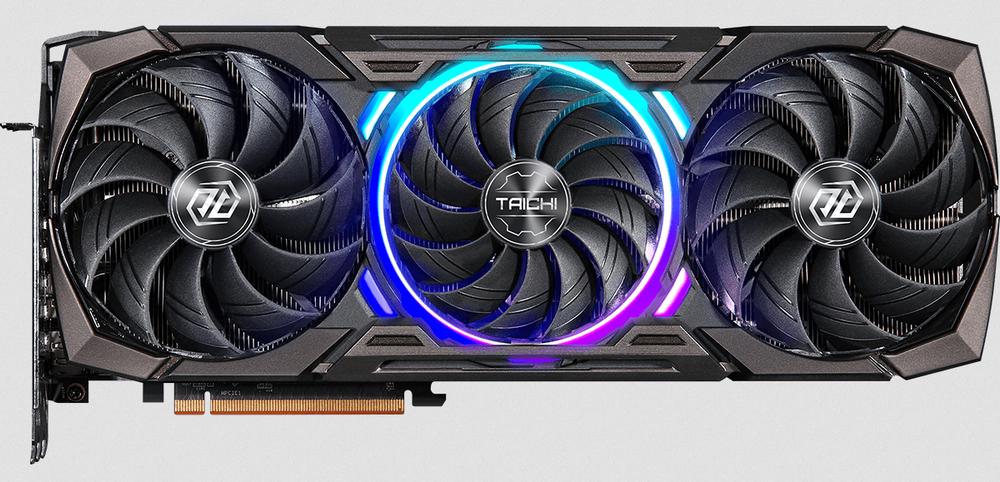 There's an illuminated backplate logo, a frame with Taichi written in it, plus an ARGB central fan, which is nothing out of the ordinary but most importantly, nothing absurd. Need more RGB, you can hook light strips to the ARGB header found on the card, before synchronising the ensemble via ASRock's software. I/O is covered by three DisplayPort 2.1 and one HDMI 2.1.
If you think about picking this one up, you may also be tempted by its equivalent motherboard, the X670E Taichi, which not only follows the same design philosophy but also carries enough power to handle any available Ryzen 7000 Series CPU you throw at it with ease, thanks to its 24 105A phases.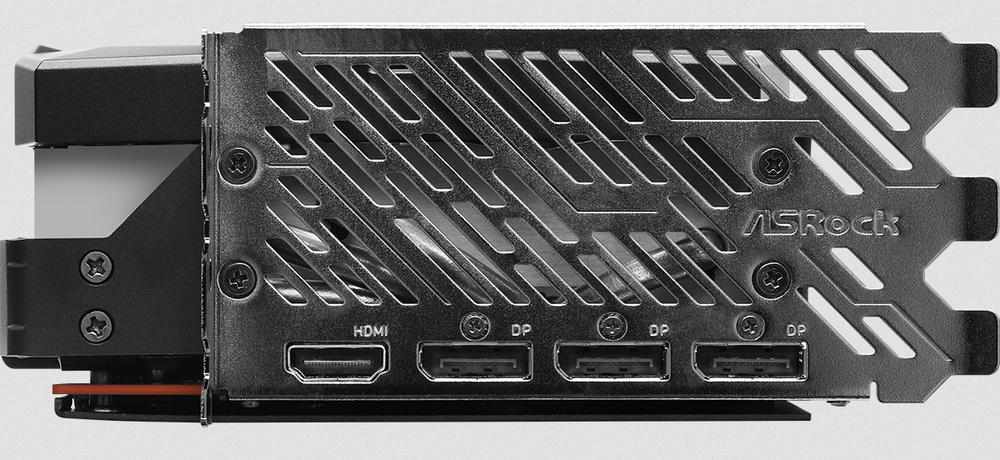 Phantom Gaming
Need a card without extra features that you may not need like dual BIOS and hefty coolers, the Phantom Gaming series are for you. Here we find the Radeon RX 7900 XTX Phantom Gaming 24GB OC and Radeon RX 7900 XT Phantom Gaming 20GB OC, both measuring 330mm x 140mm x 57.6mm or 2.8 slots and weighing around 1,500g.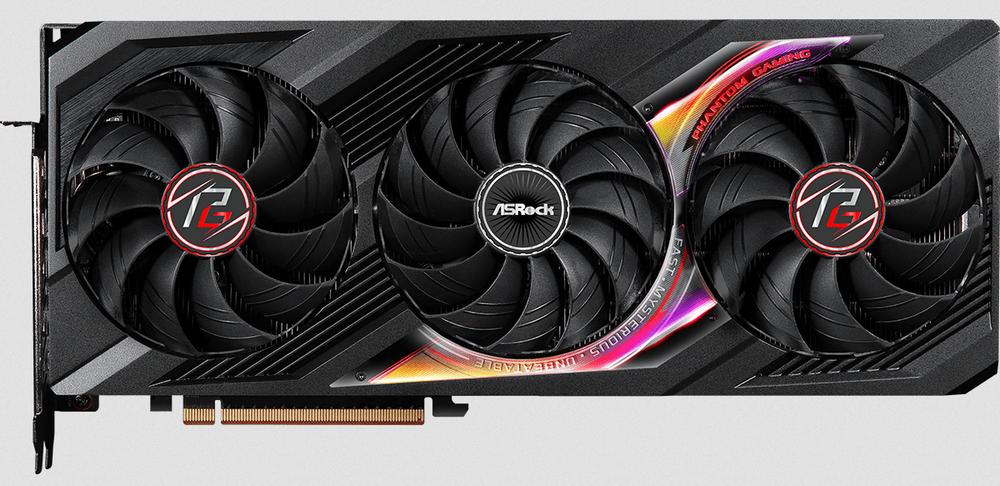 While ASRock kept the triple 8-pin connectors, it didn't specify the number of power phases, so we assume at least 20, which is AMD's reference number. Phantom Gaming uses once more three Striped Ring fans (with a 0dB mode) coupled to a large heatsink traversed by seven heatpipes (one fewer than Taichi). This model doesn't come bundled with a GPU stand; however, it does feature a reinforcement frame, a metal backplate, and an ARGB header.
And finally, as you may have guessed, I/O is three DisplayPort 2.1 plus one HDMI 2.1.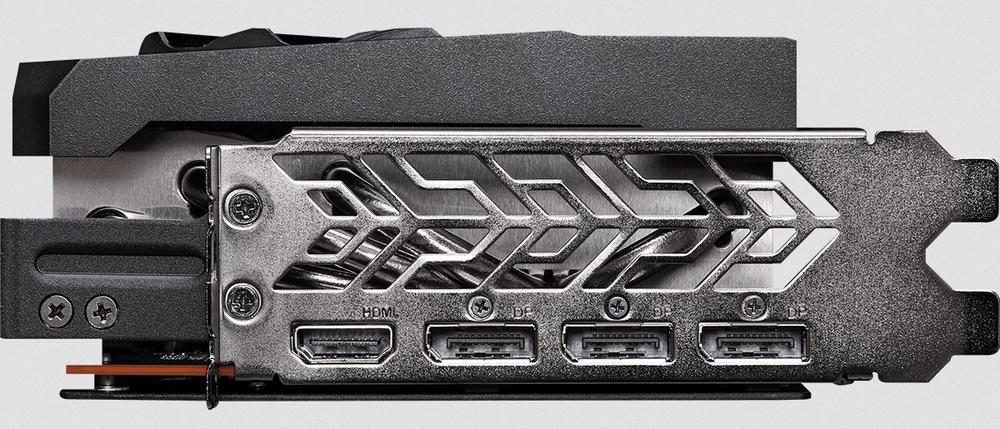 For more detailed information about the capabilities of these GPUs, we have in-depth reviews for both the RX 7900 XTX and RX 7900 XT. Happy reading.