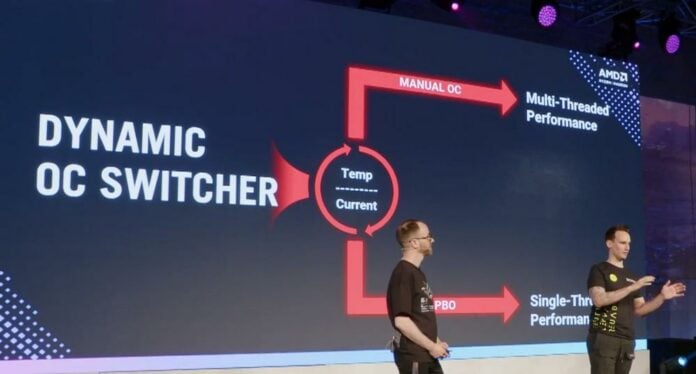 At the same event where Asus announced Micro-ATX and Mini-ITX motherboards, the company also revealed plans to integrate Dynamic OC Switcher with all ROG AM5 motherboards. This is great news for those who like tweaking their system to extract the last drop of performance.
Dynamic OC Switcher
If you don't know what Dynamic OC Switcher is, no problem, as that's normal – it was previously only available on flagship boards like the X570 ROG Crosshair VIII Dark Hero. By default, to improve AMD CPU performance, you had to make a choice, either activate PBO (Precision Boost Overdrive) which provided a higher single-thread boost frequency or go the manual way which offered higher multi-threaded clocks but disabled CPU boost thus hampering single-core workloads. A trade-off that many found absurd, why can't we have both, they said? Well, now we can thanks to Asus Dynamic OC Switcher.
While it is not a brand-new option, having to buy a £400 motherboard just to unlock some extra MHz may be considered excessive for many. Fortunately, this should change soon as Asus is planning to integrate the feature on all ROG series motherboards. Fingers crossed for an ROG Strix B650 in the £100-to-£200 price gap.
Asus Dynamic OC Switcher works by automatically jumping between PBO and OC modes, thus allowing users to benefit from those very aggressive single-core frequencies offered by PBO before switching back to OC mode when more cores are required. To activate it you need to enter the BIOS and navigate to the Extreme Tweaker menu. From there you will have to fill in some parameters plus activate Dynamic OC Switcher, and voila! No more dilemma.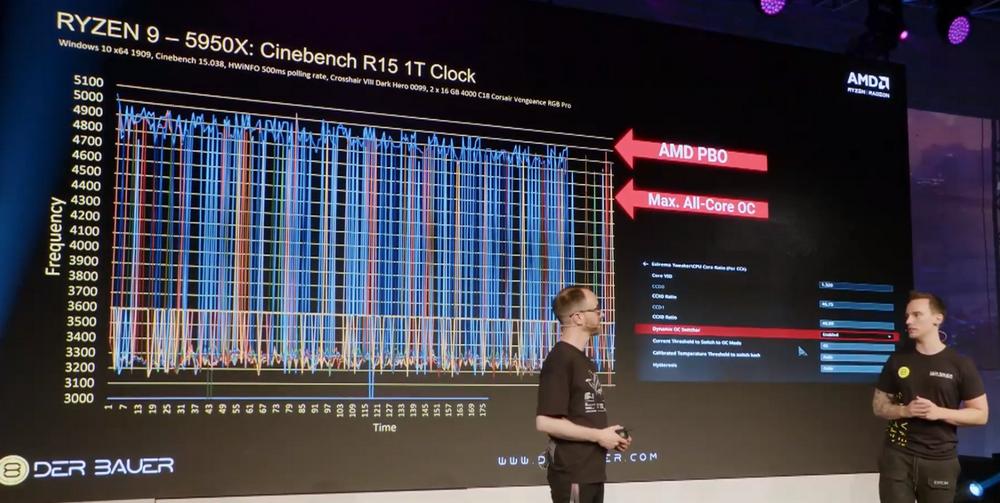 Ryzen Core Flex
Another innovation called Ryzen Core Flex is also coming and is aimed at enthusiasts and tinkerers. It works by providing three programmable algorithms where one can set different values and thresholds. For example, you can set a rule that allows the CPU to use as much power as it wants, as long as temperatures stay below a specific value (e.g. 70°C). These rules could be based on temperatures, frequencies, voltages, current, or even BCLK.
With (24/7) overclocking becoming rather mundane thanks to automatic OC modes, boost algorithms and CPUs releasing already near their maximum frequencies, Ryzen Core Flex may be a new way for enthusiasts to have a bit of fun all while trying to get the most of their hardware.