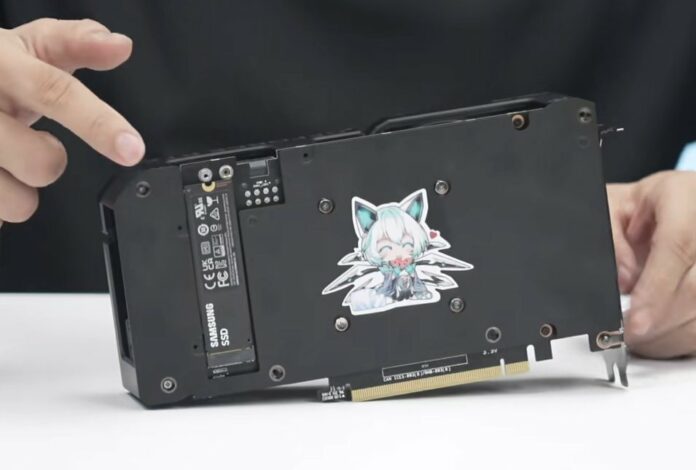 Asus China's GM Tony Yu has presented a new GeForce RTX 4060 Ti concept featuring a PCIe 4.0 x4 M.2 slot on the card's rear, sharing the same heatsink with the GPU and memory.
Asus presents this as a good way to repurpose unused PCIe lanes on low-end GPUs that operate in x8 or x4 modes. Interestingly, while the remaining eight lanes are enough for two PCIe 4.0 SSDs at full speed, Asus has only integrated a single slot – probably because this is a proof of concept. This additional slot is likely to require PCIe bifurcation to work, which is not a problem on AMD's AM4 and AM5, since adding a bridge chip would otherwise unnecessarily push costs up.
Aside from fully using PCIe lanes, hot-running SSDs could benefit from direct contact with the GPU heatsink, helping them maintain their maximum throughput, assuming the heatsink is not already too hot. Generally speaking, SSDs are limited to 70-80°C by manufacturers, after which they start throttling speed to reduce temperatures.
According to Tony's testing, the SSD delivered pretty much the same performance as when installed directly on a motherboard, with temps around 43°C using a Samsung 980 Pro 2TB SSD, indicating that, at least in this instance, there were no side effects to Asus's implementation. The GPU topped at 63°C while running a FurMark stress test, by the way.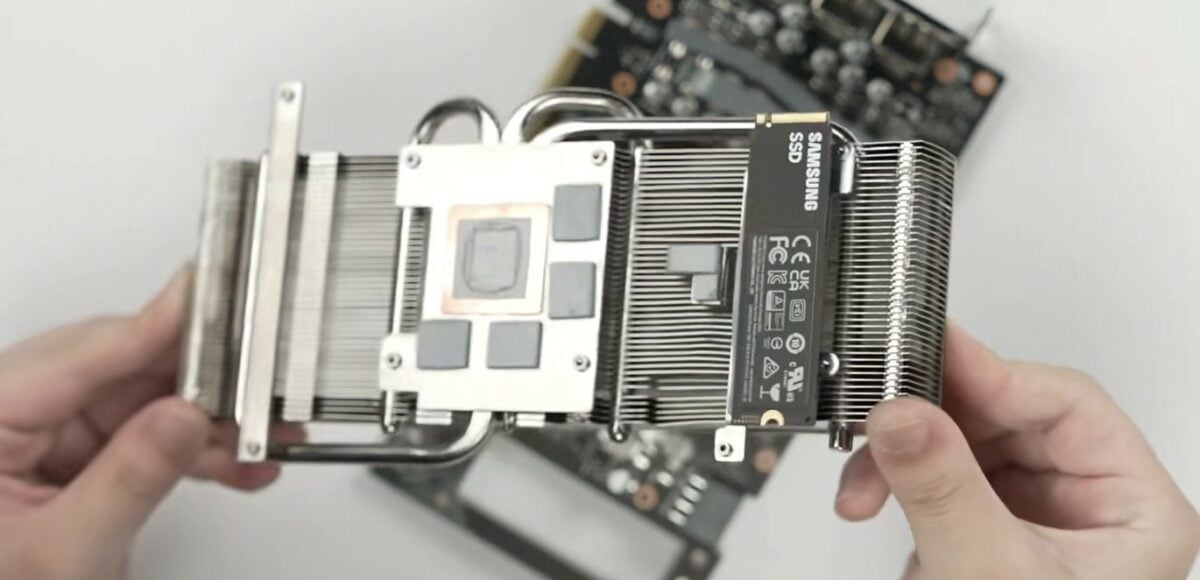 Now, the important question is, does this increase the cost of an already inadequate-priced GPU? Yes, most likely. By how much? We don't know, yet.
Those buying mainstream cards are looking for the best bank for their buck, meaning that fancy coolers, RGB lighting, and add-on M.2 slots are not a priority. On the other hand, those who shell out more than £800 on a GPU can probably afford £50 or £100 extra for a motherboard with more native M.2 slots.
One viable scenario we could think of is in very compact builds where Mini-ITX motherboards don't have enough room for additional M.2 slots. But again, some of these counterbalance their size limitations by stacking M.2 slots or by putting them on the board's rear. As we said, interesting.
Asus's contraption is nice and unique, if you could find a use for it. But since we won't be privy to new features if no brand tries, good job to Asus for taking the risk.