Jump to: Installation | Performance | Conclusion
German outfit be quiet! has revamped its portfolio of high-end Dark Rock coolers with the arrival of Dark Rock Elite and Dark Rock Pro 5, priced at £109.99 and £99.99, respectively. Introduced as direct successors to 2018's Dark Rock Pro 4, the duo has been a long time coming and are marketed, quite simply, as "the new kings of air cooling."
Lofty claims indeed, yet timing couldn't be better as cooling for your next CPU upgrade has become a hot topic, if you'll excuse the pun. Today's premier chips will do whatever it takes to scale the benchmark charts, and more often than not, the end result is wild power consumption and rapid heat build-up that takes some shifting.
A word between friends; the official press guide for the world's fastest consumer CPU goes as far as to recommend testing with a 360mm all-in-one liquid cooler in order to extract maximum performance. Even a 240mm is deemed insufficient, so where does that leave traditional air coolers?
Despite mass migration to AIOs, we're of the opinion a good ol' heatsink-and-fan still has plenty to offer. They're often quieter, easier to install, and largely free of cable clutter, plus if you happen to be nervous about the longevity of your hardware, take solace in the fact there's zero chance of an air cooler springing a leak.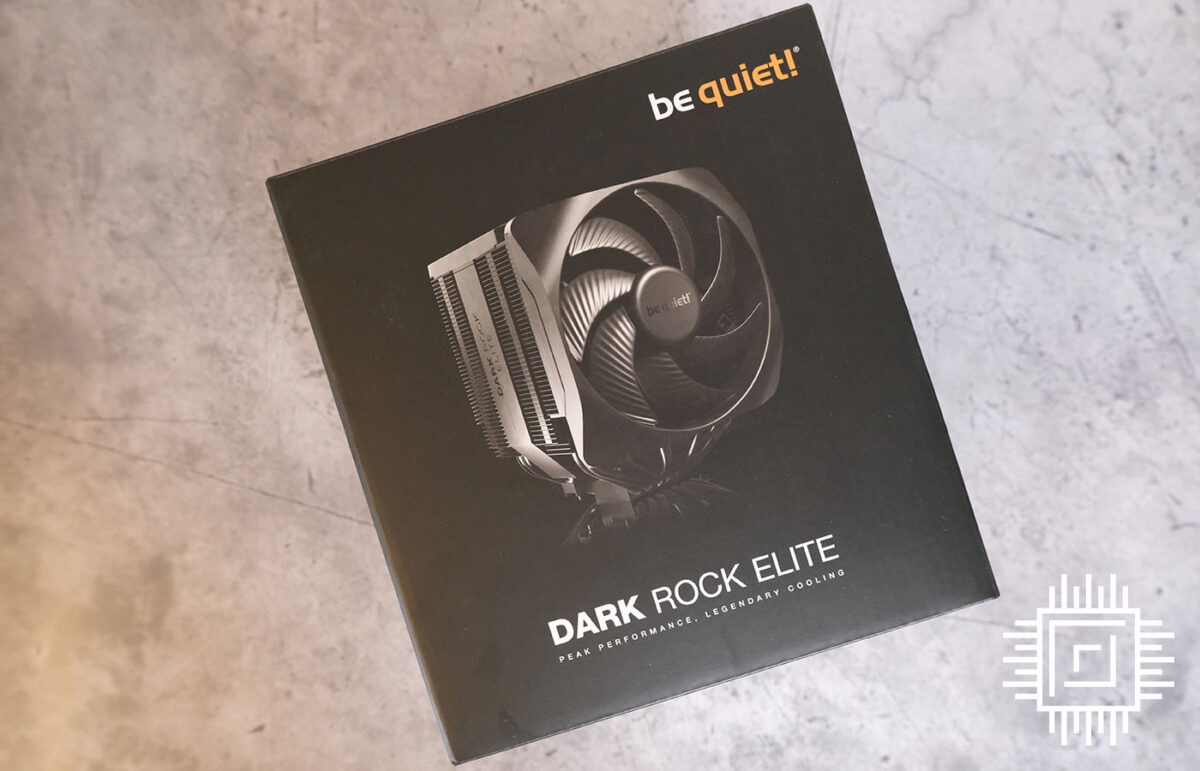 Club386 has had the opportunity to put flagship Dark Rock Elite through its paces, and though the cooler's features represent a departure from what has come before, fans of the series will appreciate the various upgrades.
The good news is that be quiet! hasn't broken what already works well. Packaging stays true to the firm's minimalist stealth-black approach, and the bundle includes individually bagged mounting kits for AMD and Intel, a small tube of thermal paste and a good-quality screwdriver that makes light work of reaching the mounting screws.
Everything you need to get up and running, yet despite Elite branding and the same £110 price tag as rival Noctua NH-D15, be quiet!'s contents don't mirror a sense of ultra-premium presentation. We'd expect a full-size tube of paste at this price point, the paper manual feels basic by comparison, and if you view CPU cooling as a long-term investment, note that be quiet!'s three-year warranty is half the length of Noctua's.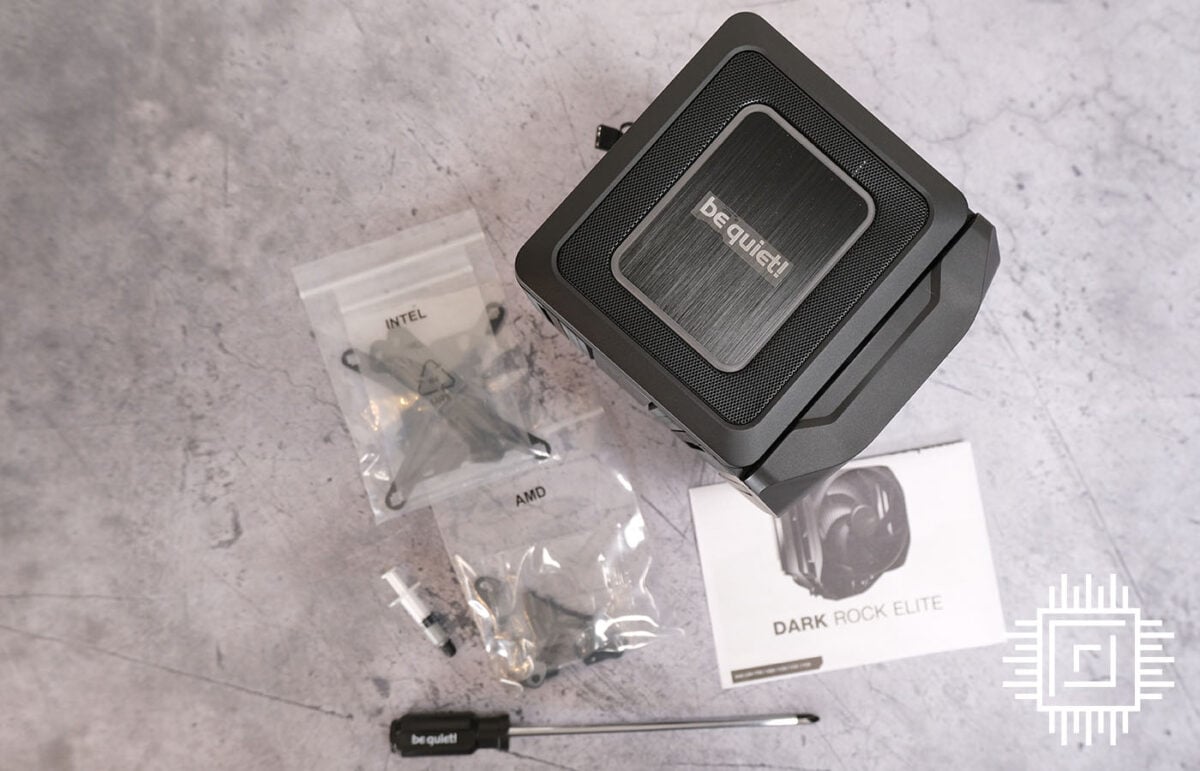 The cooler itself is a beast of a unit. Described by the manufacturer as a "beefy design" and "an eyecatcher in any system," Dark Rock Elite measures 145mm (L) x 136mm (W) x 168mm (H) and tips the scales at a hefty 1.34kg. That's a fraction taller and heavier than the aforementioned NH-D15, and the extra space enables a few new adornments this time around.
The front Silent Wings PWM fan, for example, has been upgraded from 120mm to 135mm and now rests on a notched rail system that allows height adjustment in half-a-dozen steps. The notches are pronounced enough to ensure the fan doesn't slide around willy-nilly, and though they require a fair bit of force to adjust, they look and feel much nicer than fiddly fan clips. Do note that shorter front fin-stack enables 63.3mm clearance for the closest memory slot, while the fan can be raised up to 69mm. Handy to have the option, though from an aesthetic point of view, Dark Rock Elite looks best when the top sits entirely flush.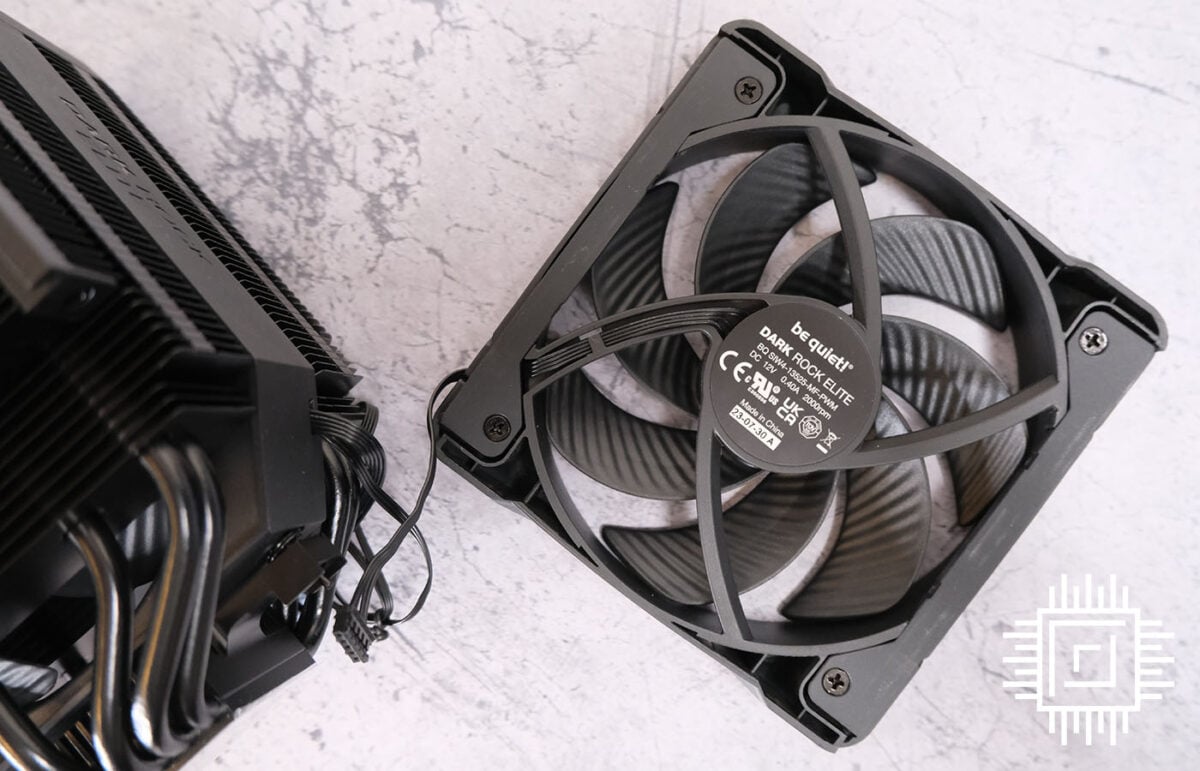 be quiet!'s central fan, also a 135mm Silent Wings PWM, is stowed inside an easily removable frame that slides tidily between the familiar dual-tower heatsink arrangement. Tool-free fans are a definite boon, and in a first for flagship be quiet! air cooler, the top cover is adorned with a ring of ARGB lighting.
An inevitable change given the soaring popularity of PC illumination, however while the band of light is even and plenty bright, it's a shame the company logo isn't backlit, too. The end result is a modest lighting effect that feels more like a token gesture than a key feature. What's more helpful to be quiet!'s traditional audience is the speed switch hidden beneath the top cover's removable plastic frame. Toggle from Performance to Quiet and you can reduce maximum fan speed from 2,000RPM to 1,500RPM without having to venture into BIOS.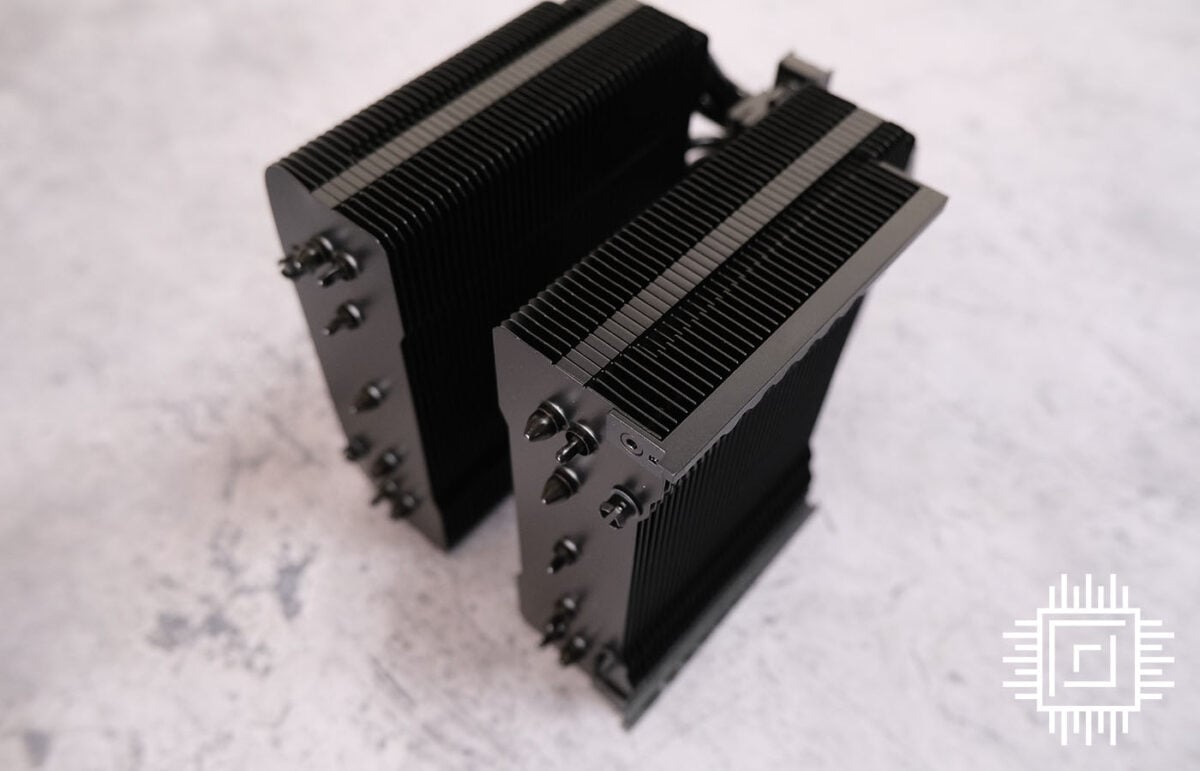 Construction quality feels excellent throughout and be quiet!'s black coating is particularly sexy. Said to feature ceramic particles that aid heat transfer, the matte-effect finish bodes well for a stealthy build. Indeed, the metalwork is so sleek that we'd like to see a variant without the plastic top cover; there's a raw, natural beauty to the metal that we prefer.
Dual stacks of aluminium fins are traversed by seven 6mm-thick heatpipes that feed into a CNC-machined, nickel-plated copper baseplate. Paired to dual 135mm fans, be quiet! reckons Dark Rock Elite can deliver 280W of cooling performance. That's a 12 per cent increase over last-gen Dark Rock Pro 4, and 10W more than second-rung Dark Rock Pro 5. On paper, that ought to be ample for even a Core i9-14900K, but as enthusiasts will know, one manufacturer's TDP rarely translates well to another.
Installation
New features and a bold aesthetic haven't made the latest Dark Rock any harder to setup. Quite the contrary, as installation is practically identical to the 2018 model. be quiet!'s mounting kit for LGA1700 looks indistinguishable and is fixed using a metal rear bracket whose screws are held in place with o-rings. Standoffs clamp the bracket in situ, and mounting arms then attach using four screws; and yes, every available component is finished in black.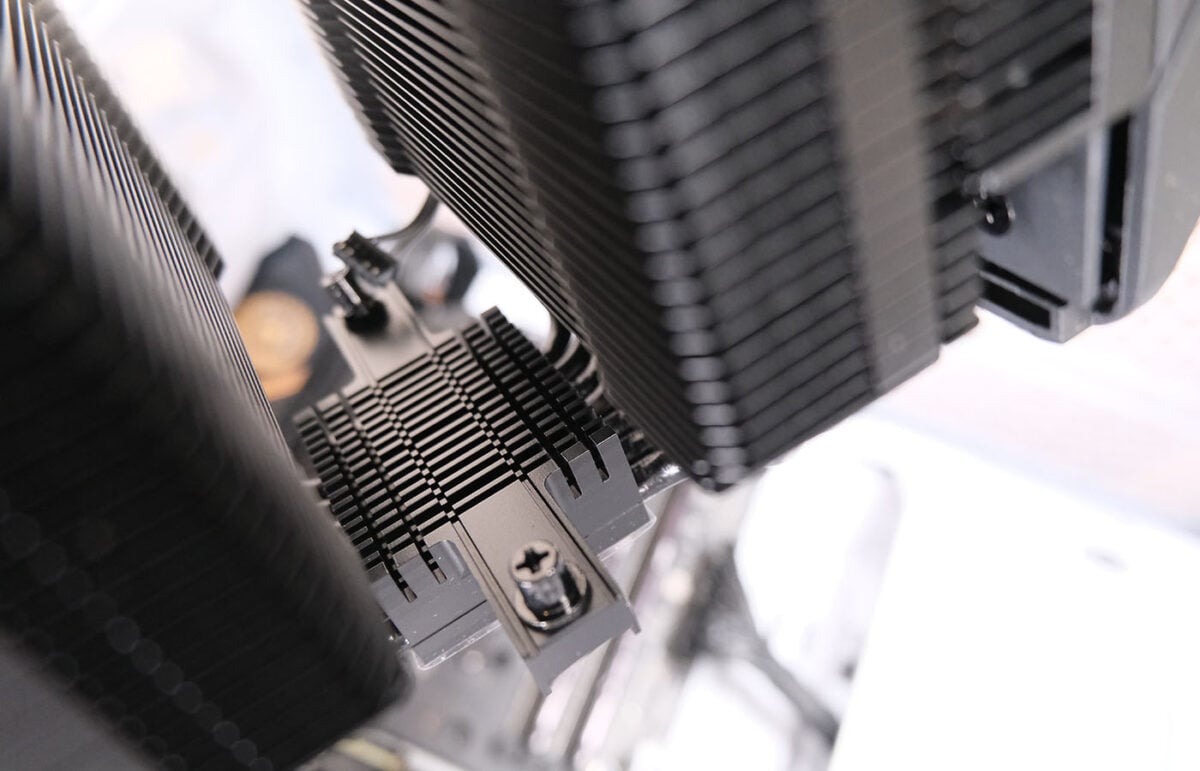 The mounting bridge is pre-attached to the base – meaning no need to balance an extra part while lowering the cooler in place – and the entire installation process can be completed in a matter of minutes. Do note that there's no paste pre-applied, so remember to use the provided tube before the cooler hides your CPU indefinitely. Our preference on LGA1700 is a mid-sized blob in the middle flanked by a smaller dab in each of the CPU's four corners.
Our Kingston Fury Beast DDR5-6000 memory looks made to measure, leaving just a tiny gap between the DIMMs and fan at its lowest position. Cable management is straightforward, too, with the central fan assembly providing a connector to link the front fan, a four-pin PWM motherboard header, plus a three-pin ARGB connector for synchronised effects. Simple.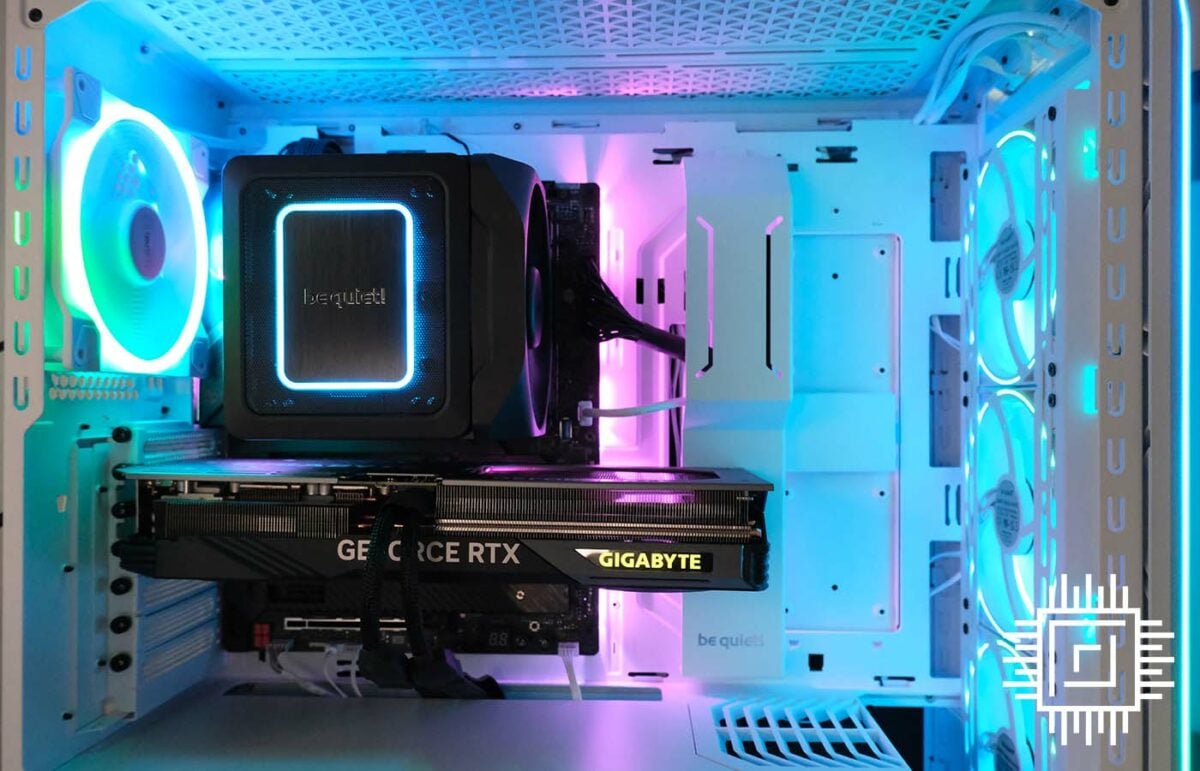 Setup is painless for such a large item, but it's time now to address the big question; can Germany's finest air cooler knock Austria's mighty NH-D15 chromax.black off its perch? We've tested both, from scratch, so let's get some answers.

Show your support for impartial Club386 reviews
Club386 takes great pride in providing in-depth, high-quality reviews built on honest analysis and sage buying advice. As an independent publication, free from shareholder or commercial influence, we are committed to maintaining the standards our readers expect.
To help support our work, please consider making a donation via our Patreon channel.
Performance
The somewhat disingenuous nature of today's enthusiast CPUs is such that the numbers written on the box don't paint a complete picture. Core i9-13900K maximum power soars to 253W but maintaining that top level of performance and the frequencies that come with is easier said than done.
Without requisite cooling, peak performance will drop off quickly, and for that purpose we're testing the CPU configured in BIOS to remain at 253W under full load. The question we want to answer is whether each cooler can keep to that wattage, what it means for core temperature, and how it affects benchmark results.
Getting testing underway, we begin with noise readings reflective of a real-world, fully built PC. With chassis fans fixed to 600rpm at all times, noise is measured with CPU cooler fans configured in three states: low-speed (600RPM), high-speed (1,200RPM), and the maximum applicable to each cooler model.
Cooler Acoustics
Type
Noise at
600RPM
Noise at
1200RPM
Noise at
max RPM
be quiet! Dark Rock Elite
Air
30.2
33.7
41.8
Noctua NH-D15 chromax.black
Air
30.8
39.6
44.2
be quiet! Pure Loop 2 280
Liquid
31.1
34.8
46.0
DeepCool LT720 WH
Liquid
32.6
36.1
53.3
MSI MAG CoreLiquid E360
Liquid
31.2
40.2
52.6
Decibels, lower is better
When weighing up the pros and cons of air or liquid cooling, be certain to consider the acoustic impact. In our experience, even the quietest AIOs aren't as serene as a basic heatsink and fan. Having no pump noise is a plus for anyone looking to build a near-silent PC, and even at medium speeds of 1,200RPM, Dark Rock Elite is markedly quieter than the NH-D15 chromax.black. At low speed it is barely audible and as close to silent as you're going to get outside of a passive build.
Cinebench Score
253W
600RPM
253W
1200RPM
253W
Max RPM
153W
600RPM
153W
1200RPM
153W
Max RPM
be quiet! Dark Rock Elite
36,544
36,614
36,668
31,899
32,126
32,127
Noctua NH-D15 chromax.black
36,657
36,831
36,991
31,674
32,058
32,183
be quiet! Pure Loop 2 280
36,846
37,001
36,974
32,010
32,190
32,187
DeepCool LT720 WH
36,333
36,742
36,999
32,034
32,260
32,245
MSI MAG CoreLiquid E360
36,730
36,830
37,294
32,085
32,285
32,266
Multi-core score, higher is better
Running Cinebench R23's built-in stress test is always helpful in gauging cooler optimisation. We expect the Intel Core i9-13900K to score up to 38k when all cores are firing optimally at 253W, dropping to ~32k when power is reduced to 153W. It is not uncommon in DIY circles to power-limit enthusiast CPUs in an effort to balance performance and efficiency.
Going purely by benchmark performance, there isn't a great deal separating the coolers on show, yet what's happening beneath the heatspreader can be more insightful.
i9-13900K Temperature
253W
600RPM
253W
1200RPM
253W
Max RPM
153W
600RPM
153W
1200RPM
153W
Max RPM
be quiet! Dark Rock Elite
94.4
93.0
91.8
77.6
70.8
67.7
Noctua NH-D15 chromax.black
93.1
91.6
89.8
75.7
67.6
66.1
be quiet! Pure Loop 2 280
91.8
89.3
85.5
76.7
65.9
61.8
DeepCool LT720 WH
87.4
85.2
80.7
74.6
63.8
59.3
MSI MAG CoreLiquid E360
87.2
86.0
82.0
71.9
62.2
59.7
Degrees Celsius, lower is better
Logging average temperature across the Core i9-13900K's eight performance cores reveals an inescapable truth; the very best air coolers will struggle to tame Intel's behemoth for extended periods at full power. It is also worth noting the real-world impact is even more profound as our ASRock Z690 Taichi motherboard has a built-in 'critical temperature' limit of 100°C, which when breached causes fans to instantly spin-up to 100 per cent, whether we like it or not. Both air coolers were unable to prevent a couple of cores from hitting 100°C at 253W, causing fans to intermittently ramp-up to full speed.
The results speak to the ludicrous nature of Intel's current range-toppers – heck, Core i9-14900K is even thirstier – and if you favour temperatures well below 90°C, the only option outside of liquid cooling is to lower power limits. At 153W, Dark Rock Elite delivers an impressive combination of cooling performance and low noise. It's almost as cool as the NH-D15 chromax.black and noticeably quieter; that's exactly what we'd expect from a competing be quiet!
Conclusion
Users who appreciate the calm, composed, and maintenance-free nature of a quiet PC build will continue to gravitate toward high-end air coolers that shift huge amounts of heat without any uproar.
be quiet! leads the pack in this regard and Dark Rock Elite excels at delivering high-end cooling performance with barely a whisper. Taming an extravagant Core i9 may be a step too far – this much is true of practically every air cooler – yet on a sensible chip, Dark Rock Elite delivers effortless setup, low temps, barely any noise, and a sleek all-black aesthetic adorned with minimalist RGB lighting.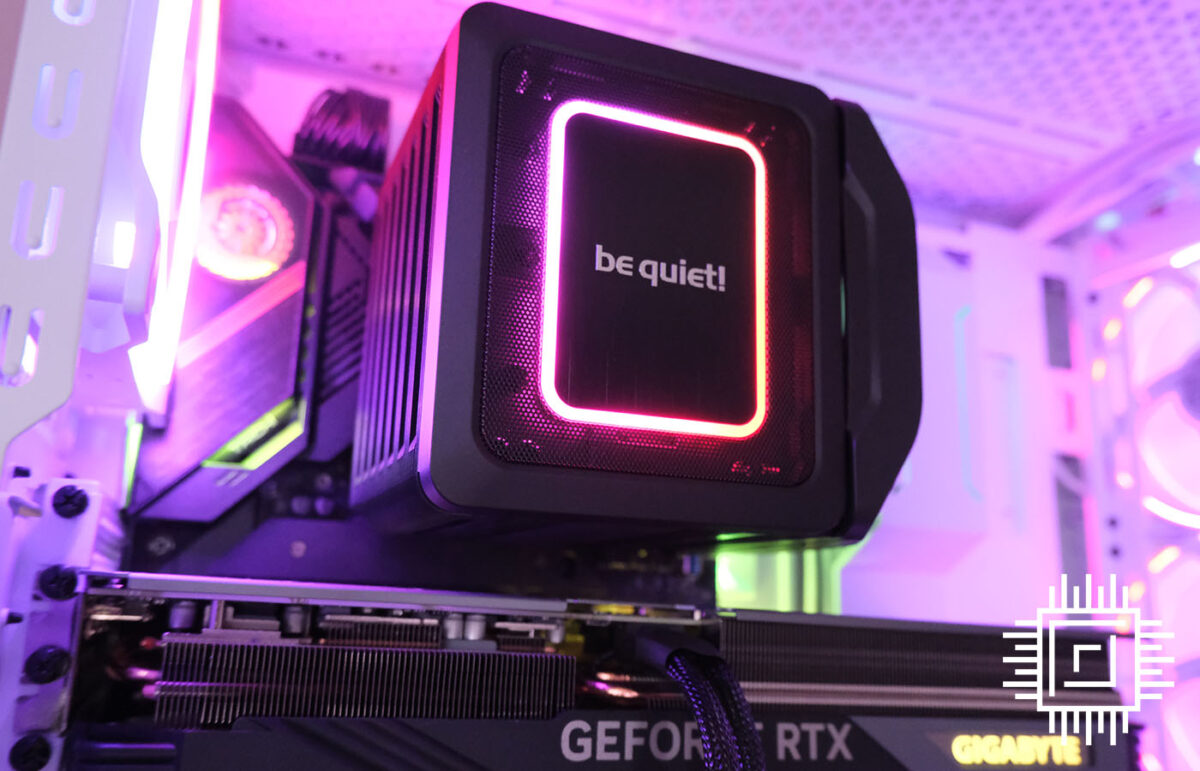 be quiet! Dark Rock Elite
Verdict: One of the quietest, most able air coolers on the market today.
---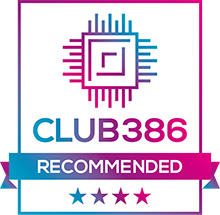 Pros
Ideal for potent, quiet PC
Near silent at low speed
Elegant RGB lighting
Simple installation
No fiddly fan clips
Cons
Struggles with Core i9
Basic bundle and warranty
---
Club386 may earn an affiliate commission when you purchase products through links on our site. This helps keep our content free for all.
Rest assured, our buying advice will forever remain impartial and unbiased.