Jump to: Installation | Performance | Conclusion
If there's one thing our recent spate of CPU cooler reviews has taught us, it's that all-in-ones are no longer a luxury item. Those hoping to extract maximum performance from today's best chips now view liquid cooling as a necessity, and the more pressing concern for budding DIYers is what size radiator to go for.
Entry-level 120mm solutions have fallen out of favour alongside larger 240mm, 280mm, or 360mm models, and yours truly has always been partial to the 280mm option. Why? Well, I prefer 140mm fans throughout my build, for the sake of continuity as well as the promise of larger, quieter fans that can push a good volume of air without having to ramp to jet-engine speeds.
It's unfortunate that many manufacturers are choosing to launch AIO coolers in only 240 or 360 variants – a trend we hope doesn't continue – but be quiet! makes no such mistake with the new Pure Loop 2, arriving at retail today priced at £84.99 (120mm), £99.99 (240mm), £109.99 (280mm) or £125.99 (360mm).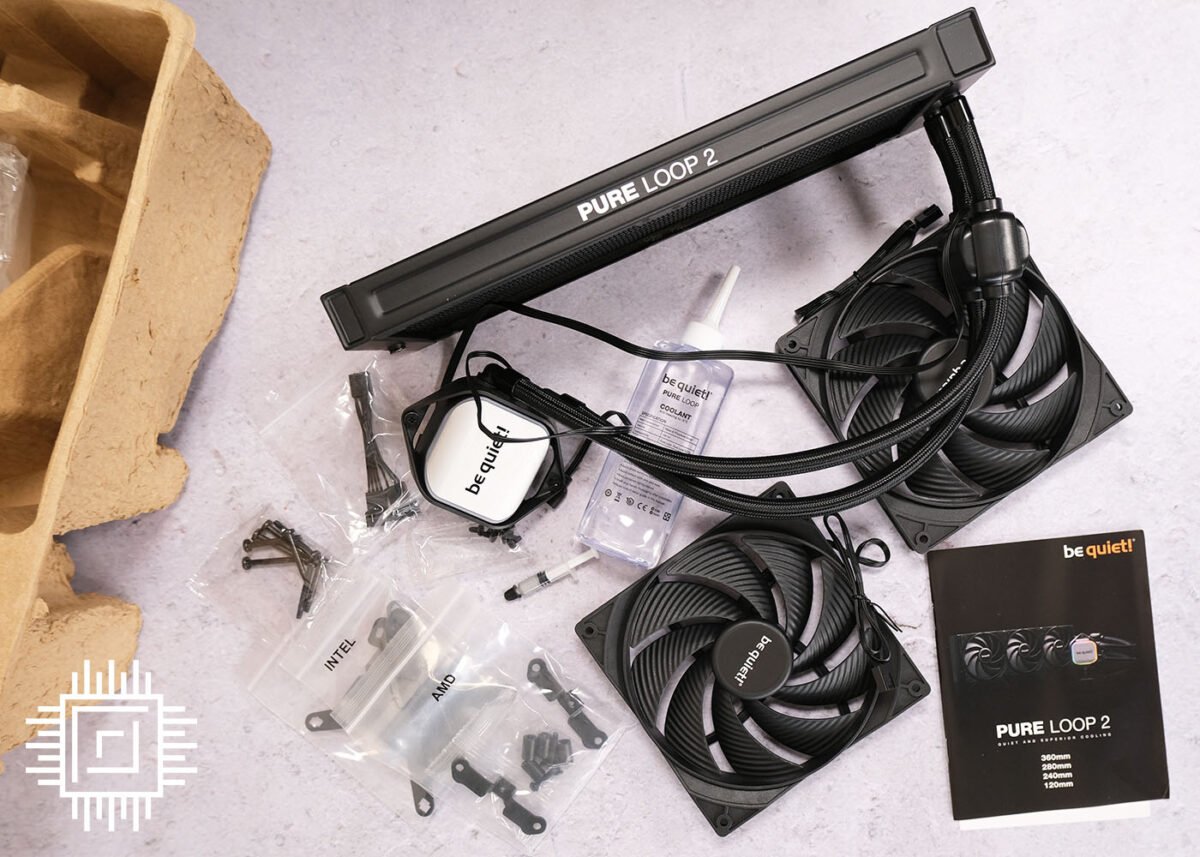 Keeping to the German manufacturer's understated design language, our 280mm review unit looks extremely sleek finished almost entirely in black. The 140mm x 317mm x 27mm aluminium radiator carries bold branding plus a simple-to-reach refill port and connects to a low-profile CPU block via 400mm of sleeved tubing.
Offering more in the bundle than many competitors, be quiet! includes a Y-splitter for the fans, a small tube of thermal paste, and a 100ml bottle of coolant for topping-up liquid if/when the need arises. The well-illustrated manual is also better than most, we appreciate mounting equipment separated into individually labelled bags, and the whole package is backed by a standard three-year warranty.
It's the simple things, and if your primary reasoning for an AIO is to free up space around the CPU socket, Pure Loop 2 does it particularly well thanks to a decoupled pump that sits near the radiator end of the tubing. The pump housing is inoffensive – you don't really notice it's there – and the end result is a wonderfully minimalist 95mm x 83mm x 42mm CPU block with nickel-plated copper base.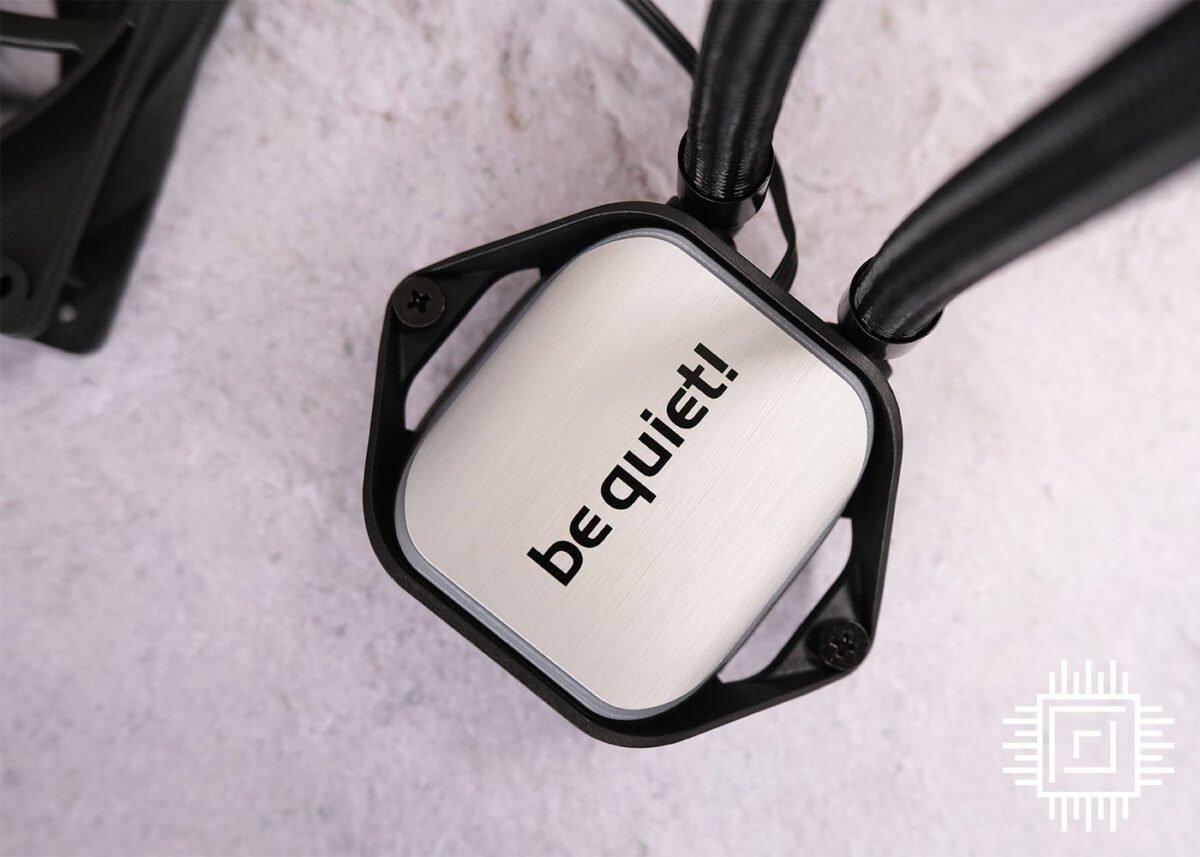 Getting a sense of deja vu? The Pure Loop 2 does look a lot like its 2020 predecessor, and it won't have escaped your attention that this Gen 2 refresh fetches a £10 premium over the original, so what more do you get for your money? There are a few subtle-yet-noteworthy enhancements.
Firstly, the ring of illumination on the CPU block is now ARGB rather than plain white; a welcome upgrade, though nitpicking somewhat, it's a shame the be quiet! logo isn't also backlit to match. On the other hand, that metal-effect cap isn't too difficult to pry off, meaning there's good modding potential.
Secondly, the pump is now PWM adjustable between speeds of 4,000 and 5,500RPM. And, last but not least, the bundled fans have been upgraded from Pure Wings 2 to Pure Wings 3 PWM high-speed. Interestingly, these third-generation blowers aren't yet available as standalone products. Touting a top speed of 1,800RPM, the 25mm-thick fans are the first from be quiet! to feature closed-loop motor control, whereby the controller continuously compares tachometer signal and target speed to adjust current and RPM on the fly, ensuring consistent performance irrespective of radiator resistance.
Installation
Despite Gen 2 upgrades, the new-and-improved Pure Loop 2 hasn't gotten complicated, and setup is as easy as ever. Installation on our Intel LGA1700 test platform entails securing mounting brackets to the motherboard using the supplied standoffs and clamping the CPU block in place. There are only two top-and-bottom fastening points as opposed to all four corners, yet the block feels perfectly secure in situ and if you appreciate a clean aesthetic, few AIOs are as tidy as this.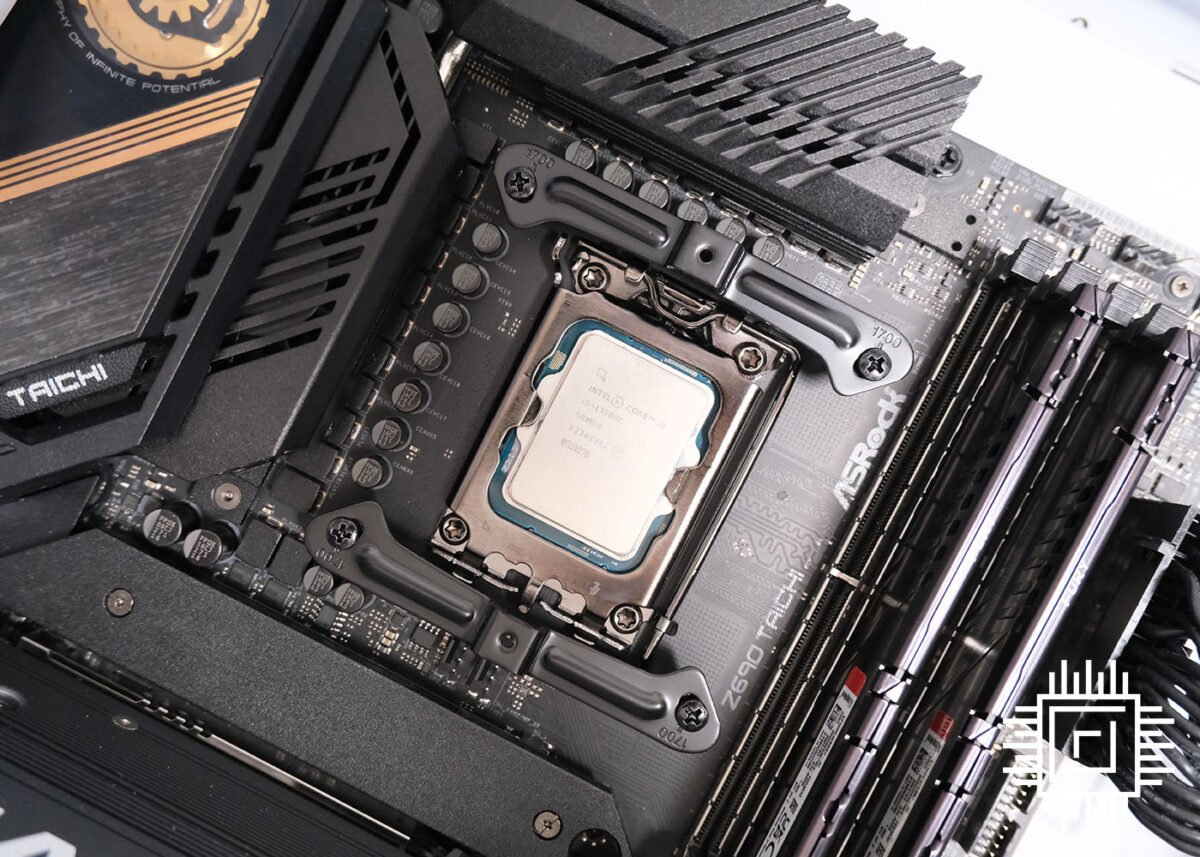 Just the one ARGB cable emanates from the block, while the pump's location is such that the four-pin PWM is kept well out of the way, resulting in an extremely neat CPU area. All the latest Intel and AMD sockets, bar Threadripper, are supported but do remember there's no paste pre-applied to the contact plate; you must add a layer to the CPU before getting started. On larger processors, we favour a mid-sized dab in the middle flanked by four smaller dabs in each corner of the chip.
Getting up and running takes no time at all, and the use of regular fans without illumination means cable clutter is kept to an absolute minimum. We do prefer the look of a 280mm over a 360mm, so much so that we're surprised to find that be quiet! hasn't added a 420mm option to its arsenal. After all, there's more than enough room in the firm's latest Shadow Base 800 and Dark Base Pro 901 chassis.
Performance
The somewhat disingenuous nature of today's enthusiast CPUs is such that the numbers written on the box don't paint a complete picture. Core i9-13900K maximum power soars to 253W but maintaining that top level of performance and the frequencies that come with is easier said than done.
Without requisite cooling, peak performance will drop off quickly, and for that purpose we're testing the CPU configured in BIOS to remain at 253W under full load. The question we want to answer is whether each cooler can maintain that wattage, what it means for core temperature, and how it affects benchmark results.
Getting testing underway, we begin with noise readings reflective of a real-world, fully built PC. With chassis fans fixed to 600rpm at all times, noise is measured with CPU cooler fans configured in three states: low-speed (600rpm), high-speed (1,200rpm), and the maximum applicable to each cooler model.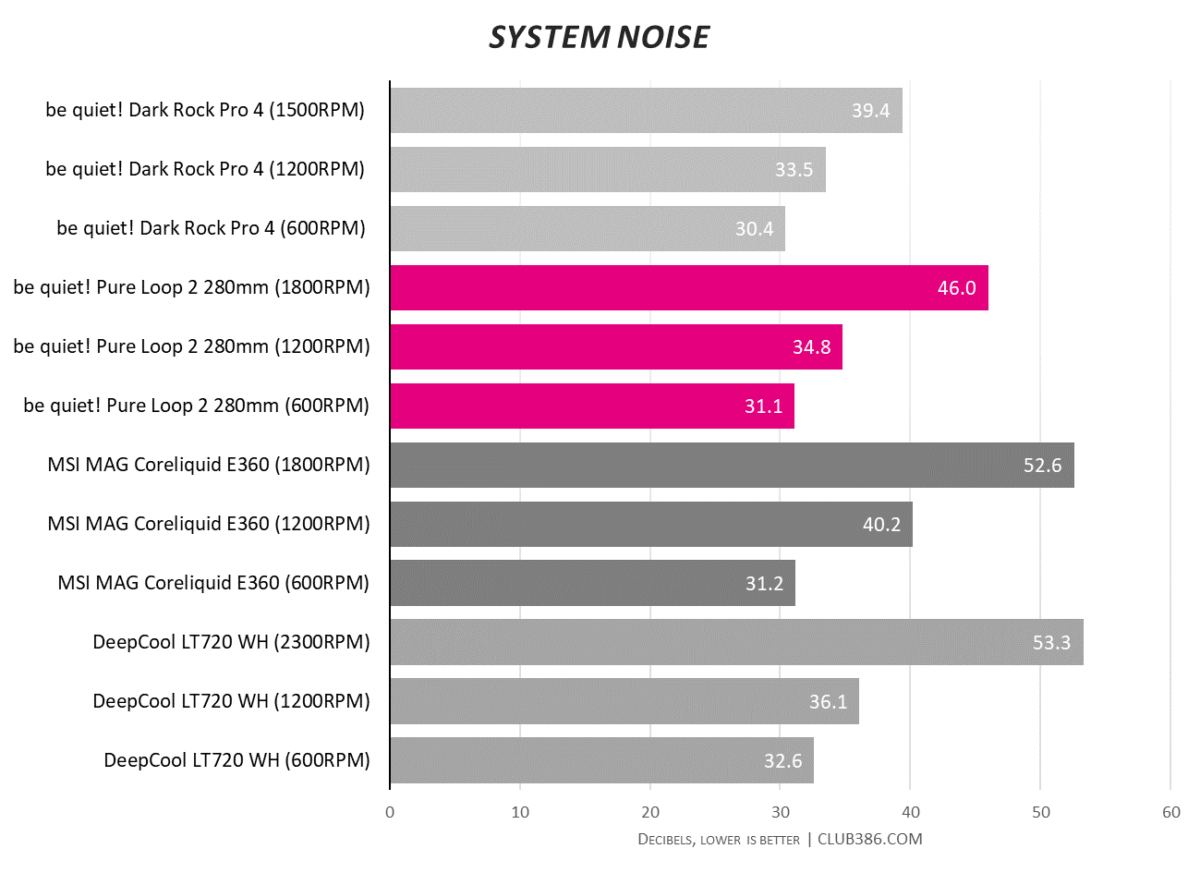 Living up to its name, be quiet! dominates the charts when it comes to noise levels. The firm's Dark Rock Pro 4 air cooler continues to lead the way, but is followed closely by the Pure Loop 2 280mm, which is comfortably the quietest all-in-one we've tested on the 13900K platform.
Acoustic performance is excellent, but a word on the pump. At full-speed 5,500RPM the whirr is noticeable in a quiet room. Turning it down to 4,000RPM makes it practically imperceptible with little loss in overall cooling performance; something to consider for those who like their rig as hushed as possible.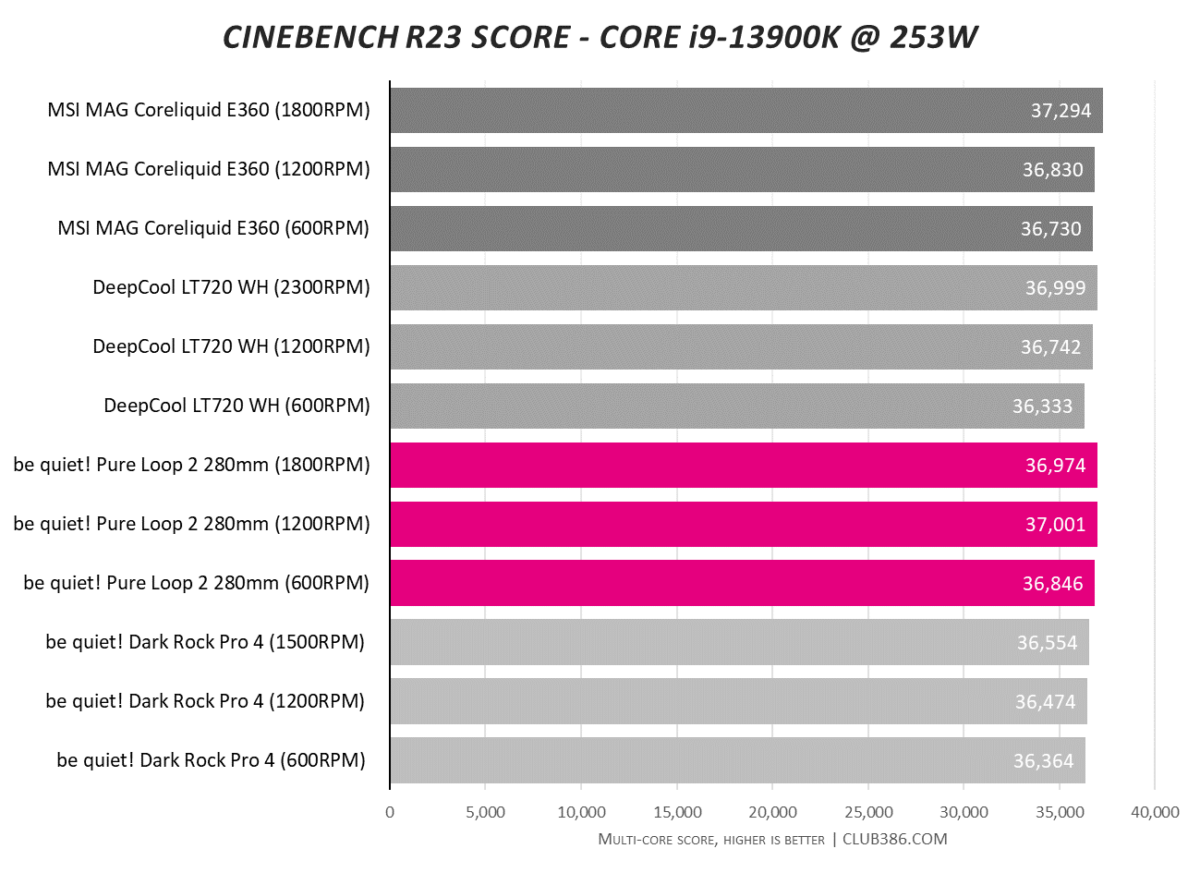 Running Cinebench, R23's built-in stress test is always helpful in gauging cooling optimisation. We expect the Intel Core i9-13900K to score in the region of 38k when all cores are firing optimally in a single run but continuing that load for an extended period sees performance drop off by a fraction. There's not a great deal separating the AIOs on show, and 360mm or 280mm appears to matter not.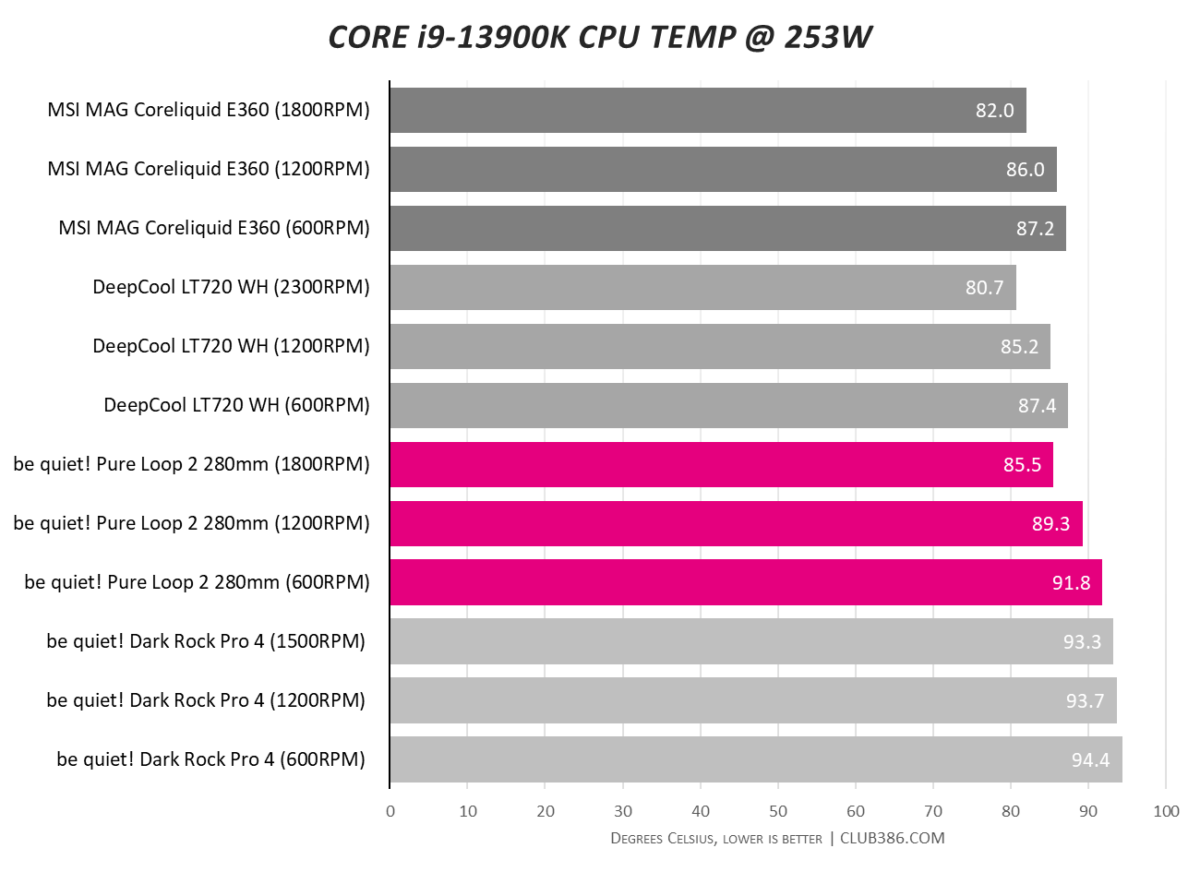 Average temperature across the Core i9-13900K's eight performance cores positions the 280mm AIO fractionally behind 360mm competitors such as the MSI CoreLiquid E360 and DeepCool LT720. No real surprise, and the gap can be explained by a ~7 per cent difference in overall surface area.
Do note the real-world impact of liquid cooling is even more profound than the graph depicts as our ASRock Z690 Taichi motherboard has a built-in 'critical temperature' limit of 100°C, which when breached causes fans to instantly spin-up to 100 per cent whether we like it or not. The solitary air cooler was unable to prevent a couple of cores from hitting 100°C after a few minutes load, causing fans to ramp-up undesirably to full speed from time to time. No such problems for either the 360mm or 280mm liquid all-in-ones.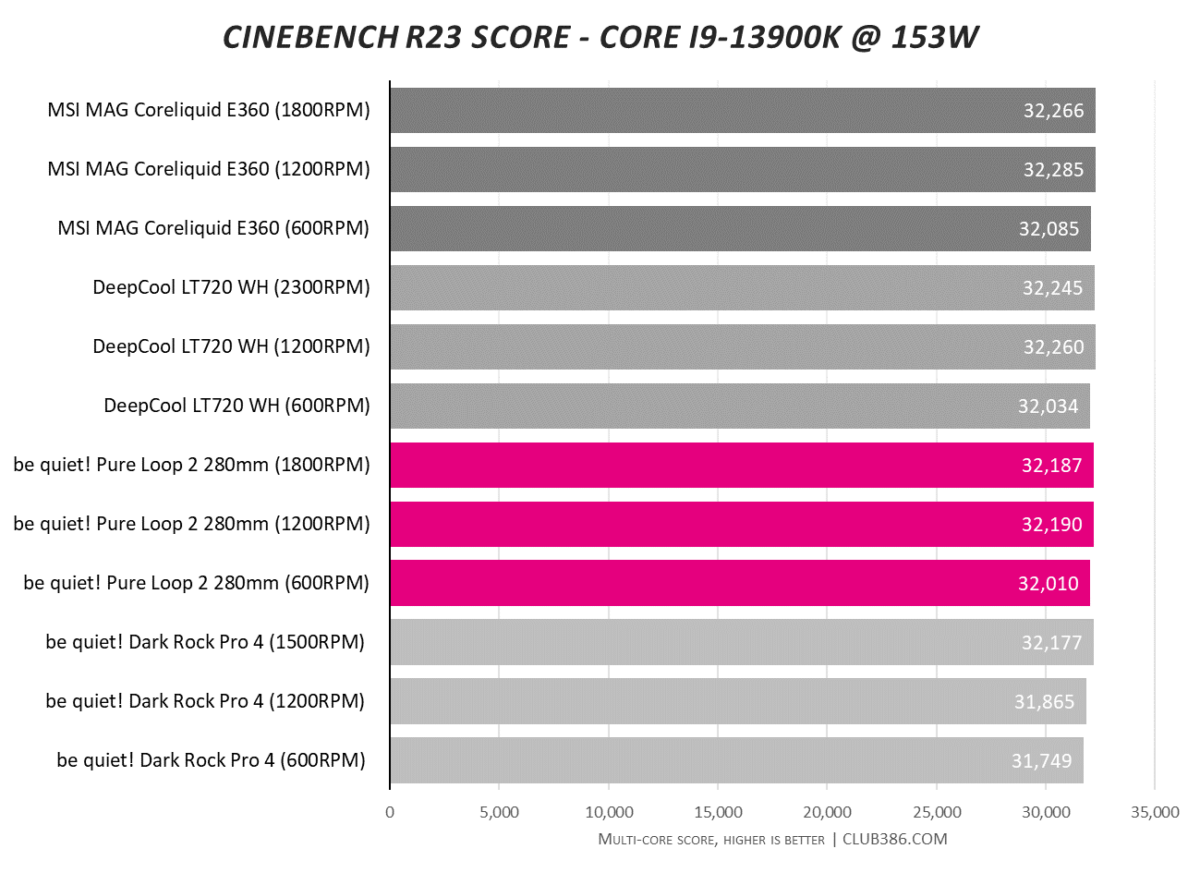 Given the alarming amount of energy consumption and heat generation at 253W, it's not uncommon in DIY circles to reduce power limits on enthusiast CPUs to more agreeable levels. Lopping 100W off the Core i9-13900K still delivers highly respectable performance and no liquid cooler returns a score of less than 32k irrespective of fan speed.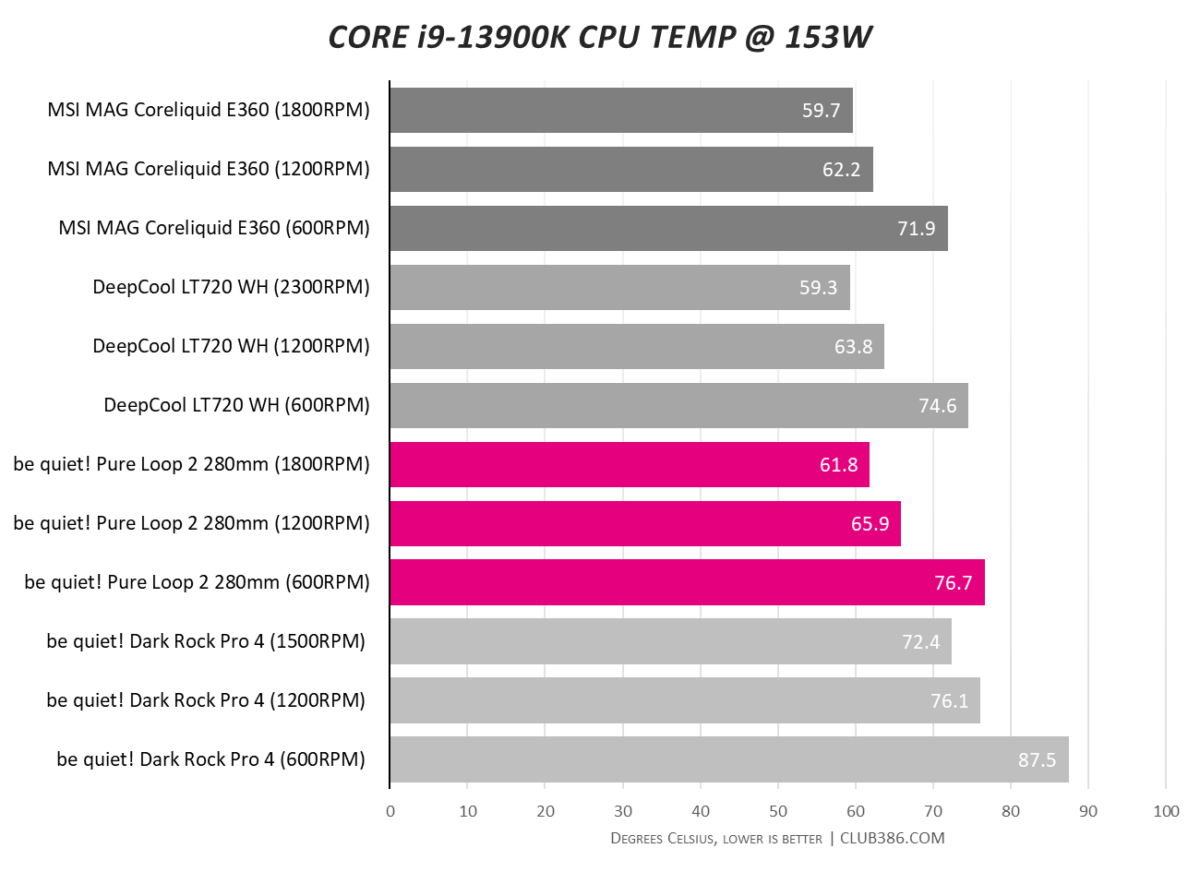 Want to keep today's most extreme CPUs running below 80ºC at all times? Reducing power is one way to go about it. At these settings Pure Loop 2 is both very cool and very quiet. You can barely hear it.
Conclusion
be quiet!'s second-generation Pure Loop 2 is a welcome upgrade incorporating a PWM-adjustable pump, ARGB lighting, and high-quality Pure Wings 3 fans.
These seemingly minor tweaks help enhance a competent cooler, and for those who shy away from gaudy CPU blocks and noisy components, the beauty of Pure Loop 2 rests in its minimalist design and high-quality, ultra-quiet 140mm Pure Wings 3 fans.
A choice of 120, 240, 280, or 360 configurations ensures there's something for almost everyone, and though the decision on size will ultimately come down to individual requirements and chassis compatibility, we can say with absolute certainty that Pure Loop 2 280mm is the quietest and neatest all-in-one cooler we've ever tested.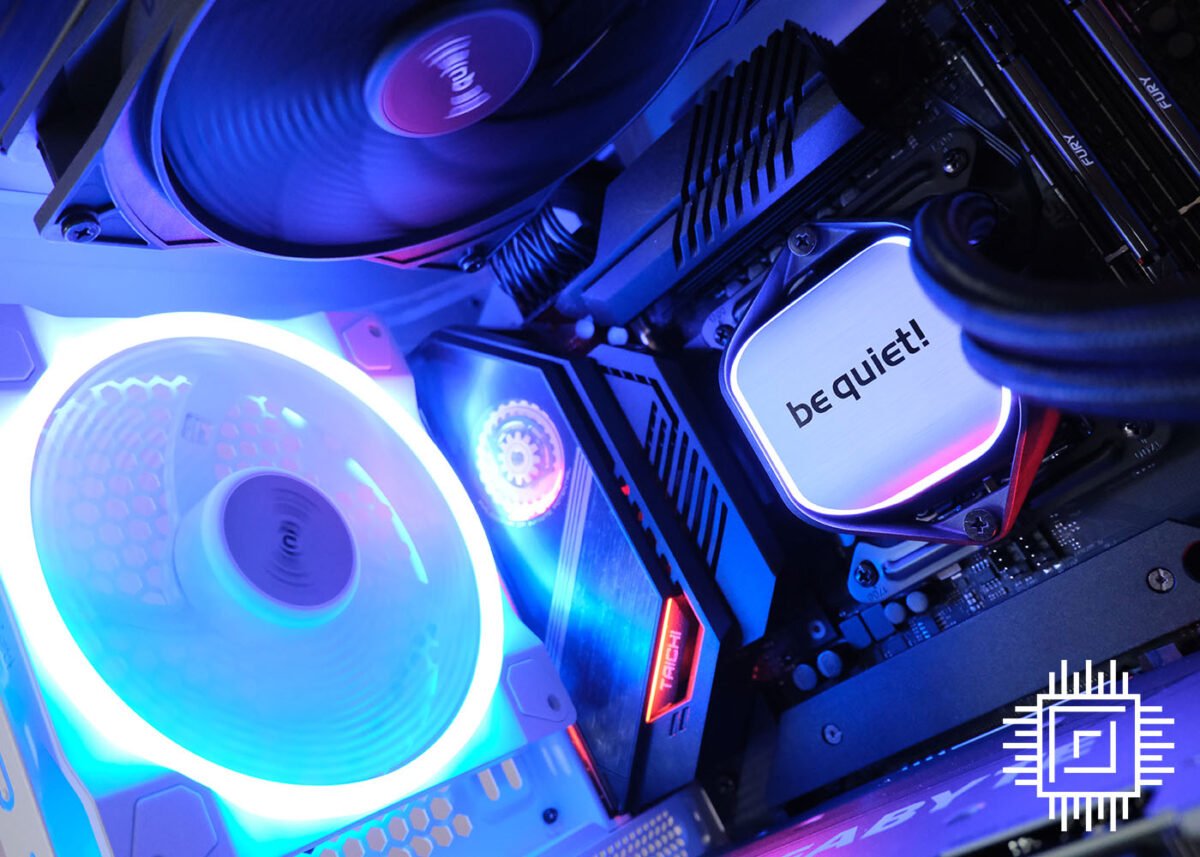 be quiet! Pure Loop 2 280mm
Verdict: a minimalist AIO cooler well suited to an ultra-quiet build.
---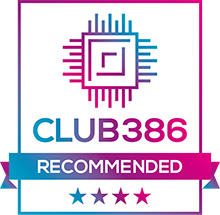 Pros
Minimalist design
Can tame an i9-13900K
Spare paste and coolant
Simple installation
Pure Wings 3 fans
---
Club386 may earn an affiliate commission when you purchase products through links on our site. This helps keep our content free for all.
Rest assured, our buying advice will forever remain impartial and unbiased.