Jump to: Specification | Build Process | Conclusion
It's full steam ahead at be quiet!. After a relatively quiet 2022 (excuse the pun), the German manufacturer's production lines are in full swing, with new coolers, power supplies and cases all headed our way.
Hot off the press is the Shadow Base 800, a high-airflow case aimed squarely at users wanting to take cooling to the next level. We'll get to that shortly, but firstly, let's talk variations.
The Shadow Base 800 Series is available in five unique flavours:
Shadow Base 800, which comes only in black and includes a trio of Pure Wings 3 140mm PWM fans.
Shadow Base 800 DX, available in black or white with black highlights and includes the same three Pure Wings 3 140mm PWM fans as well as ARGB LEDs lining the front panel.
Shadow Base 800 FX, available in black or full-white (pictured), swaps the three Pure Wings 3 for a quartet of Light Wings 140mm ARGB fans alongside an eight-way hub.
Always good to see plenty of choice, but there is an inevitable premium for those added niceties. The base model will fetch £145, DX starts at £160, and if you happen to fancy the RGB goodness of an all-white FX, prepare to stump up £205 of your hard earned.
That's a sizeable sum, but hey, it's 2023, and we're all used to paying more for our purchases. be quiet! will argue, rightly so, that a Fractal Design Torrent can set you back £220, while a Corsair 5000D costs up to £230. Undercutting both of those puts Shadow Base 800 FX in a comfortable spot, and there's no doubting the level of high-end component compatibility on offer.
Room to Breathe
Measuring a sizeable 550mm x 247mm x 503mm, the case straddles the line between mid- and full-tower solutions and is one of the largest enclosures in its class. Not a problem if you have the space, and be quiet! certainly put a 63l volume to good use.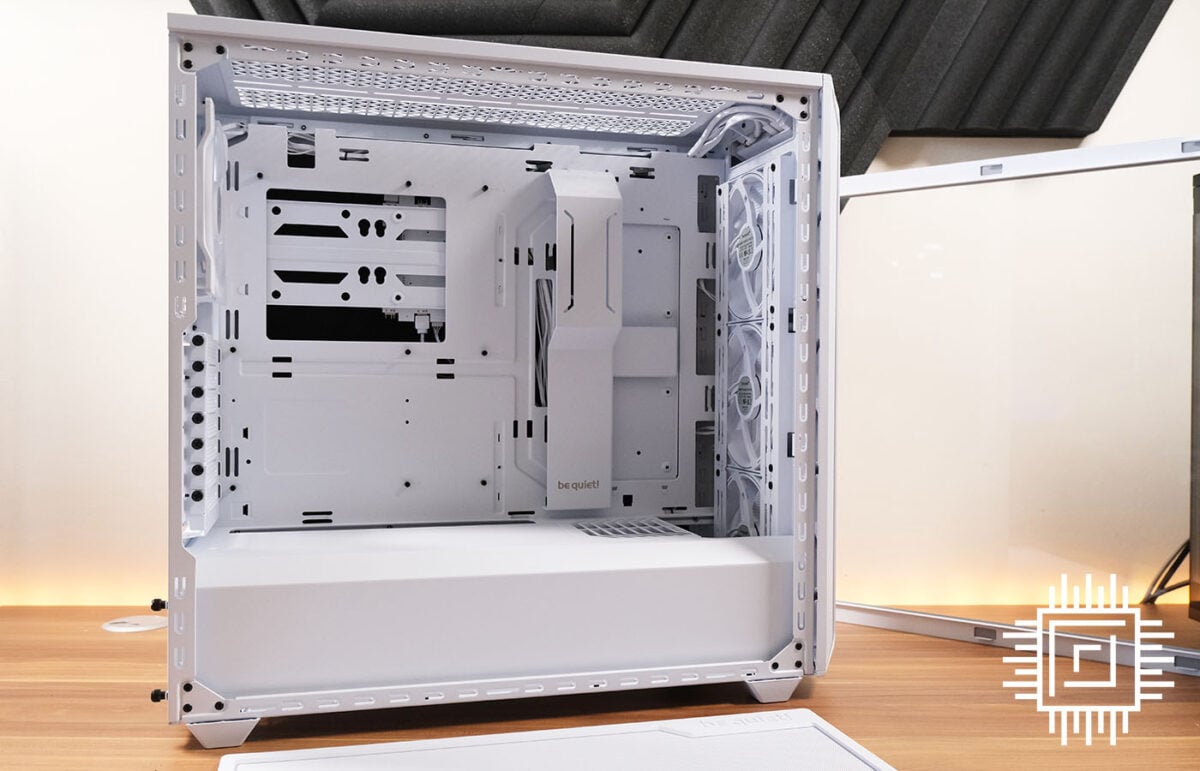 Motherboard compatibility stretches to E-ATX with ease, graphics cards can measure up to 430mm in length, there's a massive 180mm clearance for CPU cooling, and it doesn't really matter how long your power supply is – the dedicated compartment has room to spare.
Cooling opportunities are plentiful, too. The fact that four high-quality Light Wings 4 140mm PWM fans are included is a bonus – the RGB contrasts wonderfully with the white frame – but it's the ability to expand that will appeal to hardened enthusiasts.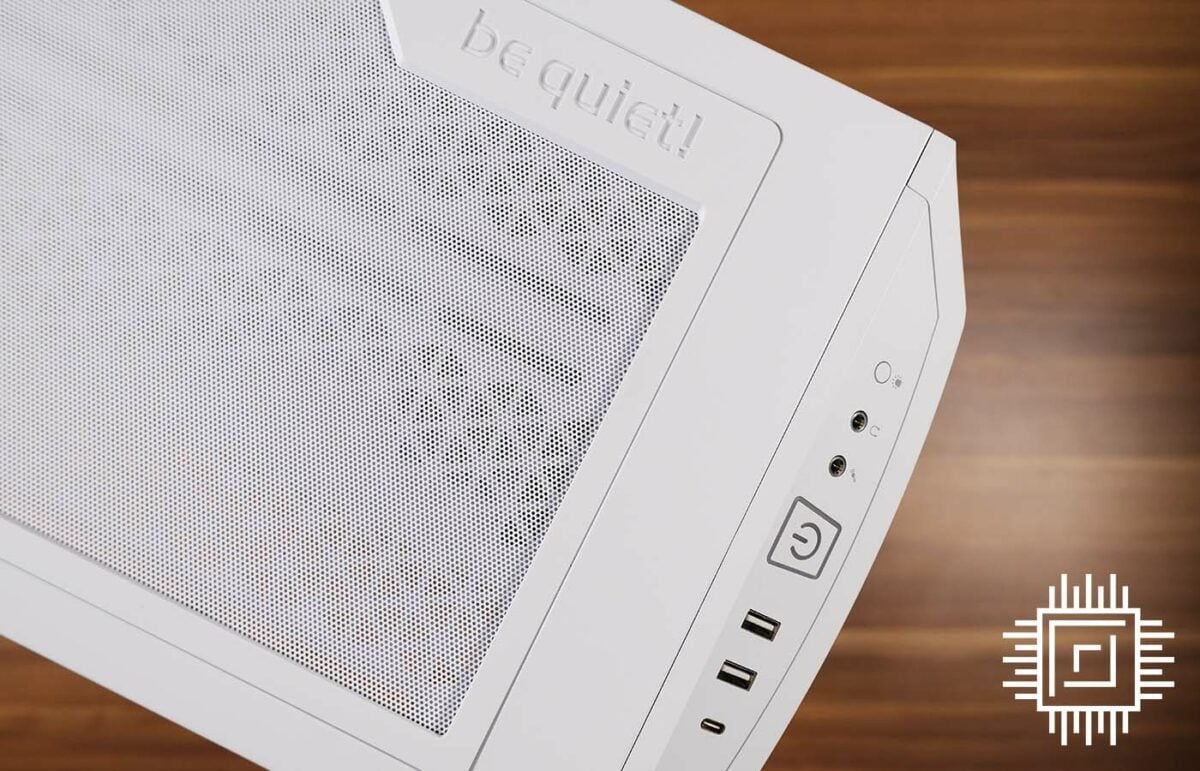 The top and front of the case can accommodate three 120/140s, in addition to a rear 120/140 and another on the bottom floor. Spacing is such that there's provision for not one but two 420mm liquid coolers in tandem. The front radiator will need to be less than 40mm thick in a dual-420 setup, but if you opt against the top radiator, front clearance extends to 66mm, leaving ample scope for a push-pull configuration.
As you would expect from a be quiet! solution, there's decent filtration and sound-dampening right out of the box. The top has a full-size magnetic filter, a mesh filter lining the base of the case pulls out from the front, and the trio of 140s protruding behind the bevelled fascia is covered with a magnetic filter that clips neatly into place. Sound dampening on a mesh-laden, airflow-optimised case is always tricky to implement, yet be quiet! covers the basics with a sheet of sound-absorbing material on the rear side panel, and bundled rubberised standoffs for hard-disk installation.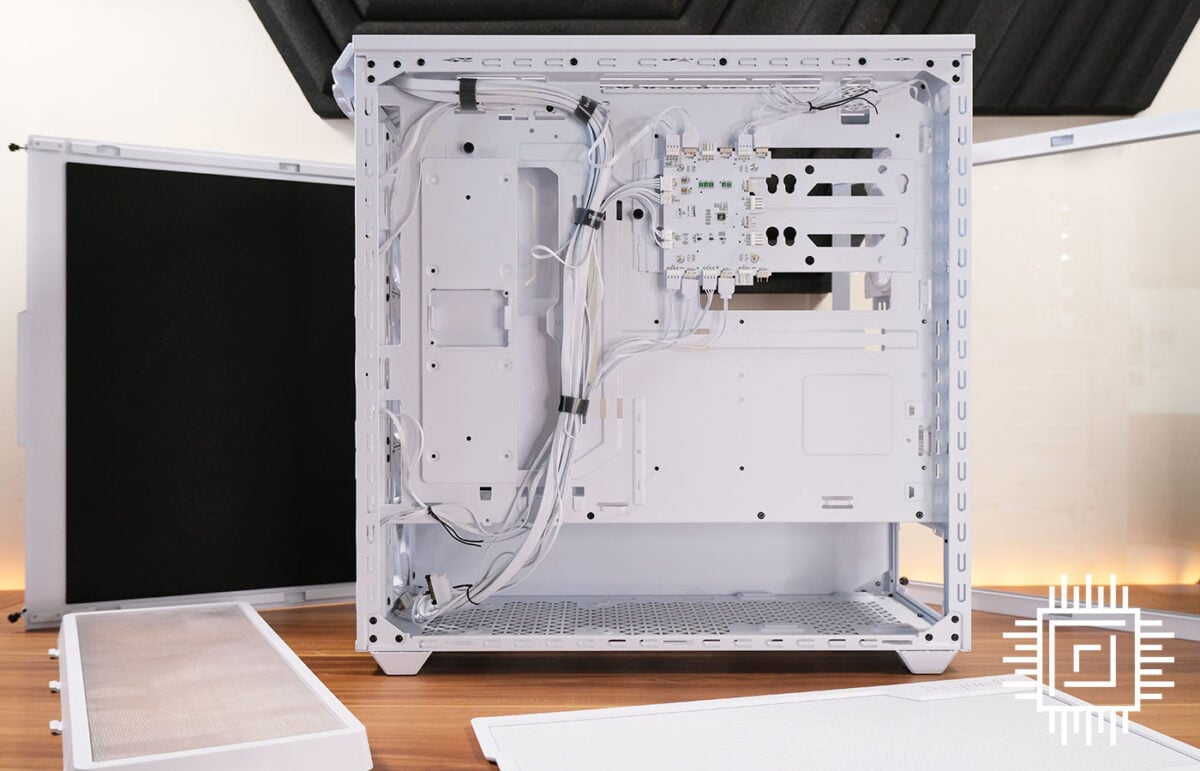 Speaking of which, with optical drives having fallen by the wayside, 3.5in HDDs could be next in the firing line. Rather than clutter the end of the PSU compartment with a drive cage few are likely to use, be quiet! leaves the space open to make cabling as easy as possible. Fear not, if you're reluctant to retire spinners just yet, there is an HDD bracket included in the box to restore those customary two bays. For most users, we suspect the dual 2.5in mounting slots behind the motherboard tray will suffice in tandem with M.2, and we like the fact there are cutouts to put drives on show.

Show your support for impartial Club386 reviews
Club386 takes great pride in providing in-depth, high-quality reviews built on honest analysis and sage buying advice. As an independent publication, free from shareholder or commercial influence, we are committed to maintaining the standards our readers expect.
To help support our work, please consider making a donation via our Patreon channel.
Effortless Build
A vast glass side panel ensures a clear view of all hardware, but it's a shame be quiet! continues to use notches and captive thumb screws as opposed to push-to-lock latches and a quick-release mechanism. I've lost count of how many times such notches have warped or broken under my watch, and on panels of this size, it's a bit of a faff having to get everything perfectly aligned in order to slide securely into place.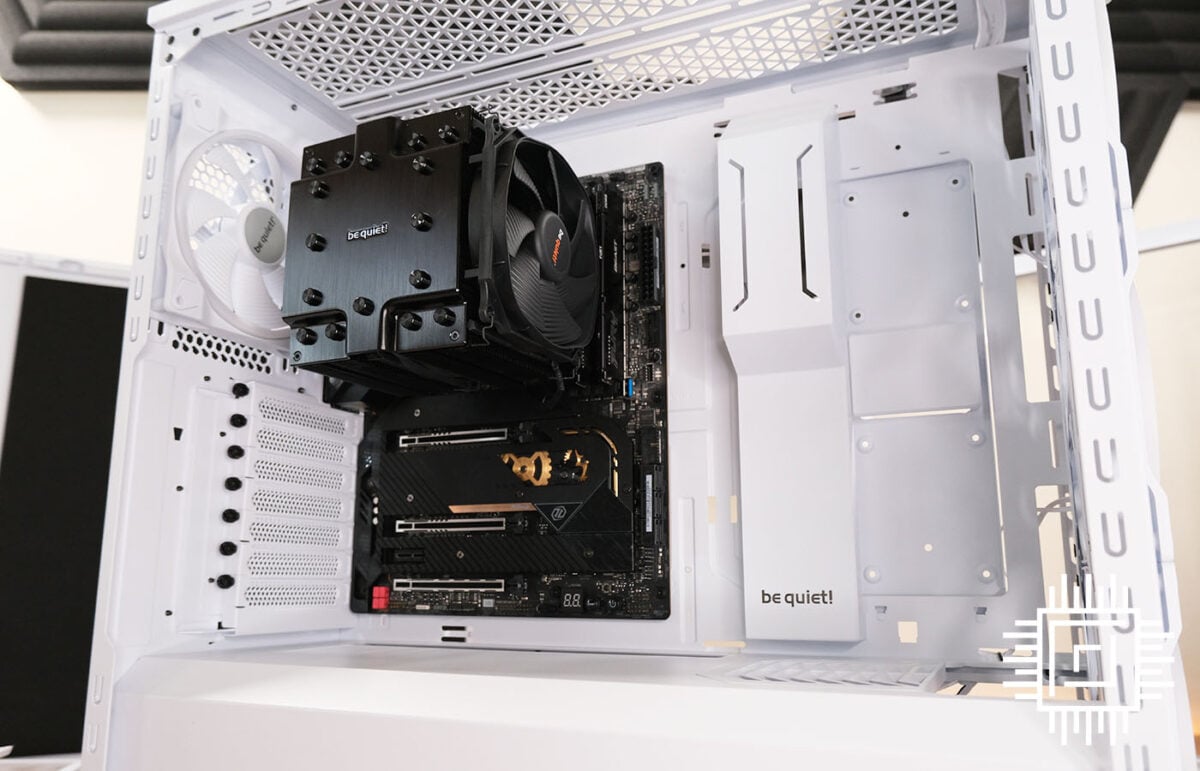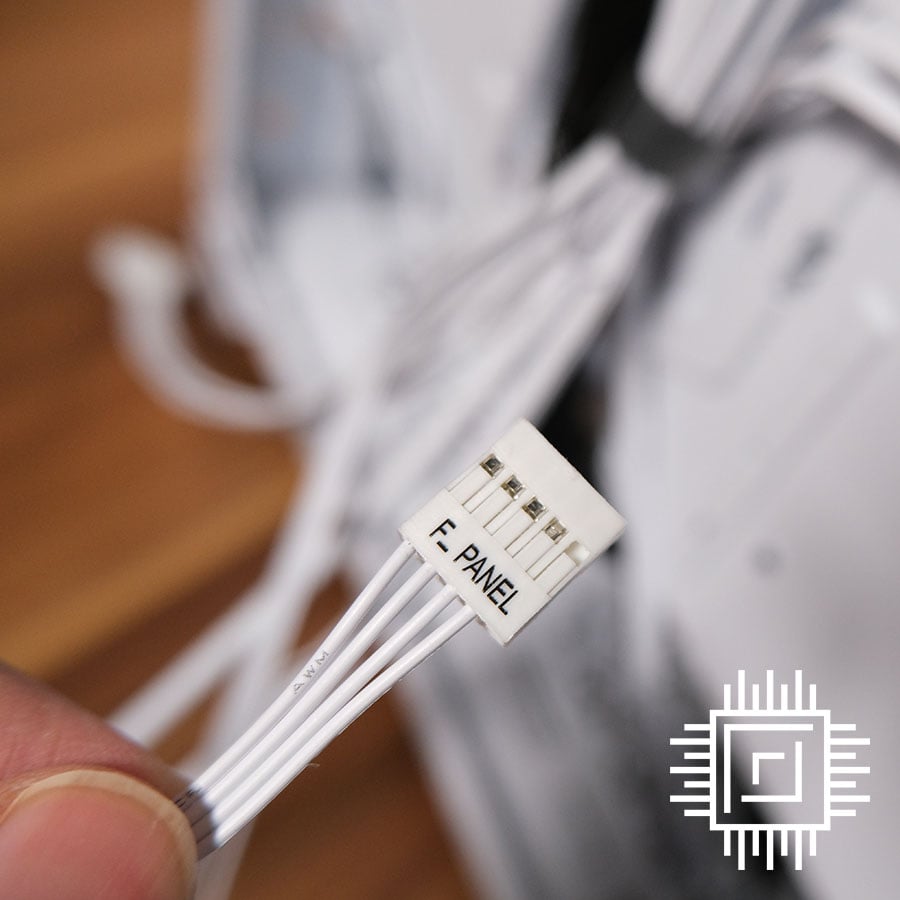 That aside, Shadow Base 800 FX is an absolute breeze to build into on account of there being so much room to manoeuvre. Cable-routing holes, while not grommeted, are in plentiful supply – including a long void atop the PSU shroud – and there's over 30mm clearance for cable clutter around back. All the supplied fans are pre-wired to an eight-way ARGB/PWM hub attached to the rear of the motherboard tray, taking all the hassle out of wiring. Simply attach the SATA power connector and four-pin fan header and you're good to go. Better still, be quiet! uses a block front panel connector, so there's no need to reach for the motherboard manual to recall where P LED and POWER SW are supposed to go. Hallelujah.
There's a satisfaction in seeing components slot in with minimal fuss, but there is a flip side to that coin. Even with a Core i9-13900K and GeForce RTX 4070, our test build appears incredibly barren. A regular ATX board is made to look puny inside Shadow Base 800's cavernous interior. You'd really want an E-ATX board and a liquid-cooled radiator, or two, to make such a build seem complete.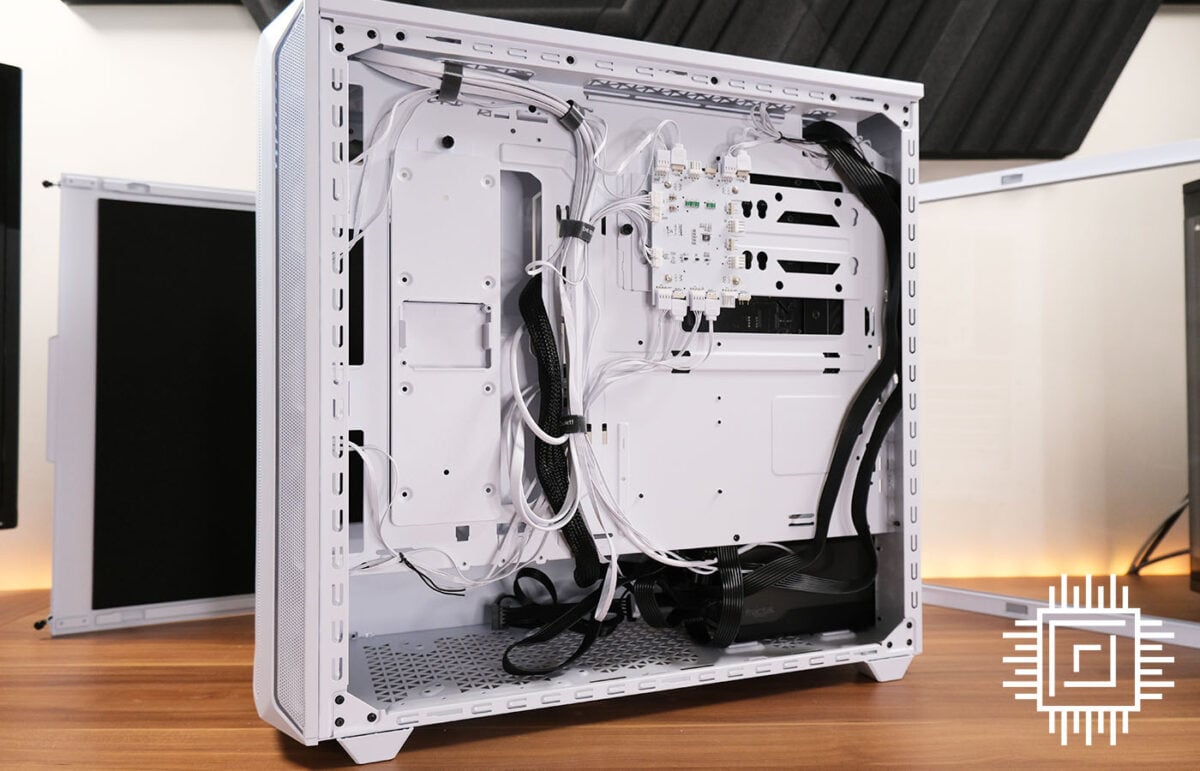 As for the white paintwork, that has pros and cons, too. be quiet!'s finish is very tidy – there's minimal variation between shades – but, as you might have guessed, the case is so pale that anything dark stands out like a sore thumb. Our power supply's black cables are out of place alongside the chassis' all-white wiring, and if, like me, you suffer from OCD, black thumb screws on an alabaster case will leave you restless at night.
The good news for folk who've been dreaming themed builds is that snow-white components are more readily available than ever before, and often with little in the way of additional premiums. Whether it's PSU, motherboard, graphics card, memory or cooler, you'll have no problem finding it in white, and it'll be worth the effort. I'm not a huge fan of RGB, but will admit that Shadow Base 800 FX does a fine job of adding lush colour and synchronised effects. The light bars running down the front sides have enough LEDs for smooth illumination free of hotspots, and this is without doubt a frontrunner for an eye-catching, all-white rig.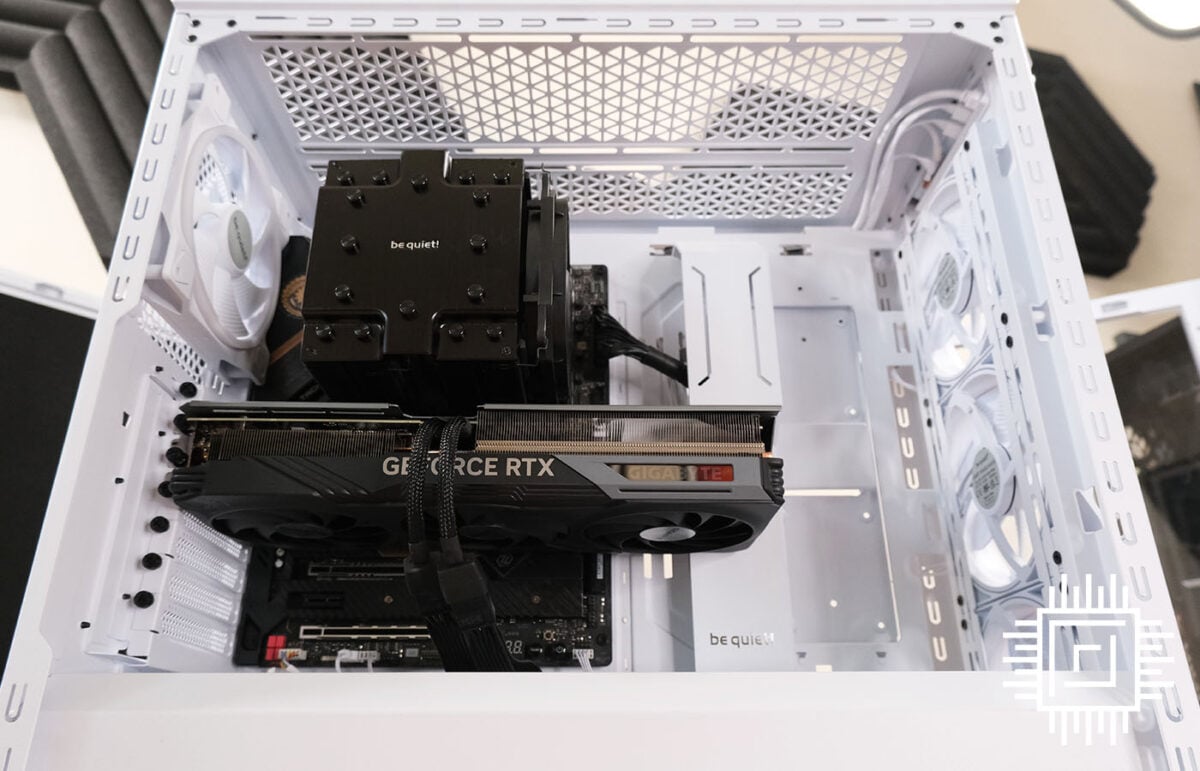 Build quality is up to be quiet!'s usual high standards, and there are various user-friendly perks throughout. The plastic front panel pulls away with a firm yank and a spring-loaded RGB contact point means no pesky cables to undo. The cable cover alongside the motherboard tray can be relocated further right when using an E-ATX board, and the seven expansion slots rotate 90° to make way for a vertical graphics card arrangement. Handy to know, but be aware the required riser cable isn't included in the box.
I/O, meanwhile, is in line with what you'd expect from a 2023 chassis. That is to say two USB 3.2 Type-A, a single USB 3.2 Gen 2 Type-C and a pair of audio jacks flanking the backlit power button. The latter only illuminates in white, and if we're nitpicking, it's a shame the colour can't be matched to the overall RGB effect. Completing the top I/O arrangement is an RGB control button for the fans and light bars; press it to cycle through a smorgasbord of pre-defined effects, or hold for three seconds to switch to motherboard synchronisation.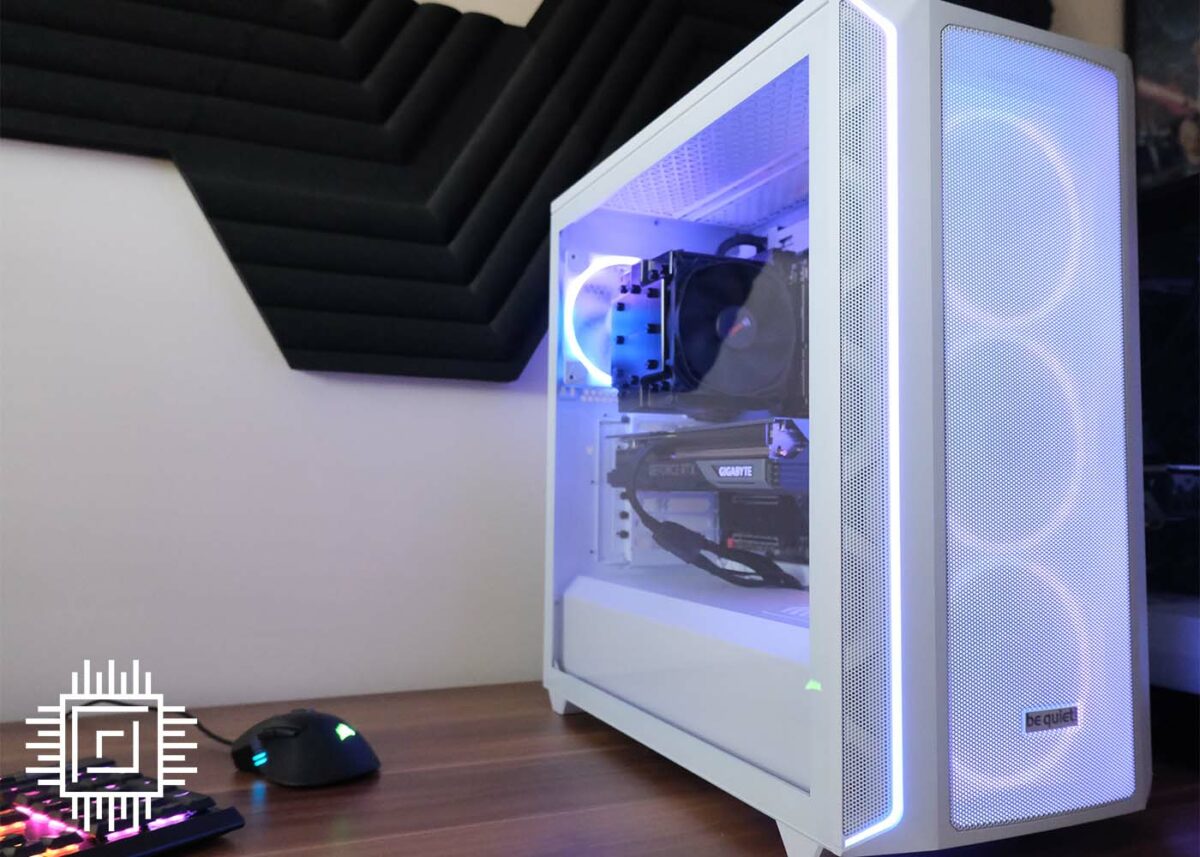 As for cooling, triple 140 intakes and near-full-mesh front and top covers ensure airflow is in plentiful supply. Our Core i9-13900K processor is a notoriously hot customer, yet is kept just under 90°C during prolonged all-core load. That's in line with our expectations of a high-end air cooler on this particular chip, and the highly efficient GeForce RTX 4070, meanwhile, barely tickled 65°C when gaming.
Conclusion
Despite its hefty footprint, there's a minimalist feel about the Shadow Base 800 FX that contributes to a streamlined build process. You won't find multiple interchangeable panels, wooden accents or myriad storage bays, yet in stripping away that excess, you're left with a tidy, well-built frame whose cavernous interior lets you assemble all the high-end components you can dream of.
But the emphasis here is very much on high-end. At these proportions, an ATX board, air cooling and dual-slot graphics is made to appear insignificant. You're going to want a liquid-cooled E-ATX setup and a vertical graphics card to show the case at its best, and goes without saying, all those components really ought to be in white.
There's scope to plan big, and limitations are few and far between. Four bundled fans are about as good as it gets for out-the-box cooling, yet while airflow is order of the day, it would be remiss of be quiet! not to pay attention to acoustics. Fan noise level is rated at a mere 23.3dB at maximum speed (1,500rpm), and during everyday use, Shadow Base 800 FX lives up to its billing as a refined, high-airflow monster that barely makes a peep.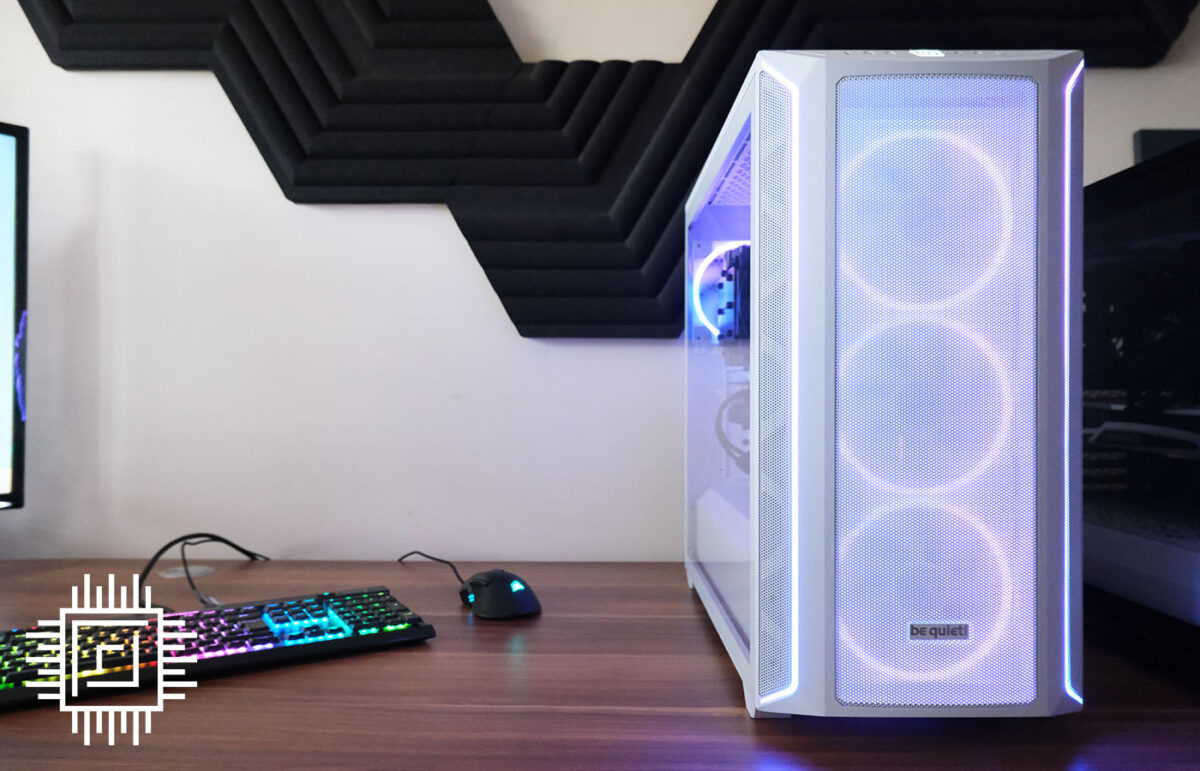 be quiet! Shadow Base 800 FX
Verdict: big on airflow and RGB, a fine foundation for a gaming rig packed with extreme components.
---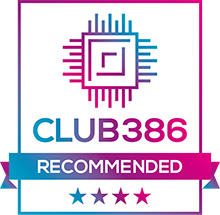 Pros
Four Light Wings 140 fans
Available in black or white
Will house dual 420 rads
Huge space to build into
RGB hub for eight devices
Cons
On the large side
Not suited to many HDDs
---
Club386 may earn an affiliate commission when you purchase products through links on our site. This helps keep our content free for all.
Rest assured, our buying advice will forever remain impartial and unbiased.