Jump to: Switches | Build | RGB | Conclusion
The world of enthusiast gaming keyboards changed forever when mechanical switches came to the fore, replacing membrane-equipped keys. Then came optical switches, eschewing metal contact points for light actuation. Championing the best of both worlds, peripheral giant Corsair has been at the forefront of optical-mechanical switches. The £180 K70 Pro RGB OPX has a full set of said switches, offering serious performance for gamers wanting to shave every millisecond of latency from fast-paced titles.
Before going into more detail about what makes the K70 Pro RGB OPX a top-notch board, let's see what you get.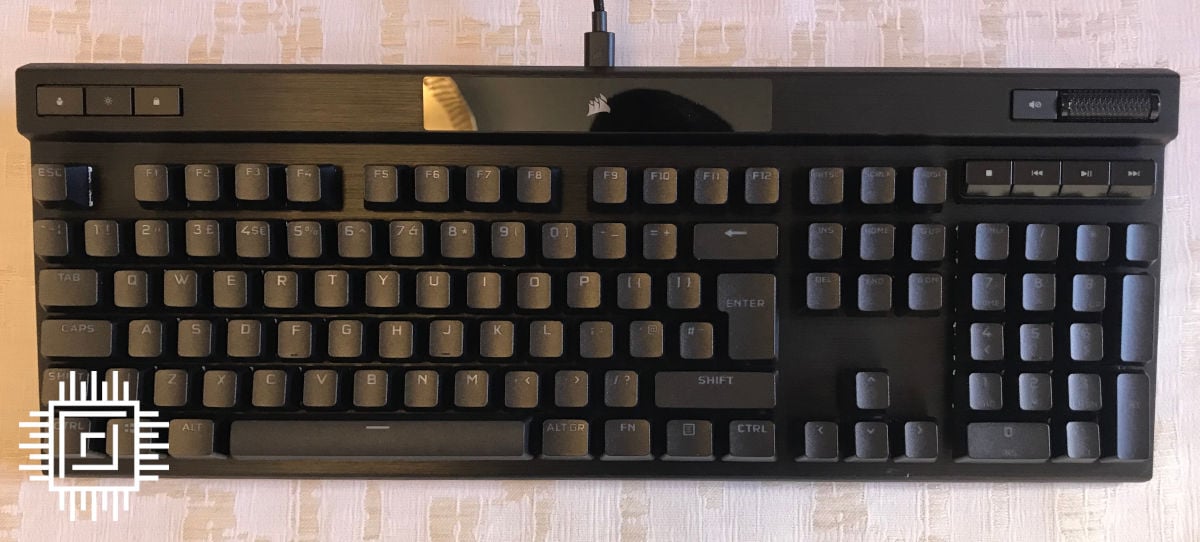 Packaging
The packaging follows Corsair's signature design of black plus yellow accents. On the front there's a picture of the keyboard alongside its most important technologies – the layout and the type of switches used, which is OPX in our case.
Inside we have the keyboard and 1.8m-long USB cable in their respective plastic bags, alongside warranty and safety information booklets. There is no protective foam on the main box, but the keyboard arrived in perfect condition after travelling from the other side of the world, so you should be okay as long as the delivery service doesn't play football with the parcel.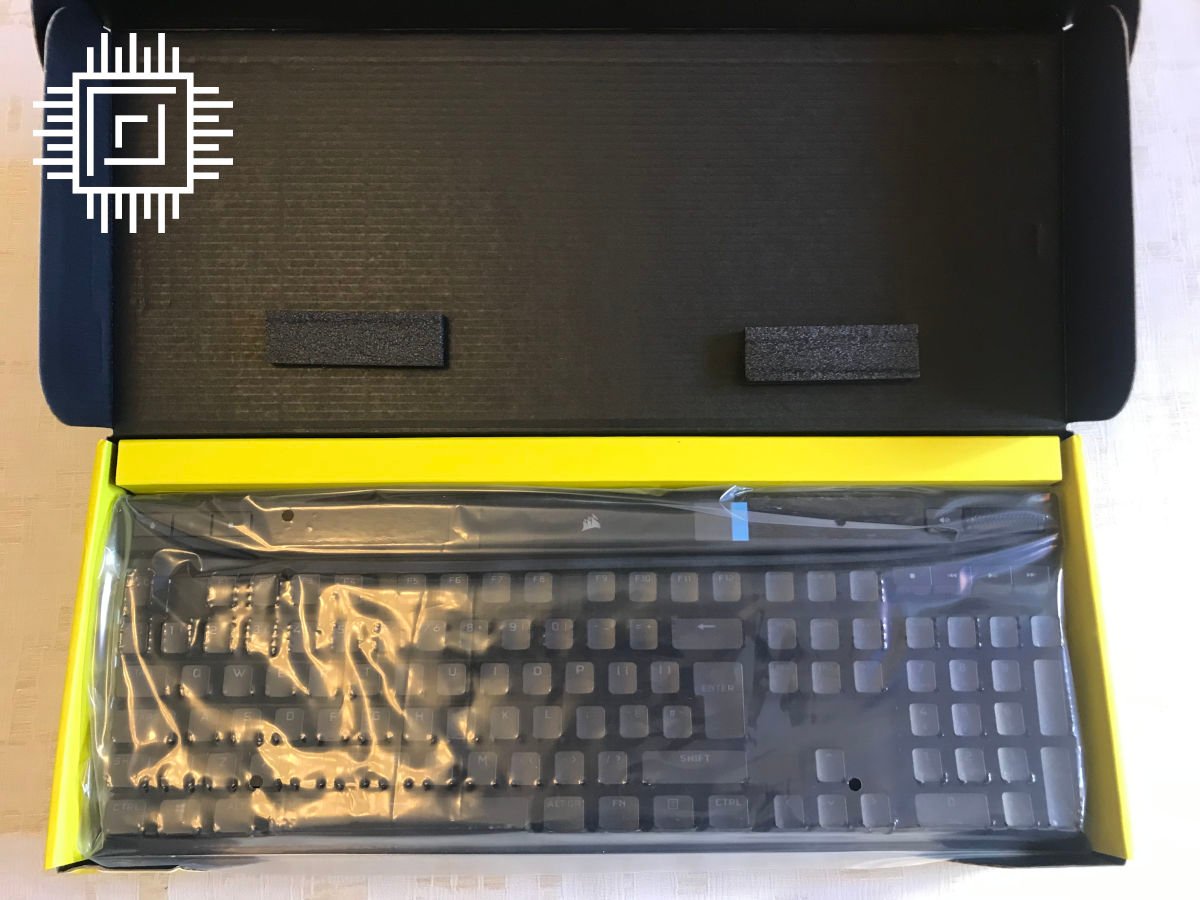 Switches
As the naming implies, this bad boy has Corsair's OPX optical-mechanical key switches that use a beam of infrared light to register an actuation, delivering a fast and precise keypress detection at a 1.0mm actuation point over a total distance of 3.2mm. Each press requires 45g of force, putting Corsair's OPX in the ballpark of Cherry MX Red switches, which are also available within the K70 Pro RGB series.
The brand claims zero debounce delay, meaning that key reset is immediate after lifting past the actuation point, guaranteeing registration for even the fastest presses. Having fewer parts results in Corsair offering 150-million-click durability. Put in context, that's a keypress, every second, for close to five years!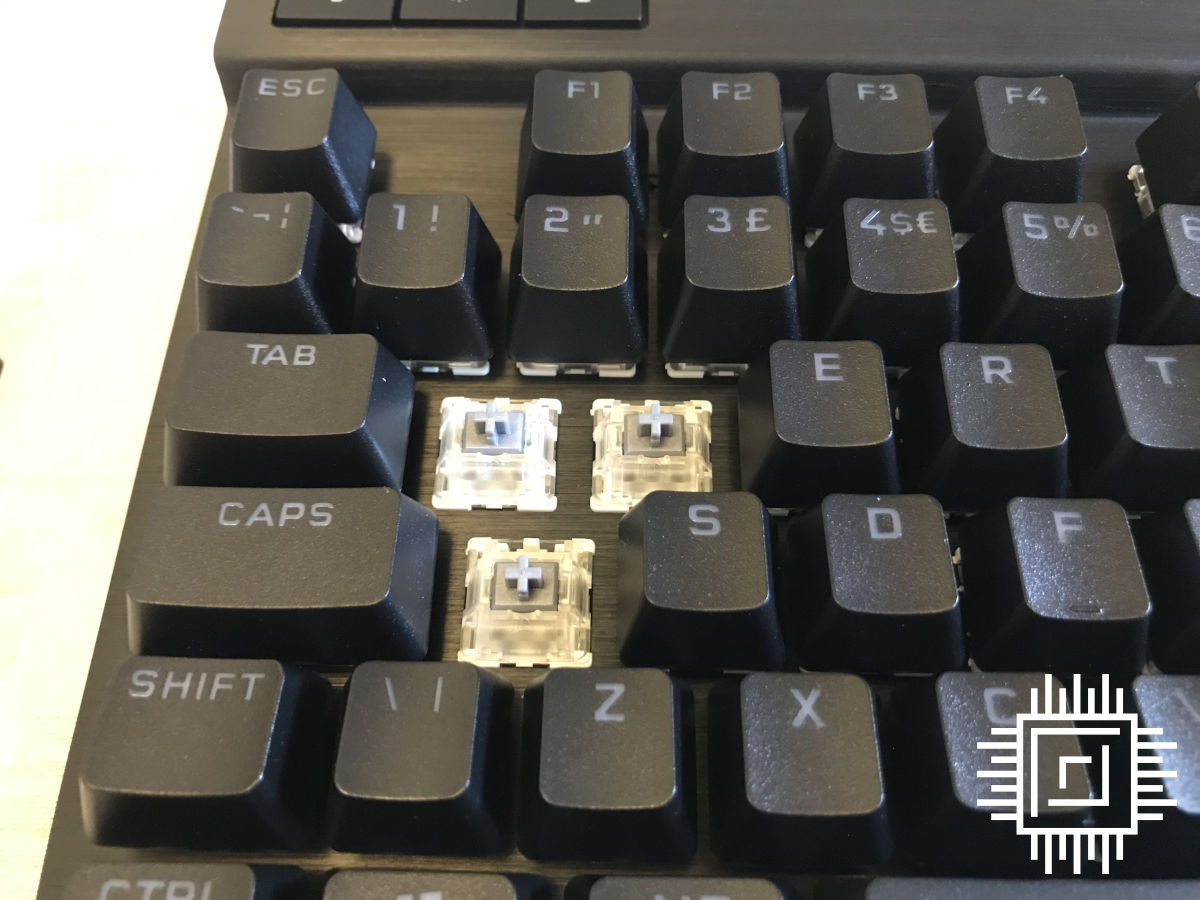 Switch sound is quite loud in my opinion. For example, if the computer is in a bedroom near a companion or siblings, it may become an annoyance for them, depending on their tolerance. To give you an insight into how the OPX sounds, below you can hear a quick test recorded at a 50cm distance.
Processing
The K70 Pro RGB OPX is powered by Axon, which is Corsair's hyper-processing technology providing up to 8,000Hz polling and 4,000Hz Key scanning rates, while simultaneously driving up to 20 layers of lighting effects. These rates are possible thanks to the Axon SOC's multi-threaded capacity to process several complex instructions in parallel, according to the company.
By default, the polling rate is set to 1,000Hz, considered a good choice since 8,000Hz consumes more system resources. For reference, 8,000Hz equates to 0.125ms, much faster than 1,000Hz/1ms, although with my reflex level I can't tell the difference, since either one is plenty fast for me. Players engaging in super-competitive games such as Fortnite or Apex Legends may well benefit from higher rates, so it's good to see Corsair provide them.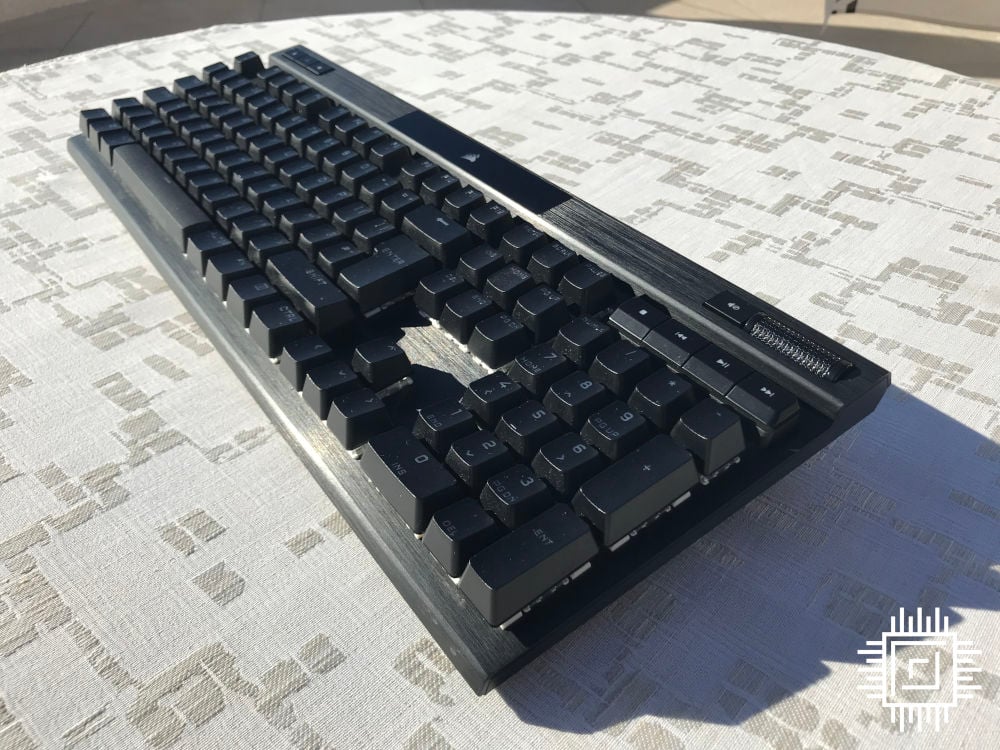 Build
Available in black or white, the K70 Pro RGB OPX carries an anodised aluminium body with a brushed finish. It has a full-key layout, plus media keys, a volume roller, and some quick RGB control buttons. Measuring 444mm (L) x 166mm (W) x 40mm (H) – including the wrist rest – there's also full-key rollover with 100 per cent anti-ghosting.
The build quality is excellent as the rigidity is on-point, and there's also no flex to speak of. Four large rubber pads placed on each corner keep it from slipping, with two adjustable feet on top, opening sideways for elevation purposes.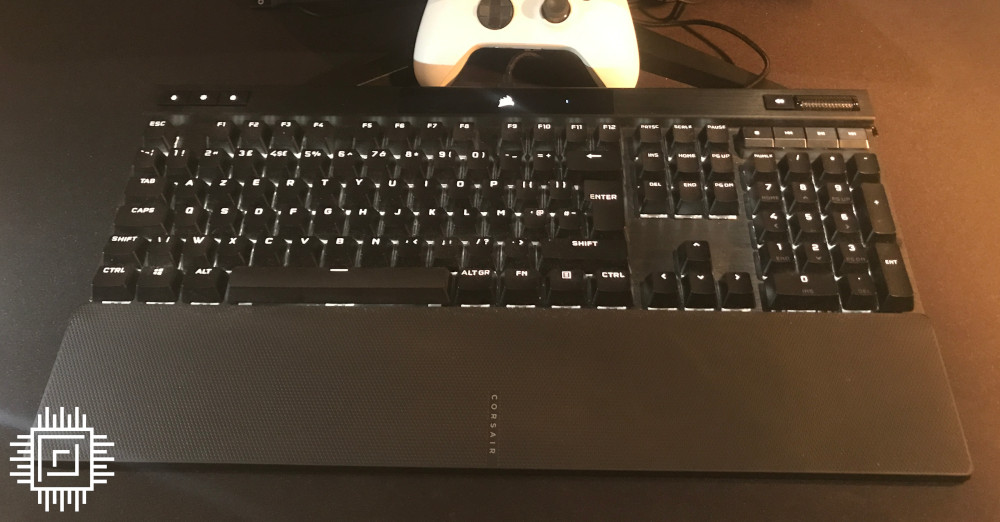 Sticking to the keyboard via a couple of strong magnets, the wrist rest is good enough but not at the level of stablemate K100's softer padding. Needless to say, the wrist rest is a personal preference, since there are many who don't even bother installing theirs.
The K70 Pro OPX connects via a 1.8m-long braided USB Type-A (PC side) to Type-C (keyboard side). This is much better than a fixed cable that can't be changed if the connector gets damaged during insertion or by an accidental pull. For the style gurus out there, it can be replaced by an RGB-lit or curly one, though importantly for me, there's the option of cleaning the desk without having to ruin nicely-routed cables.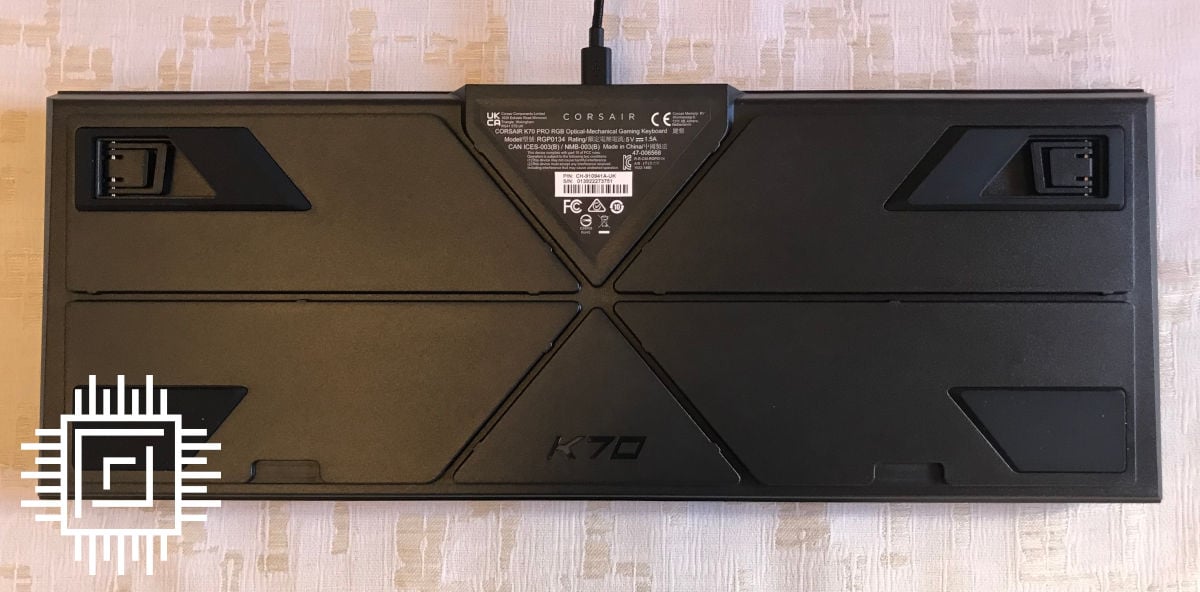 This brings me on to the next point: cable-routing channels. The rear has six channels in a star-like shape, all meeting at the centre. While less useful for the keyboard itself, routing a mouse or controller's cables could be an option if cable-dangle is a bugbear. There's no USB pass-through, by the way.
Keycaps are made of double-shot PBT ensuring a long lifespan – exactly what's expected from this tier of product. The text font is large enough to be visible to people with poorer eyesight, which also subsequently allows more light to shine through. They also all use the '+' stamp, found, for example, on the K70 Pro RGB (non-OPX) Cherry MX mechanical switches, meaning you can technically reuse custom keycaps.
RGB lighting and macros
Per-key RGB lighting with 16.8 million colours is the norm these days, leading to huge customisation opportunities. Ain't nobody got time for that? Fair enough, then there's the included options inside Corsair's iCUE software where a bunch of pre-programmed patterns can be selected, or one can simply sync with other devices.
A more practical choice would be the option to change colour depending on CPU and GPU temperature, or whatever hardware sensor is important. Going against the grain, RGB and associated lighting is disabled by the press of a button on the top-left of the board.
Finally, like many other products, custom macros can be crafted, with actuation delays, key combinations, etc. In fact, an entire article is needed to explain the multitude of configuration possibilities.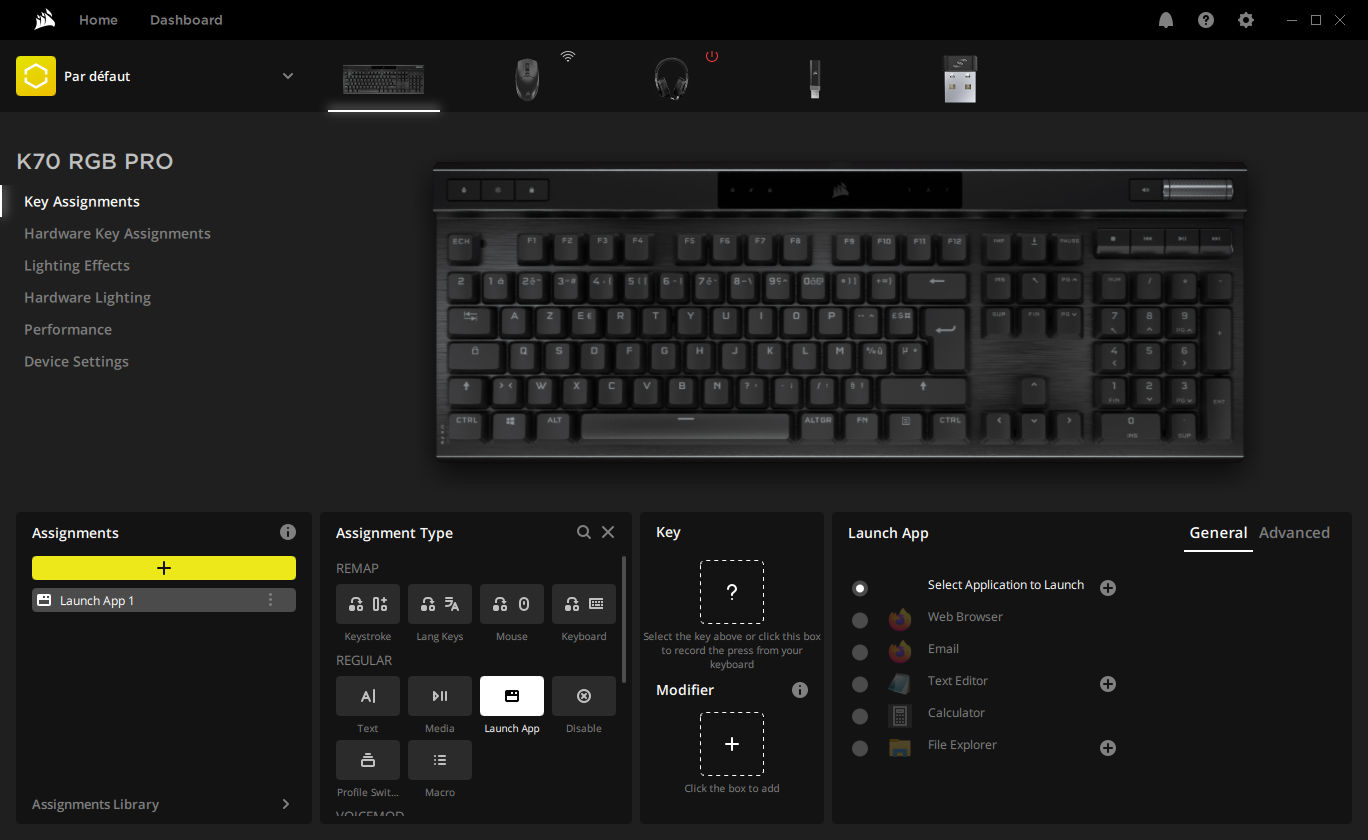 A great feature of K70 Pro RGB OPX is the onboard memory. Depending on their complexity, one can store up to 50 profiles and up to 20 layers of lighting effects inside the 8MB capacity, meaning there's no need to have iCUE open all the time. As someone who likes keeping his Windows as clear of software as possible, the fact that profiles are stored inside the keyboard memory gets a huge thumbs up from me.
Note Corsair has added a tournament switch for esports players, near the USB port, which locks the lighting and disables macros for distraction-free and fair competition.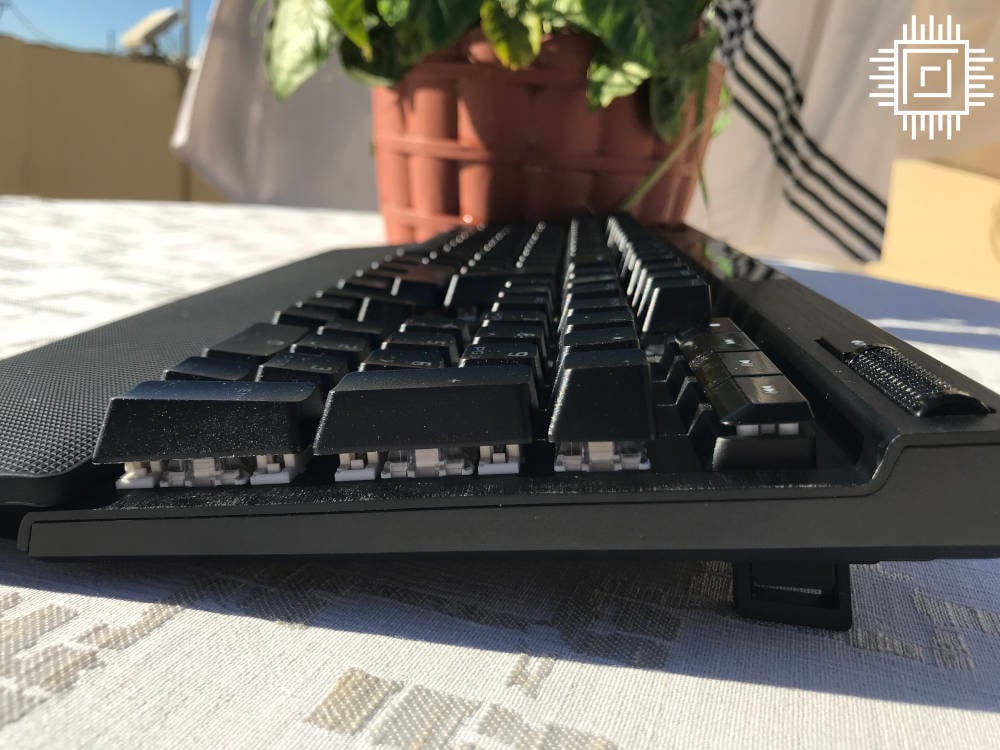 Conclusion
The K70 Pro RGB OPX is a good performer that offers the latest technologies such as optical-mechanical switches, super-high polling rates, durable keycaps/switches, and insane customisation in a full-size format. It's well-suited for gaming with fast actuation, and office workers aren't left behind thanks to the Numpad/Function keys.
The high price tag is all that stops it from the very top award, as there are many compelling features, from the 8MB of onboard memory, excellent build quality, thoughtful cable routing, and great layout. Knock it down to sub-£140, Corsair, and K70 Pro RGB OPX suddenly takes on more appeal.
Nevertheless, gamers wanting a high-quality experience won't be left disappointed by the Corsair K70 Pro RGB OPX keyboard.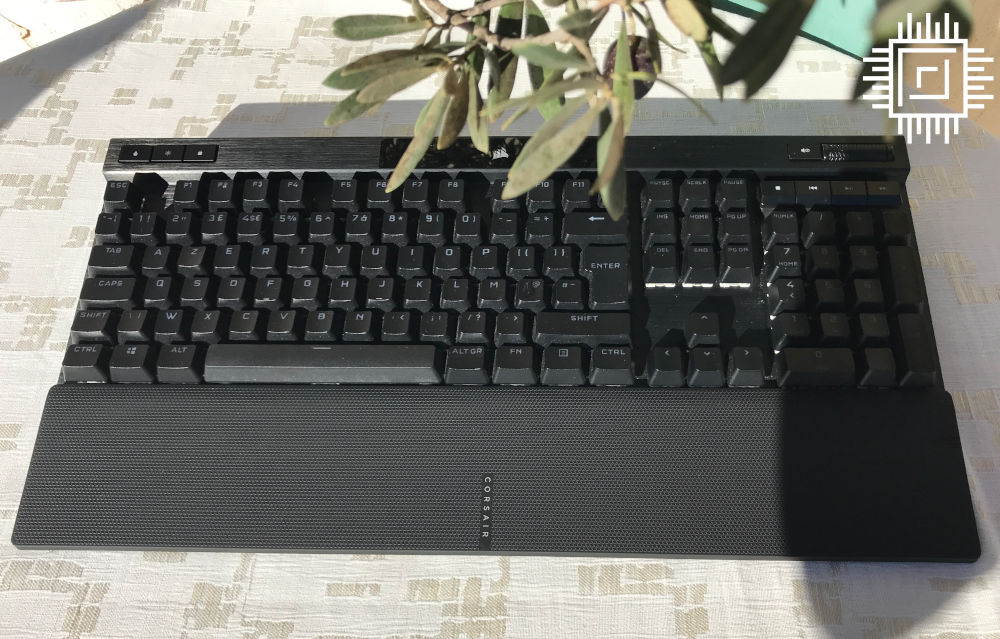 Corsair K70 Pro RGB OPX
Verdict: A well-rounded keyboard with quick response times and great build quality.
---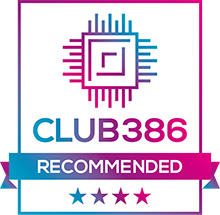 Pros
Opt/mech switches
Robust chassis
Extensive customisation
Onboard memory
Detachable cable
Cons
Price
No USB pass-through
Wrist rest not padded
---
Club386 may earn an affiliate commission when you purchase products through links on our site. This helps keep our content free for all.
Rest assured, our buying advice will forever remain impartial and unbiased.