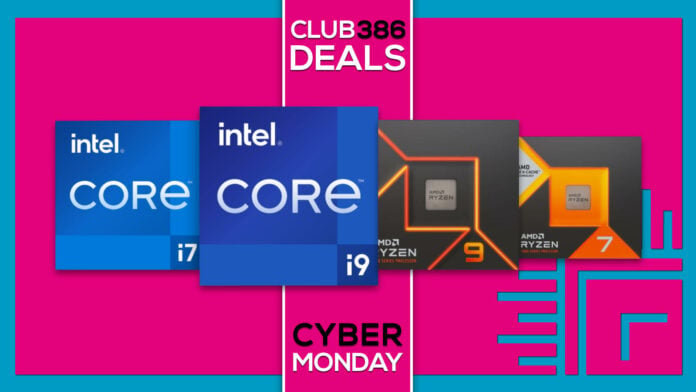 There's nothing quite like grabbing the best CPU deal. Thankfully, Amazon comes well prepared with an assortment of Cyber Monday promotions now that Black Friday is over, regardless of whether you're in the market for Intel or AMD.
Forward- and backward-compatibility has gotten better over the past few years. Still, a CPU upgrade comes with the very real risk that you'll need to upgrade your motherboard, too. That may invoke a need for new RAM, and don't get us started on the cooling and power requirements of enthusiast chips. The point is that it's a domino effect, and costs quickly mount. You'll want to save pennies wherever you can.
Amazon has discounted 26 different CPUs. Most are from a previous generation, but Team Red sees one of the latest X3D processors come down in price. Even if you grab the best CPU, you should have enough left in your bank account to complete your gaming PC.
Become an Amazon Prime member, and you can get your new CPU as soon as tomorrow with next-day delivery. In fact, there are loads of things you can get with an Amazon Prime subscription, so it's worth checking out. Keep in mind that not all listings come straight from the retailer. We've placed one asterisk (*) for items dispatched by Amazon but sold by a third party. Those with a double asterisk (**) are neither sold nor dispatched by Amazon. They're all bound by the same terms of service, however, which gives you a nice safety net in the form of a kind return policy.
Intel
Intel Core i5-12400F
---
"The Intel Core i5-12400F skips Team Blue's usual efficient cores, but more than makes up for it with a solid price tag, six performance cores, and up to 4.4GHz boost clock."
We earn a commission if you make a purchase, at no additional cost to you.
The Intel Core i5-12400 surprised us in the best way, earning a full 5/5 stars. The 12400F is cut from the same cloth, dropping integrated graphics support. That's hardly an issue if you run it alongside one of the best graphics cards, and it already saves you a few pennies. Lump in the ability to overclock up to 4.4GHz boost clock, and it's a solid processor at full price. You can grab the Intel Core i5-12400F 27% cheaper in the US, bringing it down to $149.97 at the time of writing. It's almost like you're committing highway robbery.
Here are more CPU deals in the US:
Here are more CPU deals in the UK:
AMD
AMD Ryzen 5 7600
---
"This entry-level gaming CPU comes bundled with an AMD Wraith Stealth cooler, so you can get the most out of your processor without spending extra."
We earn a commission if you make a purchase, at no additional cost to you.
AMD already has plenty of value-led CPUs, but there's no harm in adding a discount on top. Our highlight goes to the AMD Ryzen 5 7600, a fantastic entry to the latest Zen 4 architecture with six cores, 12 threads, and up to a 5.1GHz boost clock. During Cyber Monday, you can grab the Ryzen 5 7600 13% cheaper in the US at $199, while folks across the pond in the UK nab a 22% discount at £194.96 while stocks last. If you have a little more in your pocket, there are plenty of other highlights.
Here are more CPU deals in the US:
Here are more CPU deals in the UK: