Jump to: Specification | Performance | Conclusion
CPU stock shortages are abating and graphics card prices are returning to normal. These developments, coupled with PC enthusiasts being starved of new hardware for so long, makes mid-to-late 2022 an opportune time to consider an upgrade.
But hold on a minute, there's an onslaught of new launches on the horizon, isn't there? With the likes of Ryzen 7000 Series and GeForce RTX 40 Series due before year's end, some might be inclined to wait it out. Here's the thing; such high-profile releases will face the same vicious circle of massive demand and inflated pricing. If that proves to be the case, sensible heads may favour a mid-range upgrade sooner rather than later.
Cyberpower is hoping to tempt such users with the Infinity X127 Pro Gaming PC, a £1,999 rig that delivers high-quality QHD gaming in a simple and affordable package.
Specification
There are myriad configuration options and with strong competition on all key fronts, it's easier than ever to pick a solid CPU and GPU combination. Cyberpower plays it relatively safe with an Intel Core i7-12700KF touting 12 cores (eight performance, four efficient) and a 5GHz peak frequency. Providing the graphics grunt is an MSI GeForce RTX 3070 Ti with 8GB of memory. Said frame buffer may not be the most future proof, yet this duo ought to excel at both FHD and QHD gameplay.
Storage is provided by a fast and spacious 1TB WD Black SN850 M.2 SSD (we consider 1TB to be the minimum for a gaming build), and at this price point Cyberpower doesn't feel the need to mess about with scarce DDR5 memory. Sticking to the tried-and-trusted, 32GB (2x16GB) of Corsair Vengeance Pro RGB DDR4-3600 is installed atop an MSI MAG Z690 Tomahawk Wi-Fi DDR4 motherboard.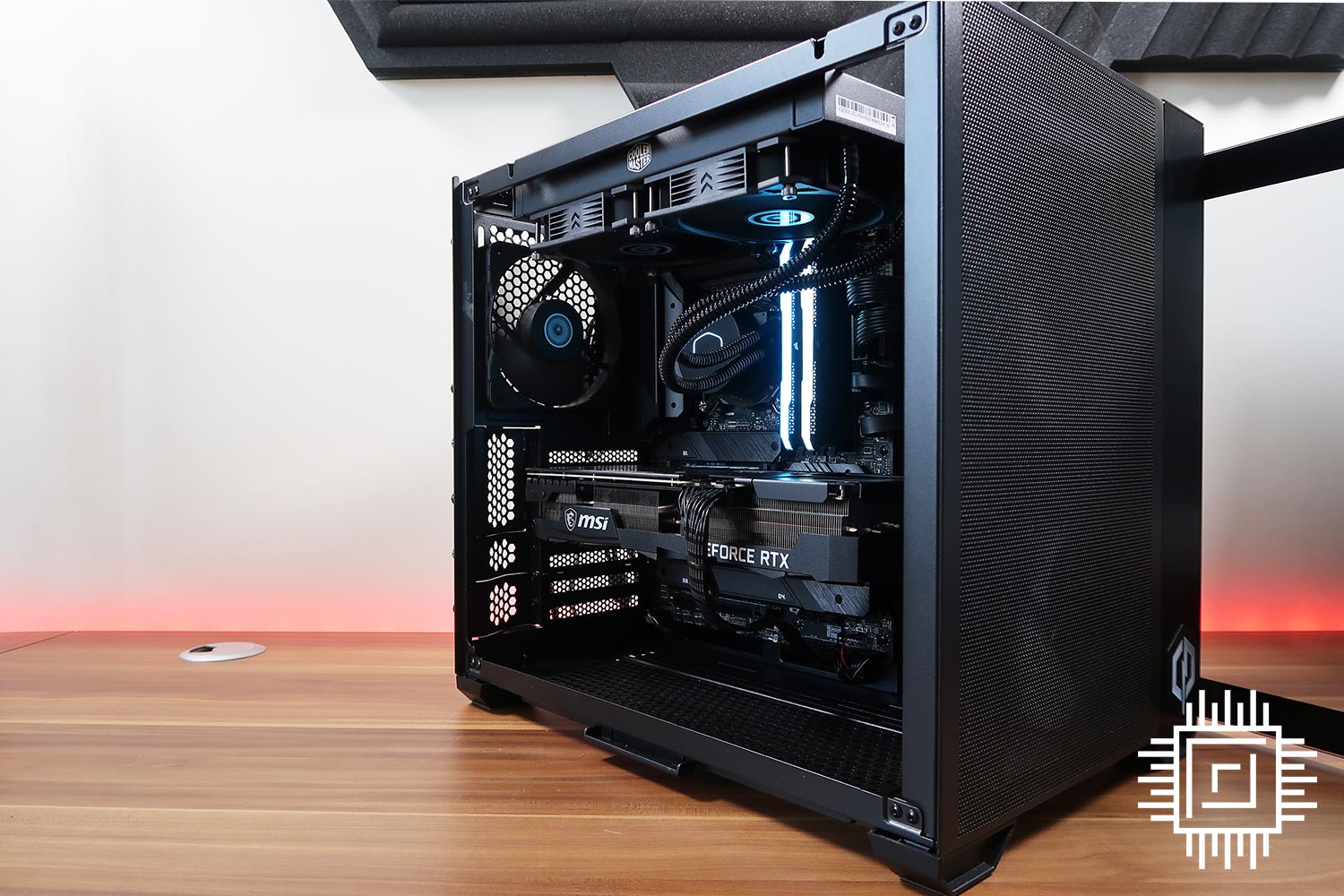 Would have been easy for Cyberpower to lump the aforementioned components into a rudimentary mid-tower enclosure, so we like that an O11 Air Mini has been used as a point of difference. A smaller tower retaining ATX compatibility, Lian Li's sleek case measures 400mm (D) x 288mm (W) x 384mm (H) and could happily live atop a good-sized desk.
Build quality is tidy throughout, with brushed aluminium accents, fine mesh filters and a full-size tempered glass panel. Cables are for the most part hidden from view, there are plenty of spare storage trays around back should you need to expand, and a regular ATX PSU – in this case an 850W MSI MPG A850GF – fits with room to spare.
Connectivity is well-rounded with onboard 2.5GbE Ethernet and Wi-Fi 6, while the chassis' top-mounted I/O ports include dual USB 3.0, USB 3.1 Type-C and a headphone jack. A front-facing USB port might have been handy, and nitpicking somewhat, it's a minor nuisance that the top panel has to be removed in order to lift out the glass side panel.
On the inside, and making the most of available fan mounts, Cyberpower has opted to attach a 240mm Cooler Master MasterLiquid Lite all-in-one to the Core i7 chip, and the chassis' three default fans – dual 140mm front intakes and one 120mm rear exhaust – keep air moving.

Show your support for impartial Club386 reviews
Club386 takes great pride in providing in-depth, high-quality reviews built on honest analysis and sage buying advice. As an independent publication, free from shareholder or commercial influence, we are committed to maintaining the standards our readers expect.
To help support our work, please consider making a donation via our Patreon channel.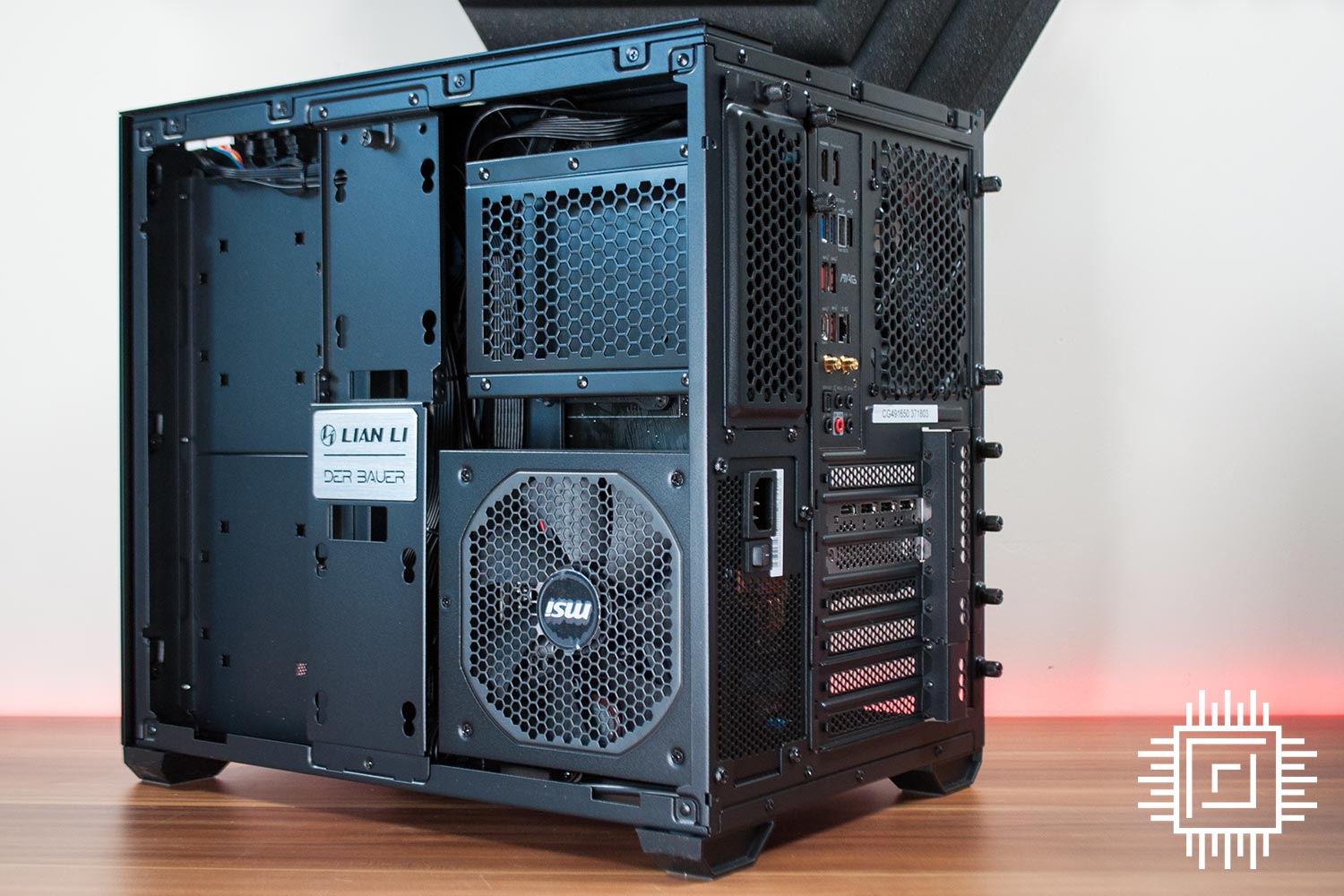 There isn't a great deal we'd be inclined to change, however we feel there is room for improvement in the aesthetic department. Though the Lian Li chassis looks compact and elegant, RGB memory sticks out like a sore thumb; we'd either like more lighting to accompany it, or no RGB at all.
We do appreciate Cyberpower's attention to software – Windows 11 is installed with no further bloatware and the BIOS on our review unit is bang up to date – plus there's the peace of mind of warranty cover for the entire machine. Cyberpower's standard cover includes five years of labour, two years' parts and six months collect and return, but for the sake of a further £19, we'd be inclined to choose the Silver warranty, which extends collect and return to an initial 12 months.
On the assumption that all of these components were available to buy, we reckon a DIY build would amount to ~£1,900, meaning Cyberpower is charging around a five per cent premium to put it together, ensure stability, and then ship via a fast-track service currently estimating delivery in the space of 7-10 days. Hardly worth getting the screwdriver out, you might say.
Performance


Infinity X127 Pro is the first sub-£2,000 base unit to enter our charts. Performance expectations should be adjusted accordingly, yet the rig isn't a million miles off the £2,800 PCSpecialist Magnus Goliath, or the £4,400 Corsair One i300. Value is relative, as they say.


There's no real need to move away from DDR4 just yet. Bandwidth is ample and latency remains superior to newer DDR5 parts.


A fast, high-quality SSD is key to any gaming build in 2022. A 1TB WD SN850 M.2 drive fits the bill perfectly. Do be mindful of certain configuration options, as the 2TB model of the same drive is listed as a £182 upgrade, whereas the difference at retail is closer to £120.


This is a quick and responsive build, of that there's no doubt, and during everyday workloads you'd struggle to tell it apart from dearer rigs. The one potential caveat to that is in the graphics department, where the RTX 3070 Ti's performance ceiling is reflected in a sub-15K score in the popular 3DMark Time Spy test.



How much gaming performance is out there should always be weighed up alongside how much you actually need. Less taxing titles will run perfectly smooth at FHD or QHD resolutions, and even 4K UHD isn't outside the realms of possibility.
| | FPS @ 1080p | FPS @ 1440p | FPS @ 2160p |
| --- | --- | --- | --- |
| Assassin's Creed Valhalla (Ultra High Quality) | 99 | 80 | 50 |
| Dirt 5 (Ultra High Quality, Raytraced Shadows On) | 116 | 91 | 57 |
| Far Cry 6 (Ultra Quality, HD Textures and DXR On) | 99 | 81 | 12 |
| Gears Tactics (Ultra Quality) | 163 | 110 | 58 |
The fickleness of PC gaming is such that performance can vary wildly from one title to another. We've benchmarked a quartet of modern games at three common resolutions. As expected, 60fps at 4K UHD falls outside the Infinity X127 Pro's remit, but this rig tied to, say, a 144Hz QHD display, would make for a thoroughly enjoyable combo.



There's nothing untoward in terms of system vitals. Both CPU and GPU are kept comfortably cool, power consumption is modest and noise levels are reasonable. Depending on how close you'll sit to the PC, it might be worth popping by BIOS to reduce fan noise – there's clearly scope to do so without heat becoming an issue.
Conclusion
Itching to upgrade your PC gaming experience following months of hardware drought? Cyberpower's Infinity X127 Pro delivers on its promise of high-quality QHD framerates without breaking the bank.
Available for a hair under two grand, this likeable rig combines a Core i7-12700KF processor with GeForce RTX 3070 Ti graphics; an entirely predictable combo that nonetheless delivers the requisite performance punch. Add 32GB of DDR4 memory, 1TB of swift M.2 storage, plus both Wi-Fi 6 and 2.5GbE connectivity, and you have the makings of a well-rounded PC that's sensible and fast in equal measure.
There's either too little or too much RGB lighting, depending on how you look at it, but it's good to see this level of firepower packaged in a chassis that's shorter than your regular mid-tower affair. All things considered, Cyberpower gets the essentials right and Infinity X127 Pro is worthy of consideration at the £1,999 price point.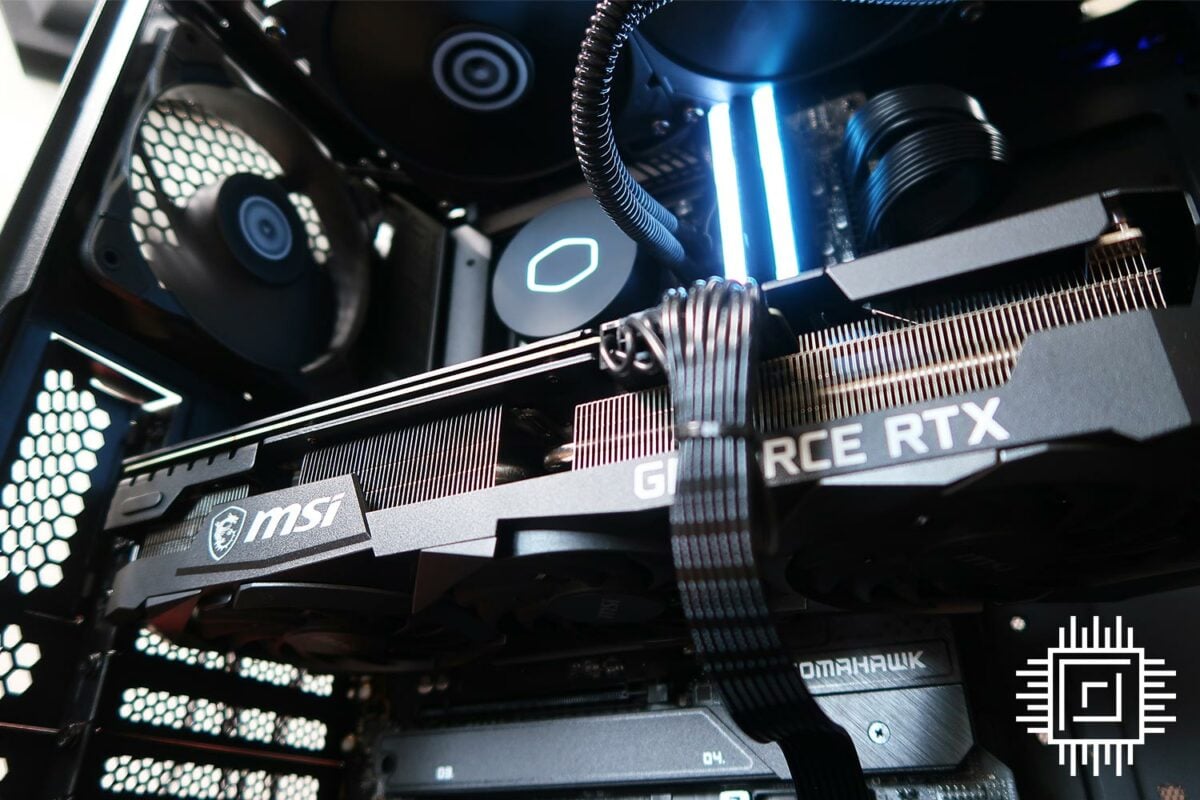 Cyberpower Infinity X127 Pro Gaming PC
Verdict: a likeable and compact ATX rig delivering high-quality QHD gaming at an agreeable price point.
---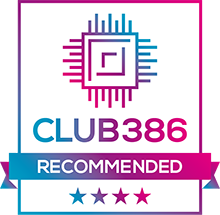 Pros
Great FHD/QHD gaming
Fast overall performance
Compact ATX build
Available for under £2k
No bloatware
Cons
RGB looks unfinished
Could be even quieter
---
Club386 may earn an affiliate commission when you purchase products through links on our site. This helps keep our content free for all.
Rest assured, our buying advice will forever remain impartial and unbiased.