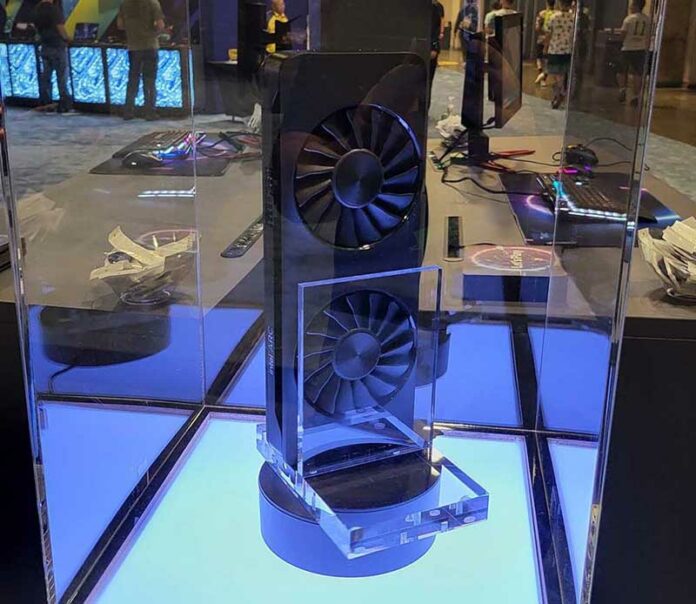 Known as Arc, Intel's foray into discrete graphics for desktop and laptops has stalled in recent months as software optimisations and component shortages hamper availability. We know desktop Arc isn't going to debut until Q3 in sales channels, with Intel prioritising OEM production and China-first availability. Up until now, desktop Arc has been teased in renders, but over at the Intel Extreme Masters (IEM) event in Dallas, Texas, we finally see Arc A770 in the flesh.
Pictures come courtesy of Bryce_GfxDriverGuru, an Intel Arc community advocate, and show the dual-fan card using a fully-enveloped heatsink. As a reminder, A770 uses Intel's ACM-G10 die that's home to 32 Xe cores (4,096 shaders), likely 16GB of GDDR6 memory connecting via a 256-bit interface, and, on desktop form, a TDP somewhere in the region of 220W.
Peering closer, power is sourced by 8-pin and 6-pin connectors located directly underneath the upper fan, intimating the PCB may not go all the way to the end. Stood up this way, we cannot see the display outputs on the I/O section.
Showing a physical sample off is one thing, another is having good retail availability for PC gamers who want an alternative to the Nvidia/AMD duopoly. Given incessant delays of late, our best guess is you'll see retail cards no earlier than October, at which time the incumbent competition will move on to their respective next-generation cards.