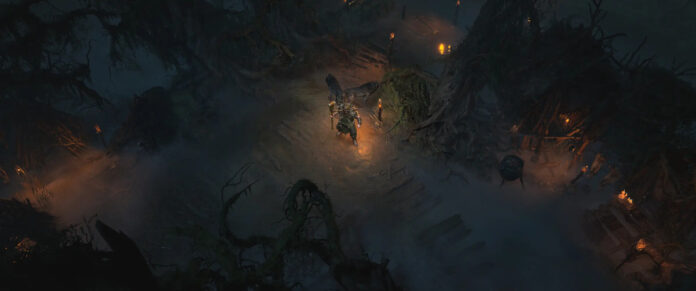 Merely hours after the illusive GTA 6 was thwarted by a 16-year-old hacker through clever social engineering, yet another major developer is dealing with a leak of its own.
Blizzard's upcoming Diablo IV has fallen victim to a leak of massive proportion, totaling 43 minutes of what looks to be alpha testing of the game reserved for an exclusive group of staff friends and family.
Eagle-eyed Reddit user iV1rus0 noticed the videos had been uploaded via a file-sharing link. Spread across two videos – one five minutes long, the other clocking 38 minutes – the footage appears to be from a Discord stream, as evidenced by its signature text notification sounds popping off in the background. It's clearly early development footage, identified by the watermark plastered atop the video denoting 'private test build' with ID numbers below reading '304286289,' that could possibly oust the tester from whence it came.
As for the test footage, it's a bit more substantial than the initial alpha leak discovered last month. Eager fans willing to accept spoilers see gameplay revealing the new Barbarian class in action, exploring the gorgeous open world and a look at a partially unveiled game map. It remains unclear at what stage the development of the game is currently at, but this is clearly an early form given several models within the game world remain largely incomplete. Even so, the visuals look incredibly polished even at this stage.
The videos provided in the Reddit link were removed post haste, though it doesn't take a great deal of effort to find videos peppered on social feeds across Twitter and YouTube.
As we approach a 2023 release, a closed end game beta will begin November 18, via invite to lucky players, and will be available on all major platforms with support for cross-play and cross-progression. If you do miss out on the opportunity, the rest of us can partake in a public test set to begin early next year.