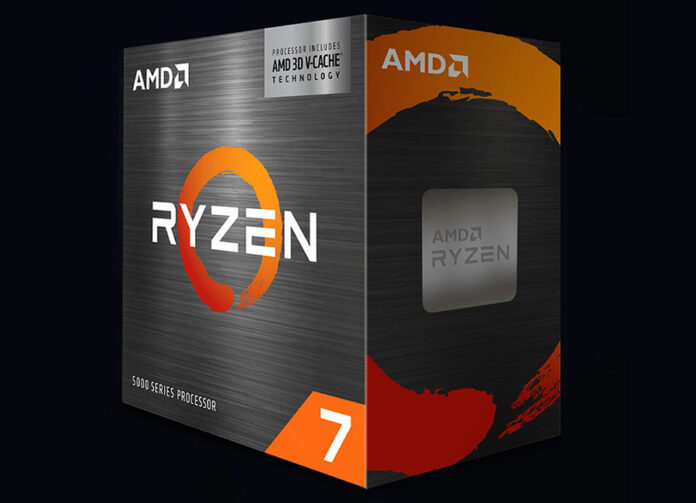 Available through official channels starting April 20, AMD's Ryzen 7 5800X3D chip has been put through gaming paces at Peruvian site Xanxogaming. The result in one title is unanimous: AMD's chip beats up on the very best from Intel.
As a reminder, Ryzen 7 5800X3D is the first consumer CPU to be outfitted with what the company refers to as 3D V-Cache. Housing triple the regular Ryzen 7 5800X's 32MB of L3 – all other caches are left untouched – provides this X3D model with a whopping 96MB. AMD reckons a vastly enlarged pool of fast on-chip memory is marvellous for gaming performance because more of the working dataset is kept closer to the execution cores.
3D V-Cache is a novel technology also appearing on a select line of AMD Epyc 'Milan-X' processors. Implementation mechanisms are similar across Ryzen and Epyc, so it's worth familiarising yourself with exactly how this extra cache is delivered in our in-depth examination.

Back on point, Xanxogaming has numbers for Intel Core i9-12900K and Intel Core i9-12900KS up against Ryzen 7 5800X3D in a custom 720p benchmark within Shadow of the Tomb Raider. This is not a proper apples-to-apples comparison, however, as the AMD system uses a GeForce RTX 3080 Ti whereas Intel chips harness a GeForce RTX 3090 Ti, previously tested by 'CapFrameX.' Furthermore, use of super-low-latency DDR4 memory will definitely be contributing to AMD's chip producing such great numbers.
Dropping quality settings to a non-real-world level, which is pathetically easy for RTX 3090 Ti, puts most of the framerate onus on the CPUs in question, meaning this is an academic test designed to tease out the effectiveness of select CPUs for gaming.
Ryzen 7 5800X3D basks in benchmark glory, it seems, as it's 21.58 per cent faster than an already-quick 12900K and 15.5 per cent faster than the best mainstream chip Intel has to offer, 12900KS.
We fully expect benchmark scores to coalesce as image quality and resolution are increased to match capabilities of the graphics card – perhaps we'll see no difference at 4K – but as a proof of concept, it appears AMD is on the right track.
Increasing performance by innovating outside of microarchitecture is here to stay. We'll have our own Ryzen 7 5800X3D benchmarks soon enough, but the odds of AMD gaining the much-coveted crown of world's best gaming CPU are shortening by the day.