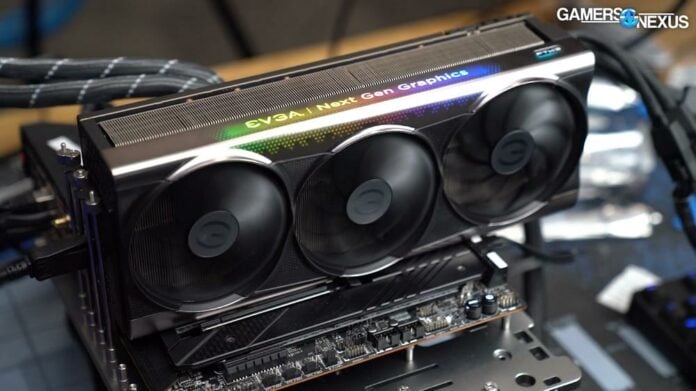 The unreleased EVGA GeForce RTX 4090 FTW3 graphics card has been tested and disassembled by JayzTwoCents and Gamers Nexus on YouTube, showing a thick cooler with high fin density alongside robust power delivery.
For those not following the news, EVGA recently decided to stop all graphics card manufacturing, which is seen as a big loss by many enthusiasts since the brand was an exclusive Nvidia partner and had some of the best cards on the market, including the excellent Kingpin models designed for full-on overclocking.
The prototype nature of this RTX 4090 FTW3 can be seen from the get-go thanks to a naming that says 'EVGA Next Generation Graphics FTW3.' Contrary to Nvidia's Founders Edition, EVGA went for a full-size PCB with a perforation forming the logo. Not the best choice for air circulation, but looking at that beastly cooler, the card would have been just fine like that.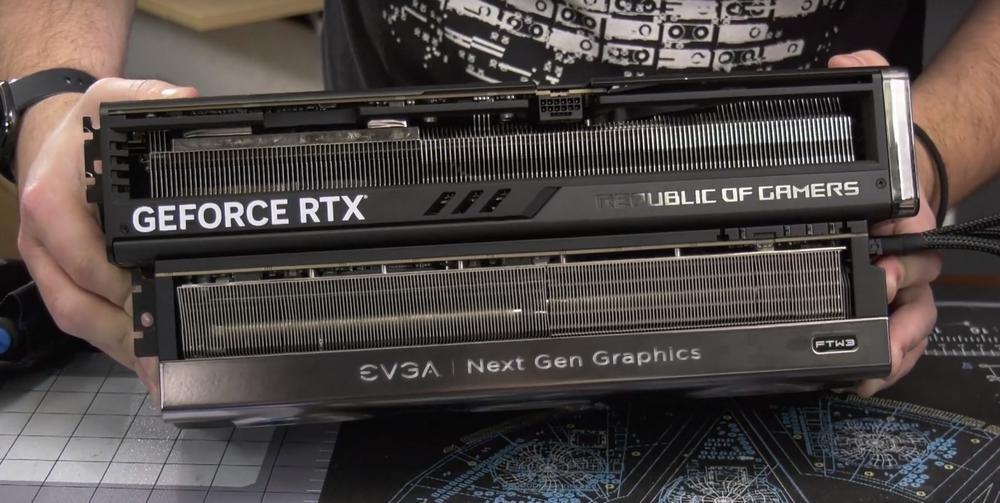 A Well-Built Card
EVGA opted for the same triple-fan design found on older FTW cards such as the RTX 3090 Ti FTW, but this time using 100mm fans instead of 90mm. The fans push air through a dense fin stack covering the entire card, which connects to the GPU via seven 8mm heatpipes that are in turn soldered to a vapour chamber. According to Gamers Nexus' measurements, the heatsink had only 1.3mm spacing between fins, compared to 1.85mm on the Asus ROG Strix RTX 4090.
The card is 12.5in or 31.75cm long and 7.25cm thick, featuring RGB lighting on the naming plus the EVGA logo found on the backplate. Powered by a single 12VHPWR cable accessible from the side, instead of the centre top like many competing models, it also featured dual BIOS together with some debugging LEDs – handy for those taking overclocking to the next level.
Conspicuous By Its Absence
As usual with this tier of EVGA cards, owners have access to more sensors compared to other competing manufacturers' offerings, ostensibly for even more precise control over the cooling system. For example, with cards featuring a 0dB mode, the GPU may show low temperatures in tasks loading only the memory chips, which will turn off the fans, thus causing memory to be inadequately cooled. But this is easily circumvented with multiple sensors, ensuring all parts – GPU, memory or VRMs – are nice and cool.
Gamers Nexus says that thorough testing is coming soon. While we can already guess this card won't bring any out-of-the-ordinary FPS figures, its cooling potential may well be interesting.
It's unfortunate that we don't get to play with an EVGA card this generation. Who knows, 2023 may be EVGA-branded AMD or Intel cars into the fold, agreements permitting.