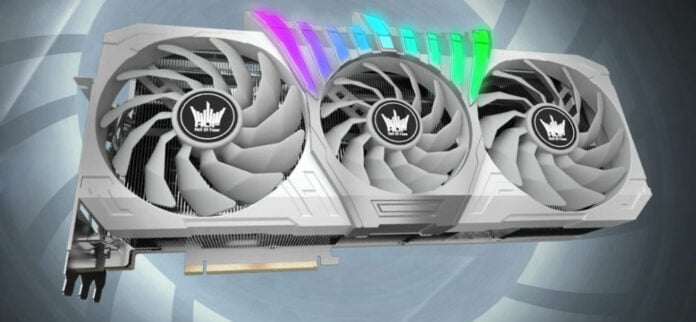 Galax seems to have mistakenly announced plans for a Hall of Fame (HOF) RTX 4090 Ti via a banner posted on its homepage.
First pictured by @overclex, the RTX 4090 Ti HOF banner linked to an RTX 4090 product page, so is it merely an honest mistake, or is the banner proof of Nvidia's future plans? Difficult to say at this stage, but given that the current implementation of AD102 leaves room to manoeuvre, an even faster flagship wouldn't be too much of a surprise somewhere down the line.
One would imagine Nvidia will eventually unleash a Ti variant of the RTX 4090 using a full AD102 GPU, with maybe a bit more or faster VRAM. For now, Nvidia is keeping its secrets, but we could see Ti announcements in the second half of 2023, giving current RTX 4090 plenty of time as king of the hill.
RTX 4090 HOF
While we've known about the existence of Galax GeForce RTX 4090 HOF for some time via the overclocking scene, we also now have official specs and features of the outlandish card.
Right off the bat, the first thing that catches the eye is two 12VHPWR connectors that can deliver 1,200W combined. Obviously, that's in theory, in practice, Galax advertises support for up to 666W TGP (is that some kind of sign Galax?) delivered through a 28+4 phase power design. For reference, the RTX 4090 Founders Edition carries 20+3.
The card uses a triple-slot format cooled by two 112mm plus one 92mm fan, features dual BIOS, the Hall of Fame detachable display, and notably, aRGB LEDs that will alert the user if power connectors aren't properly attached. Handy if you're worried about melting cables. The RTX 4090 HOF boosts up to 2,595MHz out of the box or up to 2,610MHz using Galax's 1-Click OC inside the HOF AI software.
At any rate, if and when the Ti variant is out, Galax will likely be using the same cooler across both top-end SKUs. In case such a card ever sees the light of day, we'd start saving now; fabled 4090 Ti certainly won't come cheap.