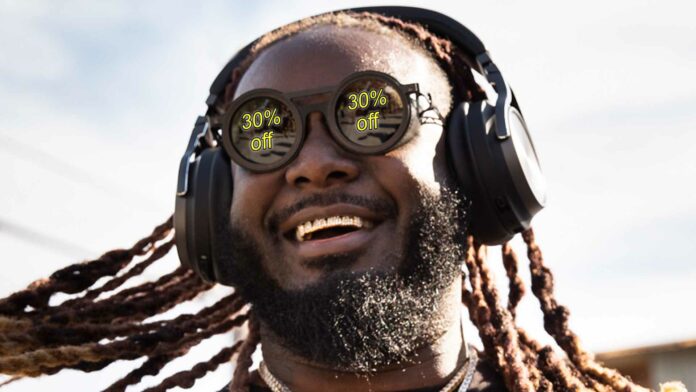 Cutting the cord is the best thing you can do with a gaming headset. We're not talking about whipping out a pair of scissors but going for a great pair of wireless cans that leave the cables in the box, where they belong. The Corsair Virtuoso RGB is a prime example, and it's pretty close to its lowest price ever.
It's surprising that Corsair decided to put RGB in this headset's name. The device mostly forgets the flashiness of lights aside from addressable logos on each ear cup. It's a smart decision, considering battery life is the top priority. You'll get as much as 20 hours before you'll need to juice it up again, but your mileage may vary if you turn the lights on.
Going dark isn't so bad, though, as it's one of Corsair's nicest-looking headsets. There's a bulk to it, considering it needs to house so much tech, but it sidesteps the egregious gamer look for something more professional. Instead, you're left with something that you won't be ashamed to wear out and about. You can even detach the microphone to give it a cleaner aesthetic.
You might expect the removable microphone to hinder its quality, but the Virtuoso upholds Corsair's reputation for clarity. Your teammates will be able to hear every word you say without you sounding like you're stuck inside a submarine 800 feet underwater. You'll sound crisper when plugging it in using the 3.5mm headphone jack, of course. As zippy as the connection is, 2.4GHz wireless naturally comes with some compression, but the sacrifice isn't too demanding.
And lastly, a headset is useless if it isn't comfortable enough for longer gaming sessions. It's an even 372g with a leatherette headband and ear cushions that you'll be able to wear all night. The pads even do a good job of eliminating sound leakage. You won't disturb your housemates… aside from the incessant clicking of your mechanical keyboard.
Corsair Virtuoso RGB
---
"Hear more of all your audio with an impressive 20Hz-40,000Hz frequency range – double that of typical gaming headsets. Everything from the loudest shot to the subtlest musical note is reproduced with amazing clarity, definition, and impact."
We earn a commission if you make a purchase, at no additional cost to you.
Over on Amazon US, you can get the Corsair Virtuoso RGB 30 per cent cheaper, bringing the price down to $139.99. It's a similar story across the pond, too, with UK users netting a 19 per cent discount on the same headset.
Become an Amazon Prime member, and you'll be able to get it as soon as tomorrow with next-day delivery. In fact, there are loads of things you can get with an Amazon Prime subscription, so it's worth checking out.
Here at Club386, we're always on the lookout for more deals. Make sure you follow us on Twitter, Facebook, and subscribe to our free weekly newsletter to stay in the know about the latest and greatest PC hardware discounts.