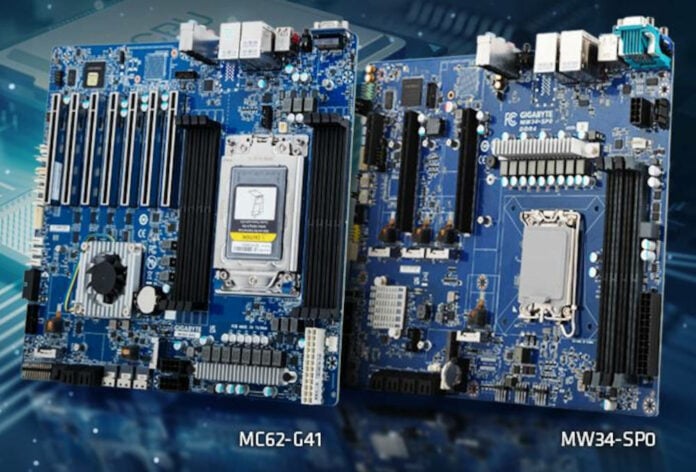 Gigabyte announces two new workstation motherboards boasting server and enterprise-level features.
Opening with the red team, Gigabyte offers the MC62-G41, a monster CEB form factor 305mm (W) x 267mm (D) board, using an sWRX8 socket, eight DIMM and seven PCIe 4.0 slots. Compatible with Ryzen Threadripper Pro 3000WX / 5000WX series processors offering up to 64-core / 128-threads processors with TDPs up to 280W, this one's for those that don't need retail bells and whistles.
The eight-channel architecture supports up to 3200MHz ECC and non-ECC – buffered or unbuffered UDIMM, RDIMM, 3DS R-DIMM, LRDIMM memory types, for a maximum 2TB total capacity (256GB single LRDIMM capacity).
Six PCIe Gen 4 x16 plus one Gen 4 x8 slot, two M.2 PCIe Gen 4×4, four SATA III 6Gb/s and three SlimSAS (NVMe Gen 4 or SATA) ports combine to take care of addon cards/storage.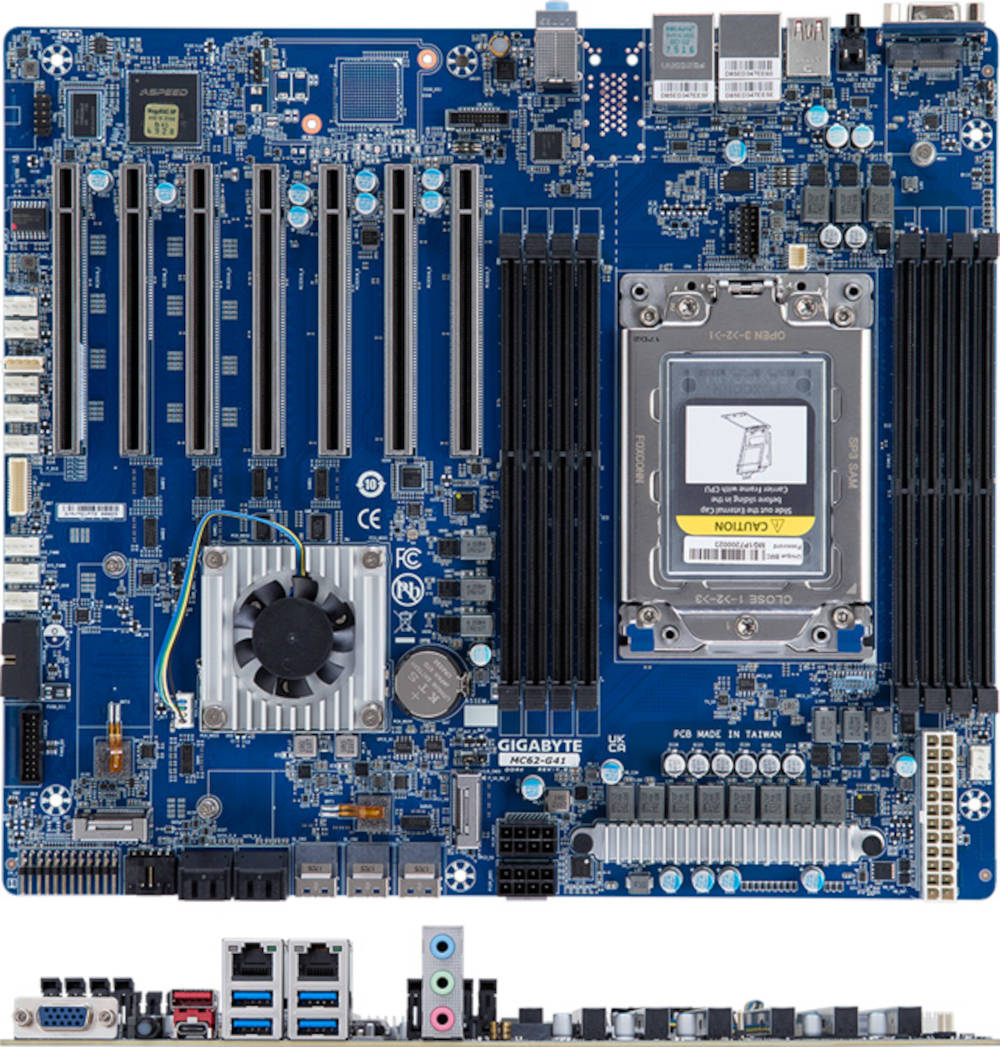 An unimpressive and lonely Gigabit LAN alongside a management LAN port has the burden of connecting the machine to the outside world. Strange at a time where you find one or more 2.5Gb/s ports on consumer/gamer motherboards. The remaining I/O consists of one USB 3.2 gen 2 Type-A plus one Type-C, four USB 3.2 Gen 2 Type-A, three audio jacks, ID Button and VGA.
If you are looking for further storage or Ethernet speed, then this next platform will suit you better. Named MW34-SP0, this board has two times more storage interfaces resulting in eight SATA III 6Gb/s ports, one M.2 2280/22110 PCIe Gen 4×4 from the CPU plus three M.2 2280 PCIe Gen 4×4 from the chipset, but no SAS. Networking is handled by a 2.5Gb/s LAN port (Intel I225) and Gigabit Management LAN (Realtek RTL8211FD).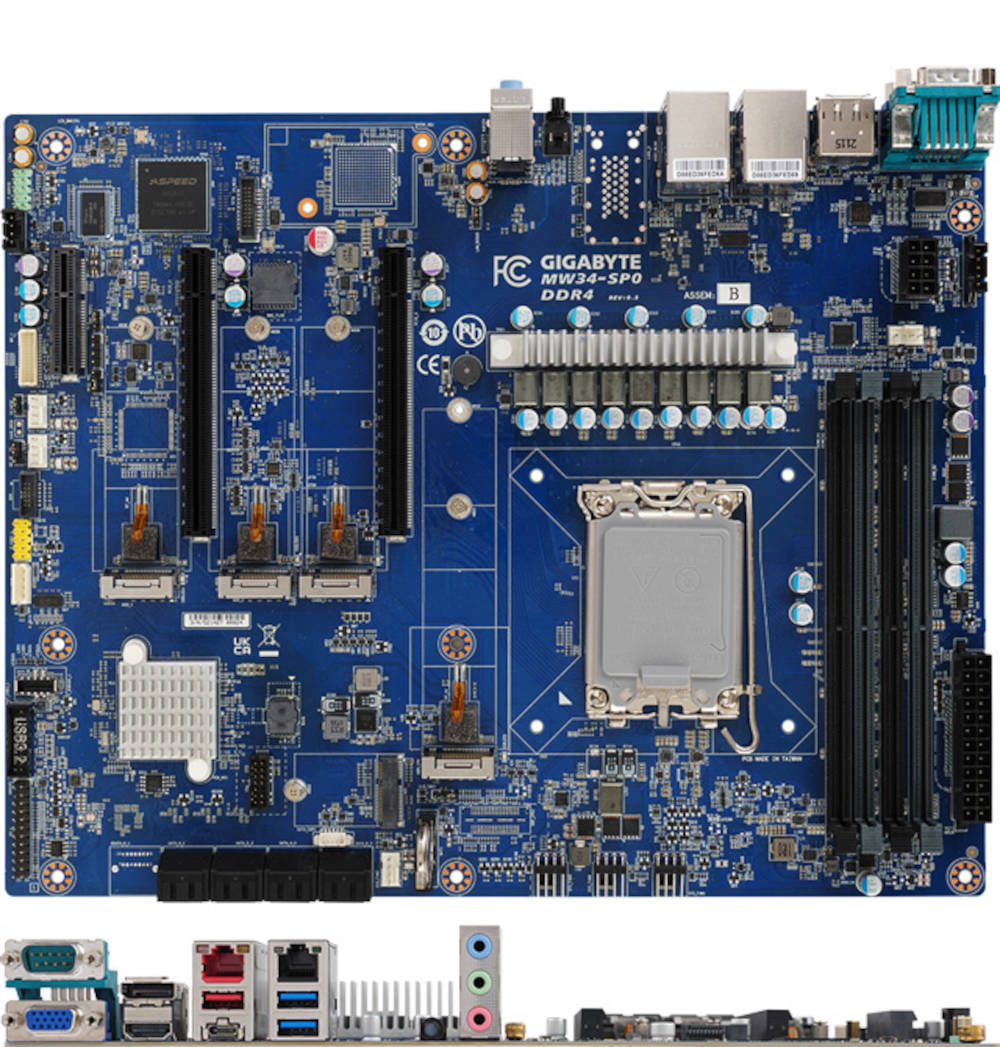 The ATX 305 (W) x 244mm (D) board uses Intel's W680 chipset alongside an LGA1700 socket compatible with 12th Gen Core desktop processors. Four DDR4 DIMM slots are available supporting dual-channel ECC UDIMM 3200MHz memory with a total capacity up to 128GB.
For I/O you can count on three USB 3.2 Gen 1 Type-A, one USB 3.2 Gen 2 Type-C, VGA, HDMI, DisplayPort, COM, ID Button and three audio jacks. In addition to one PCIe Gen 5 (x16 or x8) from the CPU, one PCIe Gen5 (x8 or x0) sharing lanes with the previous slot, and a PCIe Gen 3 (x4) through chipset.
Finally, both motherboards have ASPEED AST2600 BMC for improved performance, security, and management. Phew, that's a lot of features.