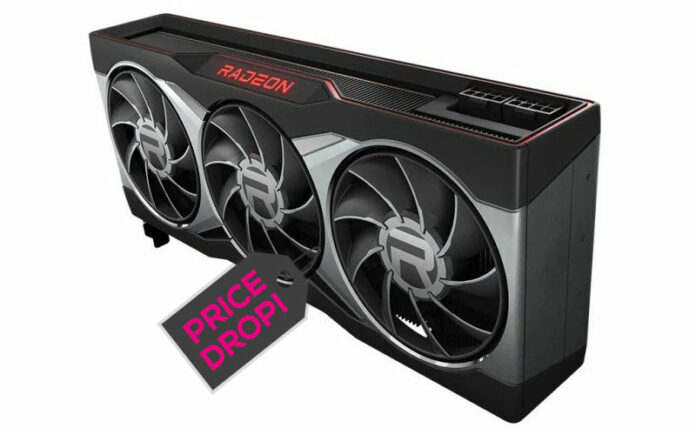 Radeon RX 6900 XT
---
"The AMD Radeon RX 6900 XT graphics card, featuring 80 Compute Units, 128MB of Infinity Cache and 16GB of GDDR6 memory, is engineered to deliver serious 4K resolution gaming."
We earn a commission if you make a purchase, at no additional cost to you.
The cost of PC components continues to ebb down to new lows. After months years of inflated price tags and severe stock shortages, it's hard to begrudge any PC gamer who is eager to upgrade immediately, knowing full well that next-gen hardware is on the horizon.
We've highlighted some excellent CPU deals in recent weeks, yet it's the best graphics cards getting the largest price cuts are taking place. In what has turned out to be a perfect storm of oversupply and plummeting value of cryptocurrency, manufacturers and retailers are now eager to shift inventory ahead of upcoming launches.
That's good news for gamers as falling prices now extend throughout practically the entire GeForce and Radeon product stacks. One of the most high-profile reductions is undoubtedly AMD's Radeon RX 6900 XT, which having sold for as much as £1,499 just weeks ago, is now in stock and readily available at around the £750 mark.
GeForce RTX 3080
---
"GeForce RTX 3080 graphics cards deliver the ultra performance that gamers crave, powered by Ampere – Nvidia's 2nd gen RTX architecture."
We earn a commission if you make a purchase, at no additional cost to you.
Seeing such value in the ultra-high-end segment feels unnatural given the events of recent years, yet if you're inclined to keep costs in check while waiting to see what the next generation brings, there are good deals to be had lower down the stack.
Nvidia's GeForce RTX 3080, still a terrific performer for high-refresh FHD or QHD gameplay and with second-gen raytracing smarts to boot, is now readily available below the £800 mark.
GeForce RTX 3060
---
"Nvidia GeForce RTX 3060 graphics cards have ray-tracing cores, Ampere architecture and up to 12GB GDDR6 for an unmatched gaming experience."
We earn a commission if you make a purchase, at no additional cost to you.
Dropping down a couple of notches, mainstream cards such as the GeForce RTX 3060 have also landed at all-time-lows, with a high-quality MSI Gaming X with 12GB of memory now priced at £399. Sticking to 1080p? Then a Radeon RX 6600, at under £265, could be a useful upgrade from a much older card.
There are definitely deals to be had, and with pricing and availability of next-gen parts remaining a question mark, now could be an opportune moment to pick up a GPU without breaking the bank. Decisions, decisions.