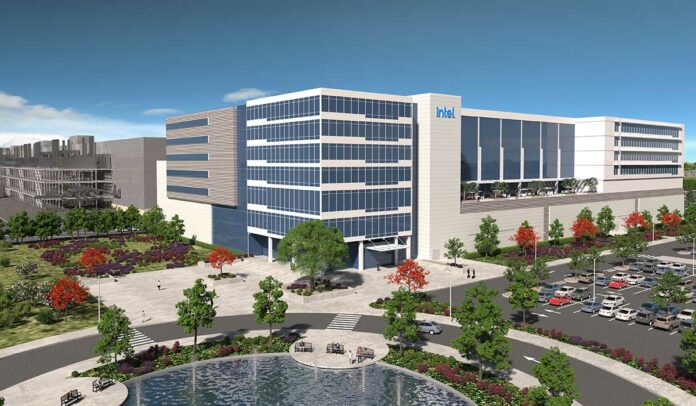 Intel has confirmed plans to build a fabrication 'mega-site' in Magdeburg, Germany, at a cost of €17 billion.
The announcement is part of Intel's plans to secure a much larger manufacturing presence on the continent, with the chip giant investing €80 billion in Europe over the next decade. The news comes just months after Intel announced another $20 billion mega-site in Ohio, USA.
Phase one includes two cutting-edge semiconductor fabs in Magdeburg, with planning beginning immediately and construction expected to begin in the first half of 2023. Though the factories aren't expected to come online until 2027, they will employ Intel's Angstrom-era transistor technologies and aim to service a number of foundry customers in addition to Intel's own CPUs.
The site, referred to as 'Silicon Junction,' is estimated to create 7,000 construction jobs over the course of the build, ahead of 3,000 permanent positions at Intel and tens of thousands of additional jobs across suppliers and partners.
Looking beyond Germany, Intel's EU plans also include a new R&D design hub in Plateau de Saclay, France. Intel quotes France as becoming its "European headquarters for high-performance computing and artificial intelligence," and the site will create 450 job openings within the next two years.
Further manufacturing and foundry services in Ireland, Italy, Poland and Spain are also earmarked for expansion. Semiconductor production has become a hot topic following global shortages, and Intel's growing ambition neatly coincides with the introduction of the EU Chips Act.
Pat Gelsinger, Intel CEO, said: "Our planned investments are a major step both for Intel and for Europe. The EU Chips Act will empower private companies and governments to work together to drastically advance Europe's position in the semiconductor sector."
"This broad initiative will boost Europe's R&D innovation and bring leading-edge manufacturing to the region for the benefit of our customers and partners around the world. We are committed to playing an essential role in shaping Europe's digital future for decades to come."
As part of the bloc's ambitious 'digital decade,' Europe has plans to account for 20 per cent of worldwide semiconductor production by 2030. Intel's commitment will be viewed as a significant step toward that goal.