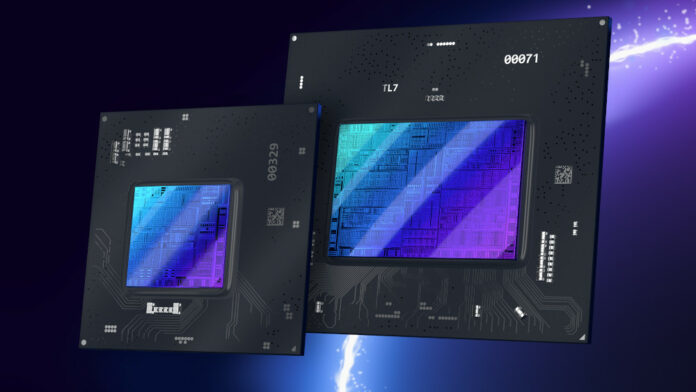 Intel has announced mobile Arc A570M and A530M GPUs featuring up to 256 Execution Units whilst keeping power consumption lower thanks to reduced clocks.
Seemingly using an ACM-G10 GPU that also powers desktop Arc A750 and A770, all-new A570M carries 256 Execution Units clocked at 1,300MHz, 16 Xe cores, and 16 RT units, bundled with 8GB of GDDR6. A530M, on the other hand, is a new configuration housing 192 Execution Units clocked at 1,300MHz, 12 Xe cores, and 12 RT units, this time offering a choice of 4GB or 8GB of GDDR6. Both are linked through a PCIe 4.0 x8 interface.
Those who follow mobile GPU news may have spotted the A570M and A550M resemblance. If not for its reduced 900MHz clock speed and 60W TGP, the A550M is pretty much identical.

Intel's A570M sits right in the middle, between the 32-core A770M and 6-core A350M GPUs. The same goes for its GDDR6 memory capacity, which is again half that of top dog A770M while being double that of entry-level A350M. Compared to the competition from Red and Green teams, even the best Arc GPU won't grab a performance podium spot, but that's not the only aspect that makes a good chip – power consumption and price are also important.
While the latter is unknown, the former is announced as ranging from 75 to 95 watts TGP for the A570M, with the A530M able to go a bit lower, from 65 to 95 watts.
When it comes to video acceleration, we are happy to report that nothing is missing on these chips as they support H.264 hardware encode / decode, H.265 (HEVC) hardware encode / decode, AV1 encode / decode, and VP9 bitstream and decoding, which is exactly like the flagship A770M.
Finally, both GPUs are already supported on Intel's latest Arc & Iris Graphics 31.0.101.4577 drivers, indicating that availability may not be far away.