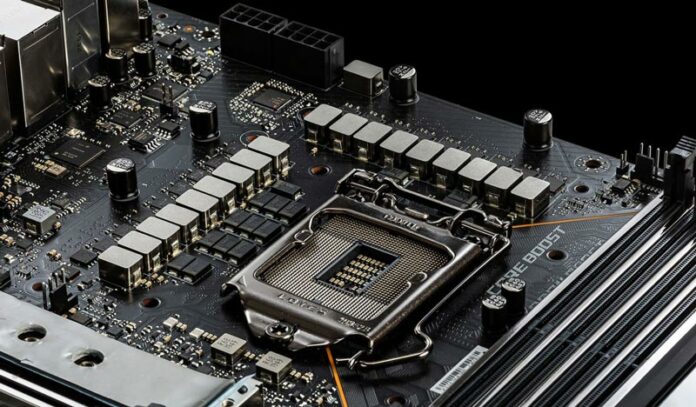 Up until today, PC enthusiasts looking to hitch a ride on the Intel 12th Gen Core bandwagon have needed to invest in an accompanying Z690 chipset-based motherboard. Unlike previous generations where one chipset accommodated multiple generations of CPU, Intel's hybrid-architecture approach has meant that a change in socket, to LGA 1700, makes a move to a 600-series chipset mandatory.
It is usual for Intel to release cutting-edge CPU technology alongside the premier supporting chipset. It is also usual for cheaper iterations to be released in the months after the initial slew, and Intel is taking exactly this tack with a trio of models announced today.
A more affordable route to 12th Gen Core
To this end, today sees the unveiling of the H610, H670 and B660 chipsets, promising greater value albeit at the cost of fewer features. Let's take a closer look.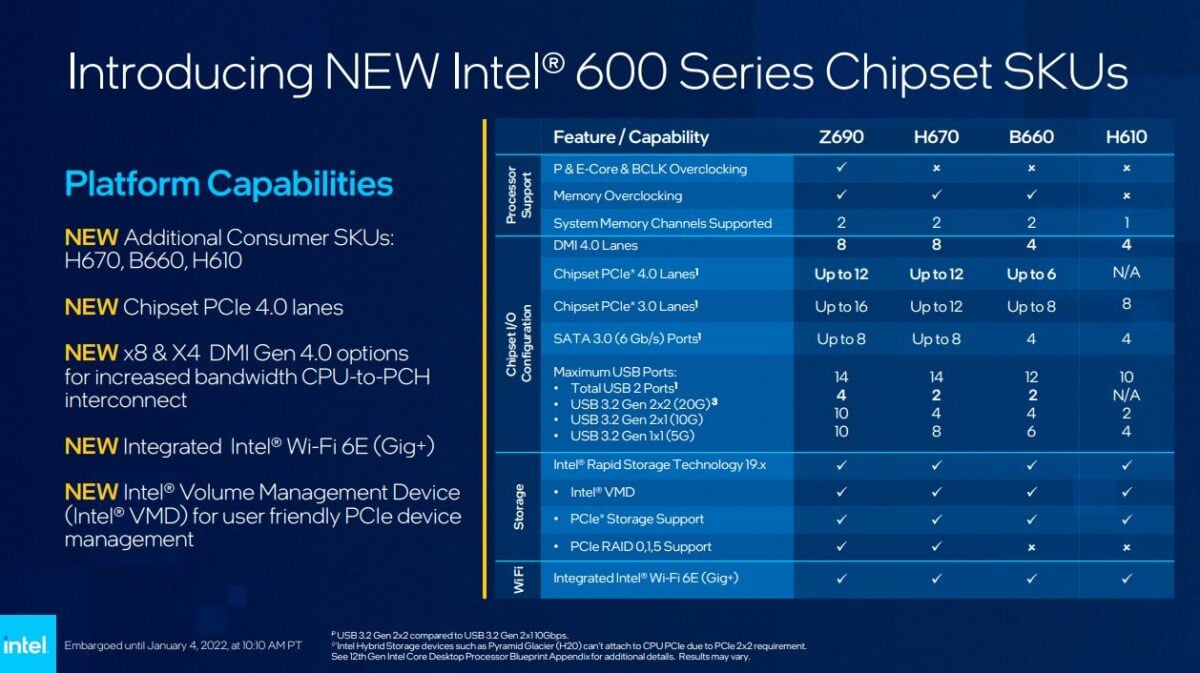 This handy Intel-provided chart delineates the top-to-bottom consumer stack for 12th Gen Core chipsets. Be aware that Z690 boards currently start at around £200 and escalate to well over £700 for range-topping models. As you can see, Z690 remains the sole chipset designed to overclock 12th Gen Core chips further, though the limited headroom and auto-boosting smarts of most processors renders explicit overclocking mostly pointless for anything other than enthusiasts with very capable cooling.
H670 is the most like Z690 from a specification standpoint. Dropping down the table suggests it loses only four of the Z690's 16 chipset PCIe 3.0 lanes – no great concession, really – but is diminished with respect to USB. Expect H670 motherboards to feature lots more 5Gbps USB on the rear I/O panel and fewer ports of the cutting-edge 20Gbps variety.
Key to H670's success is pricing. The feature-set is robust enough to persuade legions of enthusiasts to veer towards it; Club386 expects a large number of models based on either DDR4 or DDR5 support. Intel needs to carefully consider the specification diminution versus a lower price point, and we reckon a starting point of £160 is just and reasonable.
B660 best paired with mainstream 12th Gen Core
Though H670 is closest, the motherboard big boys – Asus, MSI, Gigabyte, ASRock – tend to favour the leading B-series chipset for their consumer-facing boards. B660 duly fills that duty and can legitimately be thought of as a cut-down version of H670.
Bandwidth between CPU and chipset is halved as the DMI lanes drop to four, so too are the chipset-based PCIe 4.0 lanes, so expect lesser support for super-fast M.2 storage connected to the B660 controller, representing an important distinction between it and Z690. We imagine motherboard vendors will run with one PCIe 4.0 M.2 slot from the CPU, one from the chipset, and perhaps another from four PCIe 3.0 lanes.
Looking further down, the sacrifices are acceptable for a lower-specced chipset, and it is good to see that memory overclocking is carried over from the B560, as is the number of USB ports. As a firm sign of the times, SATA support is relegated from six on B560 to four this time around.
Though B660 and B560 don't share a common CPU socket, Intel is nonetheless offering more for this generation. A faster CPU-to-chipset interconnect, PCIe 4.0 lanes from said chipset, a higher number of total expansion lanes, the possibility of integrated Wi-Fi 6E, and of course DDR5 compatibility.
However, as stock of DDR5 memory remains scarce and therefore expensive, we'd suggest the motherboard manufacturers produce more DDR4 boards at the outset, giving enthusiasts the chance of acquiring a solid upgrade for a reasonable overall fee. Something like a Core i5-12400 chip, entry-level B660 and 32GB of DDR4 ought to cost not much more than £400.
H610 for those on strict budgets
We can only recommend H610 boards for readers on a strict budget. They lose out on memory overclocking, PCIe 4.0 on the chipset side, no USB 20Gbps, and still offer only single-channel memory support, which seems unnecessarily harsh in 2022. H610 makes most sense if pairing with a Core i3 chip or Pentium Gold G7400 / Celeron G6900 LGA 1700 processors.
Intel hasn't disclosed power budgets for these new chipsets, but if the last generation is anything to go by, the H- and B-series ought to pull not much more than 6W operating at full chat. We expect all models to have, at best, passively-cooled heatsinks on the chipset. We also expect a larger proportion of them, compared to Z690, to feature video outputs connected to the CPUs' onboard graphics.
If it was our money at stake, we'd pair Core i9 and Core i7 with Z690 and, at a push, H670. Core i5 and Core i3 make great companions for B660, whilst anything lower is H610 territory.
Here's hoping there's good stock of these new chipsets, at amenable prices, from today onwards.