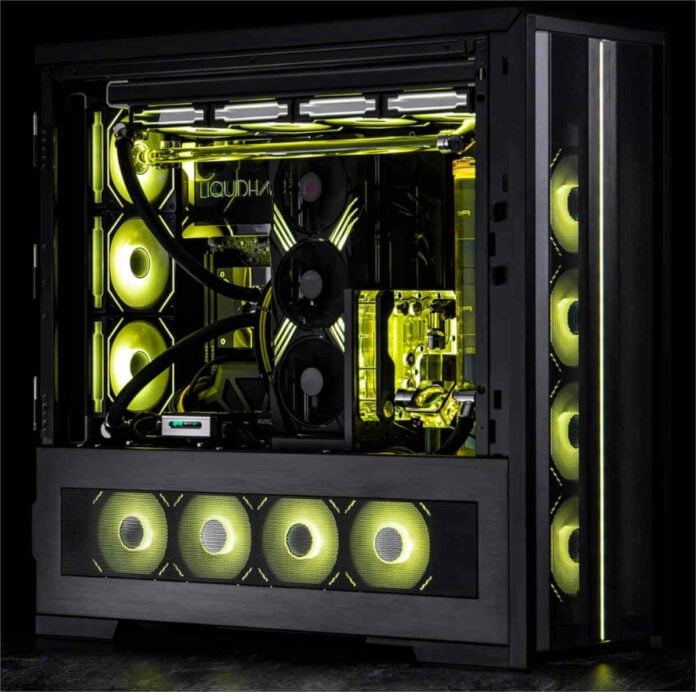 Lian Li today will officially launch its highly-anticipated chassis known as the V3000 Plus. Equipped with tons of airflow, up to three 480mm radiator support, and of course, glorious RGB. Let's dig in, shall we?
First announced at Lian Li's two-part Digital Expo 2022 series, and coming hot on the heels of last week's airflow-optimised Lancool 216 mid-tower chassis, it's the largest case from the company to date. It couldn't come at a better time, considering the gargantuan-sized Nvidia RTX 40 Series partner cards coming out the woodwork as of late.
Monster Machine
Shameless plugs aside, it's quite an attractive chassis, featuring broad strokes of all-aluminium meshed intakes, two tempered glass push-pull hinged side panels, and an understated sleek slither of RGB goodness adorning the front. If you're looking for the Lian Li logo, you won't find it unless it's powered on… because integrated under the front of the chassis is a logo that shines ever so subtly on to a desktop surface. An uncommon and clever touch – bravo.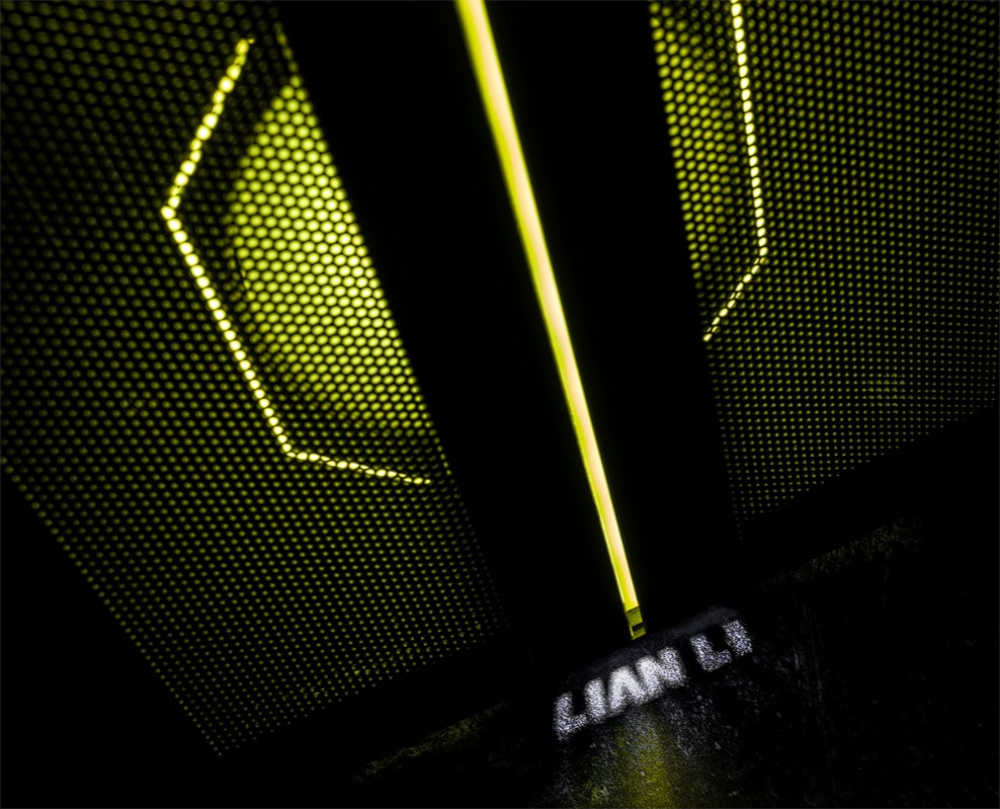 Moving on to dimensions, it is a beastly affair measuring 678.5mm x 279mm x 674mm. Whew! It's truly formidable the amount of space available in the chassis and pictures simply don't do it justice. The company touts ultimate flexibility, with up to three different modes of configuration for its spacious innards, all thanks to the modular and tool-less design.
Mode configurations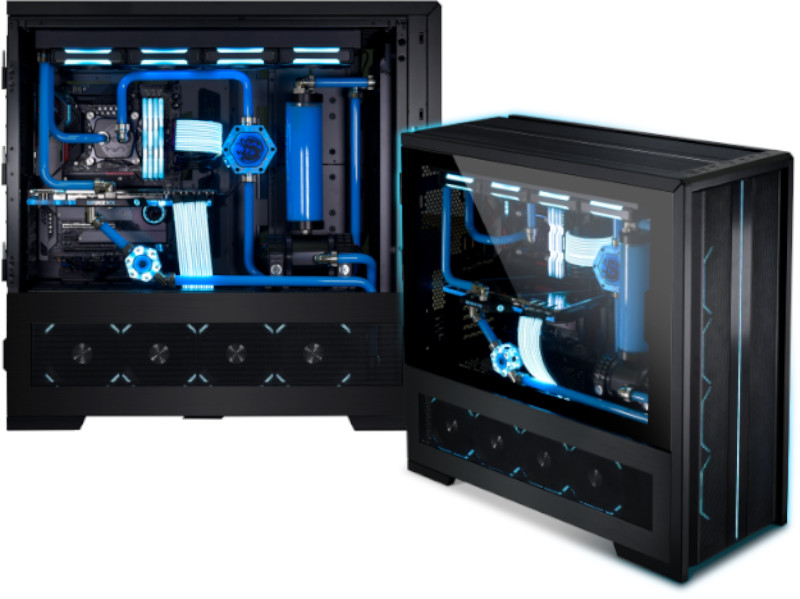 Standard mode allows for a maximum of 16 fans, three 480mm radiators – one in the front, top and basement – and up to a single 360mm or 420mm located underneath the GPU shroud.
Rotated mode flips the motherboard tray RAM side up and allows for a vertical graphics card configuration. You can still fit up to 16 fans, three 480mm radiators, and a single 360mm or 420mm radiator that has now moved to the rear of the chassis in a vertical position.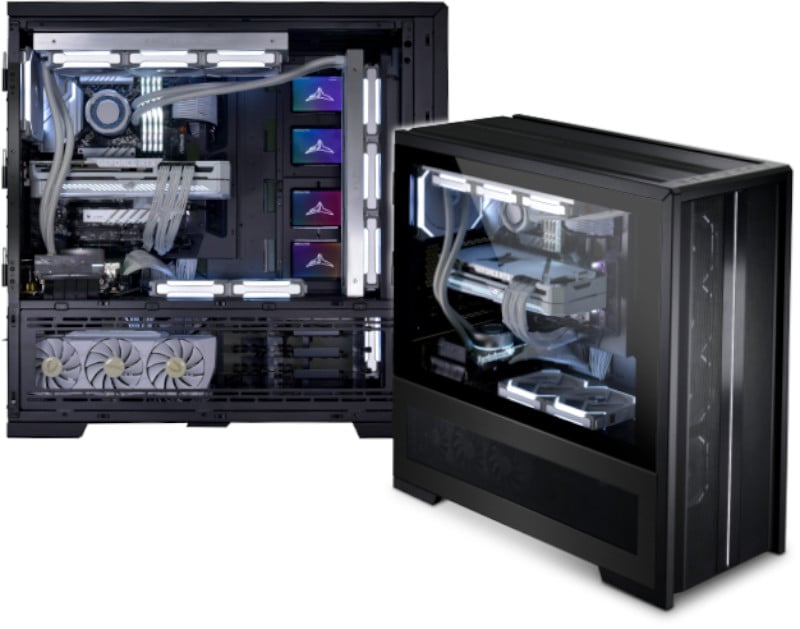 Last but not least, Dual mode allows for, you guess it, the accommodation of two systems all in one chassis. Main system support enables up to E-ATX motherboards in a standard configuration, while the second system supports a Mini-ITX motherboard. Keep in mind that in this config scenario the main system allows for a maximum ATX PSU support of 220mm in length and SFX-L/SFX support for the second PC. Cooling goodies remains the same as above save for a few physical adjustments. Impressive.
I/O ports included are rather generous, too, and take into consideration the option of two systems that reads as follows:
System 1
1 x Power Button
1 x Reset Button
1 x Light Colour Button (C)
1 x Light Mode Button (M)
2 x USB 3.0
1 x USB Type C
1 x Audio
System 2
1 x Power Button
1 x Reset Button
2 x USB 3.0
1 x USB Type C
1 x Audio
While not getting into too much detail, storage is catered for by up to 16 2.5in SDDs or a combination of eight 3.5in HDDs and eight 2.5in SSDs, respectively. Finally, optional accessories include hot-swappable drive modules to accommodate hard drives without the need to unplug cables, a 90°-to-180° vertical GPU PCIe 4.0 riser for rotated mode, and another 240mm 90°-to-90° PCIe 4.0 riser cable necessary for installing a second GPU in dual mode. Each sold separately, of course.
Pricing is yet to be released, but taking into consideration the amount of flexibility, overall size, features and premium build quality, it's sure to demand a large sum. £400-plus, perhaps?