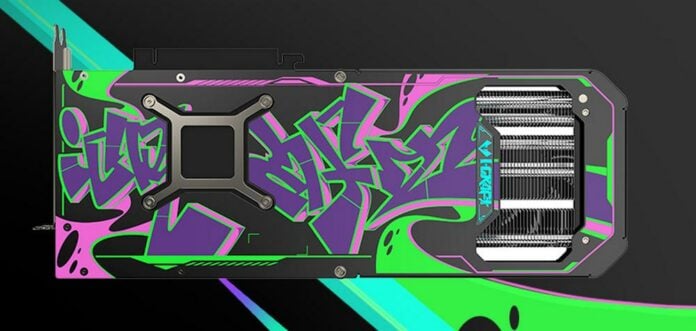 MaxSun has once again made a unique-looking graphics card, this time featuring a bunch of purple graffiti alongside some matching RGB-lit accents.
Dubbed RTX 4070 Ti iCraft OC, the card measures 336mm x 137mm x 58mm and features the usual three DisplayPort plus one HDMI video outputs. This graffiti-themed model will elicit a love it or loathe it reaction, yet beneath the skin uses the same cooling system as MaxSun's previous 4070 Ti with eight copper heatpipes and three fans with zero dB mode. The manufacturer claims an increase in airflow and air pressure of 18 per cent and 4 per cent, respectively, at the same noise level compared to the previous generation.

On the top side, we find a button for switching lighting modes offering at least four options; an OFF mode, a breathing monochrome RGB, and either ice blue or snow white illumination.
Even though MaxSun ships the card with a small factory overclock of 1.1 per cent (2,640MHz) and an extra 15W TDP compared to Nvidia's reference specs (2,610MHz and 285W), performance-wise this graphics card shouldn't be any different than other brands' offerings, i.e. matching or exceeding last-gen top dog RTX 3090 Ti at lower power consumption.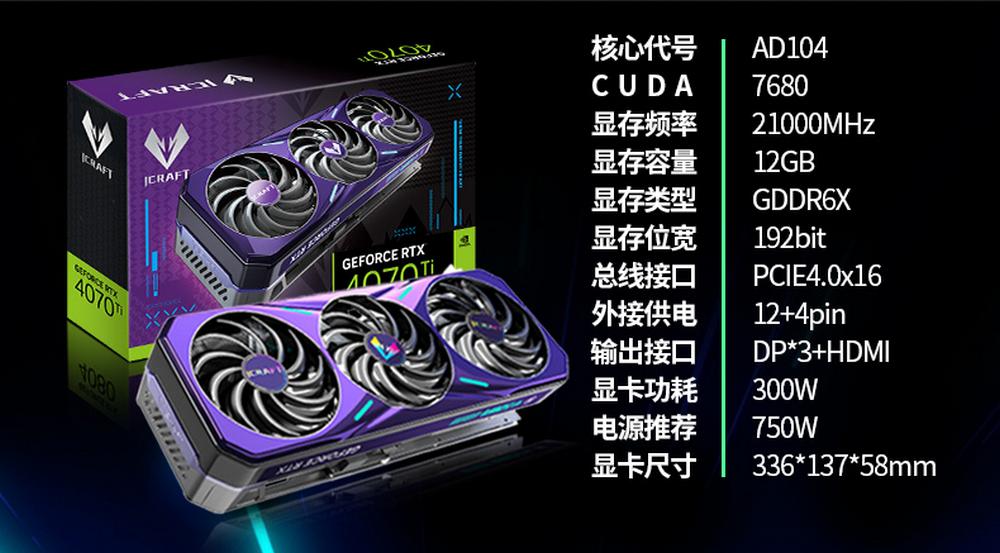 Specs aside, it's the point of visual differentiation that is starting to make some graphics cards stand out among others. We quite like the splash of colour, and there's no doubt in our mind this card would be a perfect combo with ASRock's Z790 LiveMixer motherboard, specifically the Intel variant which shares the same purple graffiti style.
Finally, if we refer to its older sibling – RTX 4070 Ti iCraft OC Enchantment Heart Princess – this newcomer should also feature a 12VHPWR to 3×8-pin adapter plus a bunch of stickers following the card's design.
MaxSun's RTX 4070 Ti iCraft OC is already available for sale at ¥6,599 (£783), though it may be a bit hard to get one outside of China.