Jump to: GameRock OC | Performance | Overclocking | Conclusion
Mirror, mirror on the wall, who makes the fastest consumer graphics card of them all? All evidence suggests this title belongs to the Nvidia GeForce RTX 3090 Ti, announced in January and made available in limited quantities in March.
Extracting maximum firepower from the premier GA102 silicon, RTX 3090 Ti is armed with a full complement of 10,752 shaders. Let's examine how it stacks up against immediate Nvidia peers.
| | RTX 3090 Ti | RTX 3090 | RTX 3080 Ti | RTX 3080 |
| --- | --- | --- | --- | --- |
| Launch date | Mar 2022 | Sep 2020 | Jun 2021 | Sep 2020 |
| Architecture | Ampere | Ampere | Ampere | Ampere |
| Process (nm) | 8 | 8 | 8 | 8 |
| Transistors (bn) | 28.3 | 28.3 | 28.3 | 28.3 |
| Die size (mm²) | 628 | 628 | 628 | 628 |
| Boost clock (MHz) | 1,860 | 1,695 | 1,665 | 1,710 |
| Shaders | 10,752 | 10,496 | 10,240 | 8,704 |
| GFLOPS | 39,997 | 35,581 | 34,099 | 29,768 |
| Tensor Cores | 336 | 328 | 320 | 272 |
| RT Cores | 84 | 82 | 80 | 68 |
| Memory size (GB) | 24 | 24 | 12 | 10 |
| Memory bus (bits) | 384 | 384 | 384 | 320 |
| Memory clock (Mbps) | 21,000 | 19,500 | 19,000 | 19,000 |
| Bandwidth (GB/s) | 1,008 | 936 | 912 | 760 |
| ROPs | 112 | 112 | 112 | 96 |
| Power connectors | 16 | 12 | 12 | 12 |
| Power (watts) | 450 | 350 | 350 | 320 |
| MSRP ($) | 1,999 | 1,499 | 1,199 | 699 |
GeForce RTX 3090 Ti joins workstation RTX A6000 and datacentre A40 as recipients of the entire 10,752-core gamut. A few features separate Ti from September 2020's regular RTX 3090 and they are worth explaining.
Improvements over regular RTX 3090
Adding in two more SM units – the building blocks of the Ampere architecture – avails multi-faceted benefits. Each one contains 128 shader cores, four Tensor Cores and a single RT Core, so working out the additional chutzpah is easy. Further oomph is provided by Ti increasing the boost clock from 1,695MHz to 1,860MHz. In all, Ti offers an extra 12.4 per cent shader throughput.
Though memory size is kept to a wholesome 24GB and bus width to 384, Nvidia cosies up to VRAM expert Micron and pulls in some 21Gbps-rated GDDR6X. Up from 19.5Gbps on non-Ti, overall bandwidth increases 7.7 per cent.
Enhancing attributes which push performance higher is not a free lunch. RTX 3090 Ti is equipped with a searing 450W TGP – some 29 per cent beyond regular RTX 3090 – and custom cards go higher still. This is precisely why we believe the best AIC models ought to be watercooled.
Sating this extra load is no easy task. Partners have the choice of opting for a trio of regular 8-pin connectors or using one or even two of the new 16-pin 'PCIe 5.0' power connectors also known as 12VHPWR. Should the latter be required, adapters that bridge over to existing 8-pin are provided.
There's little doubt GeForce RTX 3090 Ti will take top spot from its direct predecessor. Nvidia is acutely aware of this and installs a $1,999 recommended price, which is a full 33 per cent higher than the non-Ti version. Value is clearly not an important play, though it has never been at the absolute bleeding-edge of performance.
Palit GeForce RTX 3090 Ti GameRock OC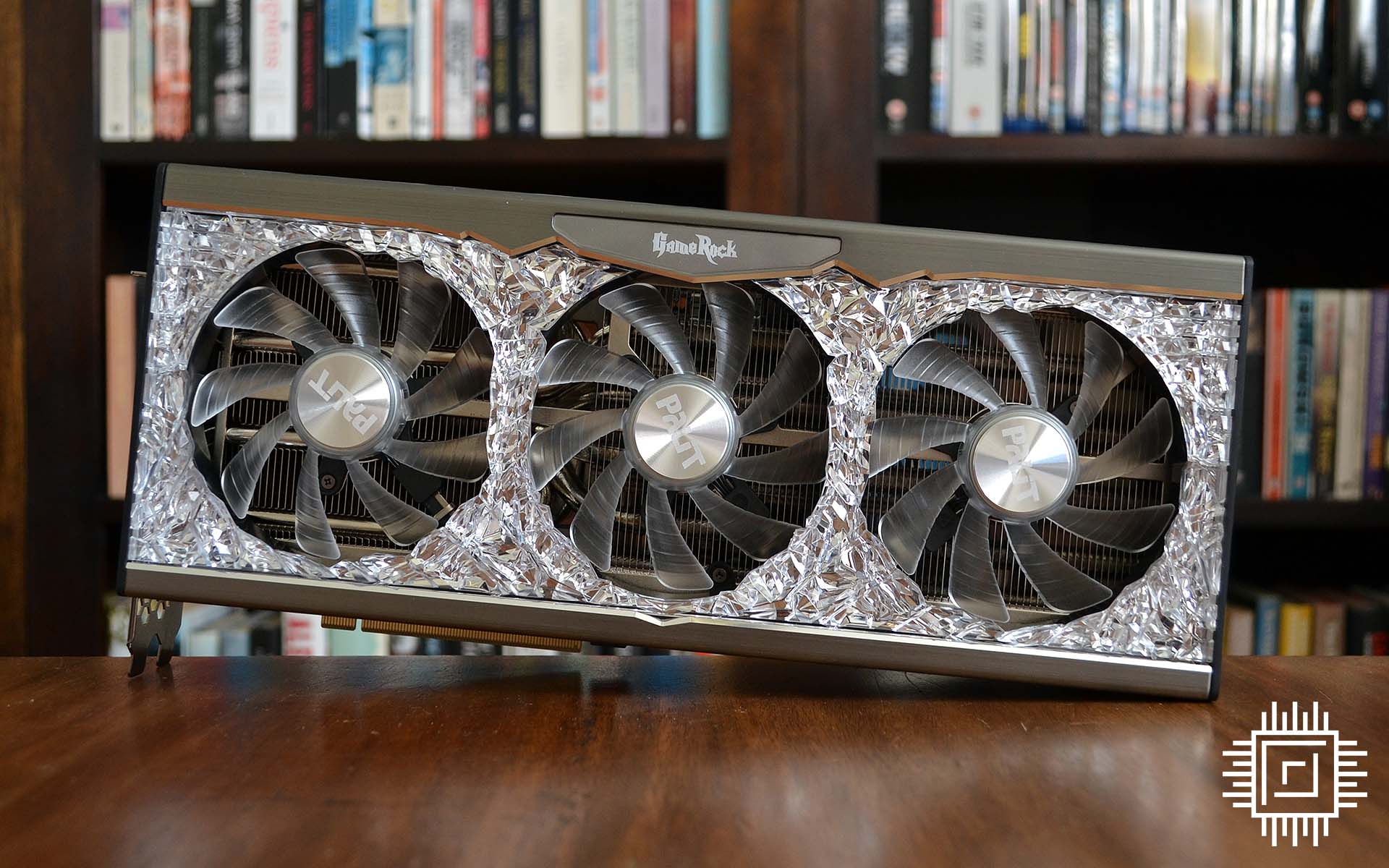 GameRock has transitioned into the most bling-worthy of graphics cards. Weighing 1,872g and measuring 314mm x 167mm x 65mm – remember to check chassis restrictions – a large portion of the heatsink shroud is devoted to a pseudo-crystal look also seen on, for example, G.Skill memory. The purpose is to create card-encompassing, diffused RGB lighting with maximum impact.
The plastic shroud works as intended, but by doing so, Palit creates a Marmite card: some will love it, others steering well clear. The divisive look is actually good marketing, as only a few RTX 3090 Tis will be sold, and those who gravitate towards RGB turned up to 11 will certainly put GameRock OC on a shortlist.
A trio of 90mm fans drive air across the considerable heatsink. They're not endowed with RGB – there's enough of that already, right? – and Palit does a good job at ensuring they ramp up in a gradual fashion once the activation temperature of around 55°C has been breached.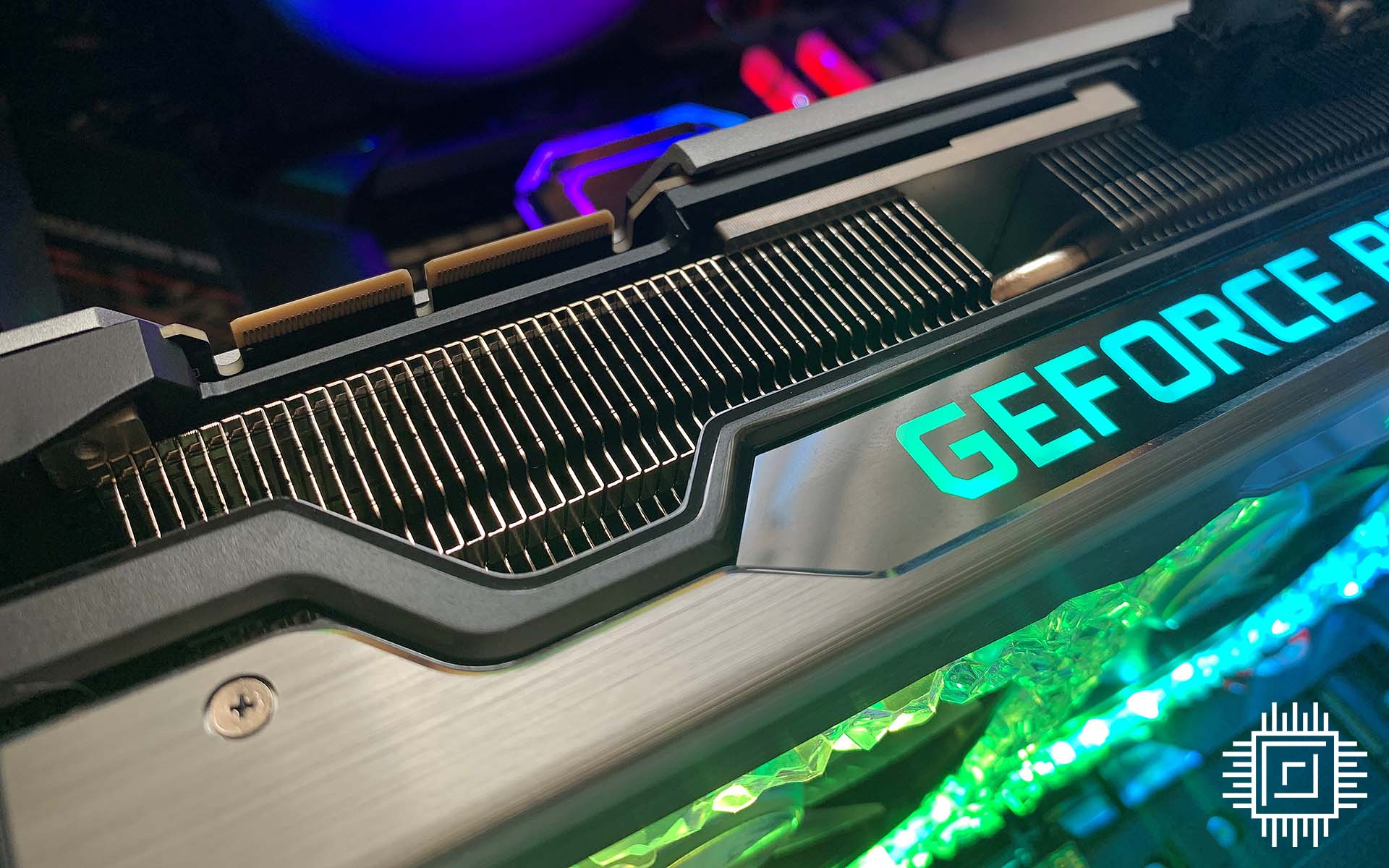 The OC part of the name derives from Palit clocking it in at 1,890MHz boost, which is 30MHz higher than reference. Our sample hums along at a real-world 1,995MHz, albeit with the 24GB GDDR6X memory left at a default 21.5Gbps.
It's important to realise most RTX 3090 Ti cards will operate within close proximity of each other – there's little scope to push the full-fat GA102 die further – so purchases will be made on brand loyalty, appearance, and cost. Speaking of which, GameRock OC retails for around £2,000 here on UK shores.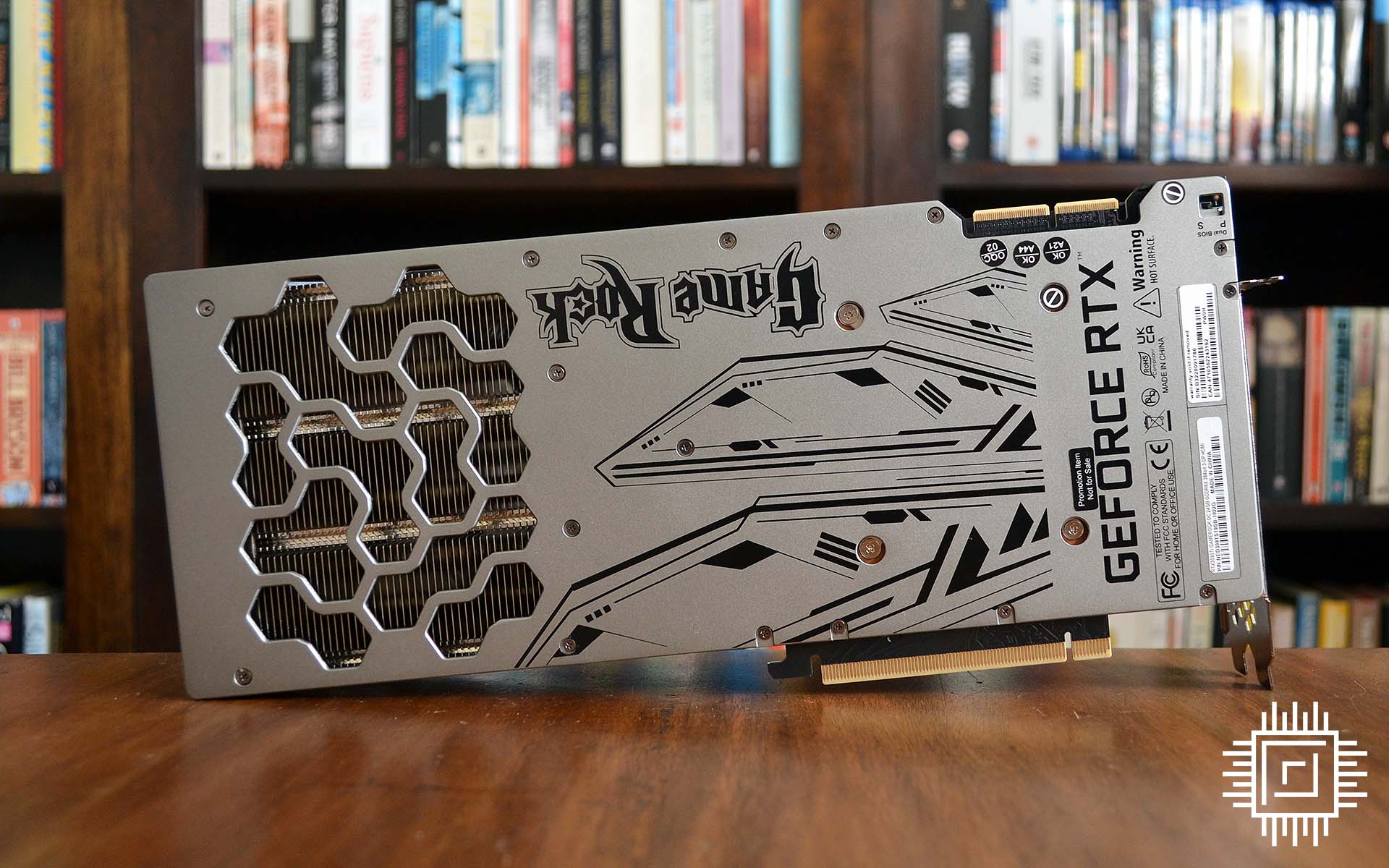 Peer closely at the back to notice the unusual position of the BIOS-selection switch. The card runs in Performance mode when taken out of the box, though core frequency can be compromised in favour of lower noise by switching across to Silent. Palit's TGPs are close in both modes; Performance pulls a maximum 460W whist silent drops it down a touch to 450W.
Small cards tend to leave room on the far side for through-the board cooling. RTX 3090 Ti takes the same tack as the PCB ends roughly two-thirds of the way across. The only reason for this card's width, therefore, is to have enough room for an extra-large heatsink.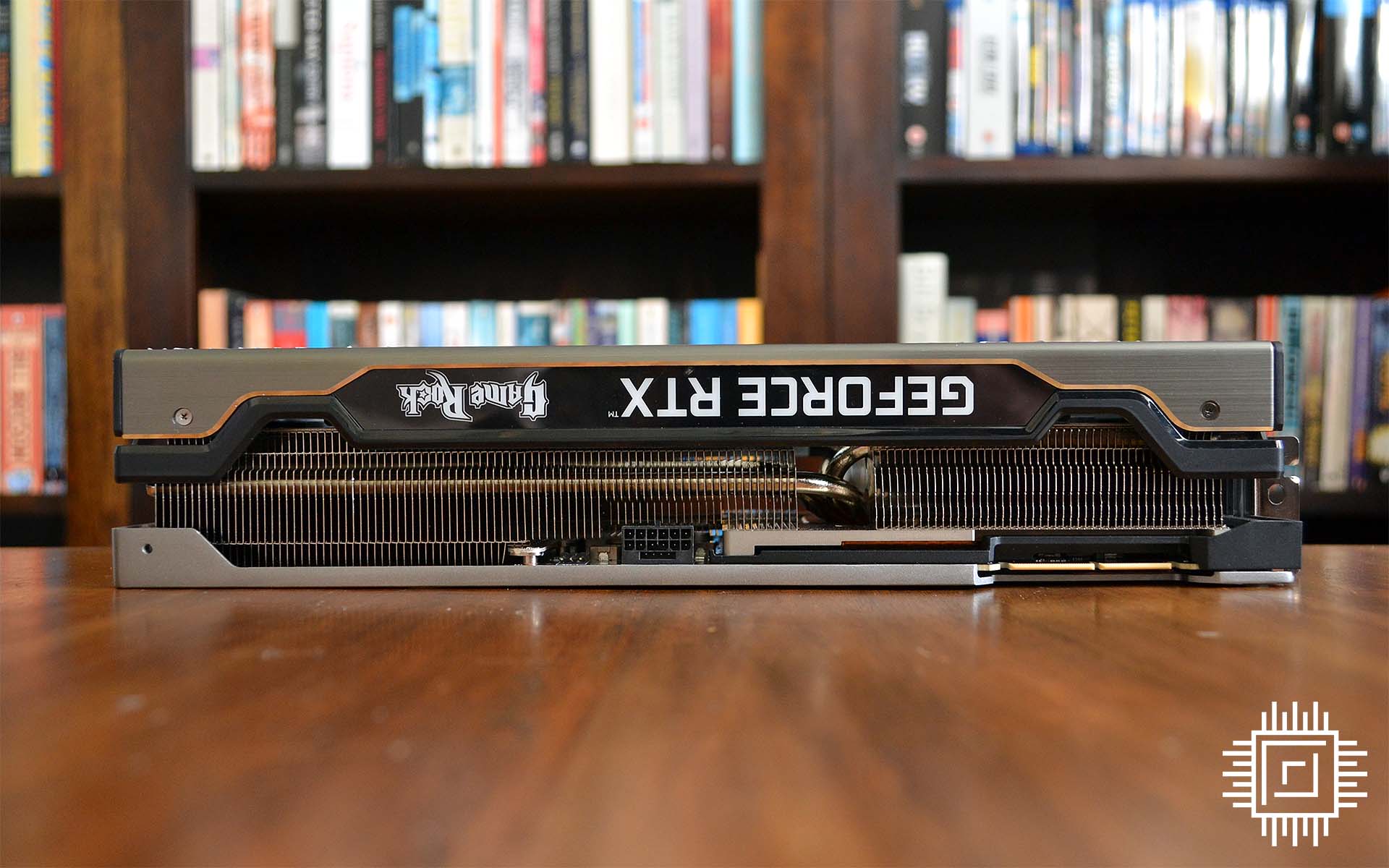 One benefit of the all-new power connector is extra space available for cooling. Though it looks the same on first glance, the 16-pin 12VHPWR is not compatible with the one found on Nvidia Founders Edition cards. Instead, Palit bundles the relevant adapter ending in three traditional 8-pin connectors for the vast majority of PSUs without the requisite cabling.
Just to the left of this high-power connector is an ARGB header that's useful in instances where you'd want to synchronise colours with the motherboard. We'd prefer it on the card's side, keeping it out of the way, but heatsink design precludes doing so. Being perilously close to 2kg, Palit sensibly includes a support bracket in the box.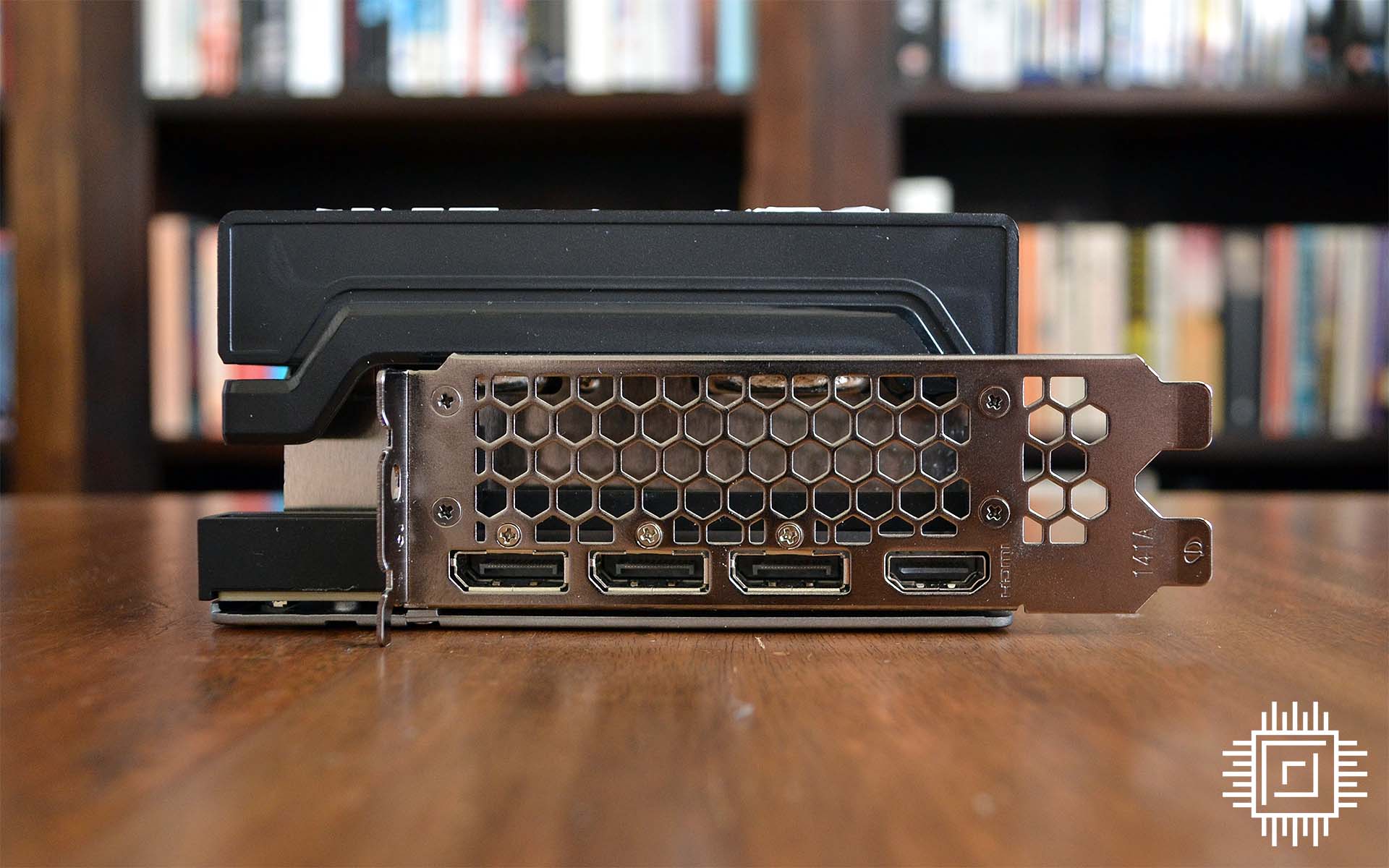 The sheer size of the card is evidenced by the diminutive I/O shield on the back. Equipped with three DisplayPort and a single HDMI, the venting appears an afterthought as most of the expelled air is forced out the open-air heatsink's sides. It's important to have good front-to-back cooling present in the chassis, too, as there's plenty of heat to evacuate.
Enough chatter, how about some benchmarks? All tests have been run from scratch on the latest drivers at the time of testing. For a full breakdown of system specifications, head on over to page two.
Futuremark Tests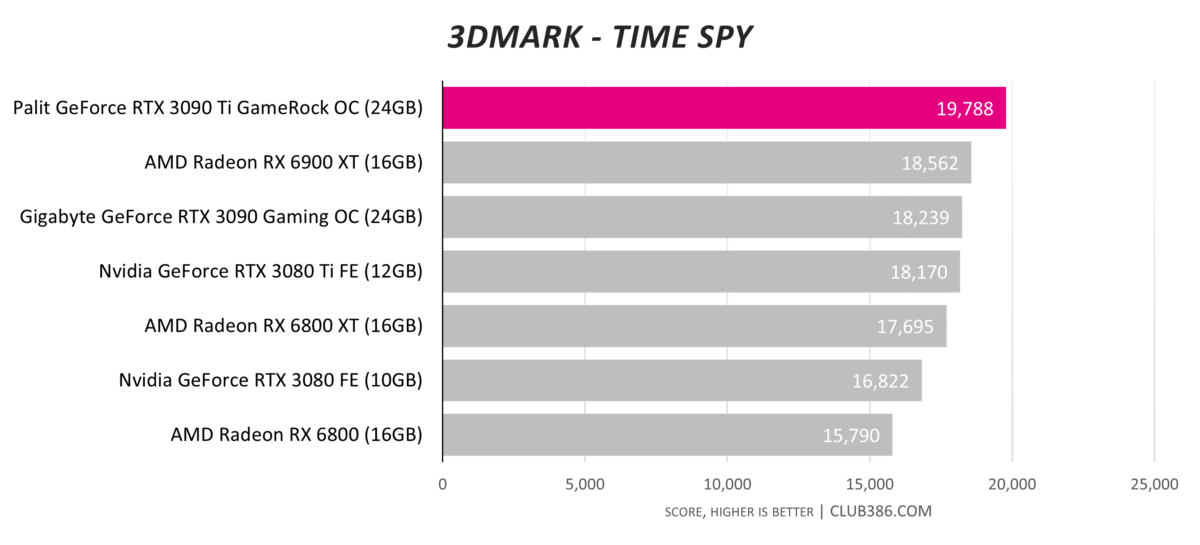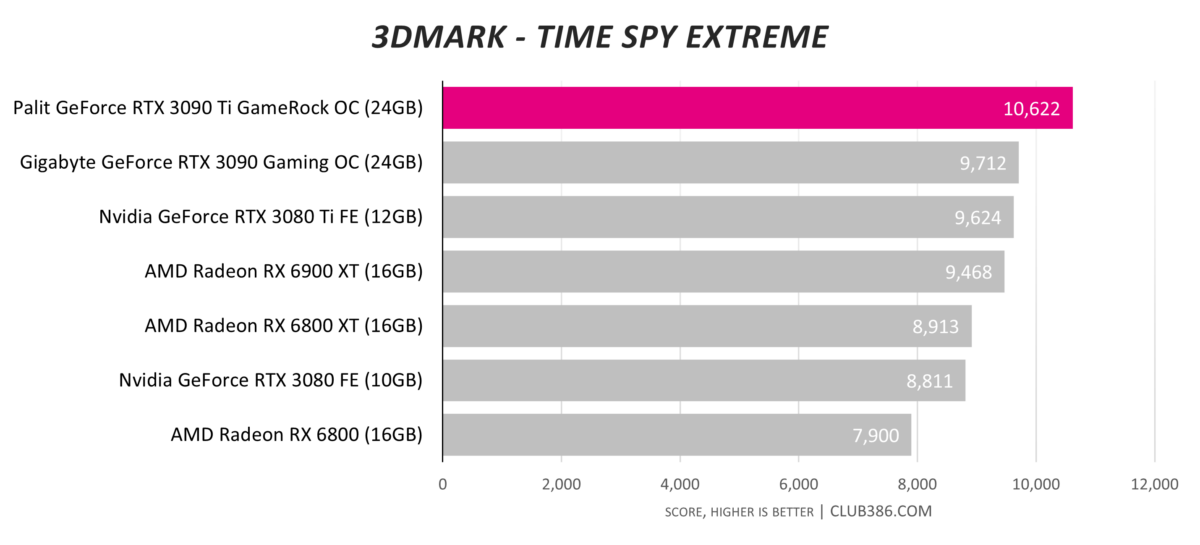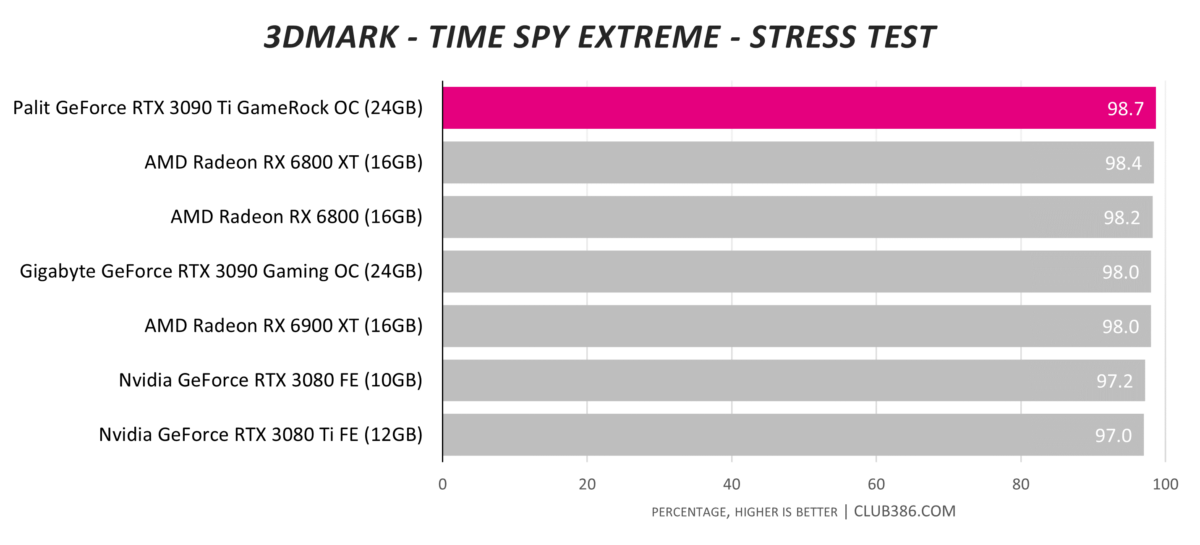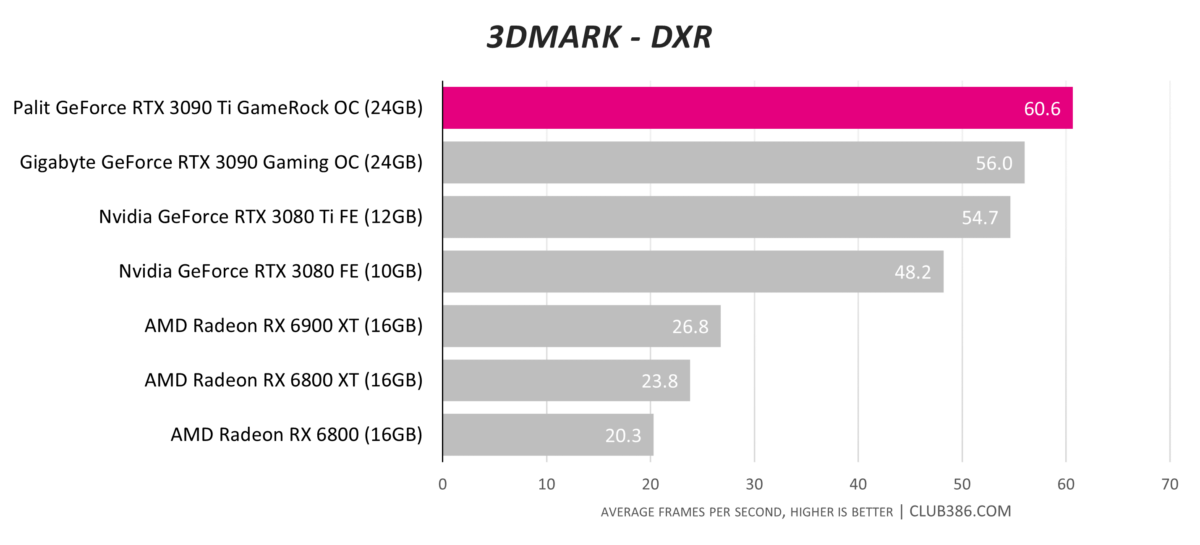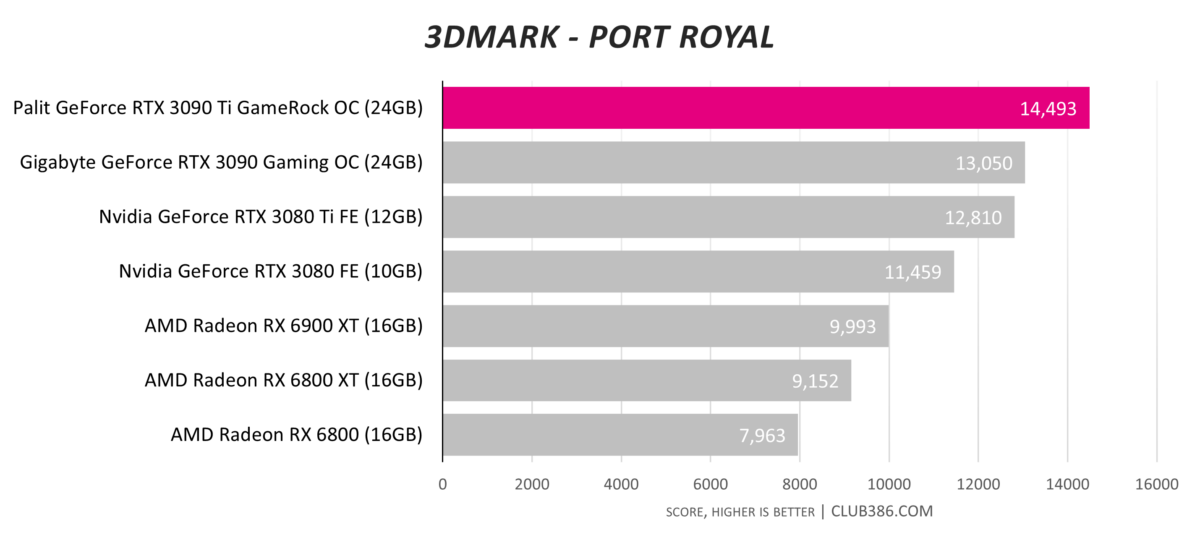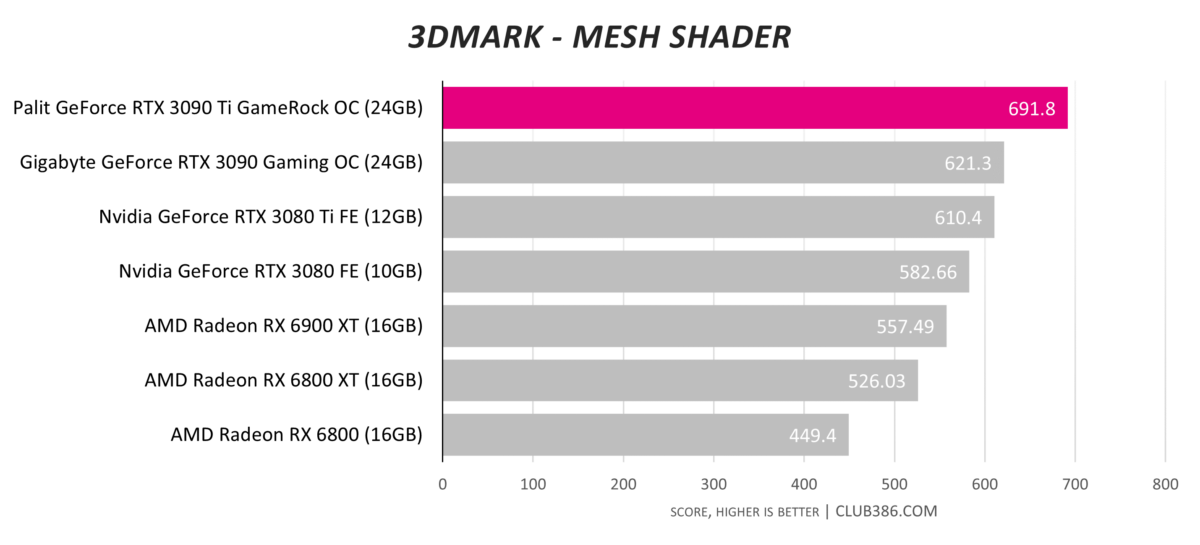 Storming to the top of the performance charts, Palit's monster card handily outdistances a non-Ti card. We're looking at a 10 per cent improvement in tests that matter from a performance perspective, and nothing faster will come out of Nvidia GeForce stable until next-gen RTX 40-series launches later this year.
GeForces remain particularly strong in ray tracing, where this Palit behemoth is over twice as fast as Radeon RX 6900 XT in the pure DXR test.
Assassin's Creed Valhalla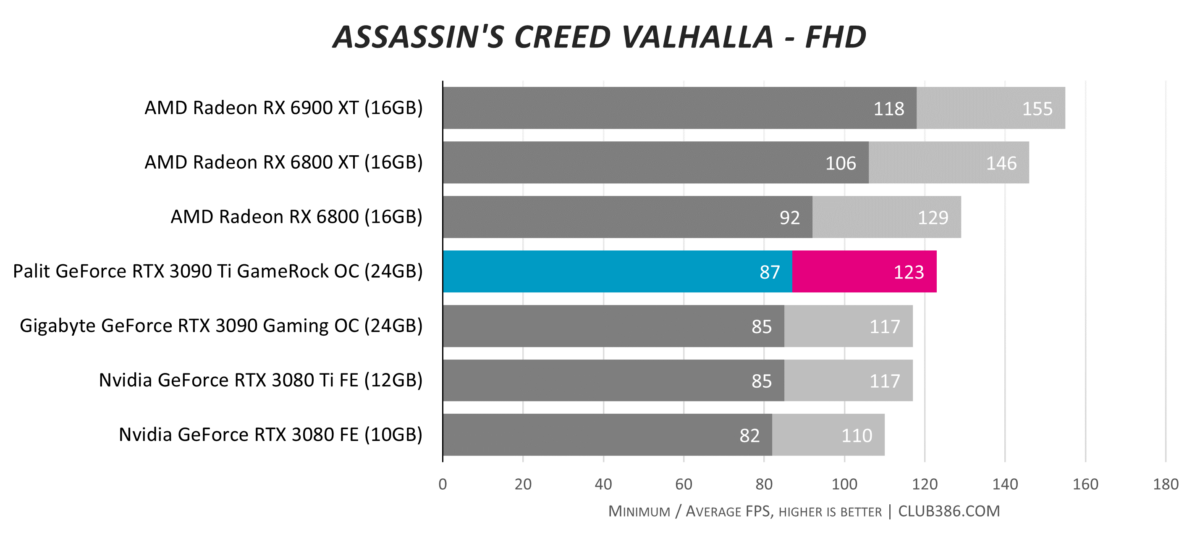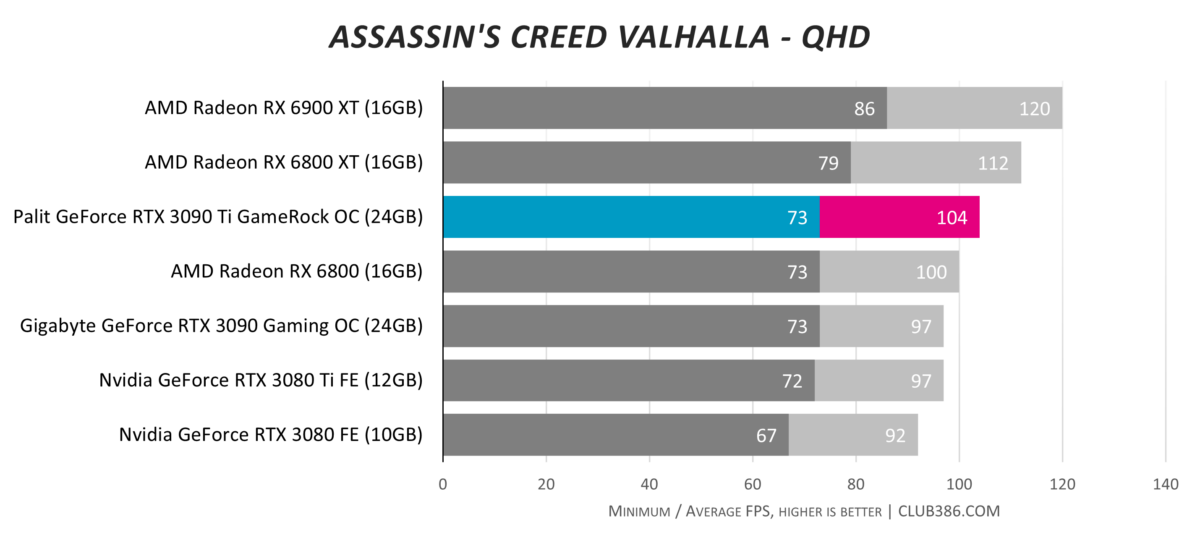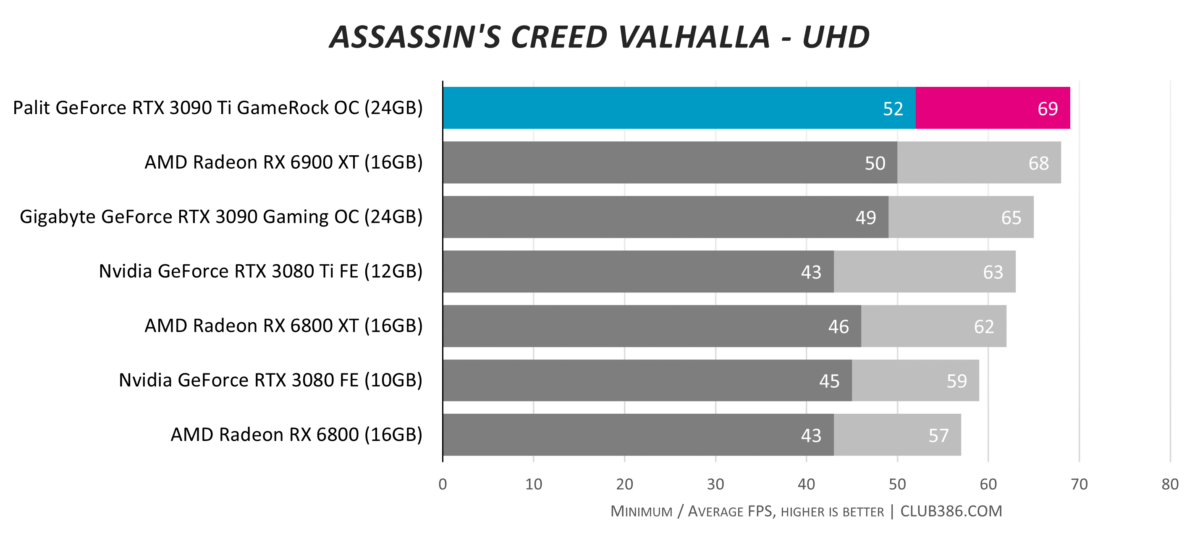 Yet synthetic benchmarks not a real-world game make.
AMD's premium Radeon RX 6000 cards have some serious mojo at FHD and UHD resolutions, but you don't buy a brute card like a GeForce RTX 3090 Ti to play at anything other than 4K. GameRock OC sneaks ahead, yet let's put the result in context; a far cheaper AMD Radeon RX 6800 is pretty close.
Far Cry 6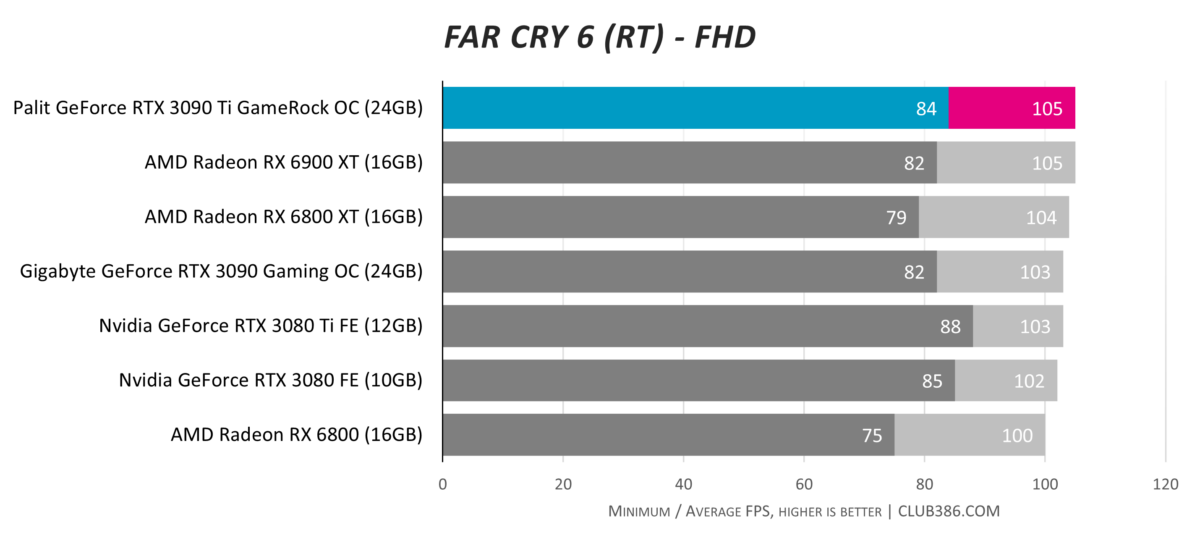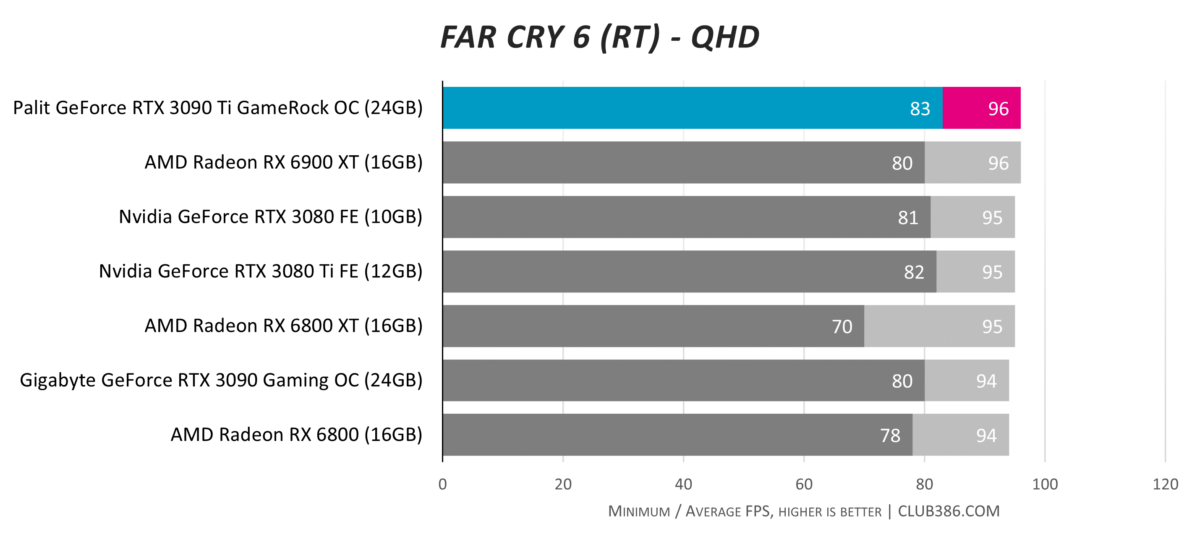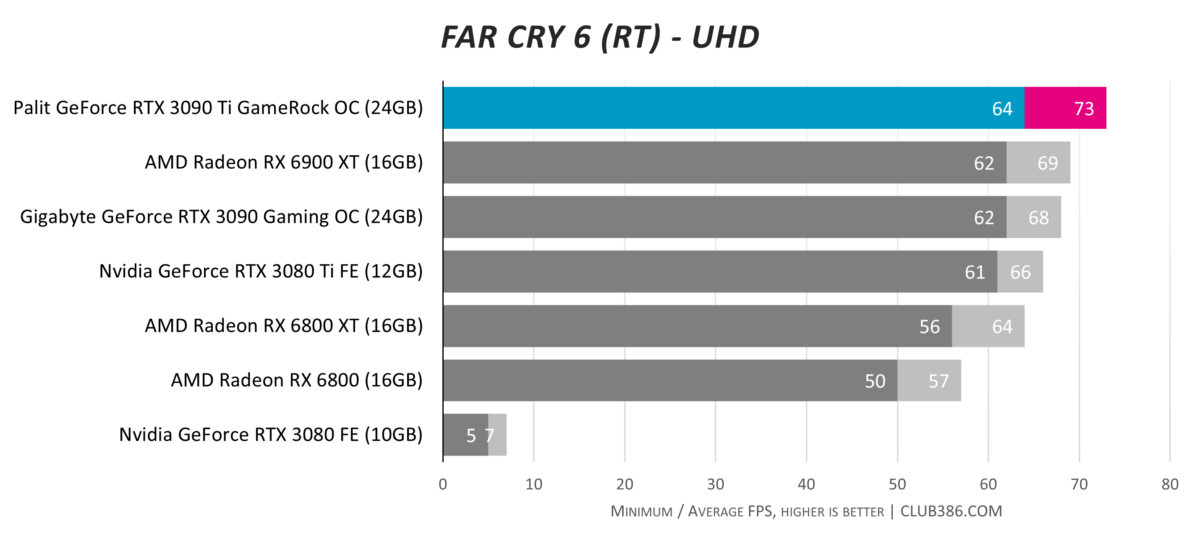 Far Cry installments tend to be very subsystem limited at lower resolutions. You're better off making investment in a better gaming CPU if that is the aim. RTX 3090 Ti makes sense at 4K, as we have established, and brings the Far Cry 6 performance crown back to Nvidia. We're adamant invoking ray tracing benefits Nvidia more than AMD.
GeForce RTX 3080 really suffers due to its 10GB framebuffer, which we put down as the reason for stuttering performance at UHD. Having 16GB comes in useful for Radeons.
Final Fantasy XIV: Endwalker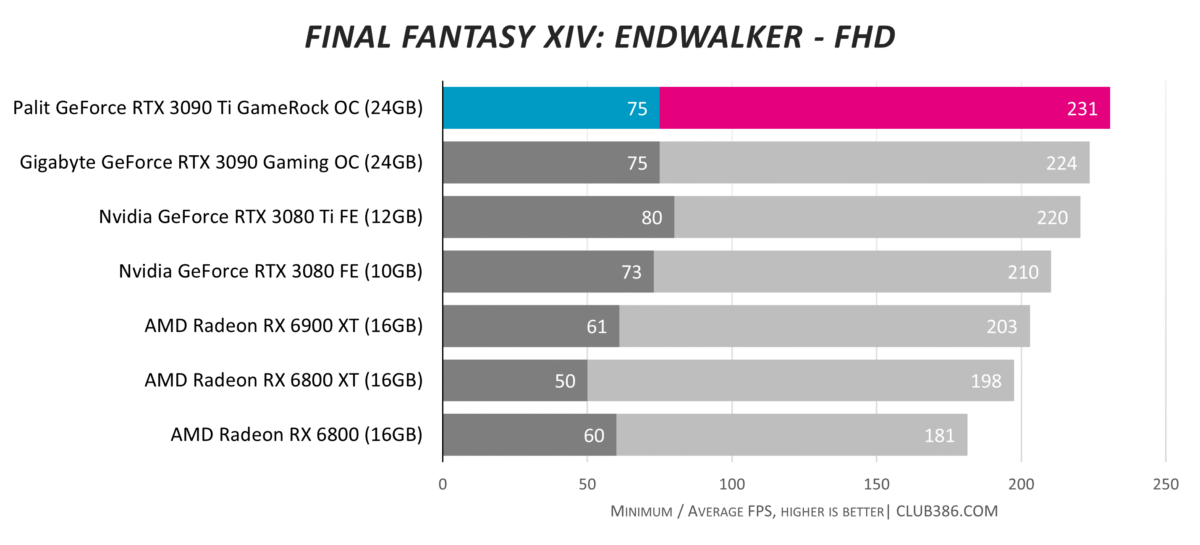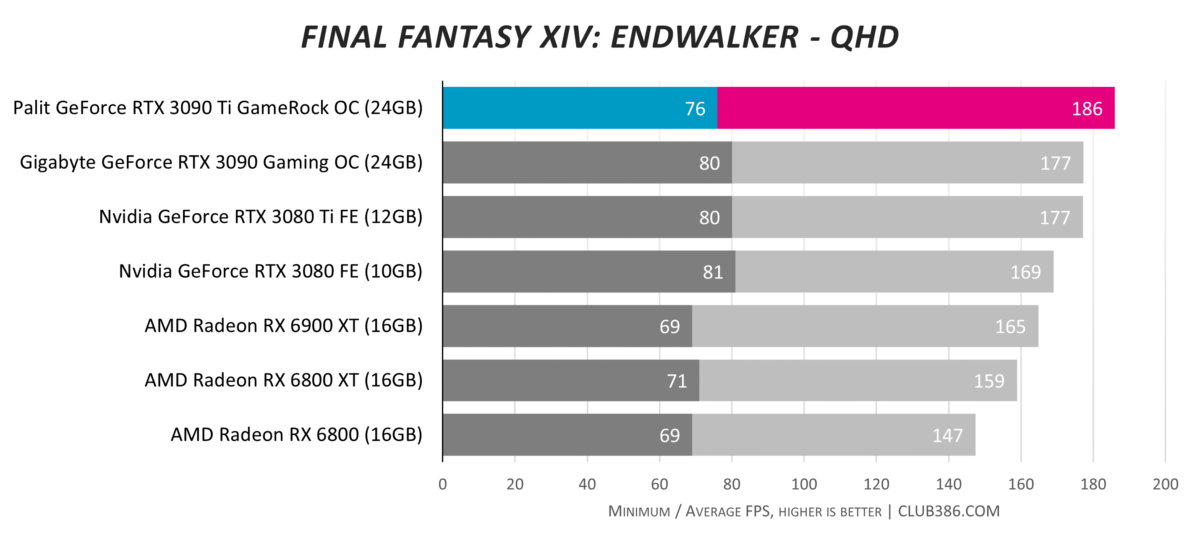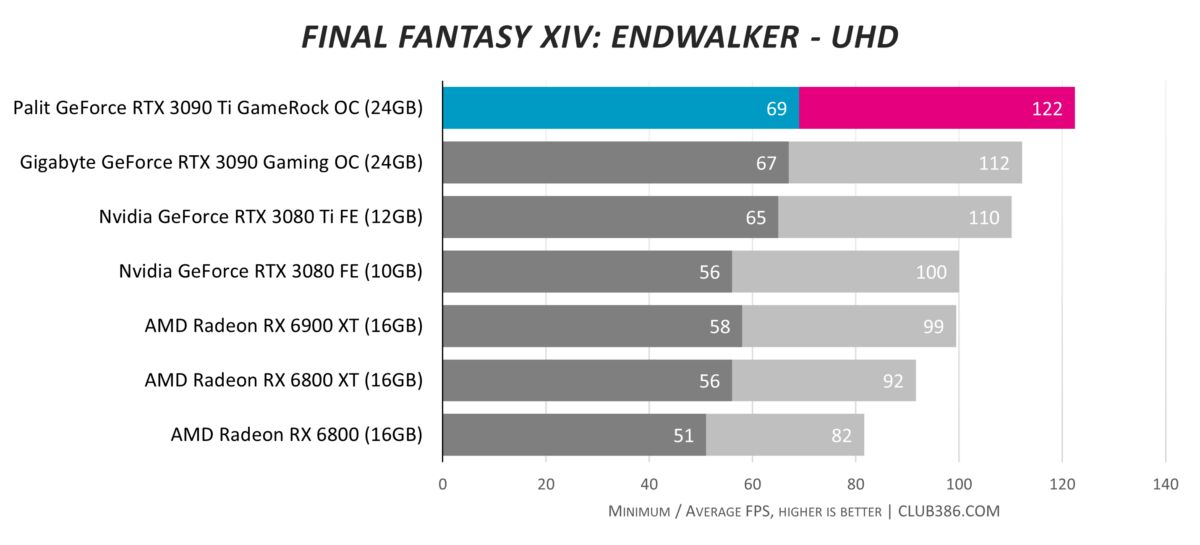 Performance is wonderfully consistent across resolutions in Final Fantasy: Endwalker. GeForce RTX 3090 had a minor lead over Radeon RX 6900 XT – one that will disappear when the RX 6950 XT surfaces next month – so RTX 3090 Ti was needed.
Driven by the full might of Ampere, alongside faster memory, how does 122fps at 4K grab you?
Forza Horizon 5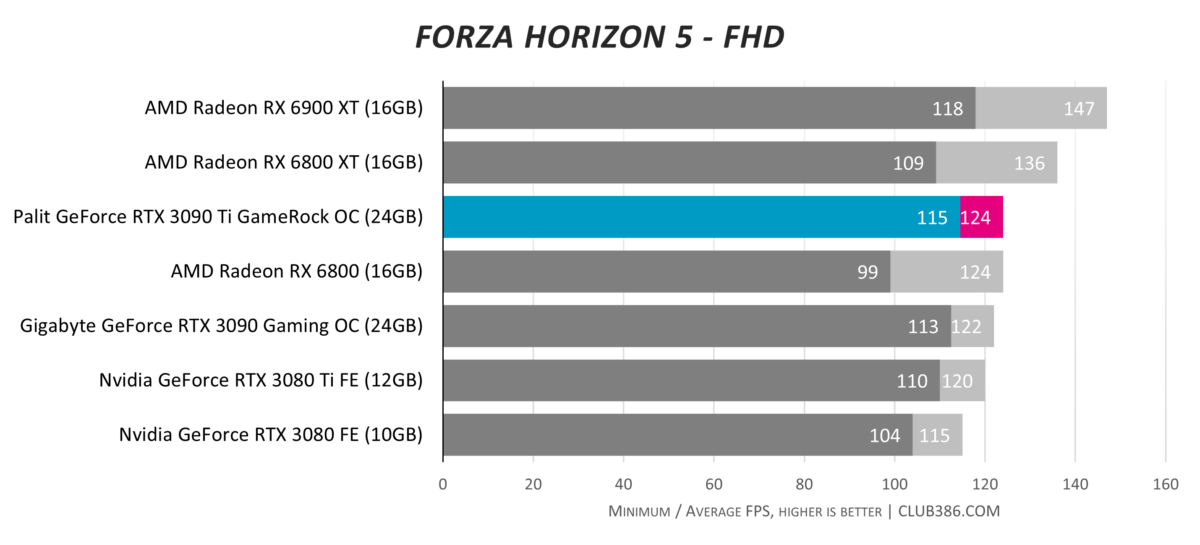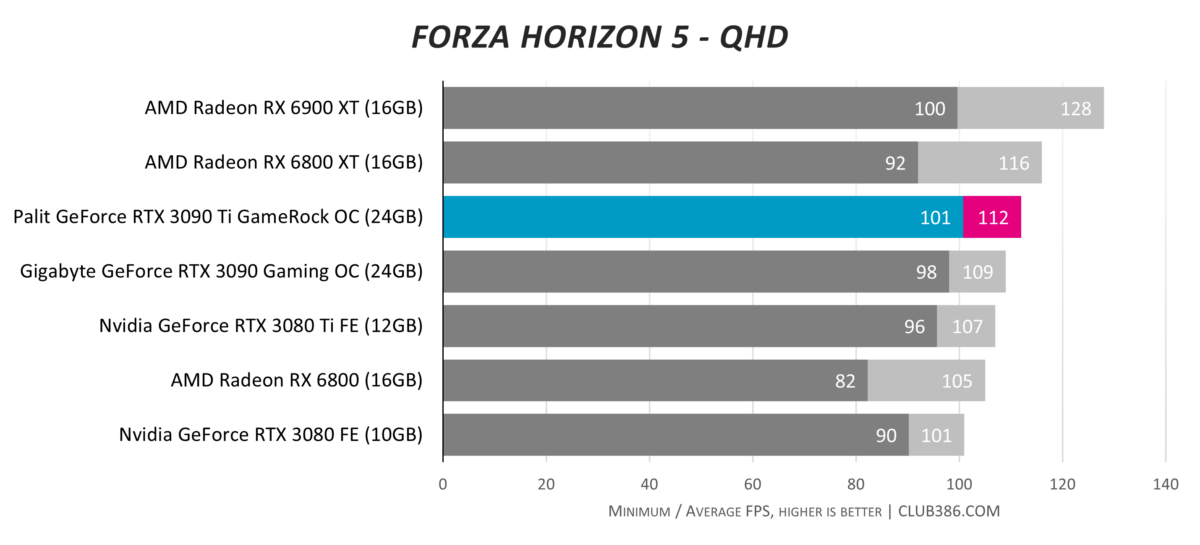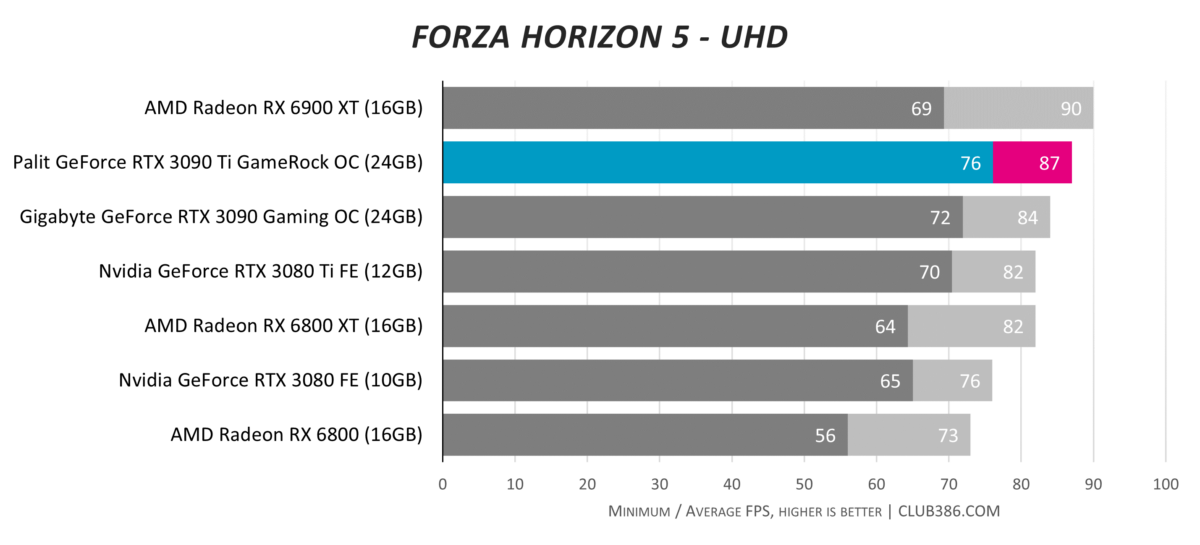 A beautiful, well-coded game, we see Nvdia GeForce GPUs struggle, comparatively speaking, as Forza Horizon 5 is tuned for the RDNA 2 architecture present in leading gaming consoles.
As such, even the RTX 3090 Ti cannot muster the necessary chops to get past a stock-clocked Radeon RX 6900 XT. Horses for courses and architectures for games.
Gears Tactics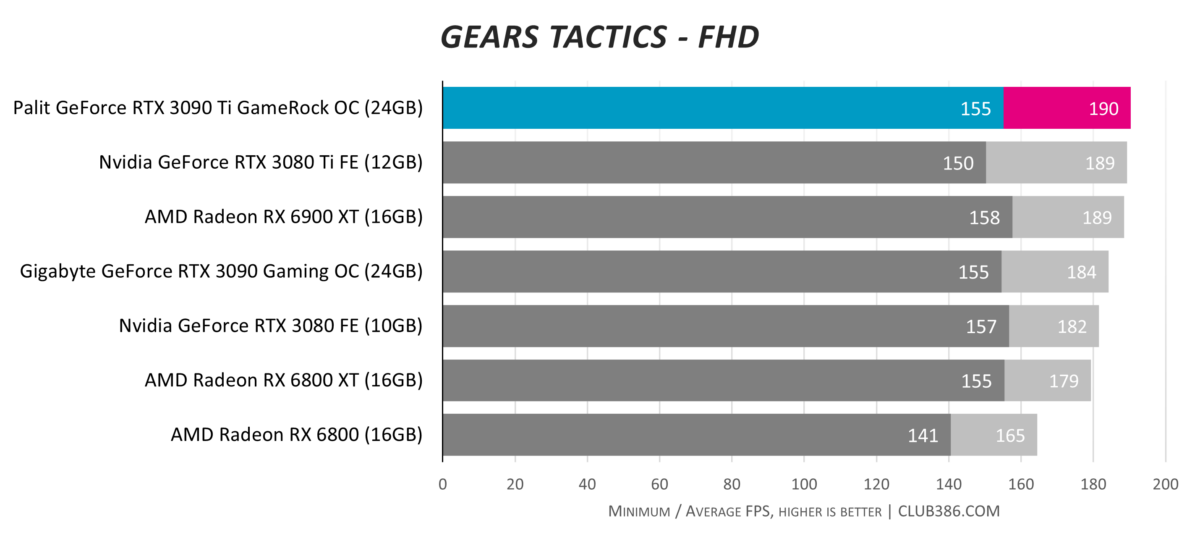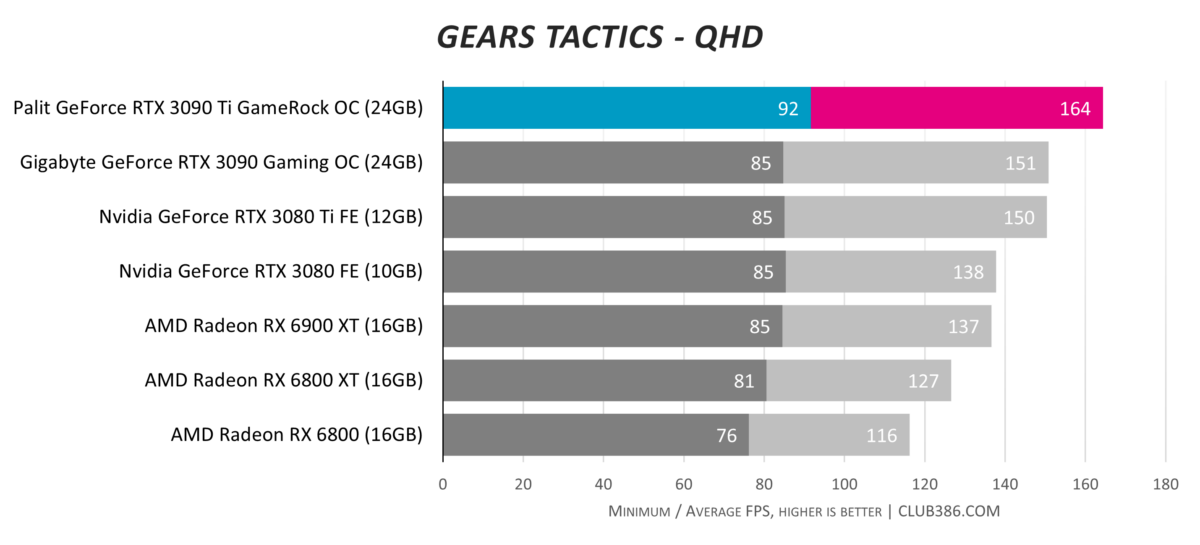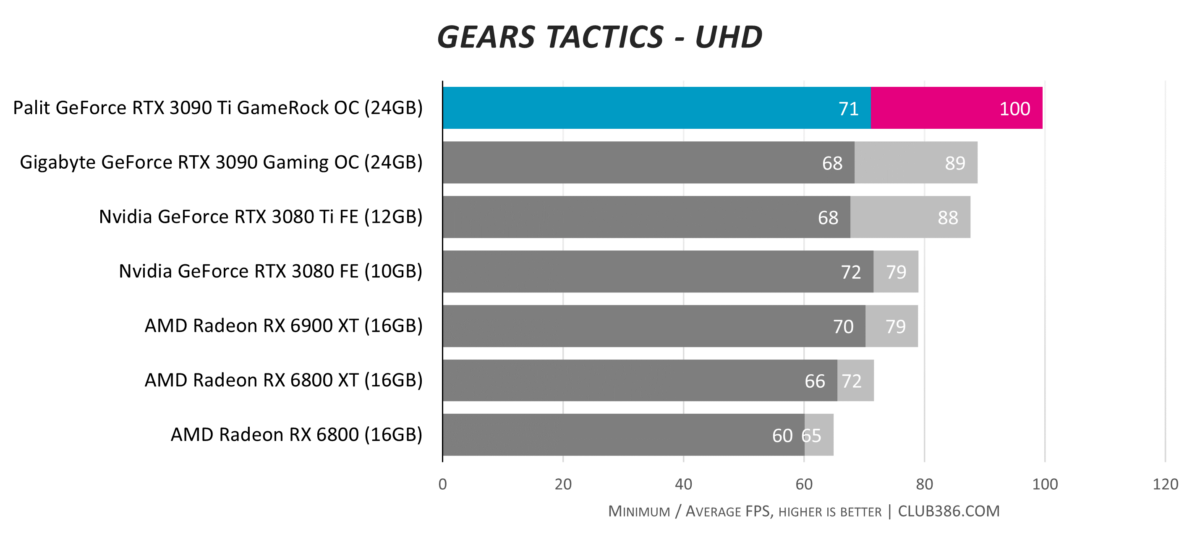 Here is some tasty performance. Our previous examination of Gears Tactics reveals it is abnormally partial to increases in memory bandwidth. 21.5Gbps of GDDR6X memory provides the coal for the benchmark-leading fire. Nothing else comes close.
Marvel's Guardians of the Galaxy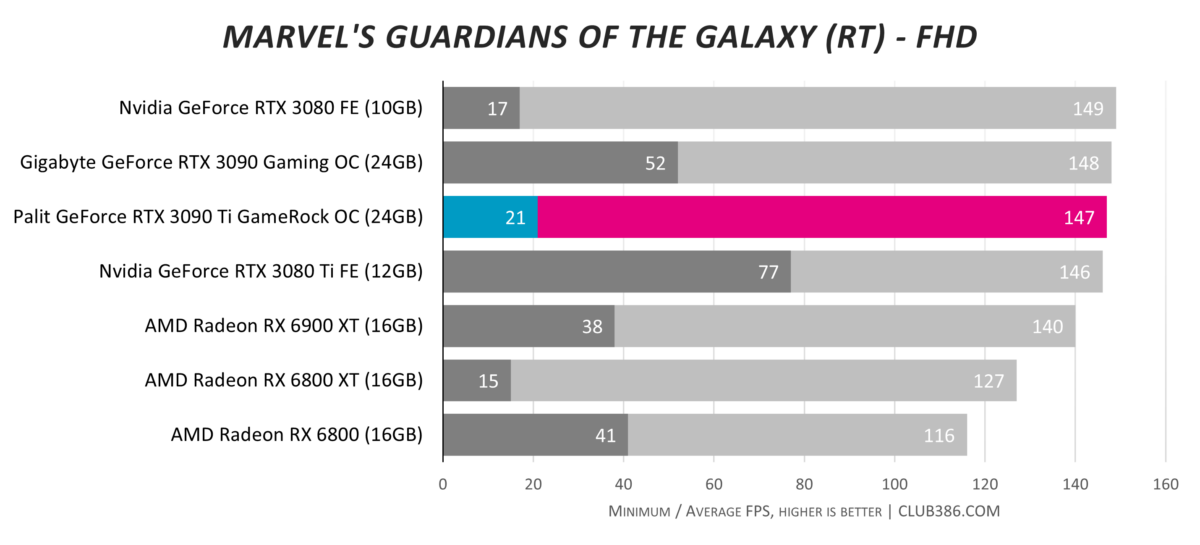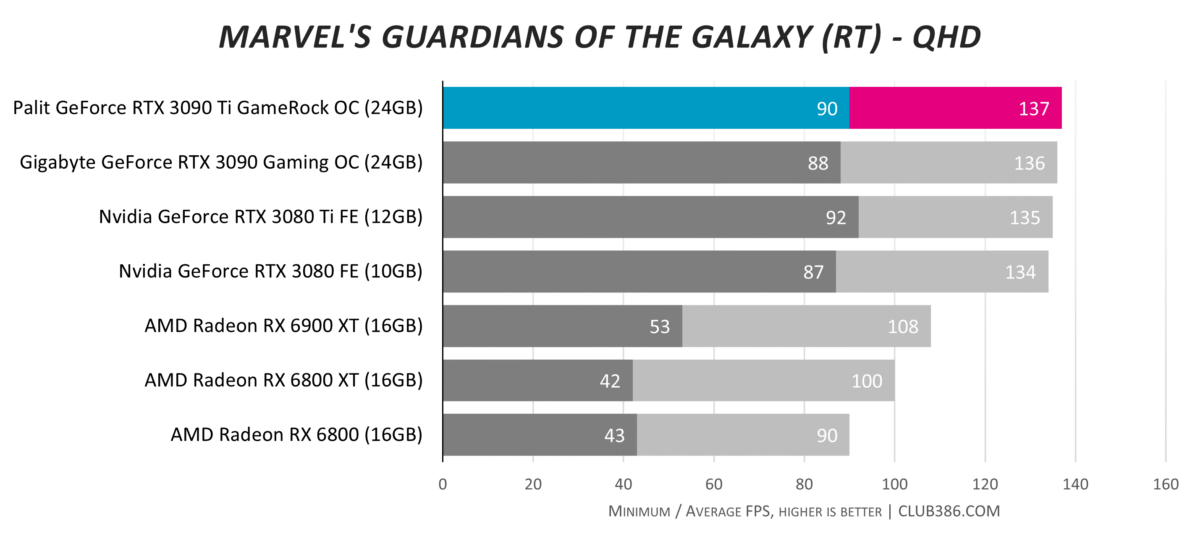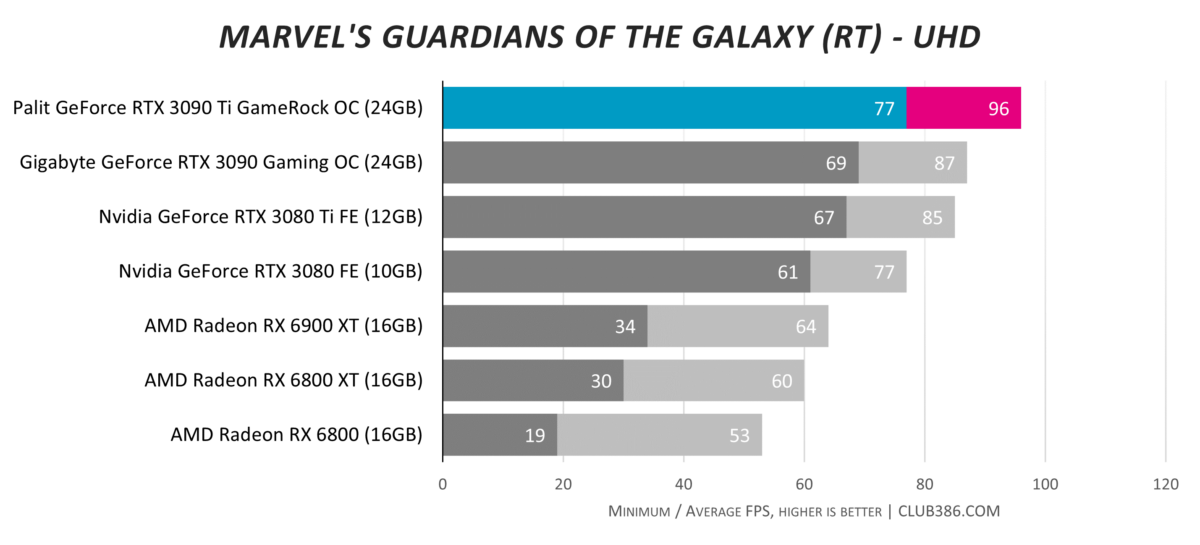 Another title to use ray tracing, Marvel's Guardians of the Galaxy runs much more quickly on GeForce hardware, especially at UHD. In fact, it is exactly 50 per cent faster than rival Radeon RX 6900 XT in the final graph.
AMD will have to up its RT game, considerably, for the next RDNA 3 generation.
Vitals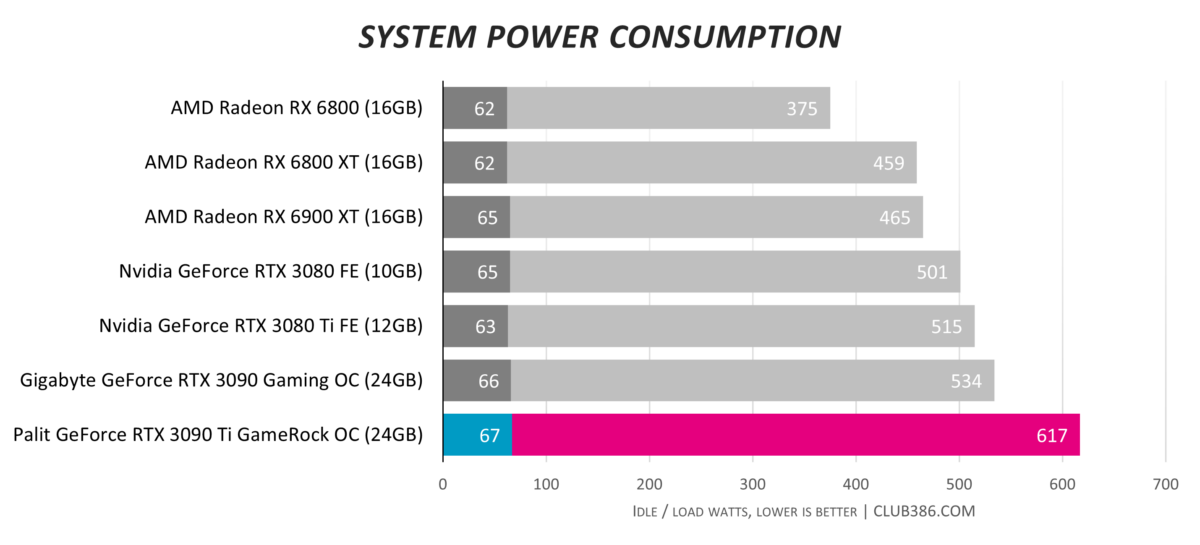 Hands up if you expected the Palit GeForce RTX 3090 GameRock OC to produce, by far, the highest system-wide power consumption when gaming.
There is no free lunch. Logs show board gaming power draw hovers around 440W, leading to the review card consuming, as a system, over 30 per cent more electricity than Radeon RX 6900 XT. A 1,000W PSU is recommended, to be on the safe side.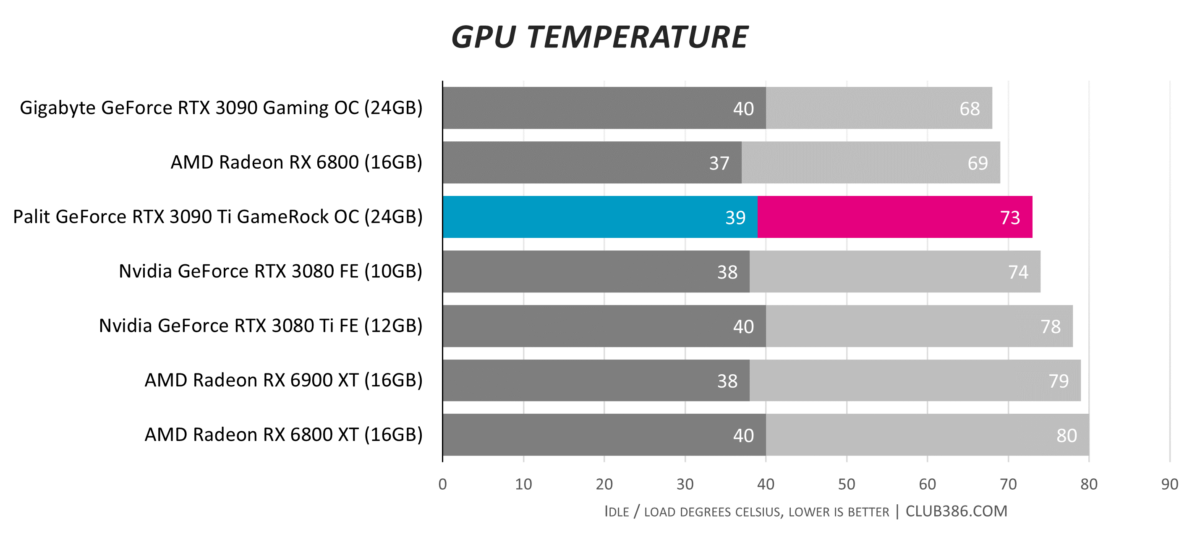 Colour us impressed with the gargantuan GameRock OC cooler. Taming such wattage is no easy task, yet a maximum 73°C is an excellent return for an air-cooled heatsink. Great stuff.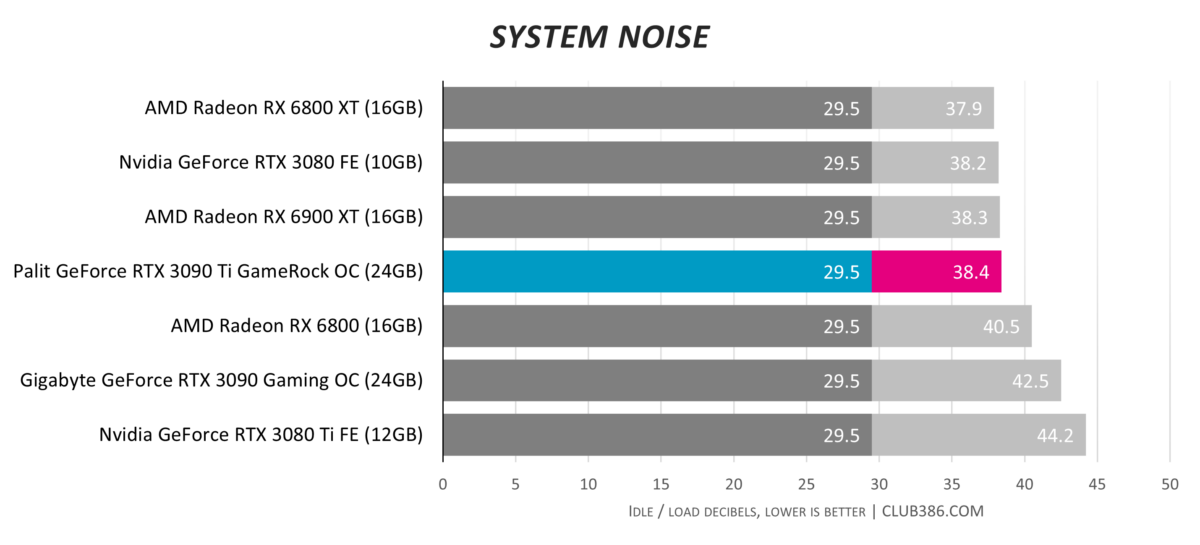 What's more, it doesn't make a racket doing so, either. Top marks to Palit's engineers when faced with the RTX 3090 Ti thermal problem.

Show your support for impartial Club386 reviews
Club386 takes great pride in providing in-depth, high-quality reviews built on honest analysis and sage buying advice. As an independent publication, free from shareholder or commercial influence, we are committed to maintaining the standards our readers expect.
To help support our work, please consider making a donation via our Patreon channel.
Overclocking
Palit's card doesn't offer scope for additional voltage of power limits, which is sensible when appreciating it's already at the extreme edge of cooling capabilities.
Unperturbed, we pushed the card to 2,010MHz boost and 23Gbps memory with ease. The card ran at a real-world 2,100MHz across three benchmarks.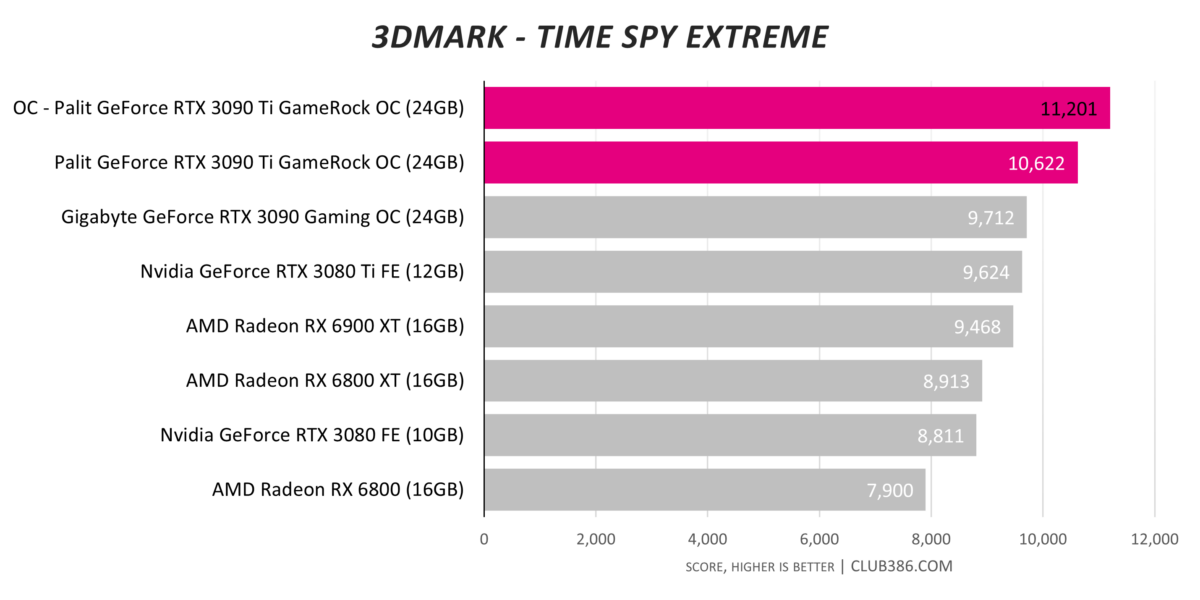 The only card to break 10K in the Extreme test smashes through 11K with a little overclocking.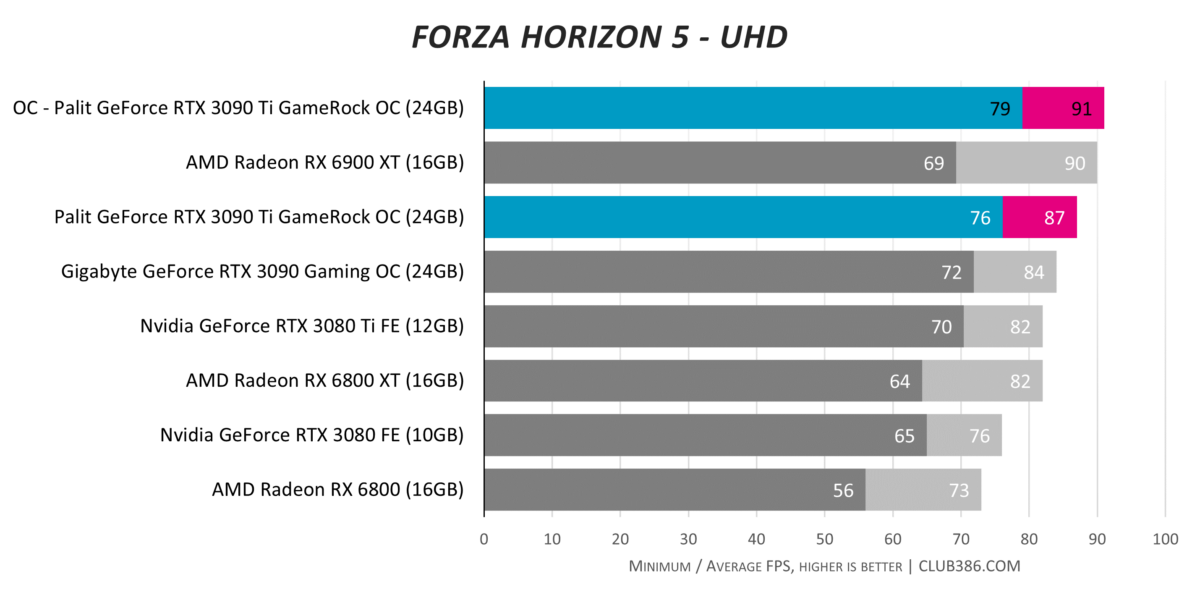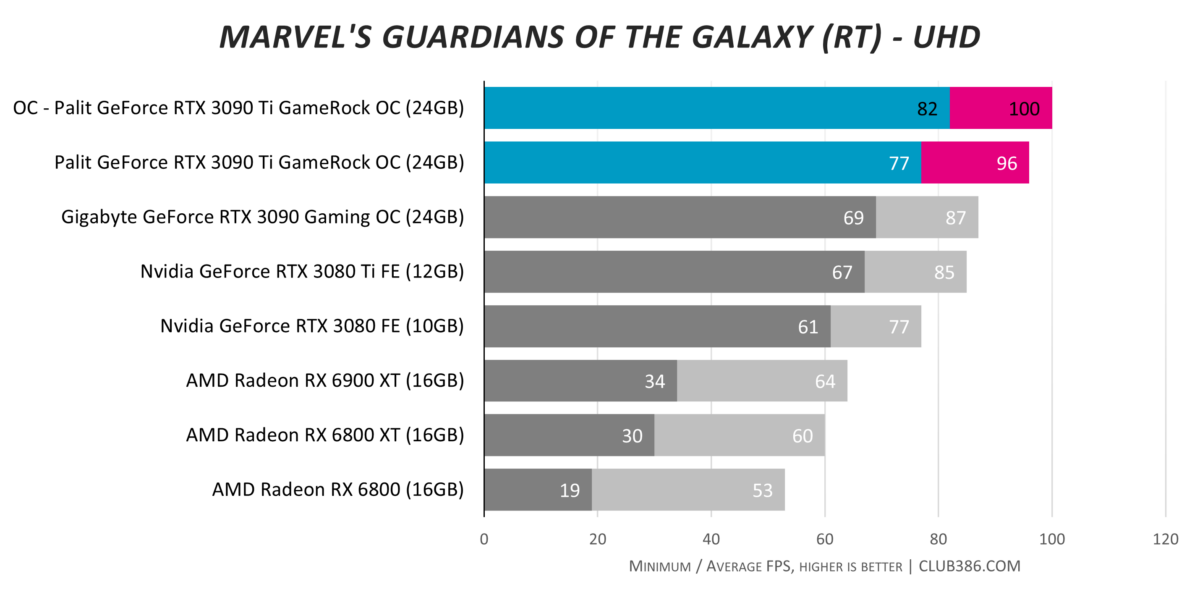 The best gets better.
Relative Performance and Efficiency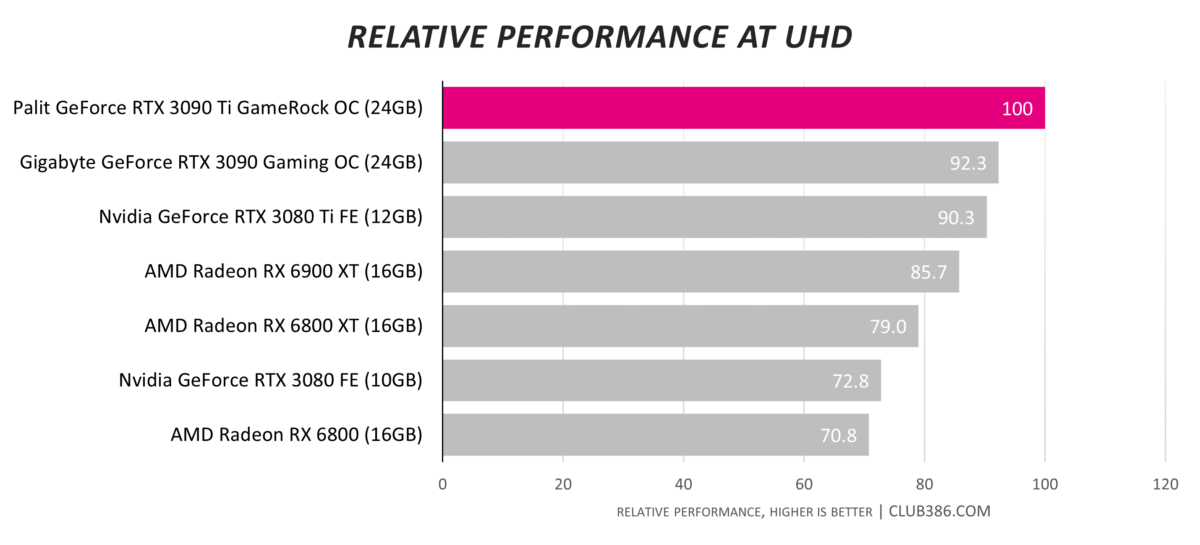 This score represents an aggregation of the respective framerates achieved by each card, in each title, at UHD. The scores are then normalised to the best, which in this case is the Palit RTX 3090 GameRock OC.
Our benchmarks suggest, for example, RTX 3080 Ti FE achieves 90.3 per cent of the Palit's UHD performance, whilst even the Radeon RX 6800, costing comfortably less than half as much, manages 70.8 per cent.
It's worth looking back to the UHD results and seeing practically every card attains 4K60.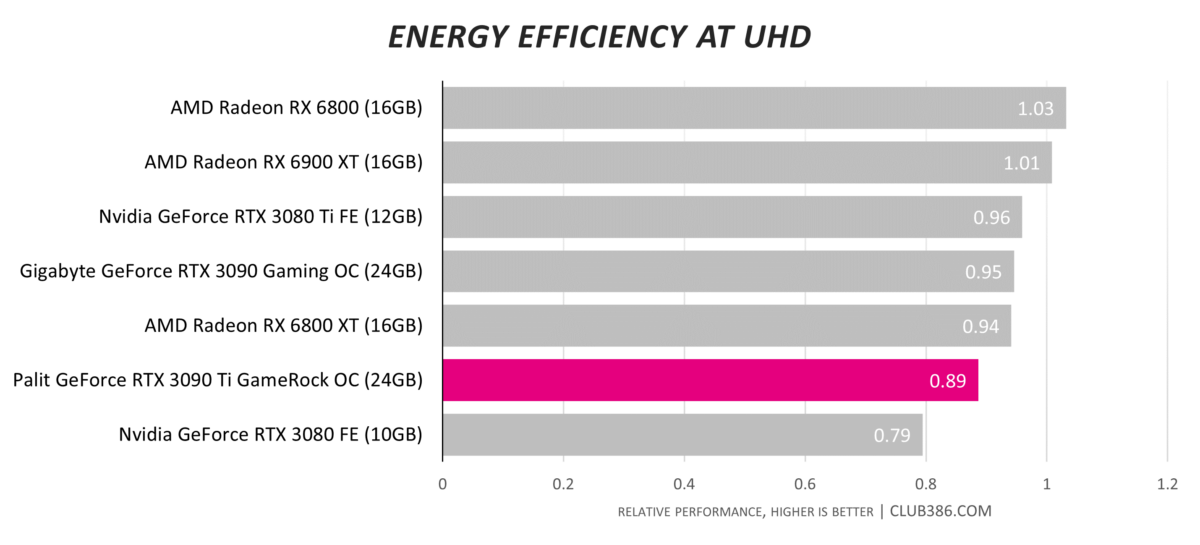 The graph divides the aggregate framerate by peak system-wide power consumption. There's little doubt the Palit is the fastest, but it is also the most power-hungry, by a long shot, hence the positioning near the bottom. If you're wondering why GeForce RTX 3080 FE performs so badly, go take a gander at the UHD result in Far Cry 6.
Conclusion
Palit does a good job in taming the full might of Ampere GA102. GameRock OC's cooler is big, bold and capable enough to rein in noise and temperature to acceptable levels, though the sheer amount of RGB bling is sure to polarise opinion on aesthetics. Priced at £2,000 and in and out of stock presently, our main concern is relative value, which applies to all RTX 3090 Ti cards, irrespective of manufacturer.
Taking value out of the equation, GeForce RTX 3090 Ti's sole job is to claim the title of world's fastest consumer graphics card. It does so in a brute-force approach relying on extracting every last morsel from the Ampere architecture.
Performance is about 10 per cent faster than the non-Ti and comfortably ahead of Radeon RX 6900 XT when evaluated over a broad range of games and engines. Turning the dial to 11 necessitates power ballooning to 460W, which is the highest we've seen on a consumer card.
These are inevitable trade-offs, yet at this end of the market performance is paramount, and RTX 3090 Ti delivers it in spades.
Palit GeForce RTX 3090 Ti GameRock OC
Verdict: The fastest card to enter the Club386 labs is mana to performance enthusiasts.
---
Pros
Champion perf
Very capable cooler
Low noise, good temps
Best-ever raytracing
Excellent build
Cons
£2,000
450W power budget
Divisive looks
---
Club386 may earn an affiliate commission when you purchase products through links on our site. This helps keep our content free for all.
Rest assured, our buying advice will forever remain impartial and unbiased.