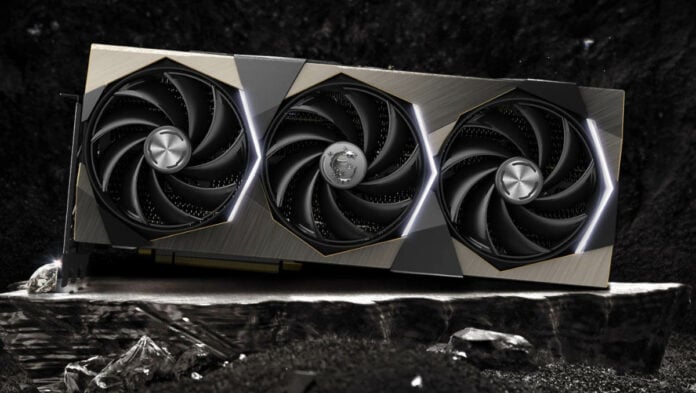 MSI has joined the likes of Palit and Asus by unveiling its take on custom GeForce RTX 4070 Ti graphics cards at CES 2023, taking the form of Suprim, Ventus and Gaming X Trio behemoths that not only offer extreme cooling capabilities but also varied styling and premium build quality.
Lets get all the nitty gritty out the way first. By now you should be familiar with Nvidia's rebranding switch from RTX 4080 to RTX 4070 Ti. The card as such features the AD104 GPU and specs between all three MSI variants remain largely the same save for boost frequencies. The most frugal GeForce RTX 40 Series GPU to date carries a 285W TDP all powered through a single 16-pin cable and should be ideal for power-efficient builds requiring only a recommended 600W PSU.
Back onto clock speeds for the interim, the base clock remains the same across all MSI cards at 2,310MHz, rising to 2,625MHz for the Ventus 3X, 2,760MHz for Gaming X Trio and 2,790Mhz for Suprim X. 12GB of GDDR6X is attached via a 192-bit memory bus and clocked at a default 21Gbps, resulting in 504GB/s bandwidth.
Suprim Series

MSI's most premium model, the Suprim is synonymous for its geometric design cues, featuring brushed aluminium on the exterior and an armour-like aesthetic that envelops both the front and rear back plate. This often makes it a highly sought after card due to its more mature and modern appeal.
Subtle RGB accent lighting is present on the face – ideal for those who love a vertically mounted graphics card – and those choosing a more traditional installation will be greeted to an RGB-emblazoned MSI logo and text alongside the obligatory GeForce RTX branding. All customisable through Mystic Light, of course.
Though lavishly constructed, Suprim is undoubtedly a 'thicc boi,' measuring three-and-a-half slots wide. The cooler features seven core heat pipes that run through a massive nickel-plated heatsink and copper baseplate, and at first glance, dimensions appear similar to 4080 and 4090 models.
Gaming Trio Series

Opting for a "if it ain't broke, don't fix it" approach, this looks eerily similar to the previous renditions of MSI's Gaming Trio Series, save for a few subtle changes that you would most likely miss if it wasn't pointed out. You can expect the same excellent cooling performance, except the nickel plated heatsink now houses six heatpipes instead of the aforementioned seven when compared to its Suprim sibling.
The overall design is best suited for a more gamer aesthetic, featuring a trio of RGB accent lights slashed across the centred fan, that give it an edgy appeal without feeling over done. As before, Mystic Lighting handles all the exterior RGB lighting to ensure synchronicity with all you RGB-infused components.
Ventus Series

At the bottom of the stack, where RTX 4070 Ti makes most sense, the Ventus is well known for its budget-friendly approach. Delivering a no-thrills card, it's the closest to stock in terms of specs and that's not necessarily a bad thing, considering the fact that the Ventus measures in at 2.5 slots in terms of width, which makes it an ideal card for compact builds.
There's no RGB accent lighting, though some would see that as a plus, and the trio of fans are from the previously used Torx Fan 4.0 design, whereas both the Suprim and Gaming Trio use updated Torx Fan 5.0 variants, which MSI touts as having improved airflow and static air pressure capabilities.
Finally, while the Gaming X Trio and Suprim X cards come kitted with a dual BIOS for silent and gaming mode operations, the Ventus ships with a single BIOS as standard. It doesn't look nearly as impressive as its siblings, but pricing ought to be much closer to MSRP.
The trio of MSI cards are expected to be available starting January 5 with a suggested retail price of "from £799." All eyes are now on retailers to see which cards, if any, manage to hit that target.