Jump to: Features | Performance | Conclusion
MSI reckons the time has come for competitive gamers to migrate to high-resolution monitors. Display manufacturers are witnessing significant growth in QHD shipments, yet with the amount of firepower on offer from modern graphics cards, there's scope to go even higher.
That's the thinking behind the MAG 274UPF, a 27in gaming monitor that wants to combine the speed pro gamers are accustomed to with pin-sharp 4K UHD clarity.
Such lofty resolution on a relatively small panel is, without a doubt, a niche configuration, yet the emergence of so many fascinating panel technologies means there's literally something for everyone. You can turn the productivity dial up to 11 with a 5K2K ultrawide, maximise HDR with Mini-LED or OLED, and if you can't decide between flat or curved, there are now monitors that transform on demand.
Point is, there's definitely a market for pro gamers wanting to make a long overdue upgrade from 24in 1080p. At £549, the MAG 274UPF isn't going to break the bank and it already competes with the likes of the LG 27GR93U and Gigabyte M28U.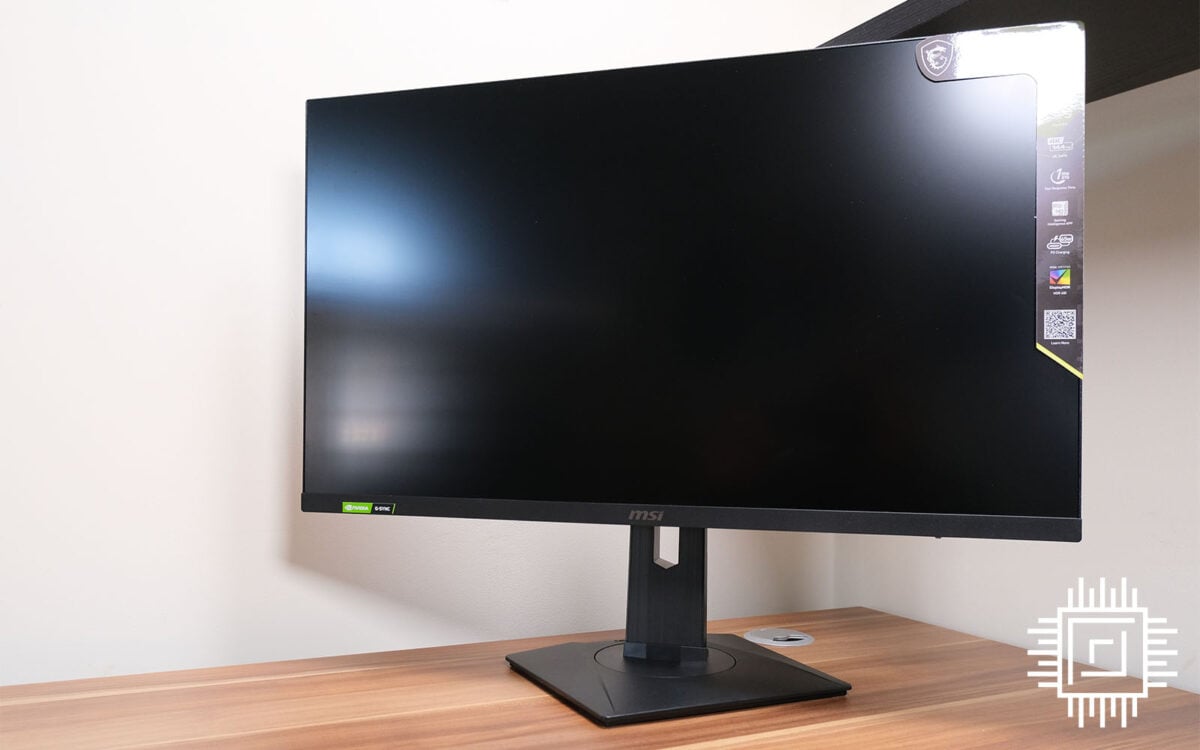 For the money, you get a 27in IPS panel touting 3840×2160 resolution at 144Hz. Driving the best part of 8.3 million pixels at 144Hz used to be a pipe dream, but with the likes of the GeForce RTX 4090, it's now a genuine possibility. Even lesser cards will be up to the task in popular esports titles.
Adaptive sync is, of course, supported, as MSI includes AMD FreeSync Premium and G-Sync compatibility in the 48-144Hz range. The monitor also officially touts a 1ms grey-to-grey response time, which is unlikely to be quite as rapid as a 1080p screen. If you're inclined to activate overdrive to get the best possible performance, we've found the middle 'fast' setting is optimal, as cranking it up to 'fastest' results in noticeable ghosting.
Fast 4K gameplay is where the monitor excels, yet no panel ticks every available box, especially at this price point. The IPS panel has middling black levels and contrast, as our benchmarks will demonstrate. And HDR is an expected weakness. There's no fancy localised dimming, so while you can technically enable HDR, it's hardly worth the effort.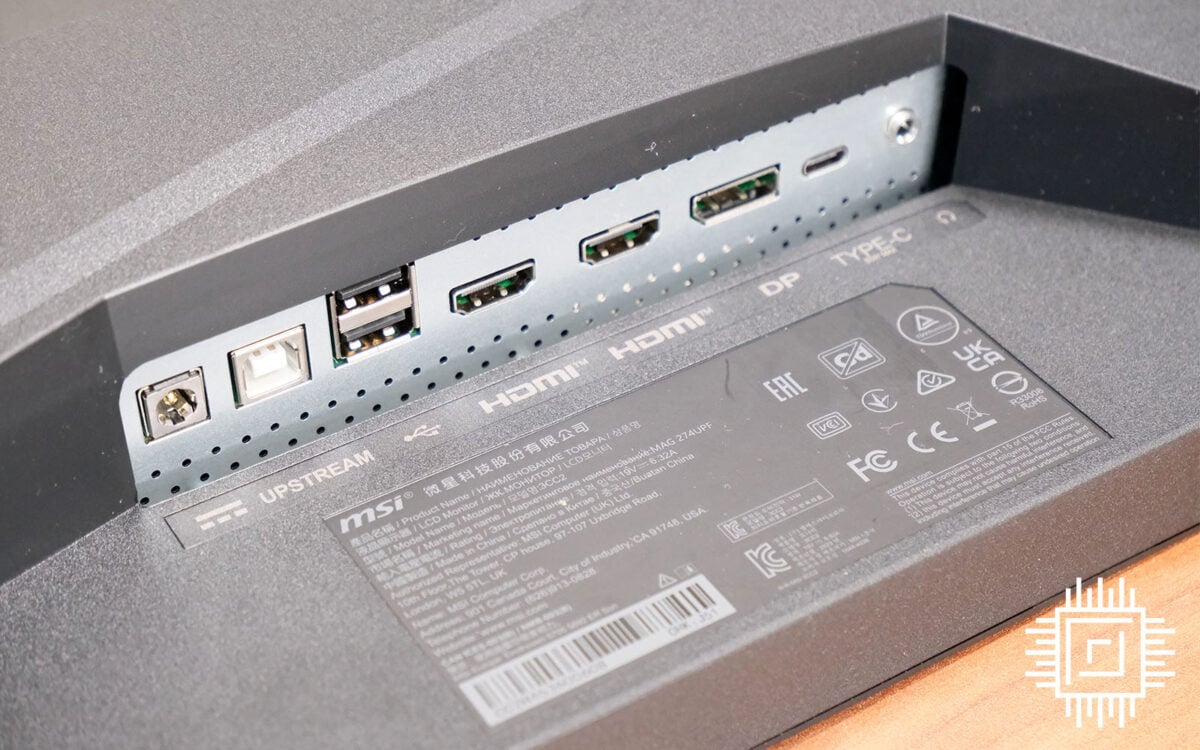 What's interesting is that while the MAG 274UPF is, without doubt, a gaming-first solution, styling is surprisingly sedate, and there's some genuine creativity potential here, too. MSI's black chassis doesn't feature any gaudy RGB lighting, and though there are gaming embellishments adorning the rear, the panel wouldn't look out of place in the home office. We appreciate the stand's small footprint, and it's versatile, too, offering 130mm height adjustment, 45° swivel, -5° ~ 20° tilt, and the ability to pivot into portrait mode. If you plan to use your own mount or arm, note that the VESA attachment is 75mm on this particular model.
Ports and Features
Out-the-box colour coverage and accuracy are among the best we've seen from a gaming monitor – handy if you plan to work by day and game by night. Connectivity is also more expansive than you might think. Video inputs include two HDMI 2.1, DisplayPort 1.4a and USB-C with DP alt mode. Take your pick, as all four can handle 144Hz at the native resolution. And, if you're a console user, MSI includes a dedicated 'console mode' to enable 4K120 via HDMI on PS5 or Xbox Series X.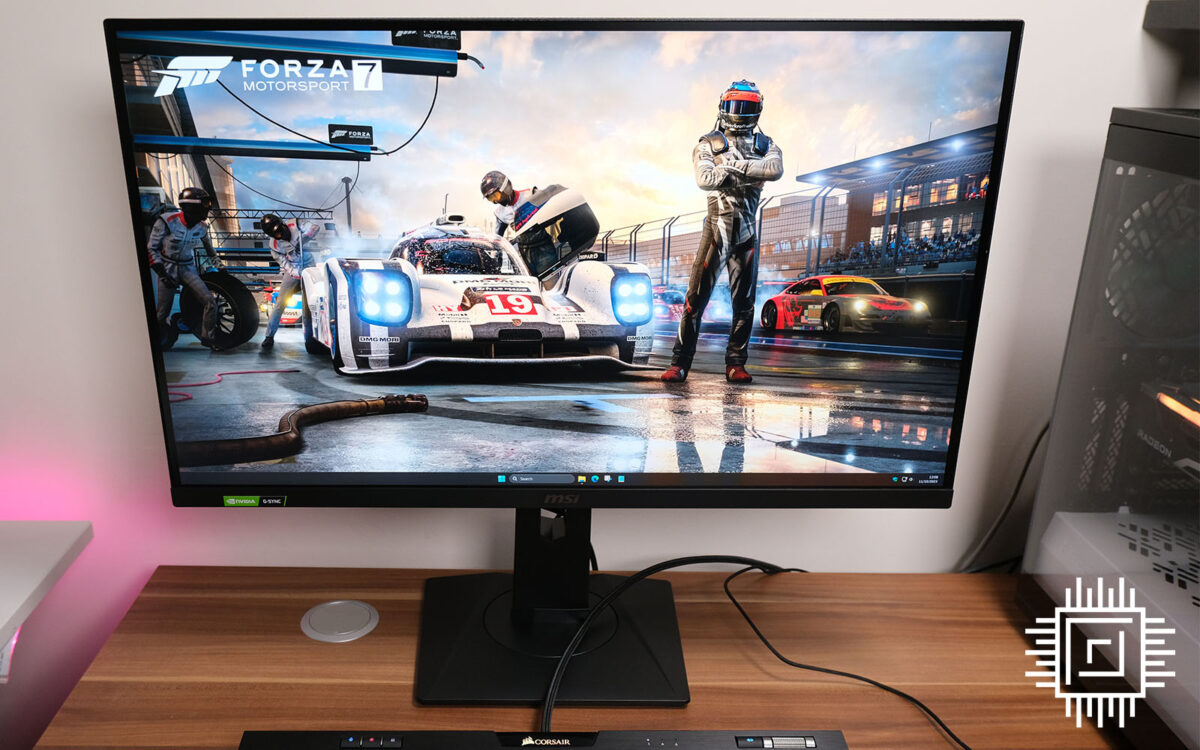 That's already plenty to satisfy most users, yet there are further niceties tucked away. USB-C includes 65W power delivery, which is useful for charging a docked laptop. For those with multiple devices, there's even a built-in KVM to share peripherals attached to the dual-port USB 2.0 Type-A hub. A headphone output rounds out connectivity, and you'll need to bring your own audio setup as MAG 274UPF isn't equipped with built-in speakers.
Portability and convenience are key factors for tournament-goers, and MSI scores well on both fronts. The entire monitor, including the stand, measures 614mm (W) x 197mm (D) x 402mm (H) and tips the scales at 6kg, or 4kg without the stand. That's easy enough to lug around between LAN parties, but do leave space in the rucksack for the 120W external power supply.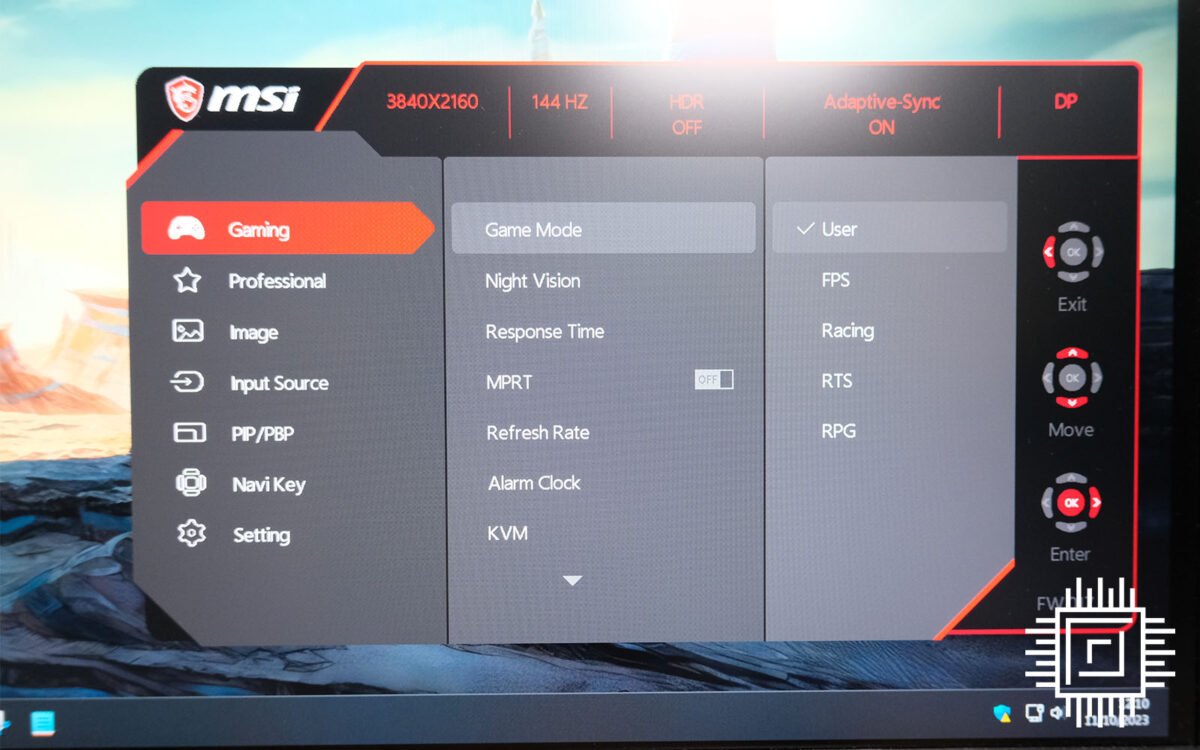 When it comes to tweaking settings, the rear red joystick makes light work of navigating the OSD, where you'll find all your usual gamer-specific enhancements. These include a customisable on-screen crosshair, zoom scope, and night vision for highlighting anything that lurks in the shadows. There's also an MSI Gaming Intelligence App to manage settings from within Windows but seeing as the 476MB package sneakily attempts to install Norton Internet Security after setup, we decided against using it. Put your foot down and say no to bloatware.

Show your support for impartial Club386 reviews
Club386 takes great pride in providing in-depth, high-quality reviews built on honest analysis and sage buying advice. As an independent publication, free from shareholder or commercial influence, we are committed to maintaining the standards our readers expect.
To help support our work, please consider making a donation via our Patreon channel.
Colour Credentials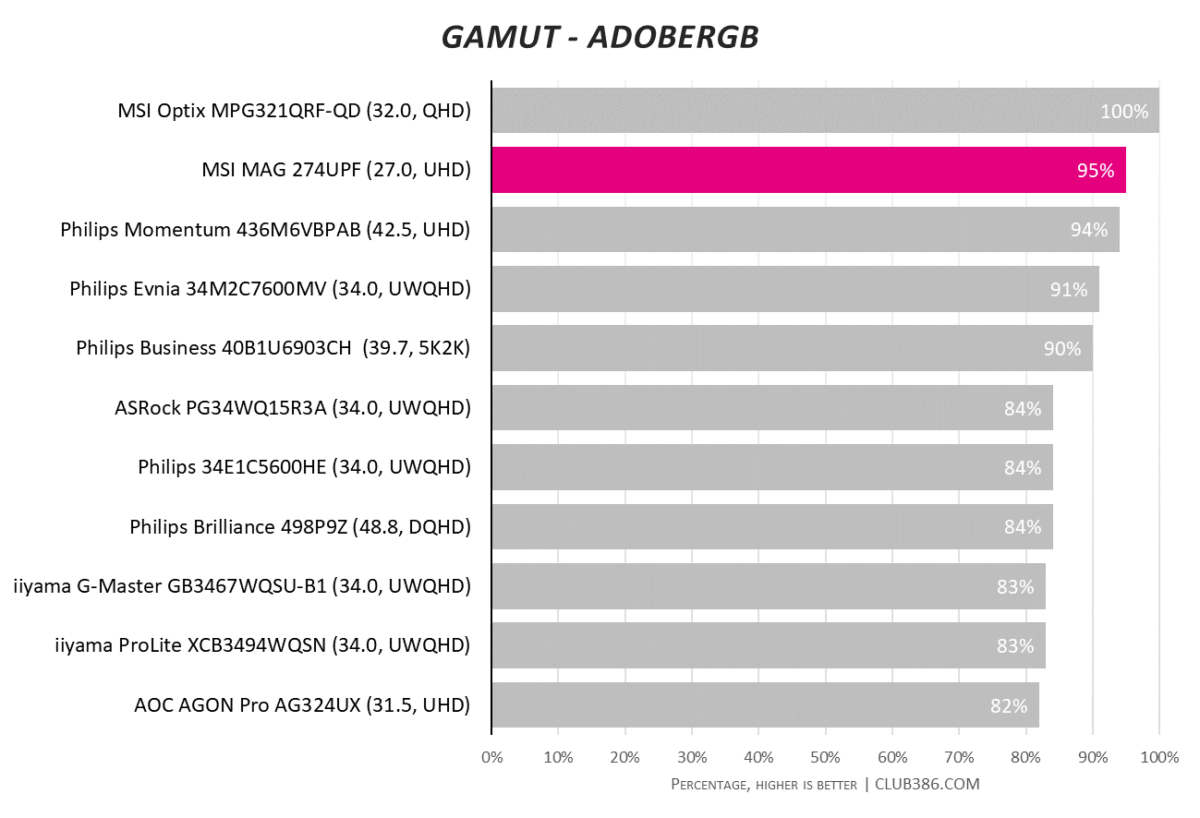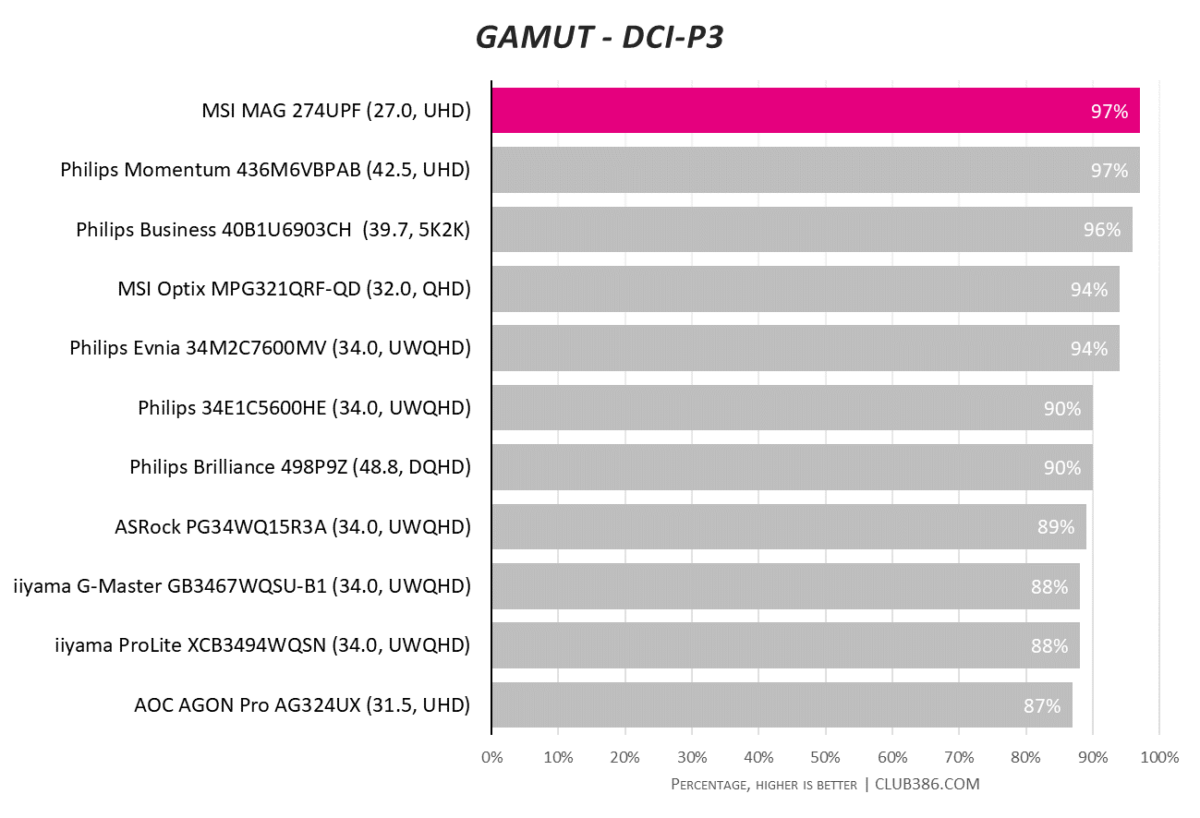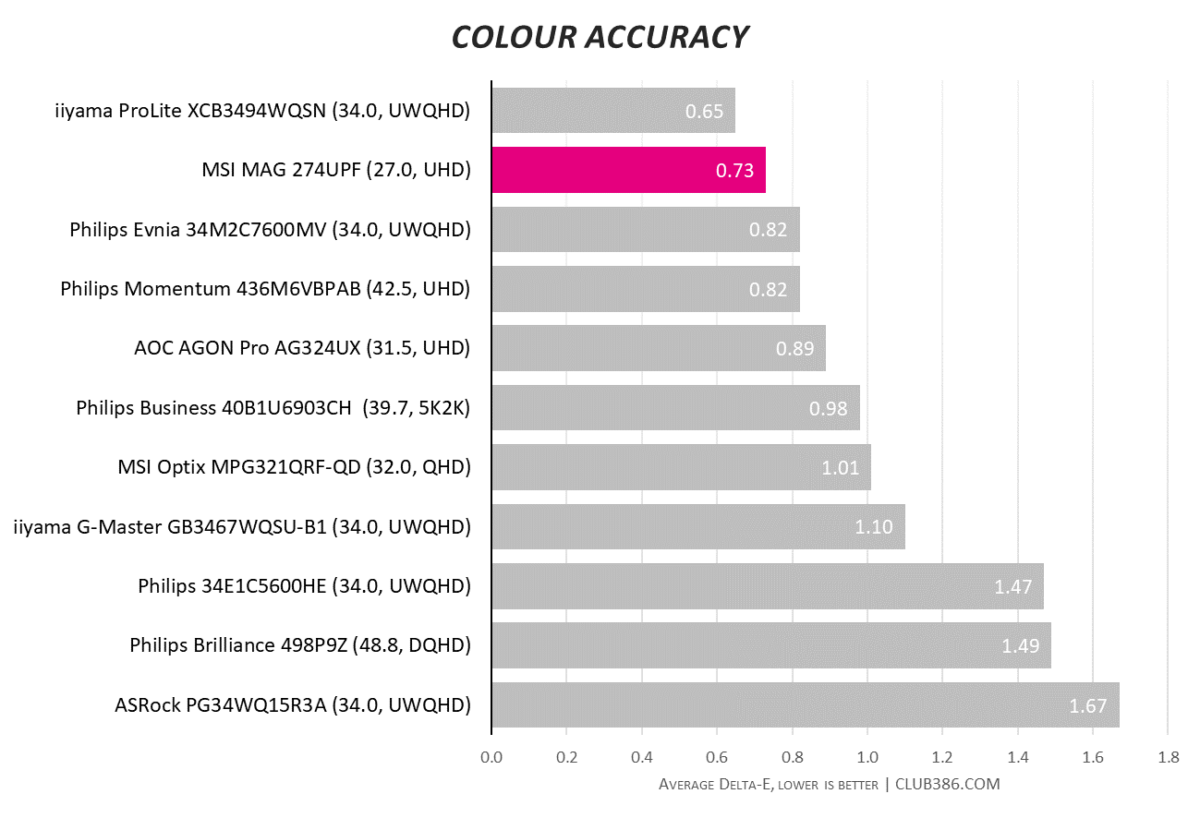 We alluded to the MAG 274UPF's colour capabilities, and here's proof. For the record, MSI claims 97 per cent AdobeRGB and 98 per cent DCI-P3 coverage; our results are just shy of that but impressive nonetheless, as is out-the-box accuracy.
Brightness and Contrast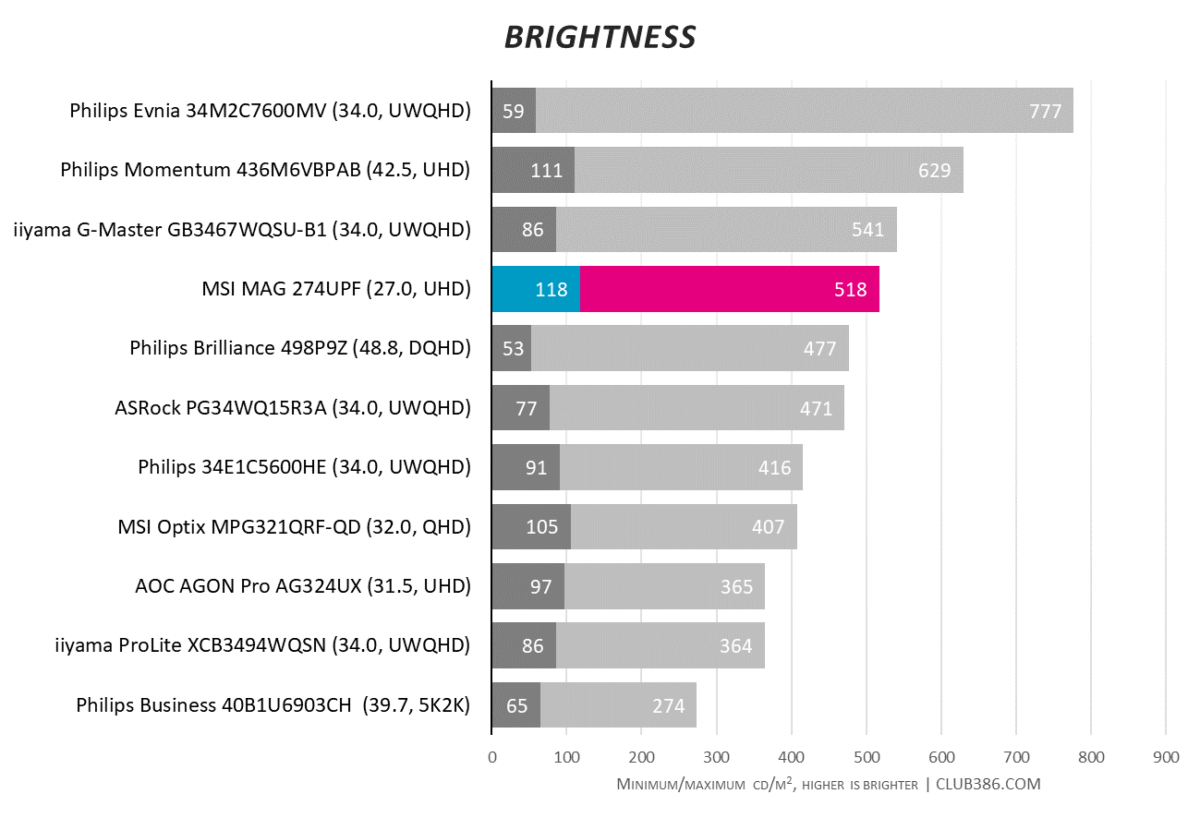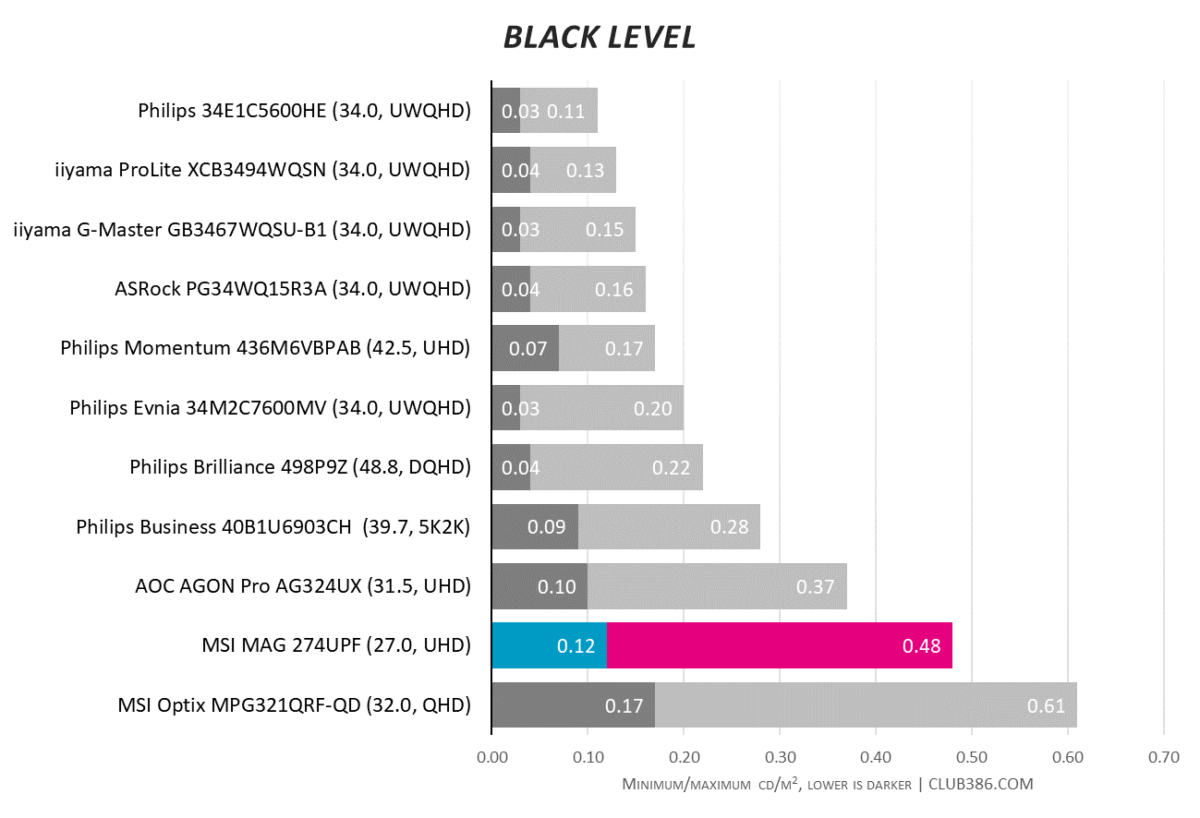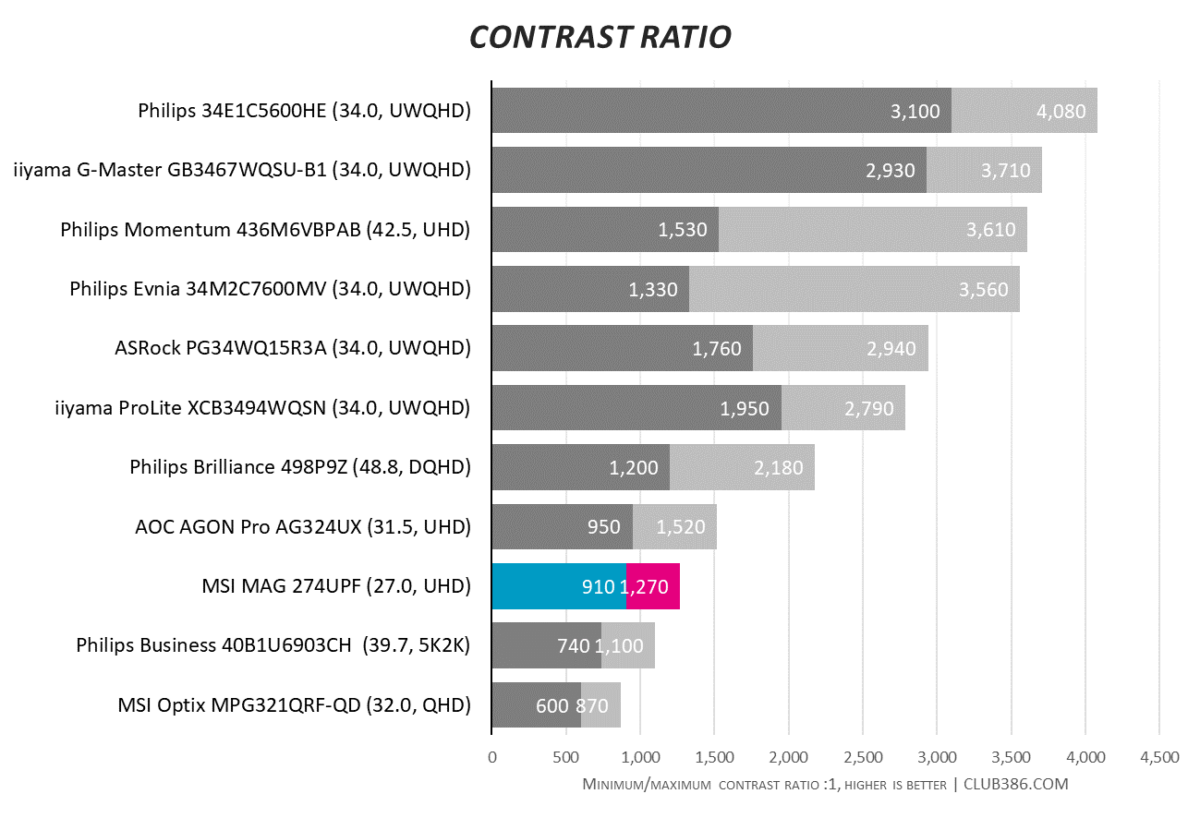 Black levels and contrast aren't a match for VA-based alternatives, yet the IPS panel on show here combines excellent viewing angles and 518-nit peak brightness that comfortably exceeds MSI's 400-nit specification. One thing to be aware of if you like to dim the screen in a dark room is that the minimum brightness only drops to a relatively high 118 nits.
Uniformity and Efficiency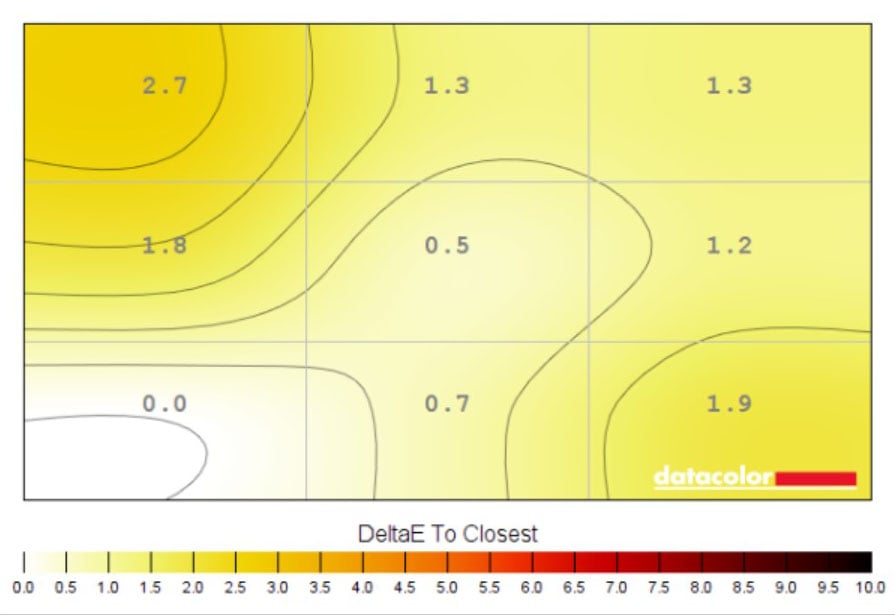 Colour uniformity (above, left) is very consistent across the 27in panel. Though luminance uniformity (above, right) falls short of our preferred 10 per cent limit, we don't notice the shift during regular use.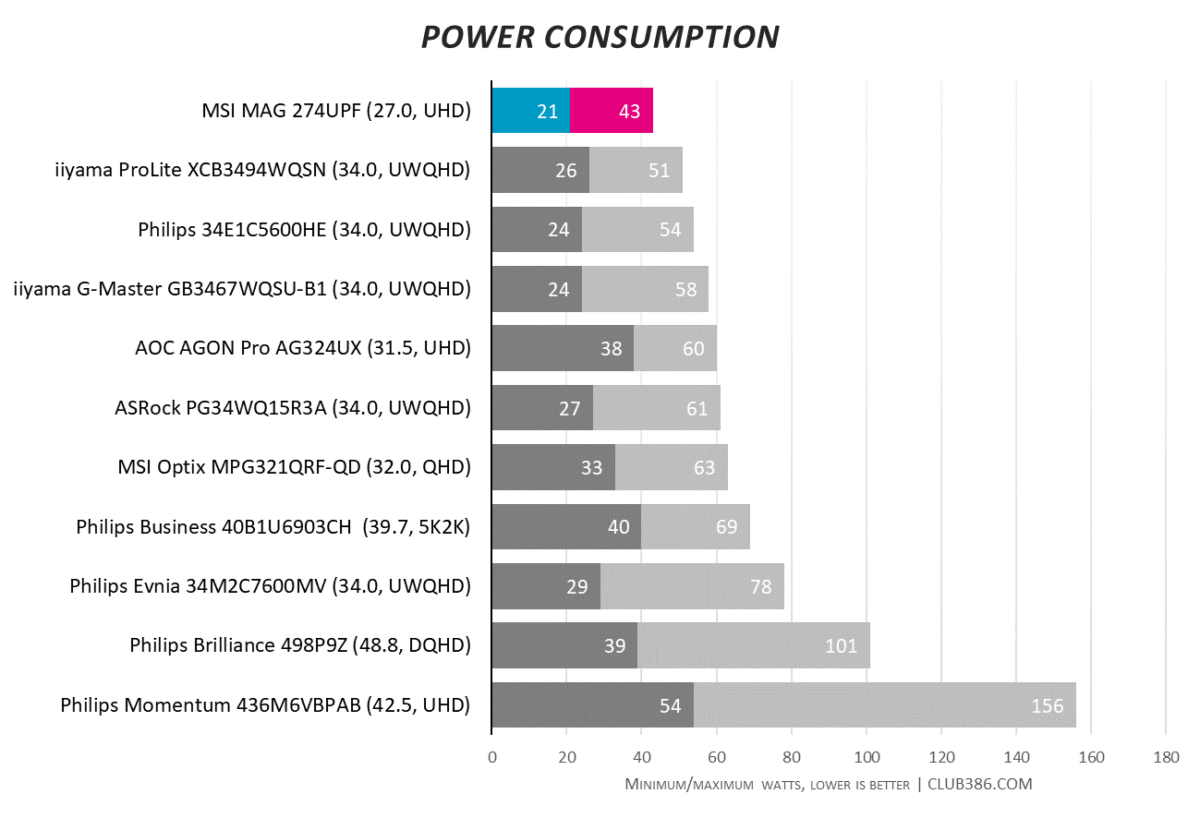 We've become so accustomed to large displays here at Club386 HQ that a 27in panel has obvious benefits in its form factor and energy efficiency. You don't need much space to get set up, and with the monitor pulling just 43W from the wall at peak brightness, there's no need to worry about the electricity bill.
Conclusion
MSI's MAG 274UPF scratches a particular itch for competitive gamers eager to move away from old-fashioned 24in 1080p to a bigger, sharper, high-resolution 4K UHD display.
Requisites to achieving those goals are a fast refresh rate, adaptive synchronisation, and a 27in form factor that isn't too dissimilar to the ubiquitous 24in format many pro gamers are acclimatised to. Gameplay at the native resolution is smooth, tear-free, and crystal clear, connectivity is well stocked for PC or console, and with excellent colour accuracy and a built-in KVM, there's more to the MAG 274UPF than just fast-paced gaming.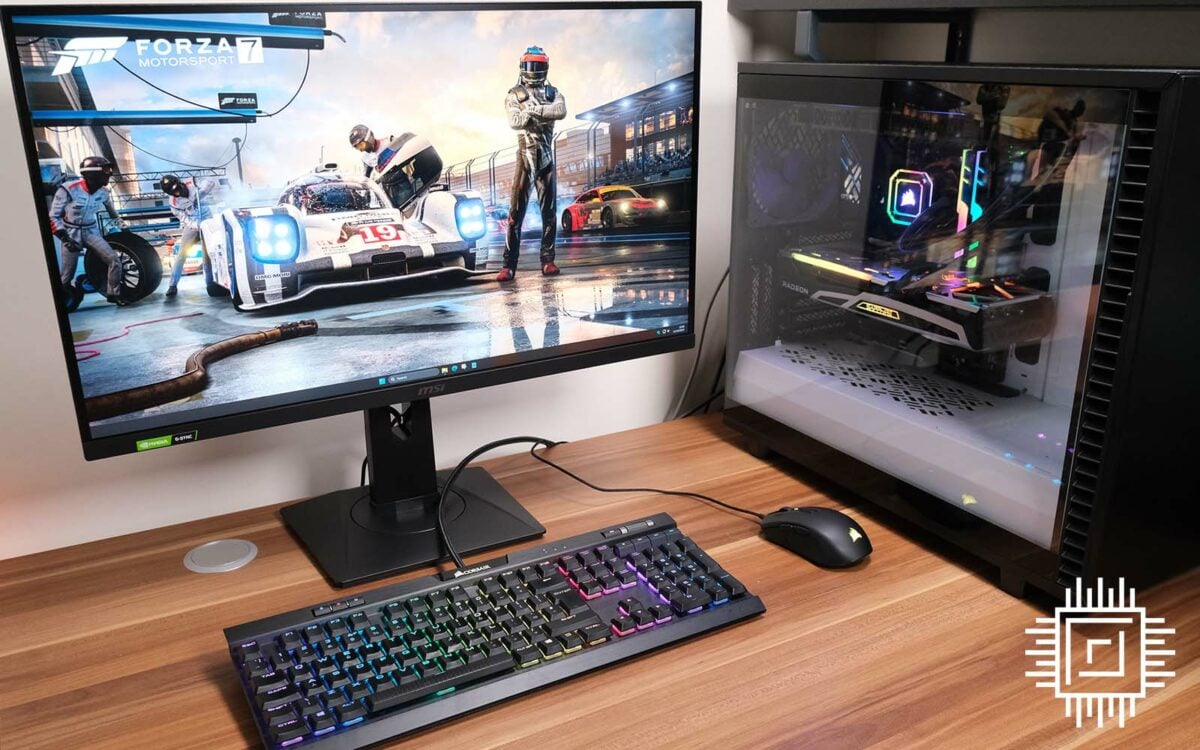 MSI MAG 274UPF
Verdict: a fast, bright and highly enjoyable 4K 144Hz gaming monitor.
---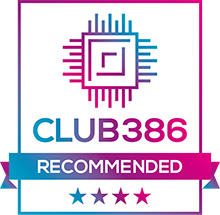 Pros
4K 144Hz for under £550
Excellent colour accuracy
USB-C and built-in KVM
Compact, versatile stand
Low power consumption
Cons
Bloated Windows app
High minimum brightness
---
Club386 may earn an affiliate commission when you purchase products through links on our site. This helps keep our content free for all.
Rest assured, our buying advice will forever remain impartial and unbiased.