With next-generation AMD and Intel platforms set to be unveiled in just a couple of weeks' time, industry partners are lining up to present a wide array of complimentary hardware.
Expect lush motherboards, forward-looking PSUs, fine-tuned DDR5 memory, and of course, super-fast storage designed to take full advantage of a PCIe Gen 5 interface.
We already know Corsair is prepping an MP700 drive capable of 10GB/s sequential reads, but Gigabyte is aiming to go one better with its Aorus Gen5 10000 SSD.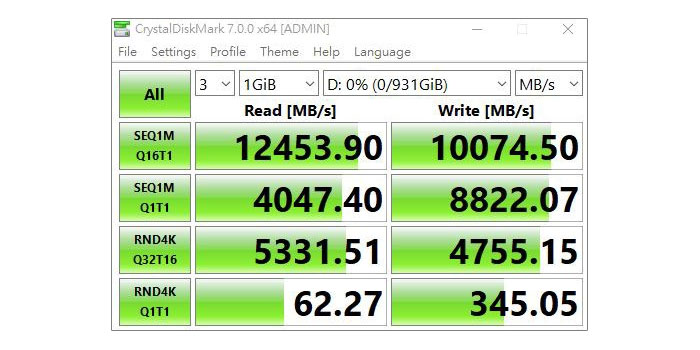 While the name implies familiar 10GB/s speeds, the performance brand has taken to Twitter to tease some early benchmarks of its upcoming drive. Using CrystalDiskMark, albeit an older v7 release, the Gen5 10000 SSD breezes past the 12GB/s mark in sequential reads while managing to keep ahead of 10GB/s when writing.
Random 4K read performance at a queue depth of one is a tad alarming, but here's hoping 62MB/s is a case of immature firmware, rather than an early look at what the future holds for PCIe 5.0 drives.
Jackson Hsu, director of Gigabyte channel solutions product development, claims "this new product brings blistering fast storage performance with ultra durability and compatibility to users for optimal quality and performance."
Developed in collaboration with Phison, the Gen5 10000 SSD employs a PS5026-E26 eight-channel controller, next-generation NAND Flash and an onboard LPDDR4 cache. The drive will come to market in capacities ranging from 1TB to 4TB, via a familiar M.2 2280 form factor, and each model will feature an "easily removable full-covered copper heatsink."
According to Gigabyte, the heatsink helps prevent throttling but can quickly be detached for those who favour their motherboard's built-in cooling solution, or something a little more elaborate.
Next-generation components continue to appear impressive in terms of sheer performance, however important details such as pricing and availability remain a question mark. Gigabyte hasn't revealed when the Gen5 10000 SSD will arrive, or how much it is likely to cost.