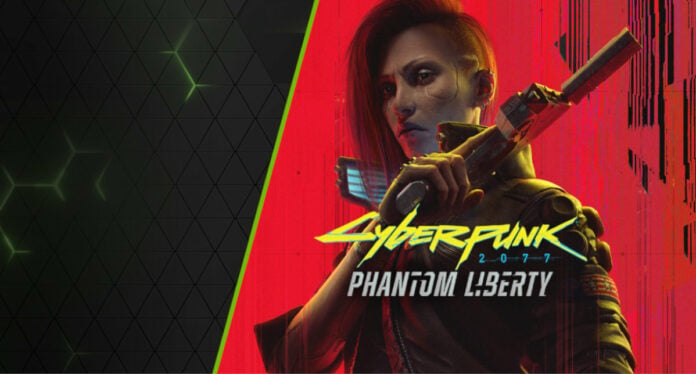 Nvidia's GeForce Now gaming catalogue is expanding at a rapid pace and Team Green has added even more titles to the list with CDPR's Cyberpunk 2077: Phantom Liberty expansion headlining the recent spate.
Phantom Liberty and its accompanying Update 2.0 launched earlier this week to rave reviews and sees our protagonist, V, embark on a spy-thriller adventure, starring Hollywood heavy-hitters Keanu Reeves and Idris Elba.
We would be remiss not to mention that the game has been totally overhauled featuring enhanced visuals, new skill trees and perks, a revamped police system, in-depth vehicular combat and much, much more. Nvidia GeForce Ultimate-tier users can take advantage of the update thanks to full GeForce RTX 4080 quality support, which features the latest Nvidia DLSS 3.5 technology, as well as experience the game's uber cool 'Overdrive Mode,' thanks to the added benefit of Ray Reconstruction.
What's more, GeForce now subscribers have access to 26 more games this week. Highlights include id Software's Doom Eternal and the recently remastered Quake 2, plus heart-thumping survival horror Amnesia:Rebirth. All available via PC Game Pass, we might add.
In other news, the GeForce Now Ultimate KovaaK's challenge results are in and according to Nvidia, nearly 15,000 people partook in the challenge, playing over 120,000 sessions, and all of the leaderboard's top 25 slots, across multiple platforms we presume, were filled with those playing on Ultimate. Bravo.
TinooQ, who impressively placed third overall had this to say about the experience: "As a long-time KovaaK's user, transitioning to this platform was seamless, as the precision and responsiveness was nothing short of extraordinary."
"The minimal latency and the consistent 240 fps made me think that many people could rely solely on the GeForce Now Ultimate plan and a monitor, that's all. I found it perfect for top gaming, saving a lot of money and the PC hardware headaches I suffered when building mine."
Whoah! Hold you horses their cowboy, no need to dog on PC building, we still quite enjoy building our own here at Club386, headaches and all. Well, except Parm, he prefers pre-built systems now. To each their own, I guess.
If it is available in your area, and granted you have a stable internet connection, at just £17.99 for the Ultimate experience, GeForce Now remains the easiest and most cost-effective solution to get into 4K, 120fps PC gaming. On a personal note, Nvidia is partnering up with a local ISP to bring GeForce Now to South Africa, isn't that cool! Except because of loadshedding and a poor Internet infrastructure, they could well rebrand it to GeForce Later.
All joking aside, here's the full list of what's joining this week:
These Doomed Isles (New release on Steam, Sept. 25)
Paleo Pines (New release on Steam, Sept. 26)
Infinity Strash: DRAGON QUEST The Adventure of Dai (New release on Steam, Sept. 28)
Pizza Possum (New release on Steam, Sept. 28)
Wildmender (New release on Steam, Sept. 28)
Overpass 2 (New release on Steam, Sept. 28)
Soulstice (New release on Epic Games Store, Free on Sept. 28)
Amnesia: Rebirth (Xbox, available on PC Game Pass)
BlazBlue: Cross Tag Battle (Xbox, available on PC Game Pass)
Bramble: The Mountain King (Xbox, available on PC Game Pass)
Broforce (Steam)
Don Duality (Steam)
Doom Eternal (Xbox, available on PC Game Pass)
Dordogne (Xbox, available on PC Game Pass)
Dust Fleet (Steam)
Eastern Exorcist (Xbox, available on PC Game Pass)
Figment 2: Creed Valley (Xbox, available on PC Game Pass)
I Am Fish (Xbox)
Necesse (Steam)
A Plague Tale: Innocence (Xbox)
Quake II (Steam, Epic Games Store and Xbox, available on PC Game Pass)
Road 96 (Xbox)
Spacelines from the Far Out (Xbox)
Totally Reliable Delivery Service (Xbox, available on PC Game Pass)
Warhammer 40,000: Battlesector (Xbox, available on PC Game Pass)
Yooka-Laylee and the Impossible Lair (Xbox)