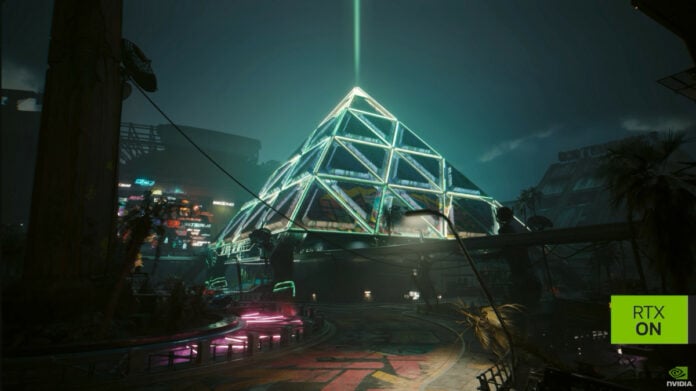 Nvidia RTX 40 Series owners are in for a treat. Come tomorrow, starting with the highly-anticipated Cyberpunk 2077 Update 2.0, users will be able to utilise the latest version of Team Green's upscaling technology bringing with it improved ray tracing performance.
In case you've been living under a rock, DLSS 3.5 is touted as being one of the biggest updates to Nvidia's temporal upscaling technology and introduces a new feature called Ray Reconstruction, which the company describes as an AI-powered technique that enhances the quality of ray-traced images, effectively providing improved performance for intensive games and apps.
It's frame reconstruction on steroids. According to Nvidia, the tech replaces hand-tuned denoisers, which resolve sampled rays in a scene, with an Nvidia supercomputer-trained AI network that generates higher-quality pixels in between samples.
Hand-tuned denoisers have proven to be an effective way to accumulate pixels from multiple frames to increase detail, although this also has the risk of introducing ghosting, removing dynamic effects and reducing the quality of older ray-traced frames in the pipeline. They also interpolate neighbouring pixels, and blend this information together, however when it comes to upscaling, the last stage of the ray-traced pipeline, denoisers forgo certain information resulting in a less detailed image.
This is where the new-and-improved AI-assisted Ray Reconstruction tech comes in to play. The tech is able to recognise light patterns from training data, such as global illumination or ambient occlusion, and recreate it in-game as you play. Nvidia says DLSS 3.5 is trained with five times more data than DLSS, allowing Ray Reconstruction to understand different ray-traced effects to make smarter decisions about using temporal and spatial data, and retain high-frequency information for upscaling, making it a superior solution when compared with hand-tuned denoisers. Combining this with Frame Generation results in a crisper, cleaner image quality without limiting overall performance. At least, that's the gist of it.
Meanwhile, there are four more games receiving DLSS 3 support over the coming month, including the First Descendant – a free-to-play third-person looter-shooter powered by Unreal Engine 5 – and Party Animals, a wacky physics-based, team-oriented brawler and party game. Lest we forget, there's also Warhaven, a free-to-play, third-person PVP title based on medieval combat, and Witchfire, a dark fantasy FPS from the creative minds behind Painkiller, Bulletstorm, and The Vanishing of Ethan Carter. Whew.
Finally, besides tomorrow's big Cyberpunk 2077 update, DLSS 3.5 will be available for the Phantom Liberty expansion on September 26, plus the Chaos Vantage 3D visualisation tool, also available tomorrow. Other honourable mentions featuring DLSS 3.5 next month include Portal with RTX, Alan Wake 2, D5 Render and Nvidia Omniverse. Can't wait.