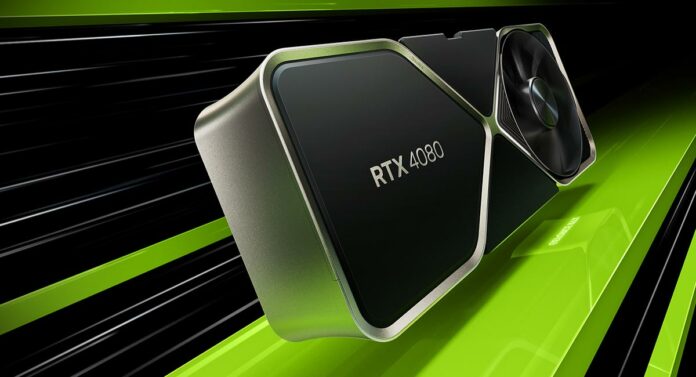 Much of the attention surrounding Nvidia's GeForce RTX 40 Series launch has been centred around the flagship RTX 4090. Rightly so; the top-end GPU is an absolute beast that claims to be up to four times quicker than previous-gen RTX 3090 Ti.
Numbers look spectacular and terrifying in equal measure – 76 billion transistors on a 4nm process – yet there's further intrigue down the ladder where Nvidia surprised onlookers with not one but two GeForce RTX 4080 SKUs.
Arriving a month later in November, eager gamers will have a choice of either the GeForce RTX 4080 16GB at £1,269 / $1,199, or the GeForce RTX 4080 12GB at £949 / $899. On paper, the latter looks a meaningful replacement for the RTX 3080 12GB that unexpectedly arrived at the turn of the year at $799, but don't assume a tweak in memory configuration is all that sets the two next-gen cards apart.
Third-rung RTX 40 Series is, in fact, a wholly unique proposition that employs a purpose-built AD104 die. What does that mean for gamers who just want high framerates? We're essentially looking at cuts to key areas of both GPU and memory specifications, as detailed in our table below.
| GeForce | RTX 4090 | RTX 4080 (16GB) | RTX 4080 (12GB) |
| --- | --- | --- | --- |
| Die | AD102 | AD103 | AD104 |
| SM Units | 128 | 76 | 60 |
| Cores | 16,384 | 9,728 | 7,680 |
| FP32 Teraflops | 83 | 49 | 40 |
| RT Teraflops | 191 | 113 | 82 |
| Tensor Teraflops | 1,321 | 780 | 641 |
| Boost Clock | 2.52GHz | 2.51GHz | 2.61GHz |
| Base Clock | 2.23GHz | 2.21GHz | 2.31GHz |
| Memory Config | 24GB GDDR6X | 16GB GDDR6X | 12GB GDDR6X |
| Memory Bus | 384-bit | 256-bit | 192-bit |
| Graphics Power | 450W | 320W | 285W |
| MSRP | $1,599 | $1,199 | $899 |
A 25 per cent reduction in RTX 4080 onboard memory is reflected in most other areas. The AD104 die featured in Nvidia's 12GB card has 21 per cent fewer active SMs, resulting in core count falling from 9,728 to 7,680. Less than half the all-singing, all-dancing RTX 4090.
Fewer SMs means a drop in RT and Tensor cores, too, whose teraflop throughput is lowered by as much as 27 per cent. Nvidia does elevate boost clock a fraction from 2.51GHz to 2.61GHz to help mitigate losses, but when you factor a smaller 12GB pool of memory and a narrower 192-bit memory bus, it becomes clear these are two very different GPUs.
Significant cuts, yet Team Green's attention is clearly shifting away from pure rasterisation and toward forward-looking technologies such as AI and DLSS. Using the power of the Ada Lovelace architecture, Nvidia reckons RTX 4080 12GB is able to match the previous-gen flagship, RTX 3090 Ti, in most titles, and comes out significantly ahead when developers care to utilise latest-generation DLSS 3 acceleration.
Adding further intrigue, Nvidia has confirmed that RTX 4080 12GB will be exclusive to add-in-board partners and won't be available in Founders Edition guise. Nvidia's in-house design has been bolstered significantly for this generation, with improved 23-phase power delivery (20 for GPU plus three for memory), a single PCIe Gen 5 power connector, and a compact PCB shaped to maximise the flow-through thermal design.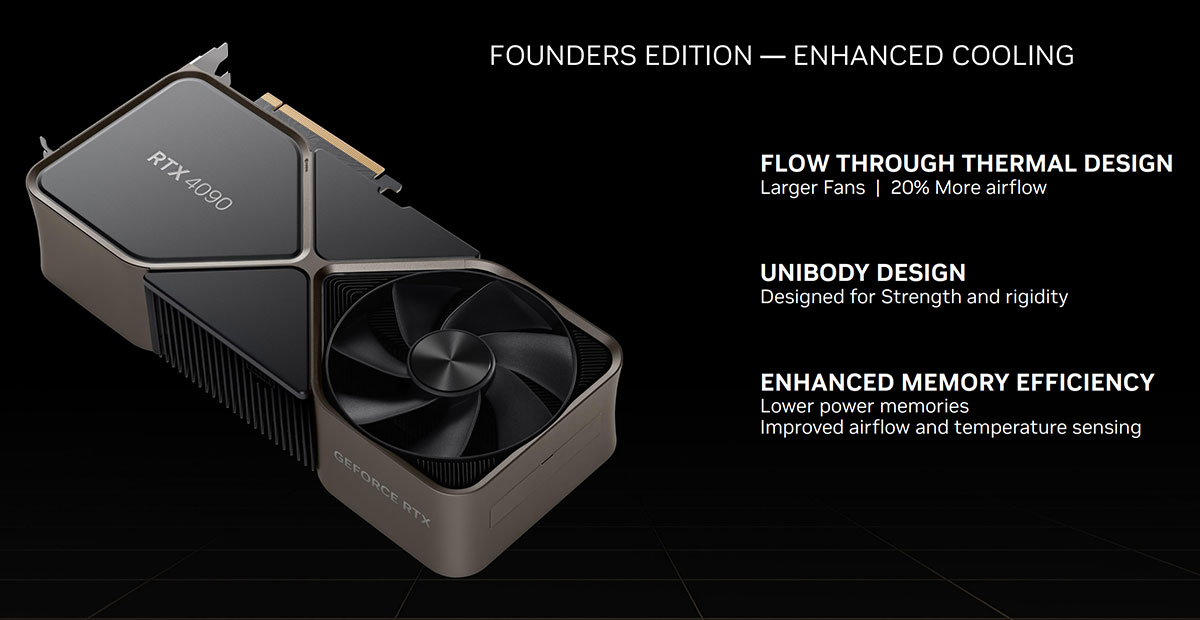 Nvidia tells us it went through over 50 unique fan implementations before settling on the final product. The larger unibody design boasts 20 per cent more airflow with a specific focus on consistent power management and lower memory temperatures. Though the cooler is essentially intended for RTX 4090, the same build features on RTX 4080 16GB and is said to offer eerily quiet operation during regular use.
We suspect partners will be hard pushed to deliver similar engineering feats on RTX 4080 12GB, and there's going to be very little wiggle room for premium cooling configurations. Any higher than $899 and RTX 4080 16GB appears a much better buy.
Begs the question, why not launch RTX 4080 12GB as RTX 4070? That's a discussion we suspect will rumble on for some time.